Sometimes the weekly grind gets a little…all-bran flavoured and it doesn't help when it's washed down with a side of burnt coffee. What we all want is a crispy buttery croissant topped with a whole tower of eggs benedict AND, to really top things off, a mimosa. But where oh where is a flavour aficionado to find such a combo when the bottle-o doesn't open until 10am and we just drained our last bottle of prosecco the night before?
Lucky for you, there's plenty of cafes around Brisbane that have gone and got themselves a liquor license, so you can pair your weekend breakfast (or Tuesday, no judgement) with a cheeky tipple. Not only can you sip on a mimosa, but also a Bloody Mary, bellini and plenty of other boozy brunch drinks. Here it is, a compiled list of all the cafes in Brisbane where you can get a mimosa or some other kind of brekky booze with your breakfast.
The Moray Cafe
NEW FARM
If New Farm locals aren't sliding out of their range rovers and strutting around in the hottest activewear it's because they're busy downing morning espresso martinis at The Moray Cafe. Although it's firmly cemented in New Farm's heart, Moray is somehow a relatively easy place to quickly score a table—which you'll be glad you did once you see the menu. While you spend six years trying to decide what to get to munch on, get the party started with bottomless mimosas—you can add them to your meal for just $25 per person.
Pawpaw Cafe
New Farm
Anyone who knows anything about the best eateries in all of Brisbane has Pawpaw Cafe on their radar at all times. Known for its anything-but-ordinary brekkies and literally dazzling Thai flavours come dusk, it should be no surprise that they have of course come through with the goods when it comes to breakfast booze. Stalk their 'gram to get the ol' salivary glands working overtime and in the meantime mull this over: You can cop a mimosa to go with it for a mere 10 dollars. If you reckon that's a bit of you, you should see the breakfast cocktail (yes breakfast cocktails) menu on offer.
Riverbar and Kitchen
Brisbane City
As the sun starts to rise on any fateful Saturday morning, and your hangover starts to kick in, guess what the chef's at Riverbar are doing? Spoiler alert– they're creating the absolute cure to any and all bad in the world which comes in the form of their breakfast menu. Riverbar at night we all know and love and even by moonlight the brown snake is beautiful but on a brisk morning, the sun shining off the water is unmatched. Your eyes are sure to trail down the menu to the 'Brunch Cocktails' heading, where waiting for you (like water in a desert) you'll find the likes of the lychee mojito with Bacardi Carta Blanca, lime, lychee, mint, apple and soda. Sold.
Nodo
NEWSTEAD
Step into Nodo's sleek minimalist Newstead cafe and not only are you already mentally planning the perfect shot for your story but you're completely enveloped in mouthwatering scents of some of Brisbane's best baked goods. Looking at their menu though, you may be surprised at the impressive array of savoury options. Sweet or savoury aside, one thing isn't up for debate– their boozy brunches which are available every day from 10am to 3pm. You could just grab a glass of sparkling, or you could opt for one of the cocktails—personally we'll be sipping on a mandarin mimosa while we munch.
Medley
Kangaroo Point
Another waterfront oasis, Medley, also should not be overlooked for its banging menu and booze pairings. Drinks are fresh and zesty like the Berry Cool Iced Tea– rooibos and bilberry iced tea with gin and fresh mint. Now imagine that paired with an avocado smash on toasted Turkish bread with Persian feta, roast tomato, basil oil and mustard cress. Looks like you're heading to Kangaroo Point next weekend.
Ninebar And Kitchen
Coorparoo
Of course, this list had to include some royalty, and that quota comes in the form of Ninebar and Kitchen. This year they were voted the best brunch on Brisbane's south side. Yeah, we said it was a flex! If you're wondering how they earned such a prestigious title you won't be after peeping the menu. We are biased, but we reckon that the luscious cocktail menu certainly didn't hurt their chances. Seriously– what an array. You can even BYO if you're not too embarrassed to walk in with a bottle of sparkling at 11 in the morning.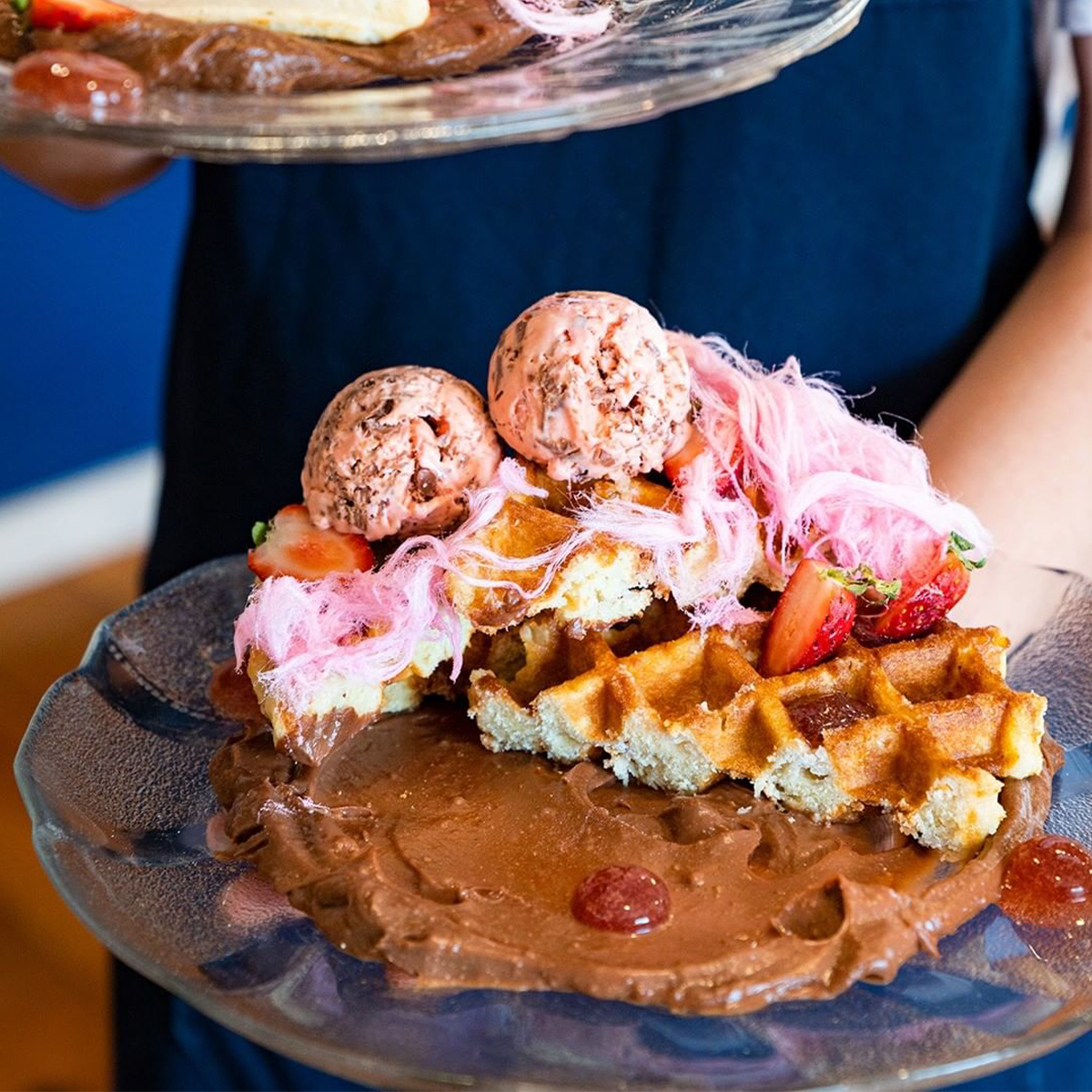 Naim
Paddington
If you weren't a Brisbanite, you might have a little trouble not only finding a highly coveted park on Latrobe Terrace in Paddington on a Saturday morning, but also Naim Cafe's front door. Once you track down the well-hidden gem, you're sure to have a cracking Middle Eastern-inspired fusion brunch. Naim boasts probably the most fully stocked brunch beverage menu so far which, of course, gets a big tick from us. Peep the Butterfly G&T, a concoction of lemon myrtle, butterfly pea flower-infused gin and tonic water. Absolute drool. Yeah, we'll take 4 for the table.
Lokal & Co
West End
Oh West End, god you're good. How does one even begin to put its vibe and people into writing? Hmm, seems it might just be better for you to check it out yourself and what better place than Lokal & Co—the pure definition of a neighbourhood spot with a sleek, modern, Nordic twist. This menu is chock-a-block to the brim with all-star dishes like the leek and manchego cheese croquettes that are beautifully surrounded by grilled chorizo, black garlic, tomato, avocado and a perfectly poached egg. Set off said croquettes with a cinnamon mimosa complete with champagne and cinnamon-infused pear juice. Is anyone else getting Christmas morning breakfast vibes?
Morning After
WEST END
Ok anyone who knows me knows I'm about to get on my soapbox. I have eaten almost everything on the Morning After breakfast menu and done so over countless visits and each and every time I return the food, service and beveraginos are absolutely god tier. We can't recommend enough working your way through each and every item on the breakfast menu, and the same can surely be said for the boozy backup singers to the whole serenade. The list features all the classics—think bloody Marys, mimosas and Aperol spritzes.
If you'd prefer the breakfast mimosas didn't end, here's where to get a bottomless brunch.
Image credit: The Moray Cafe, Nelson Zambrero, Naim