Nestled in the belly of the corporate skyscraper-lined Eagle street, lies food and drink utopia Eagle Street Pier. The waterfront destination synonymous with dining excellence has a newcomer who has certainly snatched the interests of Brisbane foodies, and we are here to tell you: this is rightfully so. We are, of course, talking about contemporary Italian restaurant COPPA, the glossy and downright fancy remix of the original venue which used to be smack bang in the middle of the CBD.
Forced to throw in the towel in the early stages of COVID last year when the CBD was all but deserted, COPPA was destined for permanent closure. This was until Eagle Street Pier's resident upscale Italian spot ILlCentro had to close its doors too, leaving an Italian-resuarant-shaped hole in the Eagle Street Pier dining scene. Happy to escape a total shut-down, owners Tom Sanceau and Bonnie Shearston, the duo behind Happy Fat Group (who also own Red Hook) took over Il Centro's old waterfront digs, gave it one hell of a modern facelift and thus, COPPA was born.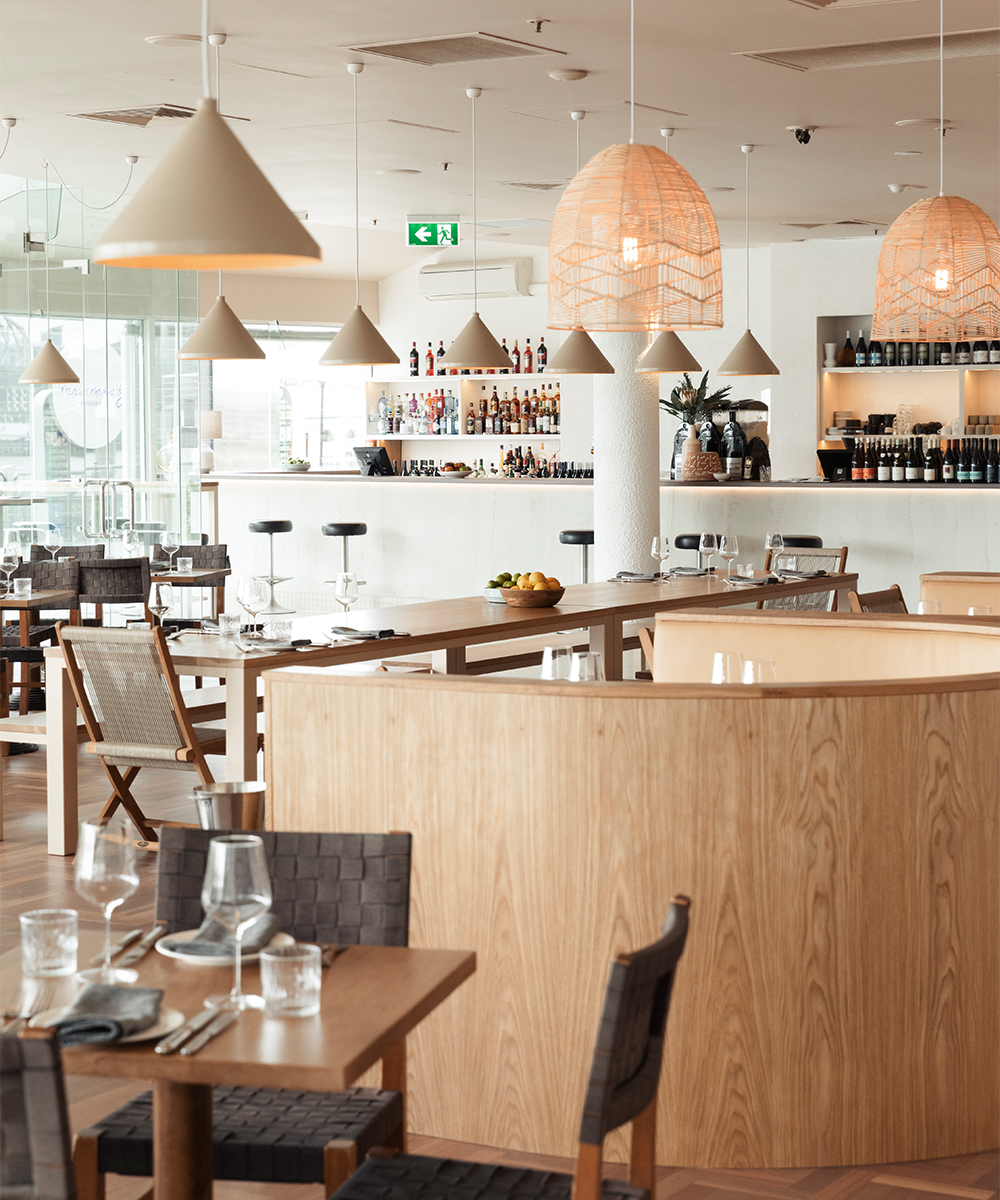 Pulling up to the restaurant you're met by a wrap-around terrace of outdoor settings with a stellar view of the Story Bridge and its accompanying Brisbane River, which serves as the perfect cool and breezy after-work drinks spot. Sashay through the glossy glass doors and you'll find yourself in the dining room where the previously bland interiors have been replaced with light and airy vibes and textures, minimalist feature lights and sheer white curtains, giving it a very Italian coastal feel. Upon being seated—either in a cosy tan booth or on one of the deceptively comfy rope chairs, get to scanning the menu and start narrowing down your order. Warning, you'll be doing this for a hot minute thanks to the lineup of dishes that are all straight 10s.
To kick things off there are heavenly morsels like parmesan laden bresaola, buffalo mozzarella with heirloom tomatoes and pesto, veal and pork meatballs, zingy scallop crudo and moreish pumpkin arancini. When you're ready to move on to the main course, we are sorry to say to the stans of the original COPPA that there has been one casualty of the relocation and that is the pizzas—try as they might, the team couldn't get a wood-fired pizza oven into the kitchen. We know, Italian with no pizza is an eyebrow-raising move but luckily a few crowd faves such as the kale, mushroom and walnut gnocchi are still on the menu. And trust us, the gap left by the lack of pizza has well and truly been filled by new home-run hits like the tiger prawn and Fraser Island crab linguine, pork and beef ragu and a juicy bistecca alla fiorentina steak.
Be sure to stop by the new and improved bar to peruse the impressive wine list, or skip over it completely and head straight to the smashing cocktail menu. We're newly obsessed with their frozen sips, from the island-in-a-glass COPPA Colada slushie who's pineapple and coconut flavours slide down the gullet with alarming ease and slushie versions of prosecco and negroni. Yeah, we didn't think you could upgrade a negroni either but slushifying it is most definitely the move.
Duck in for post-work drinks and spuntino (Italian snacks) or order one of everything for the table and make it a long lunch, whatever your vibe be sure to book. You can find all the details you need to know here.
Find all the hot new restaurants coming to Brisbane in 2021 here.
Image credit: Grace Elizabeth Smith