Thanks to some awesome cafes in Brisbane, vegan pizza has evolved from bland flat-bread-with-dry-toppings into the deliciously greasy, hearty meal we all know and love.
Before you argue that mozzarella is the bomb and pizza shouldn't be meddled with, check out Brisbane's best vegan pizzas. You'll be pleasantly surprised.
Nonna's Nightmare
West End
The aptly named Nonna's Nightmare serves up plant based pizzas so good, even your Nonna wouldn't know they were plant based. The chef here was born and raised in Italy, so he knows how to make a proper Italian feed—only with vegan cheese and not-meat on top. Order up a potato pizza, with mozzarella, 'pork & fennel' sausage, roasted potato, capsicum and rosemary oil, and make sure you leave room for the vegan tiramisu for dessert.
Salt Meats Cheese
Newstead
Although you wouldn't know it from their name, Salt Meats Cheese is uber vegan friendly, and every one of the five vegetarian pizzas on their menu can be made vegan by asking for vegan cheese. We'd be opting for the super truffle, with Italian porcini mushrooms, truffle and porcini house-made sauce and vegan cheese, but you might prefer a classic margherita.
Fitz & Potts
Nundah
Kitsch neighbourhood bar Fitz & Potts is entirely vegan (yep, even the booze is vegan), so it makes sense that they'd have a vegan pizza on the menu to nibble while you sip on a vegan wine. There's two to choose from here—the mushroom truffle pizza with a brie-style cheeze base, grilled mushrooms, mozzarella-style cheeze and truffle aioli, or the Meaty A, with a tomato and hickory bbq sauce base, layered with pan-fried 'meat'-balls, spicy chorizo-style chunks and sliced bratwurst.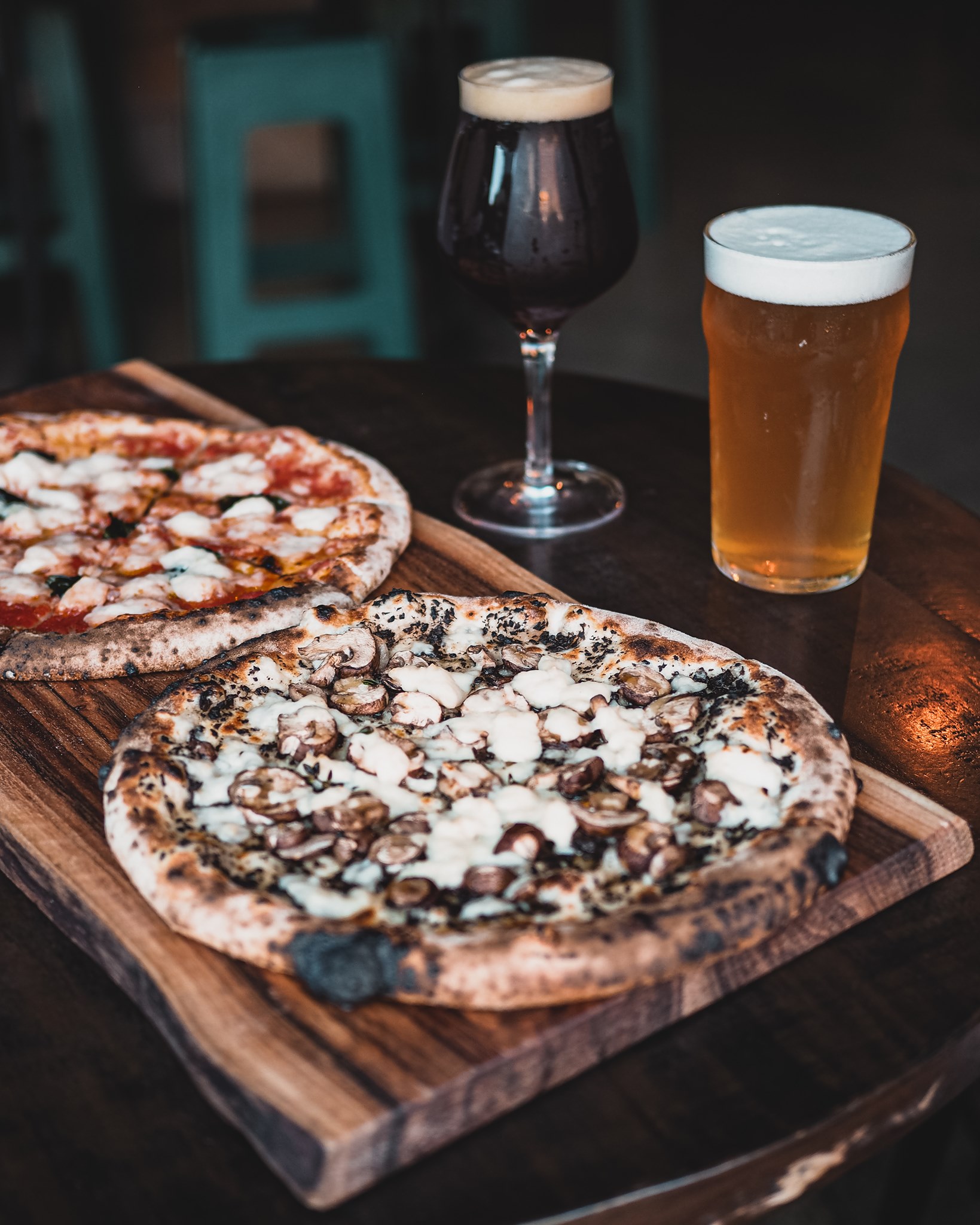 Piante Pizza
Various
New kid on the block, mobile pizza purveyors Piante Pizza can be found at a heap of markets, brewery pop ups and events around town, slicing up their delicious 100% plant-based Napoli pizzas every week. But don't worry, you won't have to chase them—their current permanent residencies are the Brisbane Vegan Markets on the fourth Sunday of every month, and Green Beacon Brewery in Teneriffe every Monday.
Pizzantica
New Farm
This food truck turned permanent eatery knows what it takes to be a hit in New Farm—having a dedicated vegan menu as well as a cheese-loaded one. In their plant-based section, you'll find six different pizzas to sample, including classics like the marinara, margherita and capricciosa, all topped with vegan mozzarella melted to gooey perfection.
Stone & Brew
Highgate Hill
Stone & Brew definitely take home the award for having the most vegan pizzas in Brisbane—their list of 10 vegetarian pizzas can all be made vegan with the addition of vegan cheese, and downed with an ice cold beer to boot. Go spicy with the garlic, jalapeno and pickle number, or get some greens in with the Green Tree pizza, featuring a herby base topped with sundried tomatoes, broccoli, baby spinach, vegan cheese, dill and zesty lemon.
Amalfi Pizzeria
Clayfield
Chasing a vegan Hawaiian pizza? Amalfi Pizzeria in Clayfield is calling your name. This dedicated takeaway pizza spot has an entire section of their menu dedicated to plant-based pizzas, and Brisbane's vegans are eternally grateful to them. There's six slices to choose from, so you may need to come back more than once.
The Burrow
West End
Word is out that The Burrow's pizzas are so good they were voted the best in south Brisbane. And better yet, they are now offering vegan options of their Margherita and Harvest Moon, while the Tim Curry III, Bobba Fetta and Brother From Another Mother are vegan already. The Brother From Another Mother is a standout, topped with plant-based slow-cooked pulled pork, chipotle sausage, red onion, fire roasted pepper strips, bourbon BBQ sauce, notzarella cheese and a creamy ranch slaw atop a Napoli base.
If you're looking for more vego places to eat, check out Brisbane's best vegan and vegetarian restaurants.
Image credit: Victor Munhoz (Nonna's Nightmare), Piante Pizza, Amalfi Pizza