It's that time of year again. Bust out the Mariah Carey playlist, slap on a (seasonally inappropriate) Christmas sweater, load up on eggnog and mince pies and pause your cheesy Christmas movie binge-fest courtesy of Netflix, because it's time to head out to find Brisbane's best Christmas lights for 2022.
Whatever suburb you're in, however far you're keen to travel (or not), there's a street packed with blinking LED goodness ready for your gawking, and we've driven the streets to find some of the best. Start planning your route, because these are the streets to see.
Did we miss any? Send an email to editorbne@theurbanlist.com with the address and an image of any houses you think should be on the list and we'll scope them out. We'll be updating this list regularly—the weather has delayed a few of our favourites this year.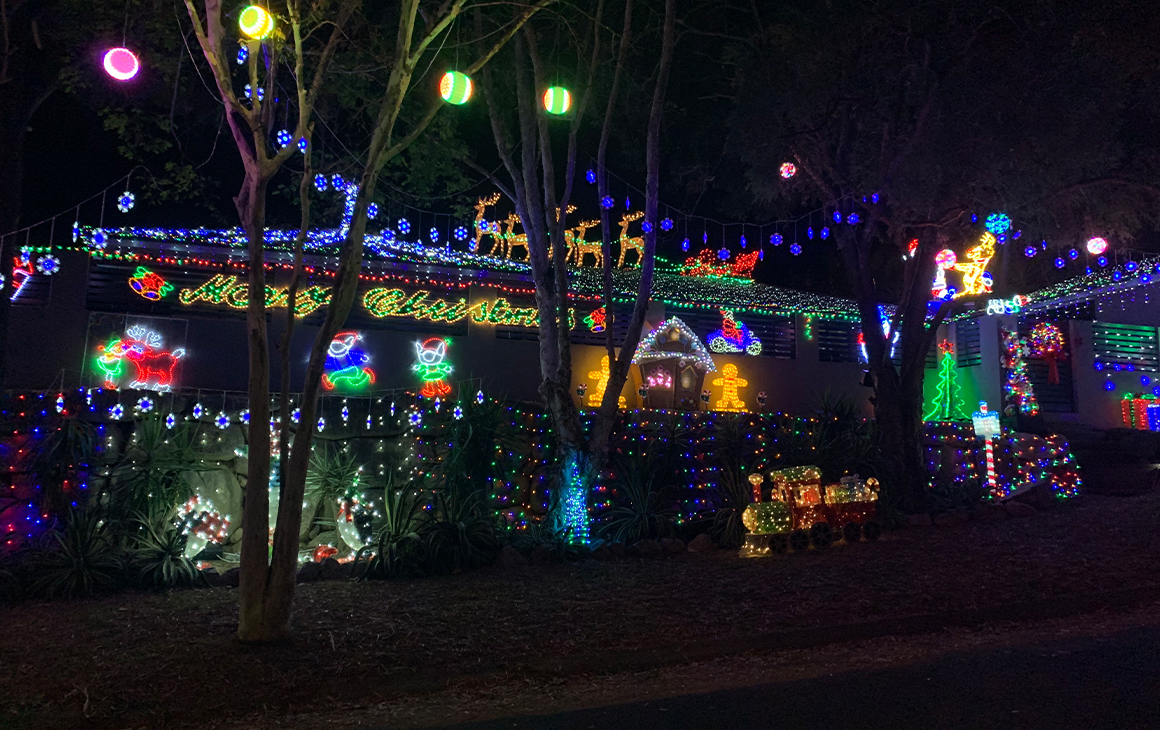 Best Christmas Lights Brisbane North
Albany Creek, Bridgeman Downs And Aspley
Expect seriously bedazzled windows and driveways worthy of sunglasses in Albany Creek and Bridgeman Downs where plenty of houses have lighting displays worth writing to Santa about. In Albany Creek, drive by Longreef Court and Kosta Place, while over in Aspley, Stoneycroft Street is where you'll find one house that has synced their lights to a Christmas music playlist—tune in via your radio and stay for hours. And in Bridgeman Downs, you must check out Myall Place—they've seriously gone all out.
Warner And Bray Park
George Michael educated us on the perils of giving away our hearts at Christmas but the worthy displays in this part of town would never break your heart. Head for 10 Mondial Drive in Warner and 122 Sparkes Road in Bray Park, where the name of the street is fitting for the sparks of joy flying from the well-lit house.
Bracken Ridge, Bald Hills And Carseldine
Over in Carseldine, 634 Beams Road is an annual favourite, and they're back on the top Brisbane Christmas lights route for 2022. Paladin Place in Bald Hills is another must-visit for Brad's Xmas Lights, an epic synchronised light show set to music (this one won't be turned on until 17 December this year). If you're heading that way, we also hear that you'll find brilliant displays at 6 Topham Street and 23 Arnica Crescent .
Everton Park, Stafford And Grange
Unwilling to drive more than 20 minutes? We feel you—although heading way out to the 'burbs definitely holds the highest reward. But there are a few displays closer to the centre of town that are just as illuminating, especially those at 27 Minimine Street and 18 Chisholm Street in Stafford, 202 Flockton Street, Everton Park and 48 Daisy Street in Grange.
Banyo And Northgate
You'll want to stop and stay a while at 33 Parker Avenue in Northgate—lights, music and visuals combine here for a traffic stopping show (seriously, you can watch it here). Since you're out that way, swing by 5 O' Farrell Avenue too. You'll find more dazzling displays at 4 Huron Street, 24 Ellamark Street and 81 Froude Street in Banyo.
Others
Not grouped together neatly but no less worthy of inclusion are the displays you'll find at 36 Sugarloaf Street in Wavell Heights (it's a doozy) and 86 College Way in Boondall. And if you're willing to drive a whole lot further north, 12 Bedarra Crescent in Burpengary took out the KIIS KIISmas Lights competition this year.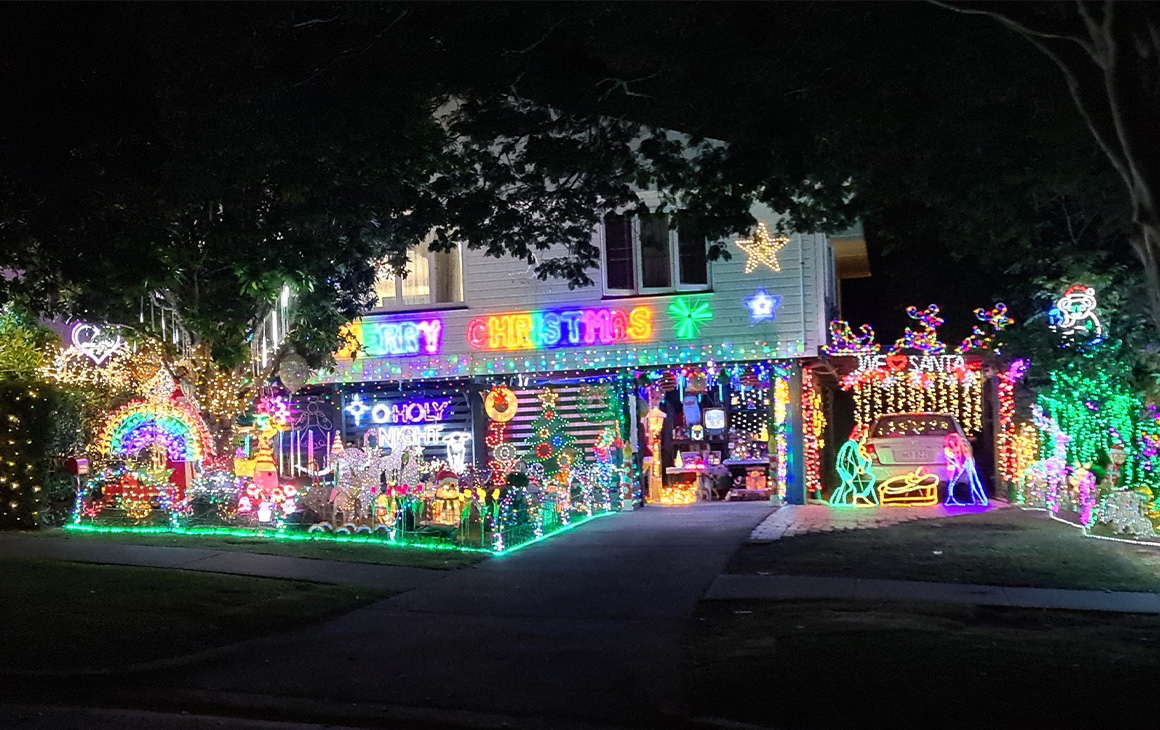 Best Christmas Lights Brisbane South
Mount Gravatt
Tee up the Michael Buble for drive to 101 Kempsie Road in Mount Gravatt where you'll find a Christmas light display that is surely visible from space, and stop in at 31 Lindwall Street while you're there.
Browns Plains, Hillcrest and Drewvale
The south side has definitely stepped it up this year, and is worth a drive down the M1. If you head for 6 Alrak Avenue in Browns Plains and 5 Clabon Street in Hillcrest, you'll find the lights worth the trip.
Coopers Plains, Runcorn And Calamvale
If you don't want to go quite so far south, the 'burbs around Sunnybank are far enough, with some pretty impressive displays at 47 Caliope Street in Runcorn, and 52 Orania Crescent and 211 Benhiam Street in Calamvale. If you make to just one house though, make it 10 Keeling Street in Coopers Plains—there is not a square inch of this residence that isn't covered in neon lights.
Logan
The Logan 'burbs are probably going to see a spike in electricity usage this month, with multiple houses across the area putting on epic displays. They need to be seen to be believed, so just plan a route that hits 11 Lucy Drive in Edens Landing, 27 Laura Anne Drive in Windaroo, 23 Homestead Street in Marsden and 3 Dion Drive in Eagleby.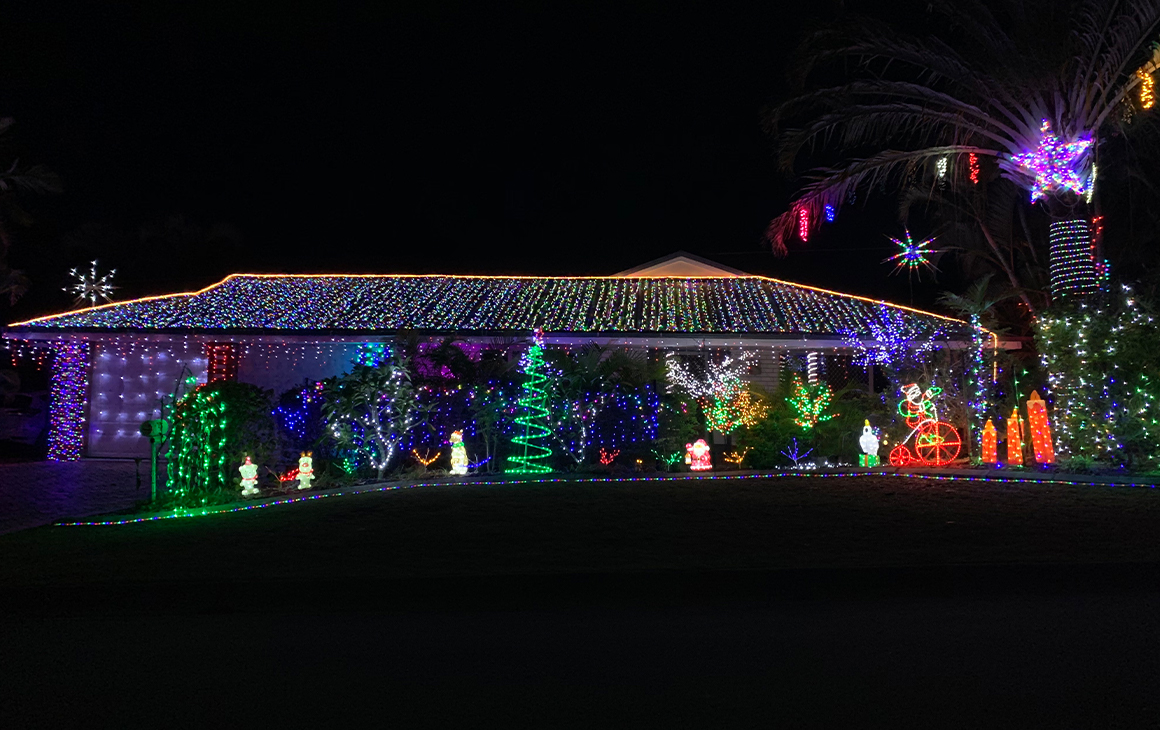 Best Christmas Lights Brisbane East
Alexandra Hills And Capalaba
People come from near and far to see the lights displays in this neck of the woods. Spend a festive eve in Alexandra Hills' Ashbury Court and Classic Court, where you'll find entire cul de sacs lit up bright enough to be seen from space. Make sure you also stop by 52 Bluebell Street, 4 Justin Court, 6 Eton Court and 7 Polperro Court for their blinding displays. Meanwhile in Capalaba, Tipperary Court is the place to be, and you'll probably find half the neighbourhood there mesmerised by the multiple light displays any given night before Christmas, if they're not at 27 Greenfield Road, which has a light display synchronised to music. Oh and if you head just a little further east, you'll find 6 Bainbridge Street East in Ormiston worth the detour.
Redland Bay
Well ho ho ho, Redland Bay residents go all out for Christmas and we are here for it. If you're short on time, Huntly Place is the place to be, with over half a dozen houses competing with each other to be the best of the best. Dory Close is another to wander through while you're out there.
Morningside And Bulimba
The inner east side has well and truly joined the Brisbane Christmas lights party in 2022, and you'll find festive displays at 7 Merry Street in Bulimba and 81 Stephens Street in Morningside.
Wynnum And Tingalpa
Baysiders, you are one truly lucky bunch when Christmas rolls round—the east side really goes to town with their decorations. You'll find blinding displays at 19 Nemarra Street in Wynnum West and 62 Annette Street in Tingalpa—but if that's not enough for you, just keep heading south.
Mt Cotton
If you can find the time for a trip to Mt Cotton this festive season, you'll find it well worth the time (and petrol), with displays at 8 Myrtle Place, 16 Elkhorn Street and 9 Persian Close that are sure to bring you some much needed cheer.
Best Christmas Lights Brisbane West
Mt Ommaney And Surrounds
Nothing can prepare you for the kaleidoscopic light overload at 1 Moncrieff Court in Mount Ommaney, a local favourite (and soon to be yours). Charge those phone batteries because we guarantee you'll be on the 'gram religiously. On your way out, stop at Everard Street in Westlake for a whole row of festivities, as well as Kaputar Close in Riverhills. Nearby in Middle Park, 4 Burwick Close is also worth a pitstop for their synchronised light display, and 71 McPherson Road in Sinnamon Park is another must see
Forest Lake
Heading as far west as Forest Lake? Good decision—55 Bushwood Circuit and 6 Rise Place Heathwood are some new additions to our list this year that might catch your eye as you drive by.
Brisbane's best Christmas lights are fun, but cooking Christmas lunch isn't. Here's 15 restaurants that are open on the day and will do the cooking for you.
Image credit: Ranyhyn Laine