With more than 10 million Australians opting to go meat-free at least once a week, it's no wonder the days when you had to quickly scan the menu to find the ONE dish that had that elusive (V) next to it, are long gone. Now the world is your oyster, or more specifically, the Gold Coast.
Vegan cafes and restaurants are popping up left, right and center which means you get to squiz at the WHOLE menu and make a long and lengthy decision on what to eat, positive in the fact that no animals were harmed in the making of the menu. You don't have to order French fries and spring rolls at these joints, because the whole damn menu is footloose and animal free.
Read on for the Gold Coast's best vegan cafes and restaurants, including whether they're currently offering takeaway or dine-in during the coronavirus pandemic. This is one for all of those passionate plant-based peeps because being vegan never tasted so good.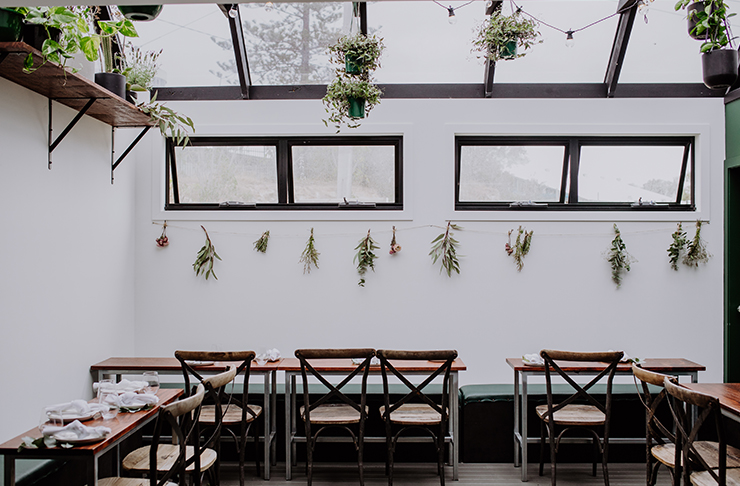 Greenhouse Canteen
Miami + Coolangatta
If you're on the hunt for one of the very best vegan restaurants on the Gold Coast, you'll find what you're looking for at Greenhouse Canteen. With two locations, they are cruelty free and actually killing it—in the tasty plant-based foodie sphere that is. We are slowly trying to work our way through the menu, but every time we go back it's hard to go past what we ate last time. Their mission is to challenge people's perceptions of the vegan lifestyle; starting with the best nachos we've ever had the pleasure of tasting. Filled to the brim with black beans, quinoa, fresh vegetables, avo salsa and sour cream chipotle cheese on a bed of organic corn chips—good luck trying to finish the portion. And don't get us started on their Taco Tuesdays, where you'll nab two vegan handfuls of deliciousness for $10.
COVID-19 Update: While their Coolangatta store has currently gone into hibernation, you can pick up takeaway from their Miami location, Tuesday to Sunday from 5pm. With plans on offering a micro-dining option soon—thanks to the easing of Queensland's coronavirus restrictions—keep your eyes on their socials, if get comfy in-store for a vegan feast sounds like your jam.
Izakaya Midori
Reedy Creek
The Gold Coast's first fully plant-based Japanese restaurant and bar is tucked away in the suburb of Reedy Creek but is well worth the weekend venture. Izakaya Midori is not your ordinary Japanese bar, it's reinventing the typical associations we have with the cuisine and taking it back to its roots when the early Buddhists traditionally ate a plant-based diet. You won't find salmon sushi, tuna sashimi and karaage chicken on this menu; instead expect re-imagined and delightful dishes with the likes of ramen, karaage curries and gyoza all made with produce from nothing but nature. The nigiri sushi may look like it's topped with salmon, but it's actually a mix of wild mushrooms, sliced apple and carefully carved tomato—quite the taste sensation and enough to persuade even the carnivore connoisseurs.
COVID-19 Update: Izakaya Midori are currently offering takeaway, dishing up awesome dishes from their takeaway menu, plus special family and twin packs, full of favourites like dumplings, edamame chips, vegan sushi and miso soup. Find out more on their Facebook page.
Tian Ran
Mermaid Beach
Tian Ran is an Asian cuisine restaurant specialising in vegetarian, vegan and gluten free food, so it's no wonder the name translates to 'nature' because that's all you're going to get on your plate. The meat replacements are made from soy, wheat, yam, seaweed and mushroom and taste exactly like the real thing. They have a vast menu covering all kinds of dishes from wonton soup, to Thai-style salads, steamed buns, stir-fries, curries, hot pots and rice and noodle dishes. You will find all your favourites such as black pepper 'beef', sweet and sour 'chicken', Nasi Goreng and all sorts of seafood, that isn't really seafood, just seafood in disguise. You can forget about traditional takeaway here too, just pure plant-based food full of freshness and flavour.
COVID-19 Update: Tian Ran is still open, offering takeaway seven days from 11.30am to 8.30pm. View their takeaway menu.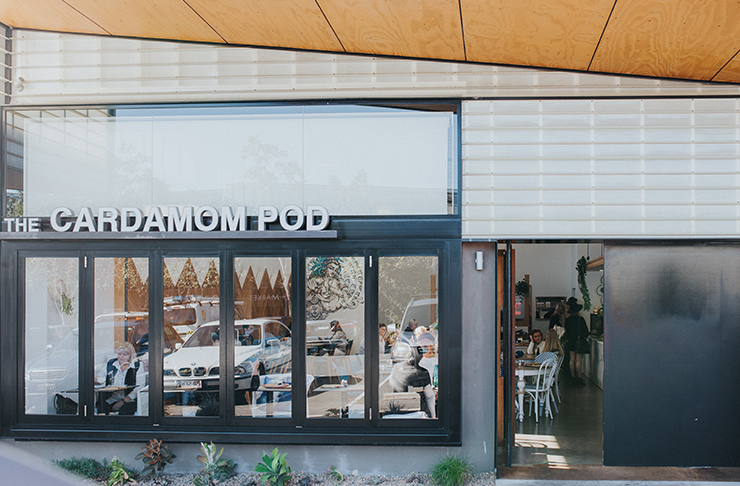 Cardamom Pod
Brickworks
One of the first establishments with a completely vegan offering, Cardamom Pod Brickworks is the place to take even your most stubborn meat-eater friend. Cardamom Pod's sought after marinated tofu and sweet potato salad is enough to know that you most certainly can make friends with salad. First starting out catering for not-for-profit events and cooking large feasts for Krishna temples around the world, it's safe to say the crew behind Cardamom Pod takes great pleasure in sharing their love for happy and healthy food from the Earth. Everything on their menu is nourishment from nature, from ever-changing salads, soups and curries, to filo pastries and pies, cashew cheese lasagna and burgers. Their desserts and drinks take it up a level, and the acai bowl has to be the prettiest and dreamiest we've ever seen.
COVID-19 Update: Craving your Cardamom Pod fix? Jump online and order your favourite meals to reheat for the week ahead. Offering both pick-up and delivery options from Thursday through to Sunday, they'll also be opening from Saturday 16 May for limited dining in.
BKA Vegan
Burleigh
BKA Vegan stands for 'Be Kind Always' and the crew at this Gold Coast vegan restaurant believe we can live a healthy and happy life by choosing to be completely plant-based, resulting in harmony with all beings on this planet. The menu has all sorts from Balinese Nasi Campur with yellow coconut rice, pulled lime and chilli jackfruit, tempeh crumble and salad, to black bean and roasted vegetable enchiladas, or a creamy heart-warming mushroom stroganoff.
COVID-19 Update: BKA Vegan is currently closed for in-house dining due to Queensland's restrictions but they offer an awesome BKA At Home menu with curries, Mexican, pasta and delectable arancini all gracing the pages.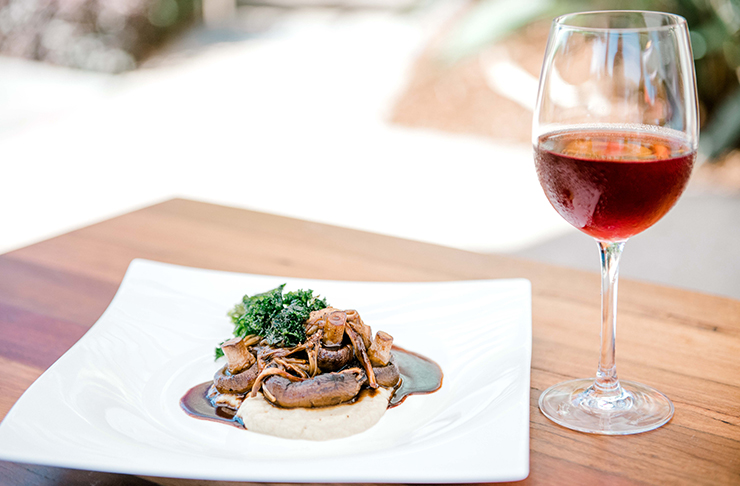 Flour Of Life Bakery
Helensvale
Flour of Life is a bakery that turns naughty treats into all things nice. Vanilla slice, lemon meringue and croissants without butter and eggs, you say? Flour of Life Bakery proves it can be done, and done well; there are even not-sausage rolls and plant-filled pies! This bakery also has some tricks of the trade on how to make a fluffy Pavlova with no egg in sight. We'll give you a hint, it starts with chick and ends in pea. Using local produce where possible, you'll find all your childhood favourites in the cabinets, ones that you likely thought you would never get to savour again once you decided to live the vegan way of life. We can confirm the doughnuts alone are worth driving to Helensvale for.
COVID-19 Update: Currently open.
Lord Of The Fries
Surfers Paradise
What started out as a mutual love for the humble French fry, then turned into a mobile hot chip van travelling around the country serving up crunchy, golden fries in a cone, has now turned into a fully fledged French fry franchise! Lord of The Fries has opened several permanent locations with the latest being in Surfers Paradise. The first 100% vegan fast food joint now includes hotdogs with veggie-packed sausages, vegan Phish burgers that actually look like a real fish fillet with a slice of cheese, cheeseburgers without the cow and a selection of homemade sauces like sourcream without the cream and mayo without the eggs. There's also cold and creamy vegan (minus the milk) shakes to wash down your meat-free meal. Lord of the Fries is a new take on fast food and one which has been welcomed with wide open arms by Gold Coast vegans.
COVID-19 Update: Order online or pop in for takeaway.
Blendlove
Bundall
The power of plants is obvious at Blendlove in Bundall, a cafe dedicated to the love of 'Soul Food.' As well as being completely plant-based, free of refined sugar and highly processed ingredients, the menu is one that just takes food back to basics and how it's meant to be. For example, instead of powdered drinking chocolate in your hot choccie, you can relinquish the guilt because it's actually raw cacao—chocolate before it has been processed and stripped of its nutrients. The breakfast menu is next level with meals like Magic Mushrooms with housemade walnut, kale and basil vegan mince, rocket, chives and vegan cashew aioli, and the Happy Hashies which is housemade truffle hashbrowns served with garden greens, kale-naise, coconut bacon and avocado. Swirl it all down with one of the nutrient-packed smoothies; we can vouch for the Spiced Coconut + Almond Butter Smoothie – filled with banana, coconut milk, dates, almond butter, mixed spice and vanilla. It's literally heaven in a cup that reminds us of Christmas, and reason alone to visit this much-loved Gold Coast vegan cafe.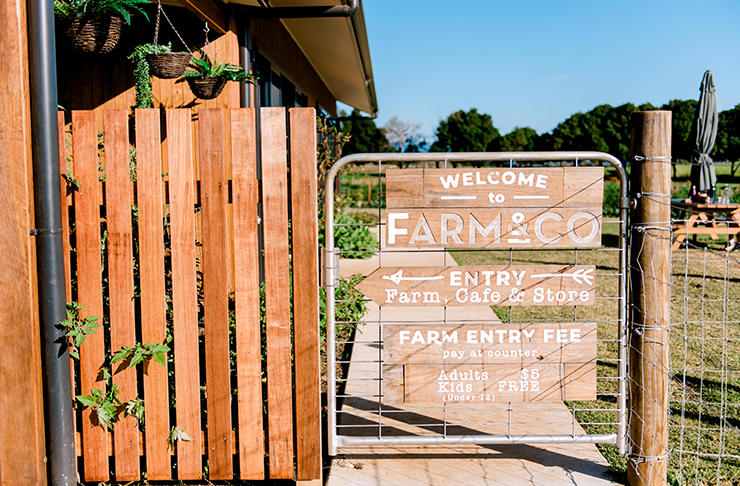 Farm & Co. Cafe
Cudgen, NSW
Catering to both vegan and vegetarian eaters, Farm & Co.'s new cafe has arrived at the perfect time—filling a growing enthusiasm for knowing where our food comes from and supporting the farmers right at the source. Naturally evolving through the months and whatever goodness is being pulled from the ground with each new season, the menu here is farm to plate in its purest form. With veggies gathered from the fields literally steps away; what isn't grown on site, is mostly sourced from farms across the road or within a few kilometres radius.
Rawthentic
Tweed Heads
Specialising in all things raw and organic this Tweed Heads cafe and health food store is a must stop for Gold Coast vegans when you're south of the border. Keeping most foods uncooked and letting the crunchy fresh, goodness of raw eating shine, the team behind Rawthentic aim to bring more awareness to healthy, sustainable food on the southern Gold Coast. Start with the hemp seed burger topped with a secret turmeric sauce and finish with a peppy choc ganache raw treat for pure vegan bliss.
Nude Sisters Wholefood Cafe
Mermaid Waters
No, nude sisters doesn't mean the cafe staff are walking around in their birthday suits, it alludes to the fact there are no nasties residing on their menu. While not exclusively vegan, Nude Sisters Wholefood Cafe is whole-heartedly vegetarian and the food is just as Insta-worthy as the trendy décor. The vegan offering was too good to leave this cafe off our list of Gold Coast vegan restaurants, including Nutella honeycomb pancakes and strawberry crumble porridge, a classic vegan burger with black bean, quinoa and mushroom patty, and cheesy fries sans real cheese, Their smoothie bowls and frappes are completely vegan too, so it's safe to say you won't miss meat, dairy and honey on the menu, especially if you grab one of their crazy good-looking raw vegan treats. Our favourite is the Golden Gaytime cheesecake, or make one to order, just the way you like it.
If you're on the hunt for more of the best Gold Coast vegan offerings, click here.
Image credit: Hayley Williamson and Kaitlin Maree for Urban List