Don't you just love, love? Being the big old softies that we are, we've gone and done you a serious solid by rounding up a bunch of super cute and endlessly entertaining date ideas on the Gold Coast to keep your romance blossoming. As time goes by, we know offering to do the dishes just won't cut it anymore. If you really want to win over your beau, it's time to step up your date game.
Luckily, we're here with the best alternative date ideas on the Gold Coast that will blow your 'dinner and drinks' plans straight out of the water. It's not original and it never was. For those of us who've convinced another human we're sane enough to pair up with, here are the best date ideas on the Gold Coast that are guaranteed to up the romance levels with your special someone.
Sip Your Way Along A Brewery Crawl
Miami to Currumbin
If your partner can't get enough of the golden thirst quencher then you're in luck, because the Coast is positively bursting with craft breweries. So why not plan an epic Saturday sesh with your love by taking them on a brewery crawl?
Start in Burleigh with Black Hops and then bike or Uber (depending on how much you've had to drink) down the road to Miami and visit the good folk at Lost Palms and Precinct Brewing. Last but certainly not least, head to Currumbin hotspot Balter Brewing for an XPA and a feed from their delish and ever-changing food truck.
Release Some Anger At Axe Throwing
Lumber Punks Axe Throwing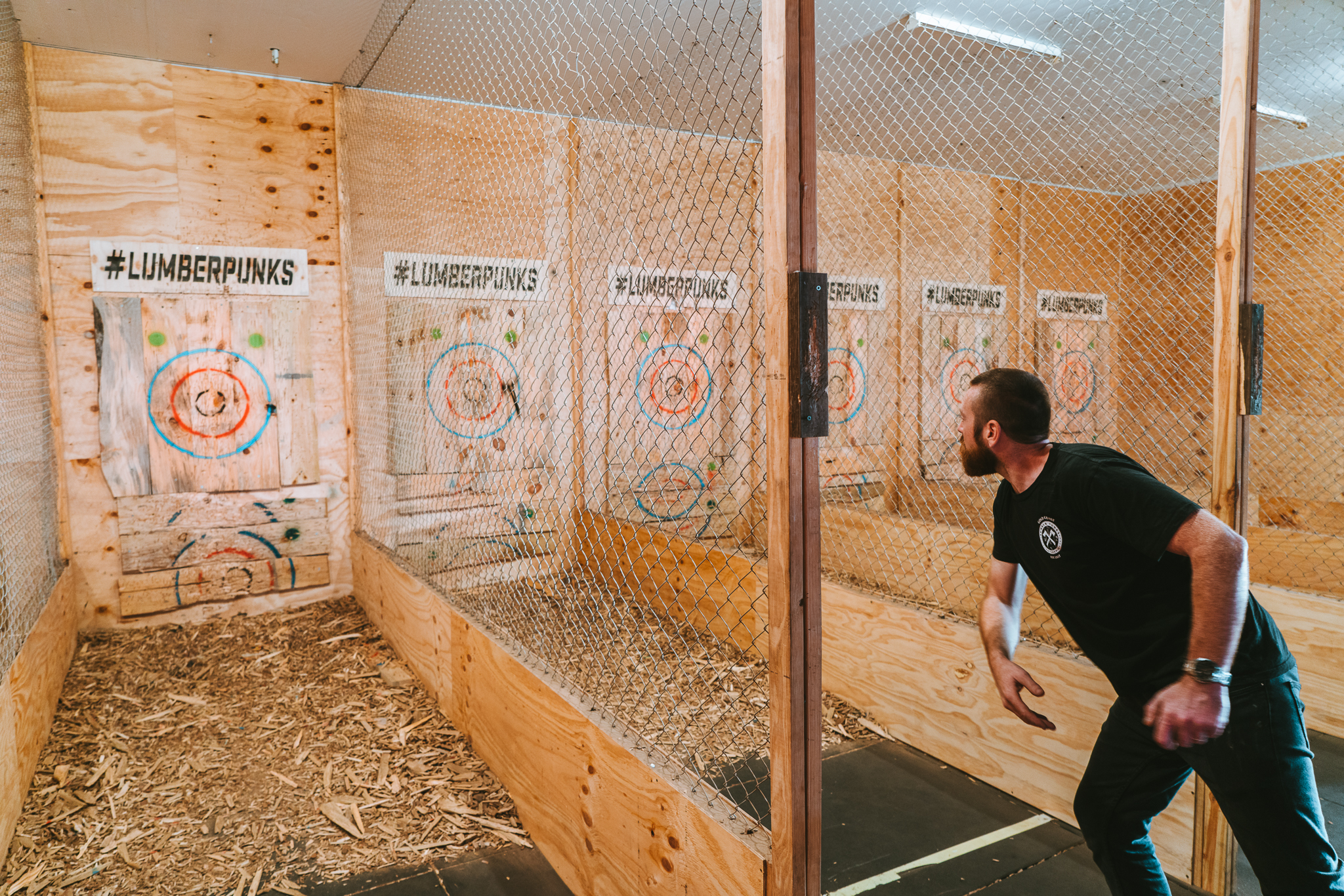 Yeah, you read that right, we're suggestingyou take your lover axe throwing. Not convinced? Humour us for a second. For just $45 you and your special someone will get an hour and a half session taking you through all the basics to help perfect your skills—literally, anyone can learn how to throw a good axe at Lumber Punks Axe Throwing in Miami.
Better yet, there's a jukebox for you to pick your tunes and a fridge stocked with beer. Oh wait, did we mention there's even novelty Viking hats for you to wear? Yep, this place is one of a kind and might just be the perfect place to release some of that pent-up annoyance.
Head Up The Mountain For A Mystery Picnic
Tamborine Mountain
Take a break from the city and find some romance amongst the hidden gems of Tamborine Mountain on a mystery picnic date.
Put your thinking caps on to solve the interactive riddles sent to your phone that will take you on a journey around the area to collect local artisan produce. The final clue will lead you to a secret spot where you can enjoy your well deserved picnic—just BYO picnic rug.
Bowl Your Way Into Their Heart
Zone Bowling
Take it back to your childhood and smash some pins like you're twelve years old again. A quirky, throwback date can't be beaten and we're not saying it should be abused for first date brownie points but it totally should be.
Zone Bowling Surfers Paradise has twelve interactive bowling lanes, which let you choose the images displayed on the ground as you send the ball down towards the pins. Plus, all your favourite arcade games, laser tag and bumper cars are right next door at Timezone Surfers Paradise. It's easy to have fun when you're smashing bumper cars around like an over-enthusiastic child.
Show Off Your Moves At A Beginner Salsa Class
Gold Coast Salsa
What better way to win your love interest over than by showcasing your horrendous dance abilities? It's definitely not going to get you a place on Dancing with the Stars but a session with Gold Coast Salsa might just dance your way into your partner's heart.
If you're feeling adventurous and are somewhat confident in your pelvic ability and coordination, salsa dancing is a damn sexy first date.
Get Artsy At A Boozy Painting Class
Brush & Barrel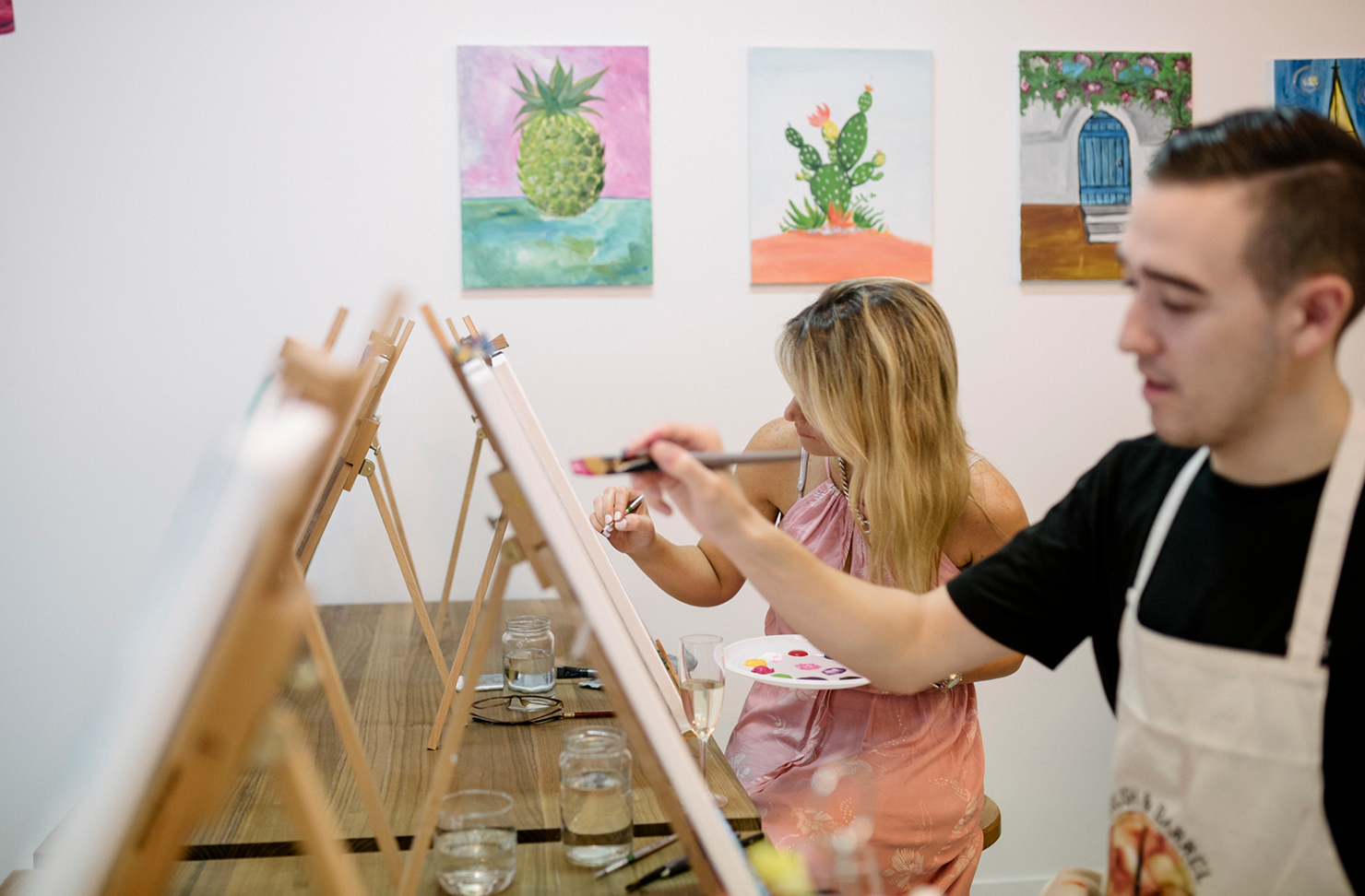 Booze and brilliant works of art might not sound synonymous, but if your bae is of the cultured variety they'll love the opportunity to show off their artistic skills AND drink wine.
Whether you're a weekday or weekend drinker-meets-creative, head over to Brush & Barrel in Surfers Paradise and try one of their unique paint and sip workshops. You'll be guided by an instructor while slapping around paint and creating dazzling artworks. Perhaps your muse is the woods, animals, or even your love.
Embrace Your Inner Picasso At Life Drawing Classes
Dust Temple
There's always that one person who wants to get their kit off on the first date. Fortunately, (or unfortunately, your choice) chances are it won't be you or your partner this time. So please, put on your shirt back on and grab your lover for a night you will not soon forget.
Dust Temple holds life drawing classes every first and third Thursday of the month for $20 per person (BYO materials). Cast those puritan values aside and sketch.
Attempt Surfing Lessons
Various Locations
If you're a rarity on the Goldy and find yourself not gifted with the ability to surf, then this date idea will be sure to cool the heat between two lovers.
Whether you are a beginner or pro, a private surfing lesson is guaranteed for some laughs and a little cheeky competition. The view of the stunning Gold Coast skyline in all its glory is also absolutely guaranteed to up the romance levels.
Visit A Local Farm
This is one out-of-the-box date idea that is certain to make your new date swoon while you show your softer side. Take them on a farm hopping expedition for sunflower selfies, pick-your-own fruit and veggies, stunning rural views and soul-warming country air.
We've done the hard work for you, with our wrap up of six local farms you can visit which are all within easy driving distance of the Gold Coast.
Snack Your Way Around A Twilight Market
Miami Marketta
There's no better way to impress your date than by shovelling copious amounts of food down your throat and wiping your dirty hands on your shirt. But in all seriousness, strolling around the night markets under the fairy lights and snacking as you go sounds like a romantic first date to us.
Miami Marketta is one of our favourite twilight markets and with up-and-coming new acts playing every weekend and a hidden gin parlour, it's ticking all the romantic boxes.
Find Your Balance At SUP'ing
Currumbin Creek
A little less challenging than surfing, but still resulting in equally as many laughs and use of coordination or, lack thereof. With gear hired from Currumbin Boat Shed, a casual SUP date offers the added bonus of a good time without hurting the hip pocket.
If you're craving something a little different—and more romantic—find your balance at this glow-in-the-dark SUP tour. During the Date Night Experience, you and your partner can enjoy an hour of paddling in the romantic twilight, followed by indulging in the grazing platter provided at your own private beach setup.
Defy Heights On A Daredevil Climb
Q1 SkyPoint Climb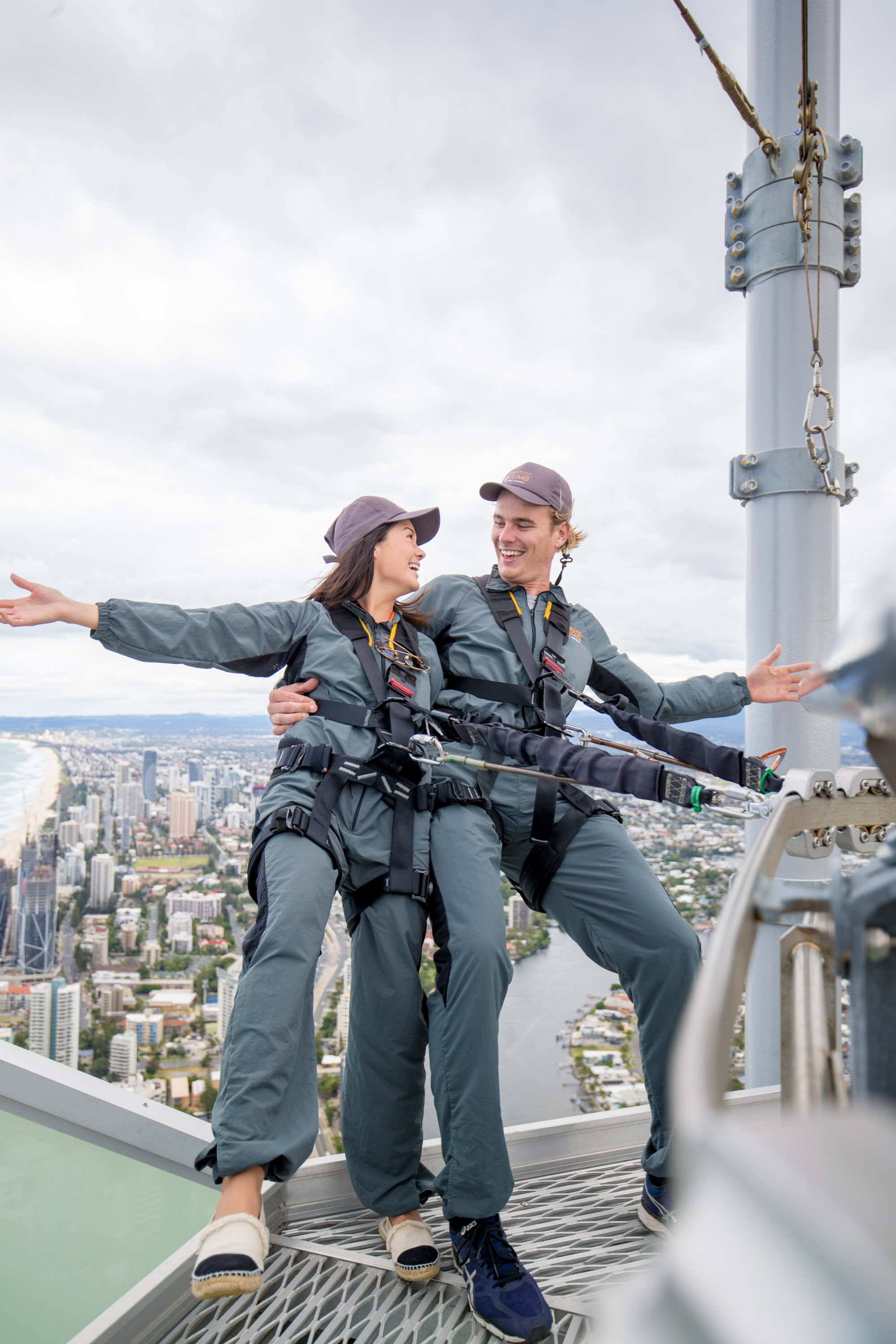 Not for the faint-hearted, but sure to create a memorable first date, whisk your companion up to the 77th floor of the Q1 Hotel. There's nothing like visiting the top of Australia's tallest building to get the love bug going.
Just make sure they aren't deathly afraid of heights otherwise it'll be memorable for all the wrong reasons. For those adventurous baes, conquer the SkyPoint Climb, where you'll soak up stunning views over the Gold Coast—all while being 270 metres above sea level.
Hike In The Hinterland
Various Hinterland Locations
Chuck on that lycra activewear and show off your inner Bear Grylls, 'cause the Gold Coast Hinterland offers the kinda stunning scenery one could only dream about when being wooed.
You can up the romance levels at this sky-high treetop walk and gawk your way through stunning canopies of overflowing giant trees covered by vines on O'Reilly's Tree Top Walk. Really want to make them sweat? Here's the best bush walks on and around the Gold Coast.
Hire A Private Gondola
Marina Mirage
Why not trick your better half by blindfolding them and making them believe you've whisked them worlds away to Venice? Thanks to our good ol' friend COVID, this is as good as it's going to get for now.
Gold Coast Gondolas floats you around Marina Mirage with the option to BYO drinks or book a candle-lit dinner package. Some might consider it corny but, when in Rome, cough, Surfers.
Set Up A Picnic With A View
Burleigh Hill
Chances are you'll probably be joining 1,200 other couples at the Gold Coast's most iconic sunset spot, but a sunset picnic on Burleigh Hill is a sure-fire good time. Pack the picnic blanket, grab a snack from one of the many nearby takeaway joints and BYO bevvies for an oh-so-romantic time, complete with a stunning view.
For something a bit off the beaten track, make your way to The Panorama in Tallai, where you'll have a secluded hill almost entirely to yourself, while you can soak up stunning views over the city.
Play A Round Of Mini Golf
Mermaid Beach
Like that annoying family member who's always wasted at Christmas, this date idea is always sticking around. Mermaid Putt Putt has stood the test of time and delivers all aspects a chill date should offer; junk food, competition, laughter and solid ice-breaking potential for those awkwardly nervous first dates.
Bonus: if you're after group date ideas, mini golf is always a winner and a great way to establish your dominance as the superior couple.
Take It Slow With A Romantic Beachfront Bike Ride
Various locations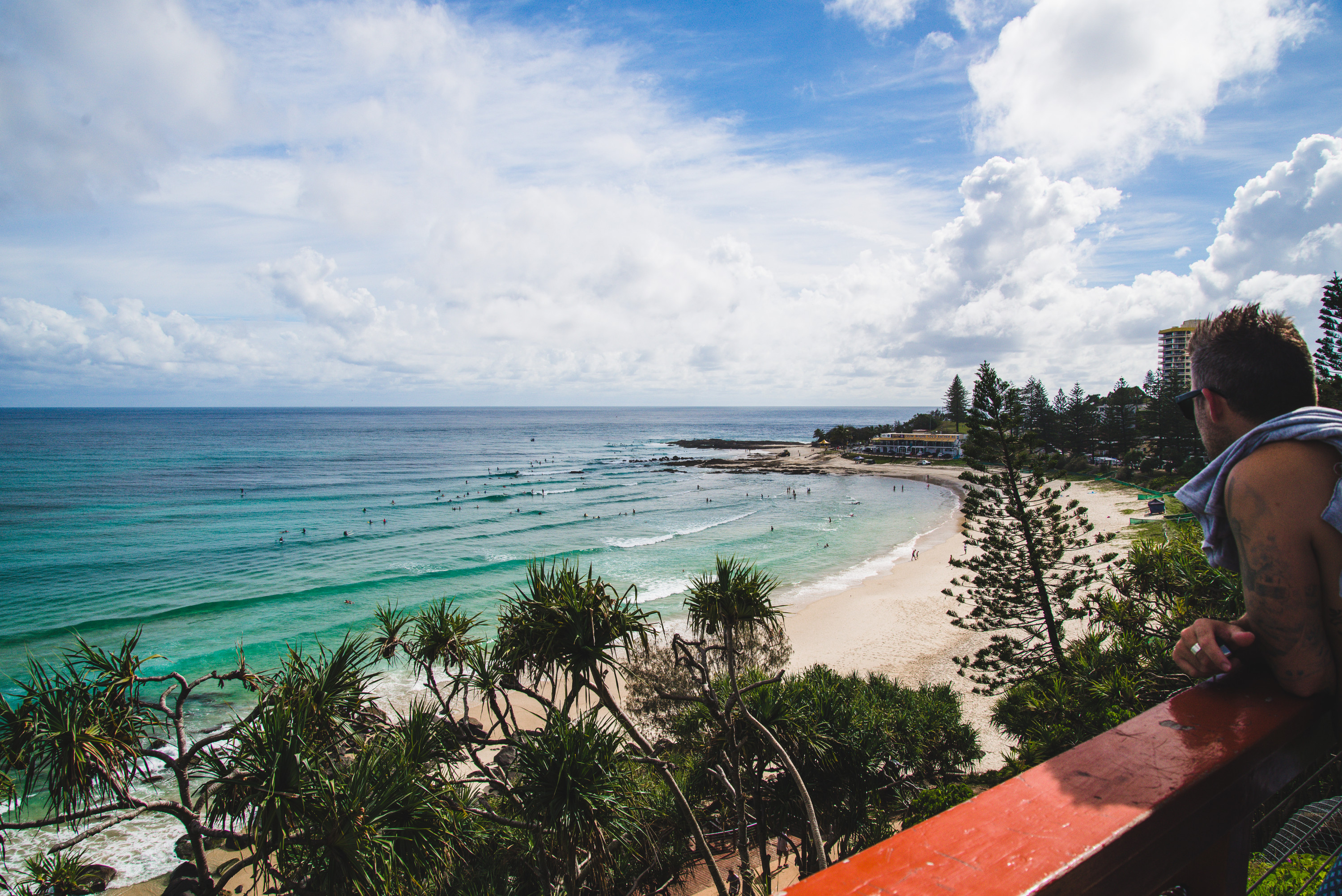 A beachside bike ride is a cheap and incredibly rewarding way to spend the day. Grab a beach cruiser from Cheap As Bike Rentals from $15 and soak up the ocean views as you cycle along the Gold Coast's expansive waterfront.
If you want to take it up a notch, test your relationship with a tandem bike. It's a fun (and at times frustrating) way to explore the coastline. If you can last a day of tandem riding together, you can last a lifetime.
Snuggle At The Drive-In Movies
Yatala Drive-In Cinemas
Normally we're not one for movies on dates. But the beauty of this date night option is that you're confined to a car and won't be disrupting other viewers should the conversation really flow. Also, the drive-ins are a seriously legit excuse for the classic yawn and reach around a la Grease style.
Cook Your Way To Their Heart
Salt Meats Cheese
We get it. The point of a date is to take out the unnecessary work while you enjoy yourselves. But, if you're up to tackling a DIY dinner and building those culinary skills, then sign up for one of the many cooking classes offered around the Gold Coast. Our pick? You can re-enact Lady and the Tramp after a pasta (or pizza) making class at Salt Meats Cheese.
Impress Your Date With Your Creative Flair
The Craft Parlour Miami
Whether you're vibing on watercolour painting, printmaking, pottery wheeling or embroidery (as all red-blooded males do) then make The Craft Parlour your next date option. Offering an array of creative workshops to put your hands to good use, you'll be far too preoccupied to be thinking about dinner and drinks.
Have all these lovey-dovey Gold Coast date ideas got you in the mood for some Valentine's Day splurging? Get all swept up in each other's irresistibleness at one of our top picks for best romantic getaways on and around the Gold Coast to check out (or check into).
Image Credit: Lumber Punks, Brush & Barrel, Grace Elizabeth, Brooke Darling Photography