So, have you been to NightQuarter yet? This is the question all of us should be asking ourselves, our families, and our friends.
NightQuarter, heralded as the "Gold Coast's newest creative playground", is like a festival, every freakin' weekend!
Adjacent to Helensvale's Westfield, this buzzing carnivale kicks off every Friday and Saturday night from 4pm—10pm, and will blow your mind just how cool it really is, honest! Here you'll find an innovative use of upcycled shipping containers redecorated into a collective of 120 stalls, housing friendly locals showcasing art and craft stalls, emerging fashion and home-wear designers, and an array of deliciously tempting street food stalls. But more about the food later. Buskers line the precincts strumming and singing out good vibes, and an impressive undercover stage and synthetic grass dancefloor, "The Paddock" hosts live local musicians or touring artists every weekend. Have we sold it to you yet?
A tiny $3 entry fee will get you inside, where you'll be transported into the colourful festive vibes. But, gasp, where in bloody earth are you to start when deciding on what to eat? Mind. Blown! With 60 specialised food stalls, all locally operated, from Austrian to Greek to Spanish to Mexican and beyond, there are so so many flavours on offer. To start, we totally recommend walking around Tapas Lane and Hawker Street to scope out the options. Fortunately for us, all the vendors are pretty laid back and may even offer up tasting samples (and if you're anything like us, you're going to want to try them all). This food decision making is serious business, and so you don't end up on the floor rocking back and forth with your heads in your hands overwhelmed by anxiety, we're helping you out with seven of our all-time fave NightQuarter food stalls. Prepare to feast!
Willis & Weber Porchetta | Tapas Lane
Pork lovers unite! This family team pop down from Brisbane every weekend, nailing the best pork crackling and juicy, mouth-watering, slow-roasted, I-want-to-marry-you-for-making-pork-taste-this-good pork roll. Traditionally Italian fair, pronounced "por-ketta", this succulent pork is sliced off the bone and served with thick-cut polenta chips and a fresh side salad, or in a juicy pork burger, topped with all the favourites or traditional sour cabbage. And, the part we love most, a wedge of crackling twisting out of the burger. If you love pork, take your appetite over to Willis & Weber to feast on the best porchetta roasted pork roll, period.
Kemuri | Tapas Lane
New in Tapas Lane, the star of Kemuri's Asian infusion menu are the sensational baos; kinda like a soft fluffy taco, Asian-style, stuffed with fresh herbs and super tasty fillings. Try the soft shell crab, teriyaki chicken, pulled beef, or pork bao, topped with a drool-worthy homemade sauce. Every bao is a deliciously fresh and tasty bite that'll get your tastebuds cheering, and is the ideal light starter to kick off your NightQuarter food journey.
Totally Shucked | Tapas Lane
Yes, there's an oyster bar at NightQuarter! Freshly-shucked oysters are loaded on ice, or cooked to perfection Kilpatrick or Mornay-style; enjoy lush oysters or try out the sand crab lasagne with abalone sauce, salmon croquettes, or tasty barramundi and garlic-buttered prawn skewers. If you're an oyster fan you're gonna love this joint; the perfect starter to a good night where you can knock back oysters with a glass of bubbles while listening to a live acoustic musician strumming out in Tapas Lane. Totally Shucked, they'll be totally chuffed to see you!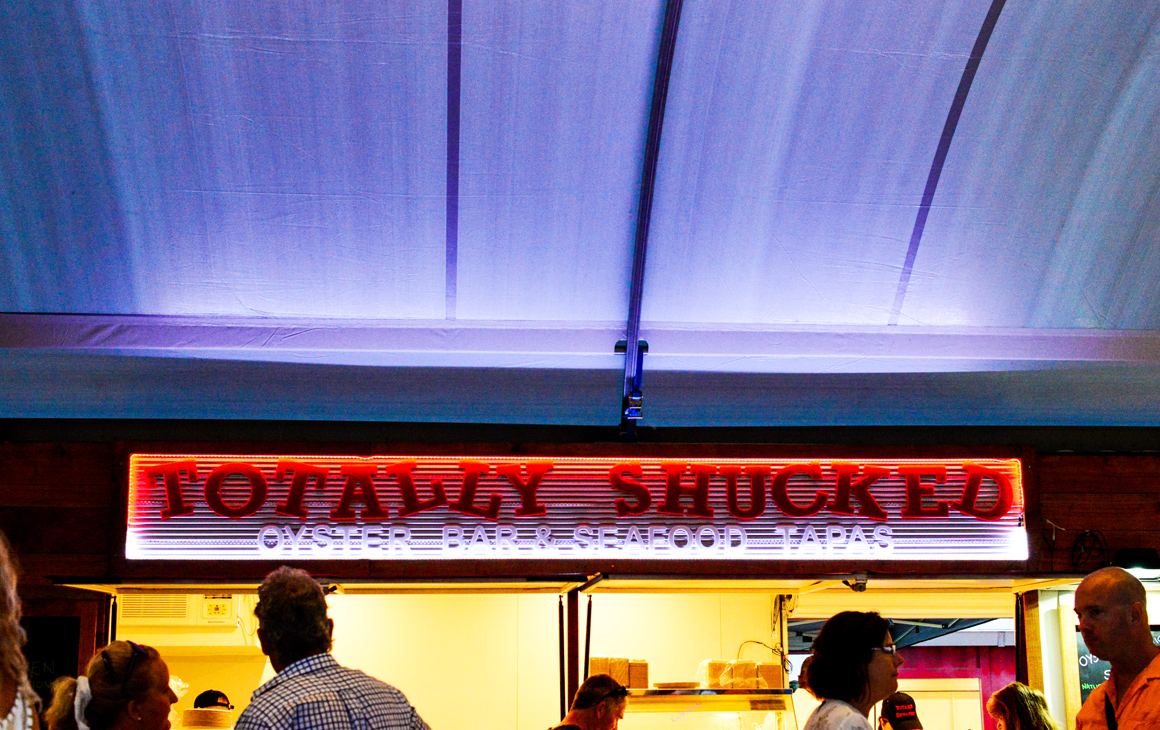 Crocs Kitchen | Tapas Lane
"Aussie bush tucker. Get your Aussie bush tucker!" If you have a mate visiting from overseas, or just like to try things a little different, this stall ticks all the boxes when seeking out uniquely Australian cuisine. Crocs Kitchen are serving up Popcorn Croc (doused in native bush herbs and spices), seared roo fillet, BBQ emu fillet, macadamia nut and shredded coconut prawns (drool!), lemon myrtle iced tea, and bush blend chutneys, with all produce Australian made or sourced. Do you even know what crocodile tastes like? Now's your chance.
Grumpis Smoke and Grill | Hawker Street
Calling all meat lovers! This sizzling BBQ stall cooks up American-style smoked and grilled BBQ goodness—think hot and tasty cheese Kransky, lip-smacking BBQ chicken wings, smoked sticky ribs, hearty beef brisket, and pulled pork. Smoky smells seem to dance in the streets surrounding this stall, and who doesn't love a good barbie and southern-style American food? Try the individual plates or challenge yourself to the meaty share plate for some finger-lickin' good times. Grumpis Smoke and Grill is dishing out the perfect finger food to grab before parking up at The Paddock, to listen to a live band while knocking back a brewski or three and getting your munch on. All in all, it's a pretty damn fine way to spend your Friday or Saturday night.
Reid Street Kitchen | Tapas Lane
Okay, it's dessert time! This stall has our vote for the best presentation; not that we are taking votes, but if we were, Reid Street Kitchen would be the winners, hands down. Their nifty shipping container has been converted into a window of beautifully displayed, sweet and colourful homemade desserts. Displaying oversized lamingtons in white chocolate passionfruit, salted caramel, or traditional chocolate; Mars Bar or blueberry cheesecakes; mini raspberry white mud cakes; meringues; and sticky sweet slices, it's the stuff sweet-tooth cravings are made of. Trust us when we say it's totally worth a visit, just to admire the gorgeous display of indulgent, fit-for-a-goddess treats. #foodporn
World Famous Funnel Cakes | Hawker Street
There's so much to love about crowd favourite dessert stall, World Famous Funnel Cakes. Not only do the vivacious beauties behind the counter dance and sing as they work, but funnel cakes are simply one outrageously awesome dessert. Picture this: a hot, fresh doughnut base built with a hot waffle; topped with ice cream; then laden with generous lashing of sweet sauces, like caramel, butterscotch or chocolate; and finished with extra toppings like roasted Madagascar vanilla marshmallows, Snickers, and peanuts. Oh, such joy in each bite. That said, funnel cakes can be tricky to eat and go very well sitting down, so head into the The Paddock, snag a table or beanbag, listen to live music, indulge in funnel cake gooey goodness, and undo that belt buckle (if you haven't already).
Where: NightQuarter, 1 Town Centre Drive, Helensvale
When: Every Friday and Saturday night, 4—10pm
Photo Credit: Ariana Gillrie and Brooke Darling for Metropolist