Country bakeries are as Victorian as bad weather and ragging on Sydney. There's something in our DNA: we're just suckers for a meat pie, BigM (Oak is for New South Welshman) and a vanilla slice the size of our head. And to be honest it's harder to find a bad country bakery than a good one. Even if the food isn't much chop—the fact you're in the countryside paying 1990s prices more than makes up for soggy pastry.
Here you go, Melbourne. The best country bakeries in Victoria for 2021:
Great Ocean Road
Anglesea Bakery
Anglesea
Oak Bakery is okay too, but if you've only got time for one, make it the Anglesea Bakery on the main strip (a few doors down from JUMS). There's the obligatory ham and salad rolls on the left, a big drinks fridge on the right, and up front is your country-standard mix of pies, sausage rolls, smiley face cookies and assorted pastry goodness. You can't go too far wrong with the plain beef pie: rich gravy, flaky pastry and a squirt of tomato sauce on top. All the energy you need to push on along the Great Ocean Road.
Apollo Bay Bakery
Apollo Bay
Another G.O.R. gem. Apollo Bay Bakery draws a pretty big crowd every weekend—roadtrippers desperate for a feed before rounding Cape Otway, or people curious to see what a 'scallop pie' actually tastes like. Yep, that's the house specialty here: a delicate pastry stuffed with scallops, roe and sauce. You always get 4-5 scallops per pie, and they come in two flavours: mornay and curry leek (the mornay is probably better). Their regular pies are no slouch, and there's a massive range of old-school baked treats. Definitely give the vanilla slice a crack. Eat on the beach, surrounded by seagulls.
Daylesford, Macedon & Hepburn
Les Nôtres
Riddles Creek
Translating from French, Les Nôtres means 'ours' and if you live in the Macedon region that's probably how you feel about the ultra-aesthetic baked good operation. Located in Riddels Creek, just a stone's throw from Mount Macedon and hanging rock; this Parisian-style boulangerie has a heavy focus on local and organic produce which they infuse into perfectly crafted croissants, Canelé, chocolate custard eclairs and more. It's not your typical regional haunt, but it's one of the best country bakeries in Victoria getting it done in 2021.
Lancefield Bakery
Lancefield
These guys bake all their products in a wood-fired Scotch oven that's over 140 years old. You can really taste the history. Actually, you can taste the meat, mushrooms, butter and salt. But it tastes a bit like history. Lancefield doesn't get as much drive-through traffic as it deserves; it's a cute little town, just outside Macedon. There's a general store on the corner that does a mean bacon and egg roll, but for pies and baked goods, it's gotta be the Lancefield Bakery. We recommend the sausage rolls and the strawberry BigM.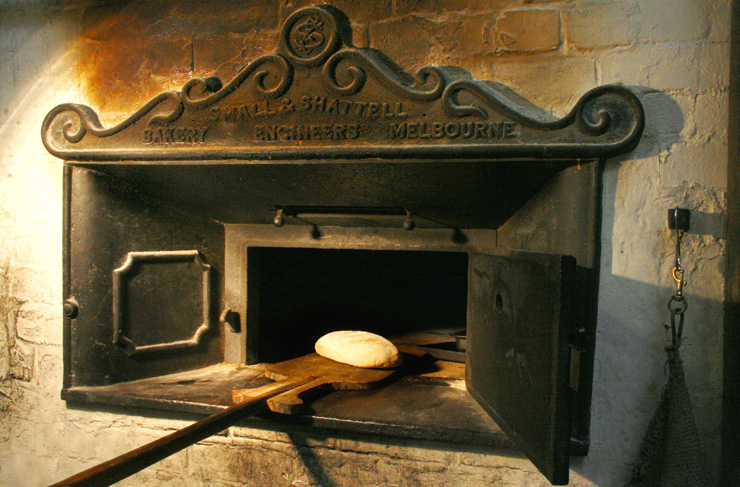 Photography: Visit Victoria
Red Beard
Trentham
There are claims this is the "best bakery in the world". We haven't tried all the bakeries in the world, so we're not gonna make that call, but it's hard to imagine anything beating out Red Beard. The sourdoughs are famous throughout the land (they use a special wild yeast culture), but there's also a huge range of home-baked biscuits, cakes, slices, jams and chutneys, baking books, tea and coffee etc. The guys even run bread baking workshops (these things book out big time, so get in quick).
Country Cob
Kyneton
It's official, Country Cob has won best pies awards like they're going out of business. The bakery took out the top gong in the Baking Association of Australia's annual pie and pastie competition with their flaky beef pepper pie.
Country Cob in Kyneton has previously won with their caramelised pork and pepper pie, and their seafood satay pie.
It's the sort of place that hangs its pie awards up on the wall for you to ogle while you order. Turnovers, hot cross buns, dark-baked sausage rolls, cinnamon doughnuts, crusty sourdough loaves and a cracking vanilla slice—you can get pretty much everything here. If we had to pick one thing, it might be the country-still Shepherd's Pie. Rich veggie-and-mince filling, creamy mash on top, then baked golden with some grated cheddar. They make a pretty powerful car snack. If you're after a pie, try the Thai Curry Beef (another award-winner). Pretty hard to argue that they're not the best country bakery Victoria has on offer.
Malmsbury Bakery & Gallery
Malmsbury
Malmsbury Bakery is probably our favourite stop along the Calder Fwy. It's owned by Jan Grant, who's determined to put the little town on the culinary map. She's going the right way about it—Malmsbury only uses 100% local ingredients. The beef, eggs, milk and flour all come from local farms in Kyneton, Castlemaine and Daylesford, and Jan whips them into all sorts of treats. Expect double-decker vanillas slice, custard tarts dusted in cinnamon, tea cake, quiches and a range of country-style pies. Steak and curry is always a good choice, but those extra-large sausage rolls are mighty tempting too.
High Country
BEECHWORTH BAKERY
Beechworth
You'll find Beechworth Bakeries everywhere from Bendigo to Yackandandah and Healesville, but no prizes for guessing where to find the original. Beechworth is a beautiful town to visit in its own right—the bakery is really just a bonus. You'll find it on Camp St, just up from Bridge Rd Brewers. They've been serving pies in the old gold town for a very long time, and it's fair to say they've got the whole process down to an art. Ignore the focaccias (we're not Sydneysiders) and head straight for the pies. Start with a Beechworth Steak (the classic), then double park with either a Ned Kelly (steak, topped with bacon, cheese and a whole egg) or a Chicken & Leek (creamy, subtle, just excellent).

Photography: Visit Victoria
Heiner's Bakery
Myrtleford
Even the typography on the sign looks legit. Heiner's has been going strong since 1905, and it definitely looks the part. If turn-of-the-century farmers ever needed a BigM and chicken pie to-go, this is probably where they came. Fair warning—the coffee can be a bit hit-and-miss, so stick to the drinks in the fridge. Load up with a beef pie and one of the home-baked doughnuts. All the energy you'll need for the drive up Mt Buffalo.
The Provender Country Bakehouse
Yea
Another winner of the Great Aussie Pie Competition (is it just us, or do 90% of Victorian bakeries market themselves as 'Best Pie In Australia'). The pies at The Provendor in Yea are definitely top-notch, but we're coming back for something a little sweeter: the blood-plum slice. Hooly dooly this thing is good. Why don't people bake with blood plums more often? The interiors in here are nothing flash, but you're not coming to a country bakery for the aesthetics. Make sure to pick up a few Provender jams and preserves for the trip home, each one dressed in the frilly lace hate and rubber band combo. Solid country vibes.
Grampians
DUNKELD OLD BAKERY
Dunkeld
Yep, it's really called the Dunkeld Old Bakery. Turns out it's pretty old—began operating in 1887 and hasn't slowed down since, despite Dunkeld having a population you could count on the fingers of a blind butcher's hand. Most travellers will head straight to the Royal Mail Hotel and miss this place—it's actually in a little cottage down Martin St, off the main road. There's a reason this is on the best country bakeries in Victoria list, Expect "scrumptious muffins" (that's literally what they're called on the website), baguettes you could go to battle with, proper gourmet pies and the usual assortment of croissants and pain au chocolate. Burn off the calories with a brisk walk up Mt Abrupt.

Photography: Visit Grampians
Mornington Peninsula
JUST FINE FOOD
Sorrento
You come to Just Fine Food for one reason and one reason only: vanilla slice. Allegedly this place has a regular menu, but we've never bothered to look. Every time a waiter comes over we cry 'Summon the slice!' and sit back and wait (dunno why they keep greasing us off—put it down to anti-Melbourne bias). The slice is justifiably famous: pillowy, sinfully creamy, fluffy pastry on top, with enough icing sugar to make you sneeze in joy. It'll end up all over your face, but that's half the fun. Eat one there and grab one for the road—trust us.
Photography: MWEats
Johnny Ripe
Red Hill
One of Red Hill's best-kept secrets (at least with Melburnians). Although judging by the crowds at Johnny Ripe these days, we think the secret might be out. This is a farm-to-cafe bakery on the Mornington-Flinders Rd that happens to come equipped with its very own apple orchard. The result? Apple pies. Like insanely good apple pies. The sort of apple pies that get swiped from windowsills in old cartoons. Dusted with granular sugar, packed with more butter-per-square-inch than Paris, it's worth the drive just for this alone. Although we'd be remiss if we didn't recommend one other item: the famous Johnny Ripe Crème Brule Cronut. Put that in your pipe and smoke it. One of the best country bakeries, just an hour's drive from town.
Peninsular Pantry
Rye
Okay so you're going to sense a bit of a pattern here, but Peninsular Pantry does a seriously mean vanilla slice. Tucked away off the main strip, it's the perfect spot to grab your morning coffee, read the paper, and polish off a snot block (are we the only ones that call them that?). Their eclairs are nothing to sneeze at either (unintentional nose joke, we swear), or help yourself to something more savoury. And then have a vanilla slice. Okay, you get it.
Geelong & Surrounds
Rolling Pin
Queenscliff, Ocean Grove, Leopold
Rolling Pin is like those prizefighters whose walls are covered in all the championship belts they've won. Except with these guys, the awards are for pies. There's often a queue out the door here, and every bloody person is waiting in line for pies. Hot pies, big packs of cold pies to chuck in the freezer, family beef pies for dinner or a quick grab-and-go curry pie for the drive back to Geelong. We can confirm they're some of the best vehicles for beef on the Bellarine: the gravy is dark and packed with flavour, and the pastry...hot damn. Buttery, flaky, golden, little bit of give. We like to grab two or three and eat them in the beachside carpark, overlooking the waves, while the wind whistles 'round the car. Just us?
Inverleigh Bakehouse
Inverleigh
Regarded as the best thing to ever happen to the Hamilton Hwy, we have the famed Inverleigh Bakehouse. A necessary pitstop if you're driving south towards Winchelsea, or cutting east back toward Geelong. You'll find Inverleigh Bakehouse inside a converted 1868 homestead on the High Street. There's a cute cottage-style garden out back and a frankly alarming range of doughnuts, sweet treats, Danishes, slices, cakes, pastries and sugary things inside. It's a dentist's goldmine, this place. The coffee is probably the best you're going to get until you hit Warrnambool too. A real regional gem.
Portarlington Bakery
Portarlington
Wood-fired baking since 1880. That's what you're getting at the Portarlington Bakery. And damn if they haven't lost a step in over 130 years, bless 'em. The original 1800s oven still gets the job done, churning out hot almond croissants (a must) and crusty loaves on the daily. Now that there's a ferry to Portarlington from the CBD, this place can get pretty packed. Best to get in before the lunchtime rush. Pick up a bacon and egg roll, an icing-topped cinnamon scroll and a slice of strawberry cheesecake, then head down and enjoy them by the waterfront. If you need a table, there's a cute little courtyard off to the side, plus a playground for the kids.
Otways
Hulms Bakery
Colac
Credit where credit is due: the old man in the logo for Hulms looks like he knows his way around a pie. Hulms is a no-fuss cult bakery way out in Colac—a favourite with day-trippers and locals. Mostly because they make a mean Ned Kelly pie, high-tinned bread loaf and egg n' bacon sanga. If you've ever been here before, you'll also know the staff almost outshine the food. They're just really lovely people. Hulms is the sort of place where the locals have standing orders and everybody knows each other's name. You feel 20% more country just by standing in it. Grab some goodies, then head south on the C155 to The Otways.
Yarra Valley
MARYSVILLE COUNTRY BAKERY
Marysville
Marysville Country Bakery is what all country bakeries should look like: as if a grandma is about to emerge at any moment with a fresh-baked apple pie and a hula hoop for you to play with. The curry pie is the pick of the bunch here, but it does tend to sell out quick. Don't be too disappointed if you're left with fresh-made salad rolls, crispy sausage rolls or a sweet apricot Danish. Pull up a chair in the little garden out front, sip your flat white and forget all about Melbourne.

Photography: Visit Victoria
Gippsland
Paul The Pieman
Inverloch & Yarram
Your classic country pie shack: slightly daggy, hasn't changed much since 1986, and the strawberry milkshakes are so thick you almost pop a lung sucking them up the straw. Paul The Pieman has become a bit of an institution in Inverloch—it's almost a crime to drive through without popping in for a chat and a bacon n' egg muffin (their speciality). The salad rolls are pretty good, but really you come here for the pies. They've got 25+ varieties, including lamb & rosemary and beef & burgundy. They rank consistently high in the annual Great Aussie Meat Pie Competition, picking up 4 gold medals and 3 silver medals back in 2011.
Pandesal Bakery
Meeniyan
Meeniyan is a definite up-and-comer in the country food stakes, and Pandesal is leading the charge. They bake all their own artisanal bread using a slow fermentation process that can take up to 36 hours, and boy it's worth the wait. The sourdoughs are their specialty—gnarly and crusty on the outside, with that awesome sour kick on the finish. Don't pass up their home-baked muffins (good road snacks) and we'd be remiss if we didn't recommend their homemade sausage rolls—a fruity pork, apple and fennel mix rolled inside the flaky golden pastry. Pies ain't bad either.
Dandenong Ranges
BURNHAM BAKERY
Sherbrooke
Bread is king here. Burnham Bakery nurture their own in-house sourdough culture, mixing in a few choice ingredients from their kitchen garden to make a low-gluten loaf that'd knock your proverbials off. You can get them in traditional sourdough, rye, grain or wholemeal. Keep an out for other treats like the fluffy, golden brioche loaves ($10), crusty baguettes (perfect for an Alfred Nicholas picnic) and even dense spelt loaves that you'll need a chainsaw to carve. If you CBF hoofing out to Sherbrooke in the Dandenong Ranges, you can also find the Burnham range at their bakery in Eastland Shopping Centre.

Photography: Visit Victoria
The Mallee
Sharp's Bakery
Birchip
Another vanilla slice maestro, but this one's more of a glazed version, compared to Just Fine Food's puffy, sugary vanilla explosion. You'll find Sharp's on Cumming Avenue in Birchip, a classic Mallee town that most of Victoria could not place on an atlas. People drive for miles to try the vanilla slice here (and yup, it really is that good), but you can also get giant cream & jam doughnuts, golden pies, veggie-stuffed pasties and classic country salad rolls. The breakfast pie is also surprisingly good (depending on how you feel about egg in pies). Apparently, you're meant to rub the testicles of the giant Mallee bull statue in the main street for luck, but we'll leave that decision to you.
Check out the best camping spots in victoria here.
Image credit: Redbeard Bakery