We recently took an epic two-day road trip along the Great Ocean Road, testing out activities, sightseeing and tasting dishes—all in the name of research to bring you the list of most fun, most delicious and most insta-worthy bucket list items along Victoria's famous coastal road.
1. Delicious Treats At Timboon
Head along the Great Ocean Road and a little inland to Timboon and you'll find a haven of delicious treats. The newly opened Timboon Ice Creamery offers up every flavour you could dream of, and a fresh new setting to enjoy them in. The apple and maple was our top pick—it tasted exactly like apple pie.
While you're in Timboon, head over to the distillery and fill up on charcuterie and single malt whiskey that's distilled on-site.
2. Find The Best Seafood At Port Campbell
Head east and you'll come across the sleepy town of Port Campbell. Sitting on a secluded bay, the view is totally Insta-worthy, but the true stand out is the seafood you'll find at Forage On The Foreshore. For a true taste of the Great Ocean Road, order the abalone dish—it's fresh out of the ocean and is totally to die for.
3. Discover Beaches At Loch Ard Gorge
Obviously the great Ocean Road is #blessed with oodles of totally gorgeous beaches, but there's something particularly magical about Loch Ard Gorge. The steep climb down is worth it for the wide beach, secluded bay and feeling of being in a natural amphitheatre.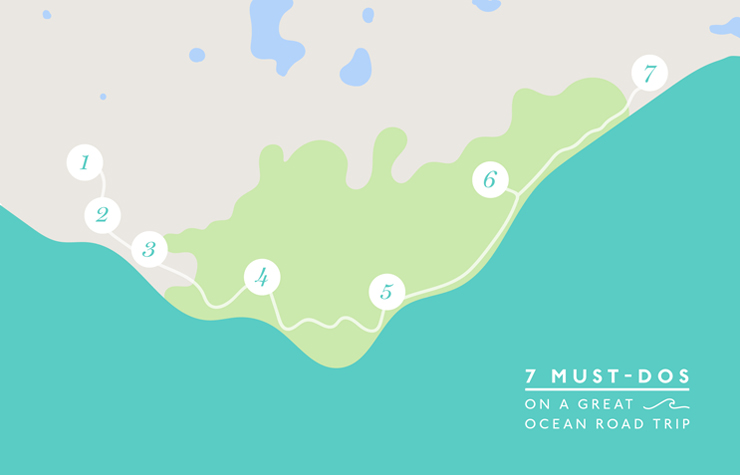 4. Kayak At Apollo Bay
Is there a better way to see a region than from the water? For an experience that's up close and personal, either hire a kayak, or join a kayak tour group from Apollo Bay Surf and Kayak and go for a paddle. If you head down to the beach near the Marengo reserve, you'll be able to paddle out to the seal colony (we recommend that you do this bit with a tour). The views are amazing and the paddling is relatively easy.
5. Explore At Erskine Falls
Head up in to the hills behind Lorne and follow the signs to Erskine Falls. Surrounded by lush rainforest, you'll be able to climb down towards the waterfalls. Take your camera for this one—the colours are amazing and it's a total contrast from the nearby coast. If you're feeling brave and the water levels permit, explore the rocks and stream beyond the lookout pad, it's where all the best bits are.
6. Feast At Anglesea
We've got a new favourite coastal getaway in Captain Moonlight. Only open for a few months, the restaurant has found a home in the Anglesea Surf Club. Dishing up some of the most sublime seafood dishes we've ever tasted. They're best enjoyed in a sunny spot on the deck, which overlooks the beach. The octopus tentacle and the mussel dish were our stand out favourites.
7. Learn To Surf At Torquay
Nothing says 'coastal road trip' like learning to surf. We headed along to Go Ride A Wave in Torquay for a surf lesson (we've actually been back for a few since, it was such good fun!) and it was two of the best hours we've had in a jolly long time. There are a few locations that you can surf at with Go Ride A Wave but Torquay back beach is our favourite. If you've already got your wave riding skills down pat, Go Ride A Wave also hires out surf gear.
Melbourne's an incredible city, but sometimes we all need to get out of town for a weekend. The Urban List has partnered with Visit Victoria to bring you great, regional getaway inspiration — the ultimate guide to Victoria's regional gems. For more ideas about where to wander through nature's finest hot-spots, click here.
Video credit: Andrew Englisch via The Phoenix Effect for The Urban List