In the words of Macklemore, one man's trash is another man's come up. And heading into festival season, his 2012 rumination still has merit, guys. There will be two distinct camps: the spenders and the spendthrifts. Some are never going to make it to a Coachella mosh (mostly coz of their inability to save $$ for a plane ticket). But the cunning ones will harness the musky, eclectic glory of the Op Shop to safeguard their pennies.
Get a fur coat on and let the crawl commence. These are some of the best Op Shops in Melbourne.
Vintage Clothing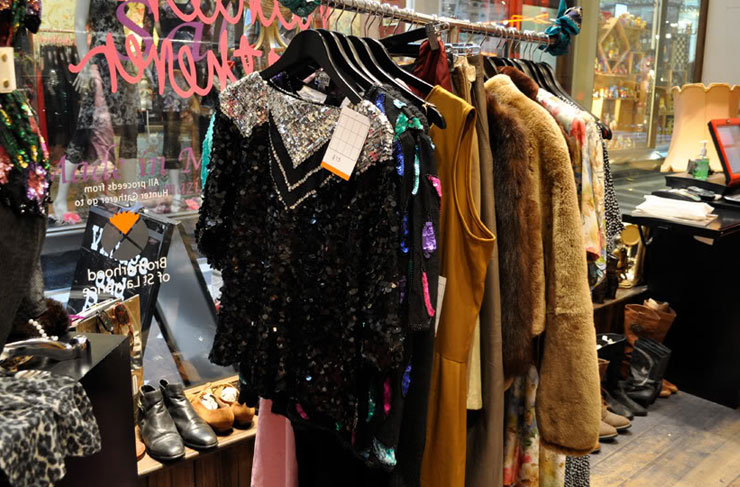 Photography: Fashion Hayley
RETROSTAR VINTAGE CLOTHING
CBD
Opening up shop in 2002, RetroStar Vintage Clothing is now hailed the largest vintage store in Melbs. Yep, it's a big 'un. Their specialty? All things 1940s through to 1990s (hello JT-and-Brit-worthy denim ensembles). It's a maze of clothes, shoes, bags and bling.
VINTAGE SOLE
CBD, Fitzroy, Windsor
The thrifty breed of shopaholics behind Vintage Sole have been in the biz of garnering vintage clothing, footwear and accessories for over a decade now. Woah. Think of all the retro sunnies you've seen swathing the 'gram lately, rolled out with other gold nuggets in stores that'll make your hearts go pitter patter.
SHAG
CBD, Windsor
Professional hunters and gatherers, Shag's vintage finds are hallmarked by a zany, technicolour trend. We're talking endless embellishments, out-there ear candy, and if you're planning on time-travelling anytime soon to a sequin-clad era, just get yourself in here.
HUNTER GATHERER
Fitzroy
A jewel in the crown of the second-hand fashion arena, Hunter Gatherer has operated under the Brotherhood of St Laurence to bring traditional vintage clothing together under a canopy of neon signage. So next time you're admiring the impossibly-cool dressing of Fitzroy locals, head to HG and find your own Grandma-chic groove. We know you already have a brunch date a few streets away.
STOREHOUSE THRIFT
Windsor, Bendigo, Richmond, Northcote, Kyabram
This story is pretty heartwarming one. We aspire to be as savvy and altruistic as the crew behind Storehouse Thrift, a bunch of do-gooders working to combat addiction in adolescents. You know that shopping through these garments will not only perfect your Cher à la Clueless Wardrobe Master Plan (still so very cool), but also help a heck load of people.
Designer Frocks

Photography: Zinc Moon
MIO TESORO BOUTIQUE
South Yarra
Old mates Louis Vuitton and Chanel are parading the Mio Tesoro Boutique. It's Italian for My Treasure, but those who speak fluent pasta would already have picked up on that. MT is an armoire of premium designer pieces and stands as the reigning Melbourne consignment Queen of handbags. Good news, they take the hand-picking process verrrry seriously.
SECONDO
South Yarra
Pre-loved pieces are rocking the racks at Secondo. WARNING: This one will get severely spenny, so if you're looking for a $-saving rummage, take your pennies elsewhere. If, however, you're into all things consignment clothing, they've got a whimsical assortment of high fashion to sieve through.
SECOND OBSESSION
Malvern
A designer recycled boutique, Second Obsession stand as a Melburnian proponent to slow fashion. It's a family affair, run by sisters banding together in the name of good style and good trade. Brimming with high-end labels, it'd be kinda rude not to strut an impromptu catwalk mid-store.
PARIS '99
Elwood
This salon has uber discounted vintage designer clothing pimping out its lofty space. If you've ever wondered what a stroll through Dior's couture house might feel like, this is a pretty red hot go at a Melbourne-style simulation. At the helm of Paris '99 is RMIT fashion grad and designer Yahav Ron, exercising a très exclusive appointment-only system for those keen to take a tour.
Recycle Boutique
Brunswick
Recycle Boutique isn't an op-shop per say. It's a consignment store. There's a difference. For one thing, Recycle Boutique only accepts high quality, independent labels (no rips, tears or smells, and no H&M). You can donate your stuff and get 50% of the value in store credit. It's like the Circle of Life for clothes. And the range of Hunter S Thompson Hawaiian shirts on the rack was genuinely impressive.
Bookshops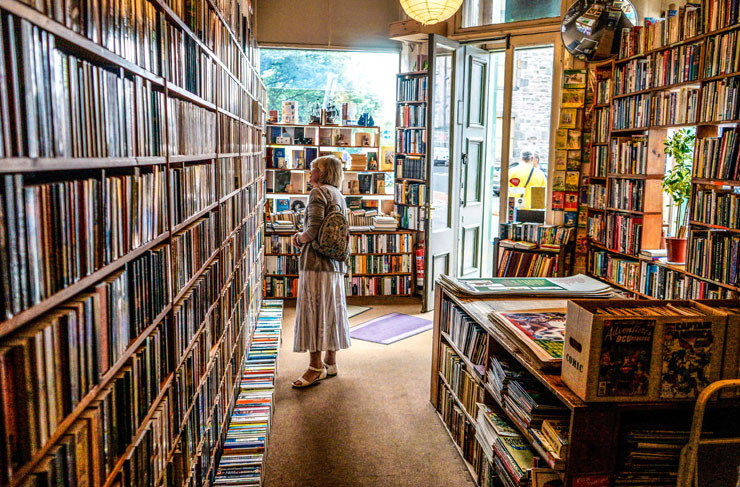 CITY BASEMENT BOOKS
CBD
City Basement Books is a bookworm's paradise. The guys offer an extensive range of quality second-hand tomes covering a maelstrom of genres. The best part? An avid reader's olfactory nerve will be revelling in that nostalgic old-book smell. *Inhales deeply*
ALICE'S BOOKSHOP
Carlton North
There's so many old books in this place, you'll be reminiscing scenes from Harry Potter (à la flying novels in Hogwarts Library). It's probably happened at Alice's, because since 1986, the place has been brimming with magic. There's approx 18,000 books spanning four huge rooms. Put aside an hour or 10 for your next visit.
Want more books? We've rounded up Melbourne's best bookshops over here.
Bric-A-Brac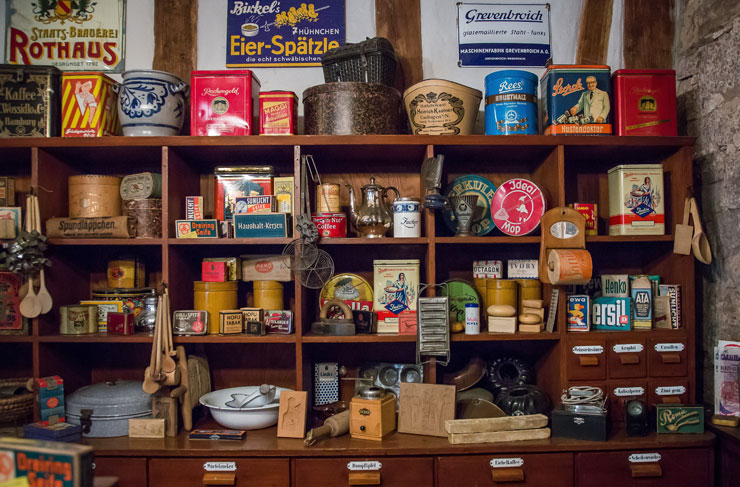 THE JUNK CO.
CBD
Rumour has it the head honcho at The Junk Co. is a thrifting extraordinaire. Expect to uncover a bounty of bits and bobs behind this Elizabeth Street facade. We're talking cameras, cabinets, chairs, magazines, microscopes, typewriters for you budding Hemmingways, and a WHOLE lot more. For furniture and homewares with some pizazz, check it out.
CHELTENHAM OPPORTUNITY SHOP
Cheltenham
There's a trove of miscellaneous goods at the humble Cheltenham Opportunity Shop. While clothing and accessories are on offer here, the knick-knacks and ornamental trinkets steal the show. Give that room revamp some vintage vibes—this is the stuff you can't find in IKEA's Smols section (homeware-y heaven of small items).
The Whole Shebang
TOORAK OPPORTUNITY SHOP
Toorak
Yeah, it's a huge oxymoron. Toorak might be the last place you'd think to hit the ground running for some op shop hoppin'. But LOOK AT THIS. The Toorak Opportunity Shop only stocks its shelves with an impressive league of quality, cared-for and preserved goodies that you'd swear were untouched.
THE POSH OPP SHOPPE
Elsternwick
All of the loot you swipe at The Posh Opp Shoppe will go towards children living with disabilities. Sweet op-shop bargains for a good cause—that's the dream, right? These guys offer up a range of toys, children and adults clothing, jewellery and heaps more. Bring a big bag.
RED CROSS OP SHOPS
Almost everywhere
These guys have a simple mantra to help you remember the diff between 'donation' versus 'bin it' pile: 'If it's good enough to give to a friend, it's something we'd love'. The profits made here go to a whole crop of great causes, including disaster relief abroad. Take a stroll through a Red Cross Op Shop wonderland and you'll get your Splendour get-up sorted while doing a good deed.
SALVOS STORES
Almost everywhere
Hey, studious folks. Our favourite thing about Salvos Stores across Melb is their almighty student discount day. Yup. Every Wednesday, show your student card to save 20% off your haul and find a sensational outfit for that next Uni booze cruise you're boarding. Our pick? Cheltenham. Just a stone's throw from the shopping cosmopolis of Westfield. Definitely add this to your weekend to-do.
CHAPEL STREET BAZAAR
Prahran
You know that scene from Wild Child where Emma Roberts and her posse have a shopping spree-turned-music-video moment in the British op shop? You can recreate that at the Chapel Street Bazaar. It's a cacophony of crockery, crystals, dolls, shoes, clothes and jewels, but spliced into stalls by passionate purveyors, like an antique mini-mall.
DON BOSCO OP SHOP
Brunswick
Bric-a-brac, books and furniture—it's all hurr. The Don Bosco Op Shop is a (denim-filled) extension of the Don Bosco Brunswick Youth Centre. It even has its own van for pick-up and delivery services at a reasonable price. You can nab a bargain without doing your back in. We know you do F45 every weekday, but take a seat.
SACRED HEART MISSION OP SHOPS
Almost everywhere
If you purchase a distressed, brown satchel from the South Melb Sacred Heart window for 8 buckaroonies, you'll have just funded 2x three-course meals to someone in need. Mind-boggling but completely legitimate. Stock is sorted and displayed on a daily basis, which is also pretty bloody impressive. We'd recommend turning to these guys when embarking on a leather hunt, or simply in the mood for a good convo with the dedicated and chatty retailers.
VINNIES CENTRES
Almost everywhere
The Vinnies Op Shops pepper our city like little gold deposits with pristine window displays and oodles of bargains. They're clean and specialise in sifting through hoards of donations to weed out the best stuff for you. Special mention to the huge collection of crockery and adorbs kids' clothing at the Hampton fixture. Very good for fitting out shared house kitchens. Live it, learn it.
FAMILY LIFE OPPORTUNITY SHOPS
Almost everywhere
While all of the Family Life Op Shops do their bit at assisting vulnerable families in our city, the Highett trove also hosts a PeopleWorx program. Basically, they help people develop customer service skills and retail experience to assist them in their search for full-time employment. That's worthy of some applause. The shop sells furniture, books, clothing and electrical goods—you know the drill.
Online Op Shops

Photography: ASOS Marketplace
STAY COOL CLOTHING
Tash Carmeni is a Melburnian well-versed in the art of sourcing clothes with spunk. She's a vintage Treasure Hunter that'll outsource the whole tangible shopping experience for you, and then post her best thread-finds for perusal on Stay Cool. Op Shopping from a curated Insta grid? Uh, yes pls.
ROUND SHE GOES
Beginning as an in-the-flesh market, Round She Goes now parades thrifts online. These guys house a slew of pre-loved and vintage women's clothing, with a seriously ga-roovy website aesthetic. The next pop-up Melbourne market has 60 (!!) stalls and lands in Coburg Town Hall on Sunday 3 June.
BUY, SELL & SWAP FACEBOOK
Here's a place for that charming antique oak desk you've been harbouring in your garage since installing a glossy trestle-style replacement. Out with the old is sometimes hard if you're a bona fide hoarder. But on this Buy, Sell & Swap page, Melburnians are easily sharing around pre-loved possessions via a nifty snap, upload and bit o' salesmanship. Get on board.
ASOS MARKETPLACE
ASOS is indisputably one of our favourite places to procrasta-spend our time away into oblivion. Their Marketplace launched in 2010 with a couple of keen sellers, but has now blossomed into a vintage hub for over 800 boutiques coming from alllll different corners of the globe. Think 90s Sporty Spice gear and artisanal jewellery that will prompt a trillion compliments from your fashionista friends. Here's to dressing with authenticity again.
Image credit: Prudence Earl