If you ever saw the TV show Sea Change in the 1990s, you'll remember the start of the intro. Flash to a big city, noise, stress, traffic lights, slightly dodgy 1990s Melbourne corporate fashion. Then the camera pans back, we cross the Westgate, and the country opens up. That's what it's like when you head off on a camping trip—your busy, messy, everyday real world starts to fade away, and all that's left is miles and miles of open road (and hopefully multiple bags of CC's).
Want to know where to pitch your tent? We've rounded up the best campsites in Victoria. Most are a pretty easy drive from Melbourne, and for the rest...just tell your boss you'll be coming in sick on Monday.
Beachfront Camping In Victoria
Yanakie Camp Grounds | Wilsons Promontory
Yanakie is the last town you pass before you enter Wilsons Promontory National Park. There's not much there—just a cute little bakery and a general store. Drive on past the town, then swing a left and head towards the beach. You'll find Yanakie Caravan Park at the end of the road, right on the sand. There's a great range of powered campsites to pick from (bookings essential in summer), but we recommend splurging with a Lotus Belle Tent from Prom Coast Eco Glamping. You'll fall asleep to the sound of lapping waves (and a Bluetooth speaker—noice).
Tidal River Campground | Wilsons Promontory
One of the best-known campsites inside The Prom. And for good reason. On the one side you've got the clear waters of Tidal River, and on the other there's Norman Beach, one of the best in the national park. Tidal River gets busy, so you'll want to book ahead. There's room for nearly 500 tents, but they go quick in summer time. Bonus points: Tidal River is one of the few campgrounds we know with its own pop-up cinema. There's also gas barbies, hot showers and dishwashing stations. Luxe.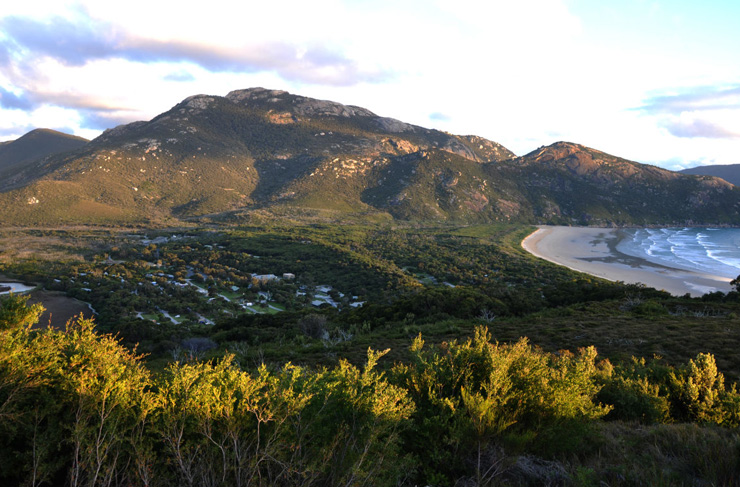 Photography: Parks Victoria | Flickr
Cumberland River Holiday Park | Great Ocean Rd
You've probably driven past this place a dozen times. The Cumberland River Holiday Park is about 7 clicks outside Lorne on the Great Ocean Rd. It sits right on the edge of the Cumberland River, surrounded by your usual mix of stunning cliffs, gum-covered ridges and sparkling blue ocean. You can pitch a tent, shack up in a deluxe cabin or splurge on an African Safari Eco Tent. There's also proper campfires (not very common in fire-ravaged Victoria). Pro tip: spend a day exploring the nearby Cumberland Falls. It's about a 5km walk.
Newhaven Beach | Phillip Island
We couldn't leave out Phillip Island, right? There's a few camping options on the island, but Newhaven Caravan Park is always a good bet (provided you book early). This is where you can meet Phillip Island's star residents—fairy penguins and friendly koalas—without forking out big bucks for 5* accommodation. The campground itself sits on a nature reserve near Newhaven Beach, and it's got great facilities. Toilets, showers, laundry service, a kiosk for basic supplies, plus volleyball and basketball for the kids. Defs make time to check out some of Phillip Island's famous wineries while you're in town.
Marengo Holiday Park | Great Ocean Rd
We have to admit, we've got a soft spot for Apollo Bay. If we could live anywhere along the Great Ocean Rd, this would probably be it. Book your campsite at Marengo next summer and you'll see what we're talking about. The Holiday Park is on the comfier side of the camping spectrum. You're 50m back from the beach, there's good WIFI coverage throughout the site, plus all your upgrades like cosy cabins, BBQ, adventure playgrounds and a massive Camp Kitchen. A good one for camping newbies, or families with a pooch in tow.
Johanna Beach | Great Ocean Rd
Another classic spot along the Great Ocean Rd. Johanna Beach is actually used as a back-up for the World Surf League championships if the waves at Belles Beach suck (which happens about once every billion years). It's a quiet little spot among the sand dunes, perfect if you like a spot of surfing with your camp. It's free too, which is a bonus, although that does mean you'll have to go without power. Just a heads up: the surface is a little uneven, and there's a mean slope heading down towards the beach. You might want to bring some squishy bedding to even out the angle.
Photography: @florian.fk | Instagram
Cape Conran | Gippsland
You'll find Cape Conran near Marlo in East Gippsland. It's a giant coastal park, and the Cape Conran campgrounds (also known as Banksia Bluff) are just 100m back from the beach. There's plenty of good campsites to pick from too—about 135 spread out over 1km. Check the website in August if you want to go in for the Christmas ballot (they raffle off the best campsites), and Easter bookings can be made up to 1 year in advance. Sounds hectic, but trust us—it's popular for a reason. It's probably the most beautiful beach spot past Lakes Entrance. Make sure you hike down to Salmon Rocks for an epic photo opp.
Sealer's Cove | Wilsons Promontory
Perfect if you're looking for a Prom date without the crowds. Sealer's Cove is a hike-in campsite, which means it's out of reach for the average boombox-wielding campervan. The people that find this little gem are after solitude and scenery—and they get both in abundance. The hike in is about 10km, which is substantial, but it's one of the prettiest walks in all of Victoria. The campsite has basic toilet facilities, but you'll need to BYO drinking water. You can also only stay two nights at a time, and you'll need permits from the Tidal River Visitor's Centre (or online). A bit of faff, but the experience is well worth it.
Photography: @matthew_duggan_photography | Instagram
Blanket Bay | Otway National Park
Another classic in the Great Otway National Park. Head to Blanket Bay if you enjoy any of the following: hiking, walking, tramping, bushwalking, trees, nature, koalas and panoramic views of the Southern Ocean. Bookings open each year on 1 August, and we'd advise getting in early—this place is probably the most popular overnight spot in the Otways. You can get a campervan in there, or otherwise pitch your tent on one of the 22 beautiful campsites. For facilities, you've got non-flush toilets, shared picnic tables and fireplaces (just BYO wood).
Killarney Beach | Killarney
If in doubt, Go West. About 280km west of Melbourne to be precise. That's where you'll find Killarney Beach Camp Ground, just past Warrnambool. Killarney itself is a tiny 800-person village surrounded by dairy cows and green green grass, and ringed with shallow, sandy bays. There's 20 powered and 50 unpowered campsites in the area, plus a kids playground and a sporting oval (camp cricket anyone?) The real draw here though are the wild western beaches, and the local produce. Definitely leave some time for a roadtrip to some of the farmer's market in nearby Port Fairy.
Aire River | Otway National Park
Aire River Camp Area is 100% off-grid, but don't let that put you off. It's got a special kind of peaceful magic which works its way into your bones after about 10 minutes. There are campsites on both the east and west bank of the Aire River (there's a large open area on the west bank, if you've got little ones that want to scream and run around). The facilities are pretty basic, but serviceable: toilets, picnic tables and fireplaces. This isn't a place you come to glamp—it's a place you come to enjoy the quiet beauty of the Otways. And just wait till you get a look at the beach...
Photography: Parks Victoria | Flickr
Kilcunda Holiday Park | Gippsland
The technical name is Kilcunda Ocean View Holiday Park, which makes sense when you see the site: this place comes with panoramic vistas all the way across Bass Strait, from Cape Woolamai in the west to Cape Paterson in the east. It also runs the full gamut of camping options: unpowered tent sites, powered campervan spaces, cute cabins and uber-luxe Oceanfront Villas. Basically, pick your budget and adjust accordingly. Got kids? There's a Koala Kids Club on site that'll keep them busy (while you take a dip in some of the clearest waters on the Victorian coast.
Wye River Foreshore | Great Ocean Rd
Wye River has a special vibe about it. 9/10 daytrippers drive straight on through on their way to Cape Otway and the Twelve Apostles, but the Foreshore Camp Ground is well worth a pitstop if you've got a few nights to spare. It's one of the best campsites in Victoria for koala spotting, and the beachfront real estate at the Wye River estuary is seriously speccy. The camp has power, toilets and showers, but if you want to splash out on a good meal, check out the Wye River pub and the general store, just off the main highway. Book early to avoid disappointment—there's only 64 pitches up for grabs.
Mornington Peninsula Foreshore | Rye, Rosebud, Sorrento
AKA 'I'm saving for my Portsea beach house but this is good in the meantime'. The Mornington Peninsula Foreshore campgrounds aren't for everybody. They're certainly not 'away from it all' (it's hard to be away from it all when you've got restaurants, pubs and service stations all within spitting distance). But the beaches along the Sorrento, Rye and Rosebud foreshores are beautiful. And the convenience balances the lack of isolation. The campgrounds themselves are brilliantly maintained, and you will need to book WELL in advance for these—there are families that've been summer camping here for generations.
Photography: Visit Mornington Peninsula
Wilderness Camping In Victoria
Cooks Mill | Cathedral Ranges
Cooks Mill is one of the most popular campsites in Victoria's Cathedral Ranges (and if you haven't checked out Cathedral yet, get cracking—it's amazing). 30 shady campsites, tucked among the tall gum trees. It's so close to Little River you can hear the water burbling. Facility-wise you've got non-flush toilets, picnic tables and fireplaces (BYO cooking plates). You'll also need to BYO drinking water—Parks Vic doesn't recommend drinking from Little River.
Parker Hill | Otway National Park
The first thing you need to know about Parker Hill is access. Or lack of it. This isn't a place to take your shiny new Volkswagen Golf. You'll need a proper 4WD to get to the campsite. Of course, like most things that are hard to get to, your rewards are unspoiled nature, seclusion and some of the best scenery in the Great Otway National Park. There's 20 campsites at Parker Hill, plus compost toilets (so you're not totally roughing it). Better yet, there's access to the Great Ocean Walk (a must-do). Come prepared though—there are no fireplaces here, and fires aren't allowed at any time. Time to bust out that Trangia.
Sheepyard Flat | Howqua Valley
Is there a prettier part of Victoria than the Howqua Valley? It's certainly got the most beautiful name. Sheepyard Flat is one of the best campsites along the Howqua, set just outside Mansfield. Fly-fisherman discovered this place a long time ago, and you'll usually spot several wading up and down the river, casting their flies for trout, perch and Redfin. Camping at Sheepyard is free, and it's a first-come-first-served sort of deal. Pro tip: spend a day hiking out to Fry's Flat, one of the areas' original crofter's huts.
Photography: @fun.and.james | Instagram
Lake Camping In Victoria
Fraser Camping Area | Lake Eildon
The Fraser Camping Area actually comprises three individual campsites: Lakeside, Candlebark and Devil Core. It's a beautiful, sprawling spot, surrounded by 27,000 hectares of dense forests and wooded hills, not to mention Lake Eildon right on your doorstep. You can grab supplies from either Alexandra or Eildon (both about 15 mins away). Most of the stuff is BYO, but all three campsites have hot showers, flushing toilets and gas BBQs. Who's up for some wakeboarding?
Halls Gap Lakeside | The Grampians
There are a swag of good campsites from which to explore The Grampians, but Halls Gap Lakeside is one of our faves. You get fantastic views of the surrounding mountains, powered campsites (which are fairly roomy), night-time campfires and even a woodfire-heated outdoor pool (!!). Spend your days soaking up some serenity, kayaking on the nearby Lake Bellfield, go fishing for brown trout, ride horses along the trails and get mugged by the thousand sulphur-crested cockatoos that call the place home. Oh yeah, and did we mention the glamping? Check this sh*t out: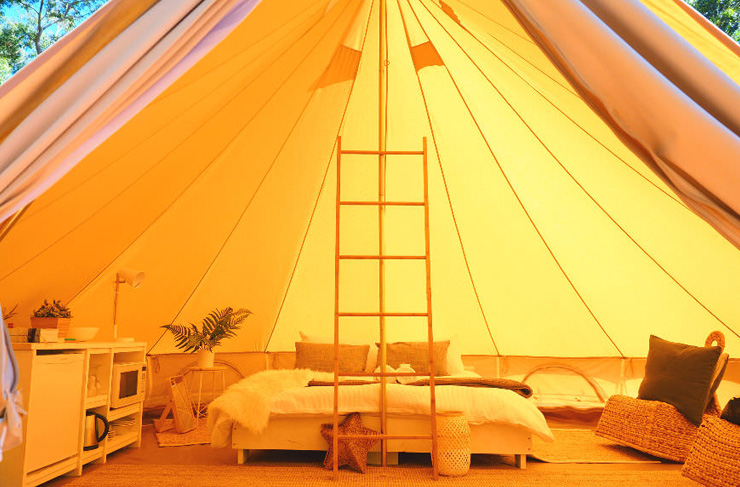 Photography: Adventure Me | Halls Gap
Lake Catani Campground | Mt Buffallo
Alpine camping isn't as popular with Melbournians as the Great Ocean Rd, Otways or the Grampians—but that's probably just down to the drive. Yeah Lake Catani takes a little while to get to (4h from the inner 'burbs), but it's the only real spot you can stay if you want to have a serious crack at Mt Buffalo's Horn. You can grab unpowered sites for tents or campers at Lake Catani from November through to April. Go walking in the Snow Gum woodlands, hike, bike or rock climb, or BYO kayak and paddle your way across Lake Catani.
Barmah Lakes Camping Area | Barmah National Park
Hands up who's heard of Barmah National Park? Okay, not many of you. That's cool. It is a long way away, tucked right up on the border with NSW. It's also the world's largest Red River Gum forest, with a gorgeous FREE campground where Broken Creek meets The Murray and Lake Barmah. As you can probably guess, water sports are big up here. Swimming, fishing, kayaking, paddle boarding—you name it. Keep an eye out for flood warnings though. The rains here can change conditions pretty quickly.
Lakes Entrance Camping Reserve | Lakes Entrance
There's 'on the lake' and then there 'ON the lake'. This campground is about as close as you're gonna get to the water without owning a houseboat. You can practically waterski straight out of your tent. Lakes Entrance Camping Reserve is one of Victoria's 175 Crown Land caravan parks, set aside by the State Government as a cheaper space for all Victorians. The amenities are excellent (two toilet blocks, showers, BBQs and even a tennis court), and obviously it's popular with all sorts of water sport enthusiasts.
Further Reading
Want some more tips? Check out these stories for extra info on Victorian camping and glamping.
Feature image credit: Parks Victoria | Tidal River