The meatball sub is a thing of beauty, easy on the eyes and a delight for the tastebuds. While subs vary from venue to venue you can expect that age-old combination of juicy flavoured filled pork or beef meatballs, swimming in rich tomato sugo and topped with cheeses from parmesan to provolone, mozzarella and more.
To get the read on where to head to next for your next fix, here's where to find the best meatball subs in Melbourne for 2022:
Rocco's Bologna Discoteca
FITZROY
A true silver lining of lockdown, the creation of
Rocco's Bologna Discoteca
brought to us one of the best meatball subs in Melbourne. Headed up by Josh Fry of
Poodle
, the Rocco's sub is a hefty number with beef and pork polpettes, Napoli sauce, shaved Parmigiano and a dash of salsa verde all resting in a thick crust roll. Rocco's Bologna Discoteca has previously existed in pop-up form around town over the last few years, and while we wouldn't be surprised if we see another soon, the word on the street is that RBD are opening a permanent locale in the not too distant future. Stay tuned
here
.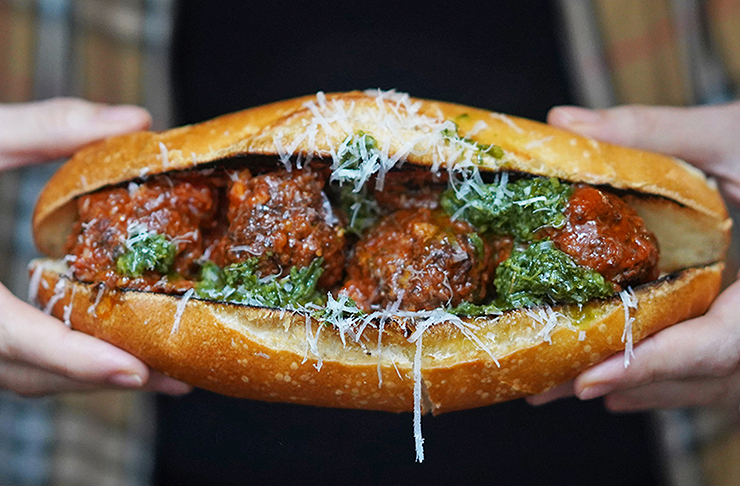 Rocco's Deli
YARRAVILLE
It's important to pay homage to the originators, and
Rocco's
is one of the most original deli-sandwich outlets you'll find in Melbourne dating back to 1977. Using Nonna's traditional recipe their O.G meatball sub panini still turns heads. Located out in Yarraville the ultra-authentic sub-features whole-beef meatballs, tomato sugo, and semi-melted pecorino. This one unfortunately isn't a menu mainstay so keep an eye on the
Rocco's gram
to see if they'll be serving it up this week.
Smith & Deli
COLLINGWOOD
We can't let meat-eaters have all the fun; Shannon Martinez's
Smith & Deli
is spreading the joy with their very own plant-based meatball sub. 'The Maury Ballstein' as it has been affectionally dubbed features housemade meatballs in a rich tomato Napoli which is then topped with pesto, rocket, and melted cheese. Good for you, good for the planet.
Nico's
CBD & FITZROY
The sandwich sensation of
Nico's
is a force to be reckoned with and their two locations in the CBD and Fitzroy just off Brunswick Street are always teeming with devotees. Get a glimpse at their meatball and it will be no surprise as to why; with a combination of beef and pork meatballs in a smoked tomato sauce, with bone marrow, pecorino and basil atop giving it a fragrant lift from the heavy flavours.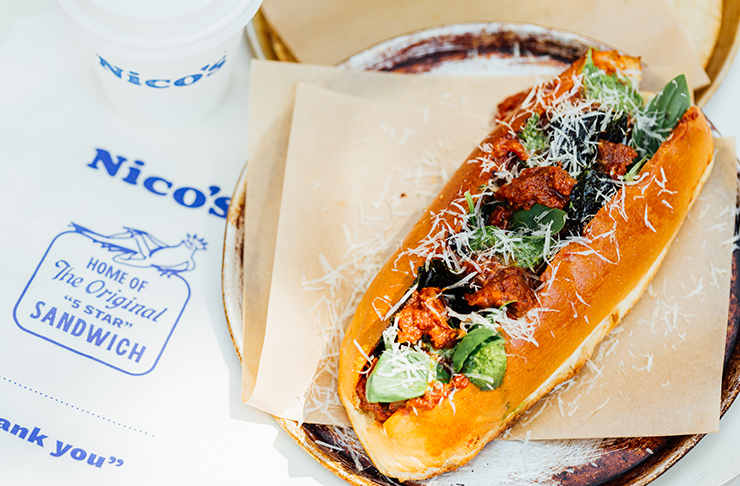 Derby Hot Sandwiches
FITZROY
The just-opened Smith Street shopfront is a new and true sanga haven. The newly-opened operation,
Derby
is conveniently positioned for the northside community and is home to one serious sub. The 'Mamma Mia' is a full-rounded flavour sensation with pork meatballs, sugo, basil leaves, a dash of salsa verde and generous shavings of provolone, Scamorza, and Parmigiano cheese
Image credit: (Nicos) Annika Kafcaloudis