The secret behind Melbourne being the most liveable city? It's a toss-up between coffee, coats, and the most delectable potato cakes the world has ever seen. Whether you call them potato cakes or potato scallops (who are you!?), we've got you covered.
Here's the ultimate guide to finding all things potato cake in Melbourne.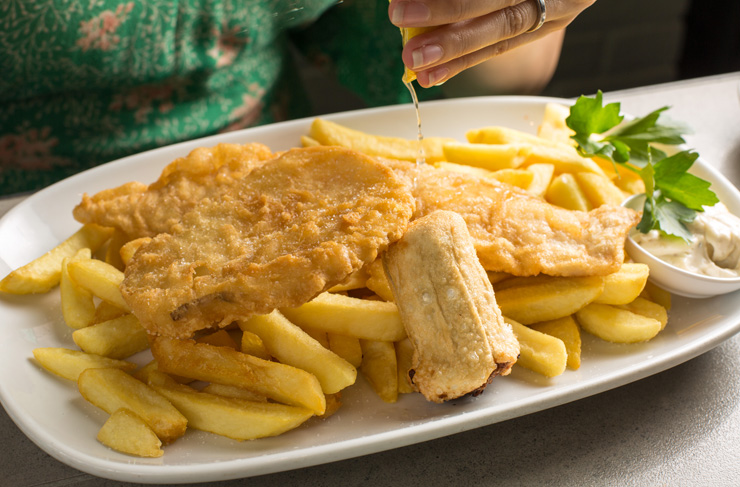 Photography: Annika Kafcaloudis | Hunky Dory
Hunky Dory
Various
The classic potato cake—a timeless beauty. Perfecting a traditional delicacy is no easy feat, but Hunky Dory has nailed it with this one. They've pushed the boundaries and created sweet potato cakes, the ultimate post-workout indulgence. Crunch on these fellas this Good Friday, with $1 from every potato cake sold donated to the Royal Children's Hospital Good Friday Appeal.
Easey's
Collingwood
Double fried, Melbourne bitter battered potato cakes… (try saying that five times fast). These bad boys even come in sandwich form. Hell to the G-d damn YES. Easey's tato' cake sammy is topped with American cheddar, crunchy lettuce, tomato, pickles and onions. Drool. Don't forget, they've also taken over the kitchen at Two Wrongs in South Yarra.
Beluga
South Yarra & Port Melbourne
If you live in Melbourne's south, you're probably either Team Hunky Dory or Team Beluga (or is it Belvga...we're never sure). Both chipperies have their upside, and both smash out a crispy, perfect potato cake. One day we've got to get both of these guys side by side and do the Pepsi Challenge...
Photography: Burgers Of Melbourne | Hide n' Seek
Hide n' Seek
Tullamarine
The experts over at Hide n' Seek have created the Mona Lisa of potato cakes. As soon as these lightly battered, handcrafted puppies hit the scalding hot oil they form crispy AF, delicate waves—no two ever quite alike. Go the extra mile and add these flawless little suckers to their gnarly Wagyu beef burgers. A match made in potato-heaven.
Kiwi Fish & Chips
East Melbourne
Don't let the Kiwi name put you off—these guys are doing some of the best hand-carved potato cakes in town. Perfect scallops, cut from Desiree potatoes, then fried in a pillow-light tempura batter. They're only $1 each and go great with a fried slice of King George Whiting. Check 'em out beneath the Tribecca apartment building in East Melbourne.
Kings & Queens
Camberwell
Kings & Queens are Melbourne's experts when it comes to gluten-free fish n' chips. Their 'tato cakes aren't gluten-free (they're working on a recipe as we speak), but they're still bloody good. Bite through the crispy and golden exterior of this glorious cake and you'll hit the warmth and succulence of a perfect potato scallop.
Photography: Griffin Simm | Benny Burger
Benny Burger
Richmond
Forget store-bought potato cakes from the freezer aisle. Benny Burger has perfected the art of hand-dipped potato cakes. These golden fried beauties are batter-dipped by hand, sculpted to perfection, and fried in the freshest oil possible. The spuds come from local Victorian growers too. Bonus. Whack them inside your burger for some serious crunch factor.
The Fish Market
Richmond
Another Richmond gem. Chris Patinyot has run a family seafood business for years, so he knows his way around a deep fryer. The Fish Market's potato cakes are cut by hand, dipped and prepped in-house, then fried to a sunshine gold. The potatoes come from local farmers in Hallam. Potato perfection, right here.
Tommy Ruff
Windsor
Potato cakes with a side of fish, please. On second thought…hold the fish. You'll want a constant inflow of these crunchy babies from Tommy Ruff for entrée, main, sides and even dessert. Check these guys out on Chapel St in Windsor (like Windsor wasn't delicious enough already...)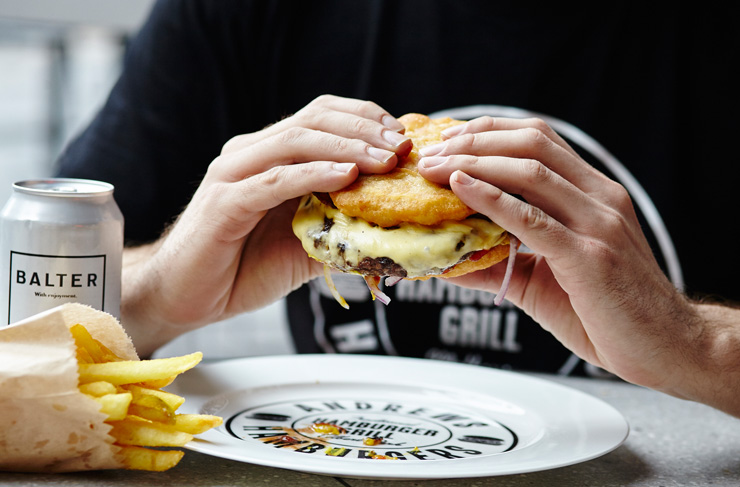 Photography: Michelle Jarni | Andrew's Hamburgers
Andrew's Hamburgers
CBD
You don't need the Marauder's Map to find the potato cake burger at Andrew's Hamburgers. Slyly ask them for their secret menu and locate The Hulk burger…the ultimate combo of cheese, beef, bacon, onion and tomato sauce sandwiched between two golden potato cakes. De-f**ing-licious. Just watch your fingers on that deep-fried batter.
King George Fish n' Grill
Geelong
Our token out-of-towner, and still our favourite fish and chip place in G-Town. King George is a little pricier than your standard chippery, but f*ck it—you get what you pay for. Their potato cake batter is always shatter-crisp, fried in new oil to a perfect golden hue. Grab a Coke Zero, then take your catch down to the Geelong waterfront. Just watch out for seagulls near the playground.
Header image: Andrew's Hamburgers | Michelle Jarni