Potato cake, potato scallop, whatever you call them they're an integral component of any balanced diet. Deep-fried and crisped to golden perfection, it's the potatoes finest form.
We've all gone under the guise of getting fish and chips just to solely put four of the buggers to the sword, and there should be zero shame in that.
Here's where to get the best potato cakes in Melbourne for 2021:
Hunky Dory
VARIOUS LOCATIONS
The classic potato cake—a timeless beauty. Perfecting a traditional delicacy is no easy feat, but Hunky Dory has nailed it with this one—touted as the best potato cake in Victoria by the Uniquely Aussie Awards. It truly lives up to the limelight.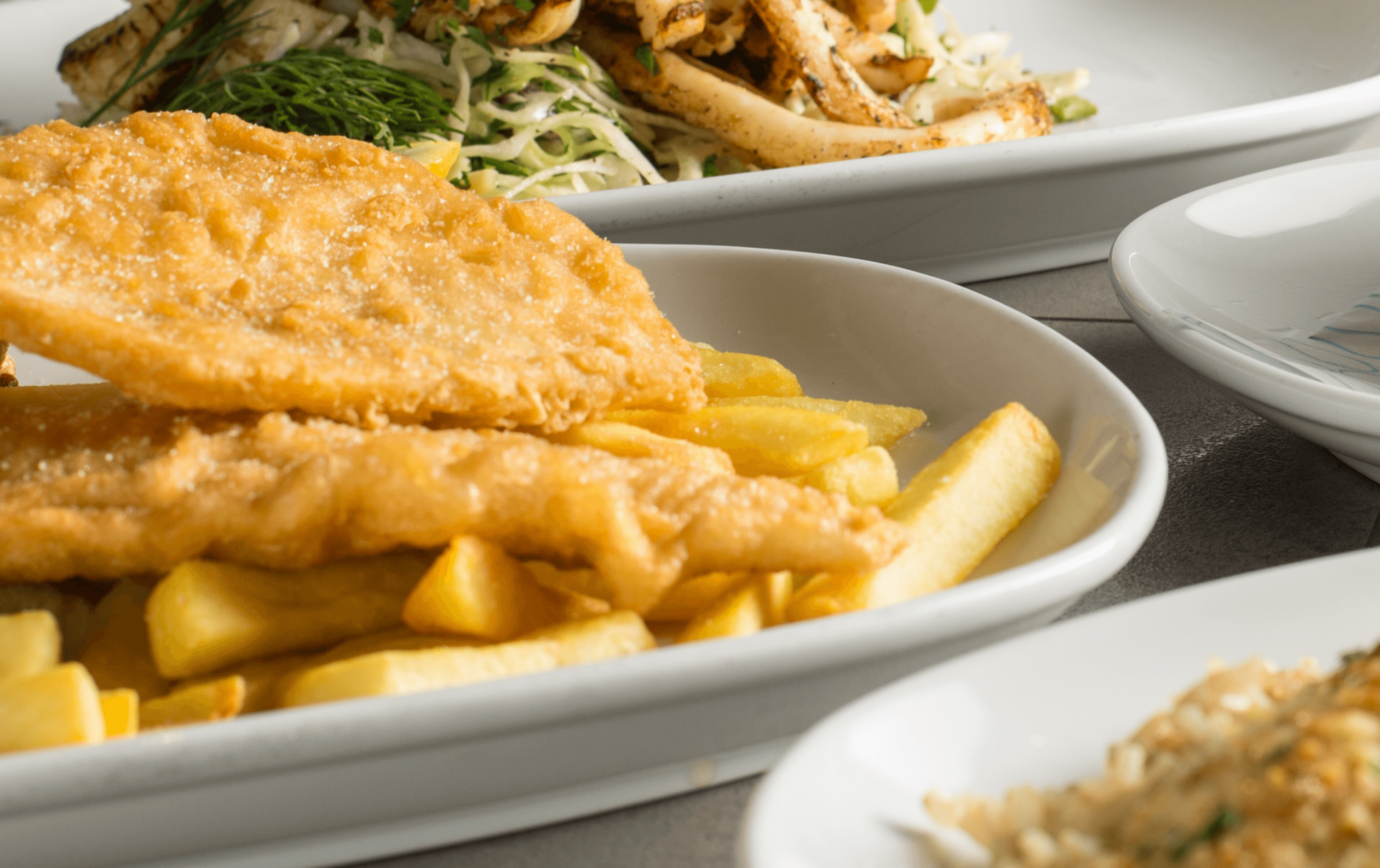 Easey's
COLLINGWOOD
Double fried, Melbourne bitter battered potato cakes. What a heavenly sentence. The cakes at Easey's are truly revolutionary, and at $2.50 a pop, they're kind on the wallet as well. You can also add them into your burgers and hot dogs, levelling up the entire experience.
Beluga
SOUTH MELBOURNE & PORT MELBOURNE
If you live in Melbourne's south, you're probably either Team Hunky Dory or Team Beluga. Both chipperies have their upside, and both smash out a crispy, perfect potato cake. The Beluga potato cake is perfectly battered with a textured golden exterior that emits incredibly ASMR-worthy crunching noise with every bite. Hands down one of the best potato cakes in Melbourne.
Hide n' Seek
TULLAMARINE
The experts over at Hide n' Seek have created the Mona Lisa of potato cakes. As soon as these lightly battered, handcrafted puppies hit the scalding hot oil they form crispy AF, delicate waves—no two ever quite alike. Go the extra mile and add these flawless little suckers to their gnarly Wagyu beef burgers. A match made in potato-heaven.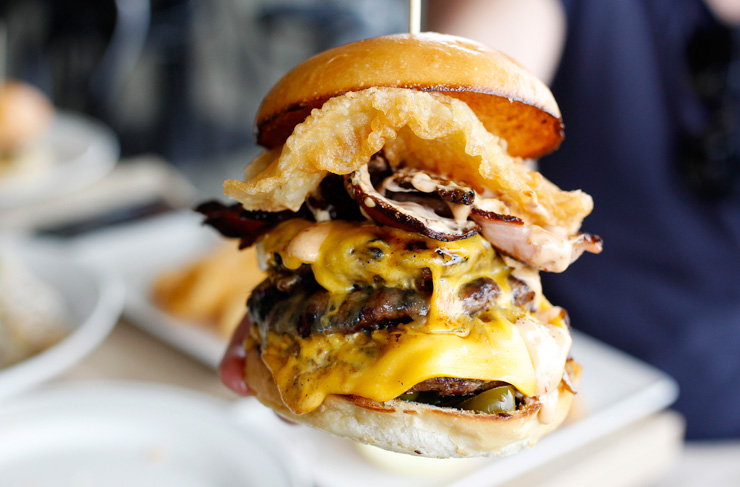 Kiwi Fish & Chips
EAST MELBOURNE
New Zealand is notably a big leader of the fish and chip dining scene, and these guys are staying true—doing some of the best hand-carved potato cakes in town. Perfect scallops, cut from Desiree potatoes, then fried in a pillow-light tempura batter. They're only $1 each and go great with a fried slice of King George Whiting. Check them out beneath the Tribecca apartment building in East Melbourne.
Kings & Queens
CAMBERWELL
Kings & Queens is one of Melbourne's experts when it comes to gluten-free fish n' chips. Their self-described Fish & Chip concept store has a range of coeliac-friendly fried goods, specialising in the prized potato cake. Bite through the crispy and golden exterior of this glorious creation and you'll hit the warmth and succulence of ones of the best potato cake in Melbourne's southeastern suburbs.
The Fish Market
RICHMOND
Another Richmond gem. Chris Patinyot has run a family seafood business for years, so he knows his way around a deep fryer. The Fish Market's potato cakes are cut by hand, dipped and prepped in-house, then fried to a sunshine gold. The potatoes come from local farmers in Hallam. Potato perfection, right here.
Tommy Ruff
WINDSOR
Alongside Tommy's stellar range of fish, there's one side dish that outshines them all. The crunchy golden numbers from this Chapel Street favourite are worthy of mention in the conversation of best potato cakes in Melbourne. The relatively thin slice of potato means the batter is perfectly crispy and the potato inside is soft and buttery to the taste. Big score for Windsor.
Andrew's Hamburgers
ALBErt PARK
One with plenty of legacy, Andrew's Hamburgers has been grilling and frying since 1939. Over the decades of refinement, they've gotten their potato cakes down to a fine craft. Slyly ask them for their secret menu and locate The Hulk burger—the ultimate combo of cheese, beef, bacon, onion and tomato sauce sandwiched between two golden potato cakes. Just watch your fingers on that deep-fried batter.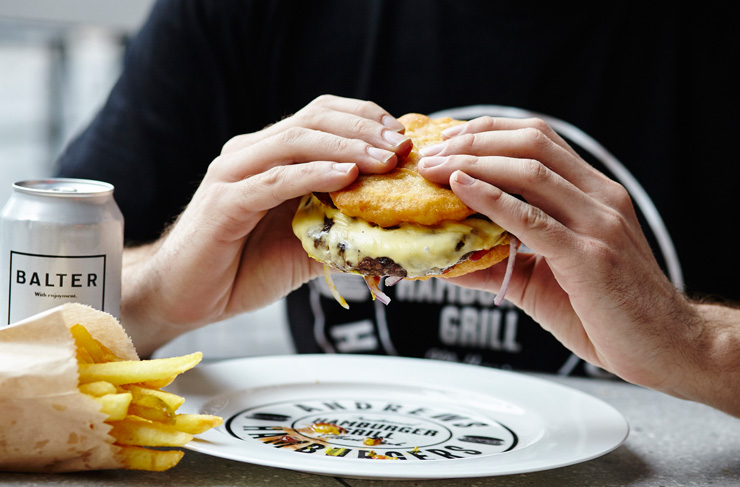 King George Fish n' Grill
GEELONG
Our token out-of-towner, but still one of our favourite fish and chip spots. King George is a little pricier than your standard chippery, but you get what you pay for. Their potato cake batter is always shatter-crisp, fried in new oil to a perfect golden hue, and is perfectly enjoyed whilst taking in the Geelong the seaviews.
More of a dim sim fan? Right over here.
Image credit: Annika Kafcaloudis
Andrew's Hamburgers | Michelle Jarni