Melbourne yoga studios have stepped up their game over the years. It used to be you just needed some #namaste and Enya on the boombox. But now we're got Bikram yoga, rooftop yoga, gorgeous Zen palaces and secret rooftop lofts, hip hop yoga, beer yoga and everything in between. If you want to know the best place to get your stretch on in Melbourne, assume Child's Pose and get reading.
Here are the best yoga studios in Melbourne.
Classic Yoga Studios
Warrior One Yoga
Brighton
Get your Warrior One on at Warrior One Yoga. Along with their thirteen experienced yoga instructors, Warrior One Yoga is also home to a fluffy, four-legged yogi who is guaranteed to get your tail-wagging. A selection of class options include Acrovinyasa, Vinyasa Flow and Yin Yoga.
Photographer: Jess Prince | Jessica Dewar Yoga
Jessica Dewar Yoga
Hawthorn East
Jessica Dewar Yoga is like the Lentil As Anything of the Melbourne Yoga Scene. They popped up in Hawthorn East with a pay-what-you-feel approach. The fact that they're still alive means people must feel they do some pretty damn good yoga. Jessica Dewar wants to make yoga accessible to every budget, body type and level of flexibility (she's good like that). You'll find the studio on Camberwell Rd in Hawthorn East, just down from the Rivoli Cinema. Post sesh movie? We're keen.
Barre Body
Fitzroy, CBD, Windsor, South Melbourne
You'll find Barre Body in either South Melbourne, CBD, Fitzroy or Windsor. It's been around the traps for a while. While technically not a pure yoga studio, their unique ballet-style approach fuses the best of barre conditioning, yoga and pilates. It's all designed to create longer, leaner muscles, particularly in the legs. Some of the stretches are up on the barre, while others are down on the matt. It's all inspired by the famous Lotte Berk Method (with maybe an extra dash of yoga goodness). Don't forget to point those toes.
Beautiful Yoga Studios
Humming Puppy
Prahran
Leave Humming Puppy humming. Known for its mellow, humming studios specifically designed by acoustic engineers, Prahran-based Humming Puppy offers luxury, relaxing yoga in their charcoal-coloured studios. Featuring smooth, coffee-blushed timber and the highest quality Manduka yoga mats, marinate in classes that range from low intensity to dynamic.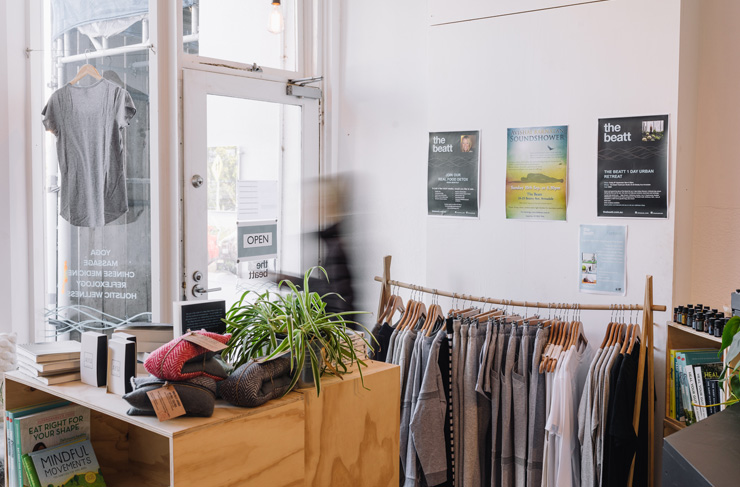 Photography: Griffin Simm | The Beatt
The Beatt
Armadale
Part health-care, part sanctuary, part ridiculous yoga studio, The Beatt wears a lot of hats (mostly hats made out of ethically-sourced, 100% hemp and chia seeds). Walk through The Beatt's cafe space, down through the little Zen garden, and up the stairs—it's here you'll find the second story yoga studio. It's one of the most beautiful spots we've ever had the pleasure to Downward Dog. You can sign up for classes via The Beatt's website—there's a helpful calendar to show you what's coming up, you can even filter by your favourite instructor. Ashtanga flow, Vinyasa sessions, Mat Pilates, Yin and Hatha Yoga, you can do them all.
Happy Melon Studios
Armadale
Housed in a gorgeous sun-lit studio, Happy Melon Studios is like your home away from home. Green gardens, a contemporary meditation room and clean white walls create a warm space for yoga, meditation and fitness. Offering five unique yoga classes including prenatal yoga, yoga flow and yin yoga, Happy Melon's yoga classes have a strong focus on mindfulness, meditation, and relaxation.
Light Space Yoga
Mitcham, Balwyn, Ivanhoe
The open plan studios in Mitcham and Balwyn will make you feel lighter as you walk into Light Space Yoga. With the Ivanhoe studio up and running, these locally loved studios offer traditional yoga classes like slow flow, yin and vinyasa along with meditation. White bamboo floors and gorgeous wallpaper mural features create these little sanctuaries in suburbia.
Photography: The A Life
Willow Urban Retreat
Armadale
Armadale certainly is kicking some aesthetic goals, hey. A new addition to the market, Willow Urban Retreat oozes zen. Arched corridors, wide, open studios with sunlight streaming in, there's no struggle to get lost in your yoga here. Classes run regularly, as well as the studio offering a wide range of other classes including pilates, sound therapy, meditation treatments, a trampoline workout—and we could go on. Plus, their cafe is right next door for a post-workout feed.
The A Life
Carlton North
A yoga studio run by fully qualified osteopaths. How's that for an idea? And no matter how you feel about the softer sciences, you should give this place a go. The A Life specialises in injury recovery and joint mobility, and they even offer Naturopathic consultations are available for those seeking treatment plans. The yoga classes run regularly and can be adapted to any level of touch-your-knees flexibility. Check out their site for all the info.
Unique Yoga Studios
Photography: Fauna Yoga
Fauna Yoga
South Yarra
Hands down the most spectacular yoga studio that's opened in the last few years. How many other studios can boast rooftop views over the trees of the Botanic gardens? Fauna Yoga is tucked up some stairs above the Domain Brasserie (if you hit The Botanical you've gone too far). Up some winding stairs, and you emerge onto a stunning rooftop yoga terrace. They run dawn classes here, so you start in pitch darkness and Namaste as the sun rises over the treetops. If you're a Melbourne yoga junkie, add this to your bucket list pronto. Yoga master Michelle runs a mean session.
Photography: Yoga 213
Yoga 213
Richmond
Yoga 213 takes a different approach to mindfulness, with a lil' well-intended hip-hop. Originally coined in LA, Hip Hop yoga classes involve static contractions and active movement to the beats of Biggie, Jay Z and Snoop Dogg. Other musical yoga classes including Chill Yoga (its full name) and Yin Yoga. Beach-coloured furnishing, timbers, and contemporary patterns make up this cheeky, bright space.
I Am That
Collingwood
This little Collingwood studio is all about breaking down the stereotypes that surround yoga—it's too expensive, it's for the elites of the workout world, you need to be 100% committed to the spiritual side. Instead, here at I Am That, they offer community sessions where you pay only what you can afford, with all money going to the teachers, and people of all elvels of flexibility are invited. There's a whole range of classes on offer, restoring Hatha, meditation sessions—and even a candlelit yoga night. And did we mention the pop-up afternoon market?
Hot Yoga Studios
One Hot Yoga
South Yarra
Walking into South Yarra's One Hot Yoga studio is like walking into a luxury spa. Open concrete floors, grey brick and cream furnishing creates a calm, elegant space. Classes range from meditation to Power Flow yoga. One Hot Yoga's signature class, Slow Hot Flow, is held in a sizzling 37-degree Celsius room for one hour, targeting your core and improving balance.
Photography: Move Yoga
MOVE Yoga
CBD
There's no excuse to skip your daily dose of T-out with MOVE Yoga located just around the corner from Flinders Street. Classes include Yin Yang Flow yoga, three levels of power flow and sweaty hot flow yoga. Distinctively, express classes run for just 45 minutes and longer classes run for up to 75 minutes.
Yoga Corner
CBD
Practising a combination of Hatha and Vinyasa yoga styles, Yoga Corner runs hot yoga classes throughout the morning, evening and during lunchbreak-friendly hours. The sequence throughout their signature hot yoga classes rotates seasonally to ensure you never hit a yoga slump. Othemeditativeve classes include Jivamukti Yoga and Yoga Nidra.
BIKRAM YOGA
South Melbourne
First-time students can get their greasy mitts on a $49 intro month of unlimited yoga classes at Bikram Yoga in South Yarra, although you'll probably want to hear the next bit before you hot-foot it the signup page. Their classes include 26 postures and two breathing exercises (run at your own unique skill level) for ninety minutes, IN A FORTY DEGREE ROOM. Yeah, enjoy that.
Photography: Power Living
POWER LIVING
Fitzroy
Considered the 'soul' of yoga in Melbourne, this tranquil Fitzroy studio features gorge high ceilings and an expansive well-lit space for all practised and phresh yogis. Book yourself in for a powerful Heated Vinyasa Yoga Class and then refresh yourself in their well-equipped change rooms. You can even treat yourself to some independent brand jewellery located in their in-house retail boutique.
BIKRAM HOT YOGA FITZROY
Fitzroy
With a pretty tantalizing intro offer of unlimited 30-day yoga for a sweet, sweet $35, it's pretty hard to go past Bikram Yoga Fitzroy. This little studio is independently owned and also teaches 26 therapeutic postures and two breathing exercising in a ninety minutes yoga classes, HEATED TO 40 DEGREES. It also does it 32 TIMES A WEEK.
BIKRAM HOT YOGA RICHMOND
Richmond
Bikram Hot Yoga Richmond's hawt yoga classes can result in the healing and repair of injuries and illnesses, as well as weight loss and peace of mind, which for $49 a month sounds like a pretty rad deal. Now in its thirteenth year, this Richmond studio is an Australian independently owned business with experienced professionals who are passionate yogis both behind and in front of closed doors.
GRASS ROOTS YOGA
St Kilda
Grass Roots Yoga offers a $50 introductory month of unlimited yoga as well as a range of classes heated at 37, 34, 32, 28 and 22 degrees Celsius for everyone whose energy bills are through the roof this winter. These guys specialise in yoga for people of all ages, levels and mindsets (looking at your scoffing the Oreos in bed).
YOGA TREE
Elsternwick
With a $25 two-week introductory unlimited yoga offer, Yoga Tree is one of our South-side faves. Like most of the studios on this list, they offer the HELLISH 40 degree Bikram yoga classes that will almost definitely maybe heal your physical and psychological ailments and all in the comfort of their state-of-the-art studio.
HOT BIKRAM YOGA ASCOT VALE
Ascot Vale
This one goes out to all the Bikram-obsessed yogis out there who like to bend it like Beckham in 40-degree temperatures. Hot Bikram Yoga Ascot Vale not only has an absurdly long name, but it also has a $39 introductory offer including thirty days of unlimited yoga for students, can I get a hell yeah! Aside from the traditional Bikram Hot Yoga, they also offer Express Bikram Yoga for those of us who are cold and stiff but in a hurry.
YOGA FLAME
Moonee Ponds, Windsor
With two locations in Moonee Ponds and Windsor, Yoga Flame is Melbourne's resident yogi get-around. This studio not only has a deep connection with traditional yoga practices (set in a modern day setting) but it also offers a winter retreat to Byron Bay between July 15 and 21, which promises to be A LOT warmer than Melbourne. So if you've been looking for a reason to roll out your $8 Kmart yoga mat-this is it.
Kula Yoga
Hawthorn East
Trying to track down the best places for hot yoga in the Eastern suburbs? Look no further than Kula Yoga in Hawthorn East. Kacey, Kula's founder and head yogi, leads a team of brilliant and highly qualified instructors, who all make the 35-degree hot yoga classes seem like a breeze (albeit it a very warm one). The Kula Yoga studios also have a wellness centre, offering services such as osteopathy, massage and nutrition.
Want to kick it up a notch? We found Melbourne's toughest workout sessions.
Image credit: The A Life