Melbourne's love affair with Mexican cuisine is no secret. We've frothed over new openings, been loyal to our favourite places, and embraced fusion. That love, of course, extends to the spirits of the country, specifically tequila and mezcal. Both the spirits originate from the agave plant, but we know where they truly belong is in our hands and stomachs. Luckily for us, Mejico, a happening restaurant located in Pink Alley, is opening up its own Tequila Bar right above it, a boozy joint that will have one of the largest selections of tequila and mezcal in the whole country. Launching on the 28th of October and with over 250 options, you'll no doubt be spoilt for choice.
The drinks are the main attraction of Tequila Bar by Mejico, and they're not shy about their immense curation. They pride themselves on the rarity of some selections from their drinks list, such as the 7-year-aged Leguas d'Antano Extra Anejo Tequila, as well as the El Jolgorio Mezcal, which is crafted from a rare species of agave. Alongside all the spirits, there is a handsome array of wines and beers available, as well as sangria by the glass or jug, but we're betting you'll pick the jug.
Of course, it would be remiss of them to not give you anything to line your stomach with, so the team have put together a variety of late-night eats. Offerings include tomato & pineapple salsa with blue corn chips served with a spicy Guacamole, Daylesford beef brisket Empanadas, jalapeño poppers, coriander and plantain chips, as well as Chicharrones, a bite-sized Mexican pork crackling. The dishes on offer have been chosen to complement their signature cocktails, ensuring each bite and sip have the perfect companion.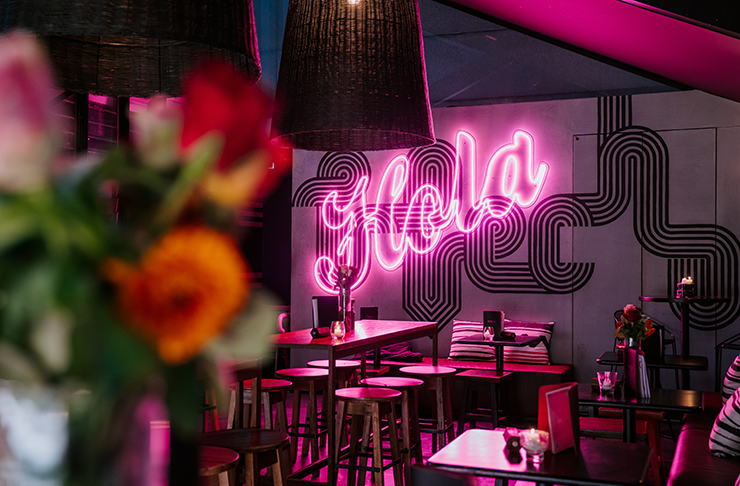 The chic venue is emblazoned by a neon-pink 'Hola' sign, which casts it's rosy light over the teak wood tables and stools. Tealight candles adorn the surfaces, creating a more intimate atmosphere than the neon would initially suggest. The bar itself is illuminated to showcase the staggering array of liquor on hand, each bottle like a little trophy. The late-night vibe is overwhelming, making Tequila Bar by Mejico the perfect spot for a post-dinner drink.
Check out more of Melbourne's best bars here.
Image credit: supplied