Luxembourg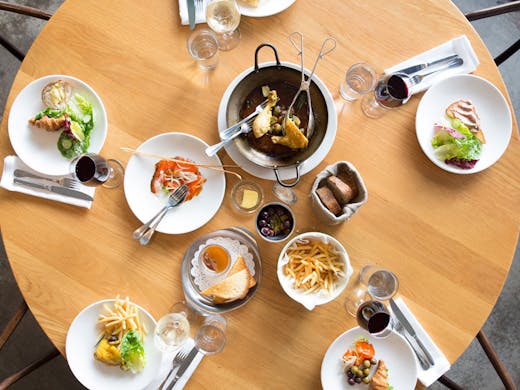 The verdict
If someone had told us that there's a picture-perfect slice of Paris hiding in St Kilda, we would have laughed them out of town, then gone on our Flinders Lane-eating way. That was before we discovered Luxembourg, the jaw-droppingly beautiful Fitzroy Street eatery which is co-owned by food scene superstar Andrew McConnell.
You might've heard McConnell's name being bandied around—especially if you've ever eaten at, oh, any of Melbourne's coolest restaurants. The brains behind the CBD fusion and karaoke hot-spot Supernormal, as well as Fitzroy's Builders Arms Hotel, Cutler & Co, its neighbouring wine bar Marion, award-winning eatery Cumulus Inc., and butchers-cum-cookware emporium Meatsmith (*excuse me while I take a breath!), Luxembourg follows in good footsteps, pairing effortless, laid-back style with food you'll be dreaming about for days.
A lunch, dinner and drinks affair, Luxembourg's menu combines rich flavours, fresh ingredients and expert techniques at the hands of genius head chef, Chris Watson. Pretty much everything is mouth-watering (think 'duck and beetroot cooked in Pedro Ximénez sherry' kind of mouth-watering), but gone are the days of stiff white tablecloths and uncomfortable shuffling if one of you dares to laugh after a couple of glasses of wine. This Insta-worthy eatery is revamping dining culture, ditching the rules in favour of relaxed European flair.
Dropping in for a drink and a handful of nibbles? You'll find fresh oysters aplenty, as well as charcuterie platters, wine and garlic dressed Portarlington mussles, and some of the most drool-worthy steak tartare in Melbourne. Better yet, drop in between 5pm and 7pm, and you can pick up those oysters for half price, as well as a bargain $8 Aperol Spritz. A taste of Europe for under a tenner? Hell yes!
If you're looking for a feed (or if you've wandered in for a drink and accidentally ended up staying for dinner—as has happened to us on more than one occasion…), get ready for a feast that will include to-die-for dry aged steak, perfectly seasoned trout gravlax, and a freshly made chocolate tart that will have chocoholics fighting over the last mouthful. As for wine? You could spend your entire evening reading the list, which covers the best of European styles and local heroes—although luckily you won't have to, just ask the experts for a recommendation.
Whether it's an evening tipple, a cheeky long lunch (Fridays and Sundays only, folks), or a decadent dinner date that runs long into the night, Luxembourg is a must-visit for those who are partial to delicious food, incredible wine and cocktails, and a show-stopping venue. Hey, wait… Isn't that everyone? Book yourself in and get ready to discover a dining gem.
Image credit: Brodie Chan for The Urban List
---