Stanley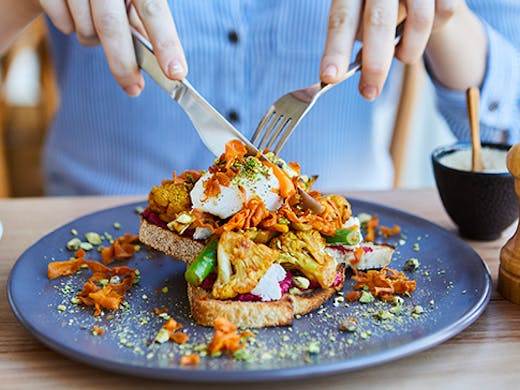 The Verdict
Do these guys ever sleep? Fresh from the opening of Clubhouse in Malvern, the team behind Bentwood, Penta, Legacy and about a billion other venues are at it again, this time in Mount Waverley. They've opened up what might just be the prettiest cafe of the bunch. It's called Stanley, and it's popped up on Stanley St (go figure).
Stanley occupies one of those classic Melbourne backstreet corner sites (this seems to be a burgeoning trend—see Good Times Milk Bar for another excellent example). The space is light and breezy—just a big brushed concrete espresso bar up front, polished floorboards leading you through past the kitchen, scattered yukka plants and hanging greenery, natural light flooding in from all angles, all the way to the heated timber courtyard out back.
If you're familiar with the Bentwood and Clubhouse tune, you'll recognize a few notes at Stanley. Julien Moussi and the team have kept that playful edge to the food. The signature 'Insta dish' is gonna be Nutella Hong Kong Waffles—a choc-hazelnut bubble waffle stack, oozing Nutella out the sides, topped with vanilla mascarpone and strawberries (the banana brûlée on this thing is officially nuts).
Okay, so Nutella waffles are what the Cookie Monster calls a 'sometimes food', and if you're health conscious there's always a banging acai bowl (with peanut butter), the smashed av' (topped with black sesame, feta, edamame beans and chilli) and a frankly gorgeous plate of heirloom carrots, sitting on beetroot hummus, multigrain toast and broccolini with sweet potato chips. Add a poached egg on top and you'll be one happy camper.
At lunch they wheel out the big guns: fried soft shell crab with Thai noodles and ginger, hunky spiced chicken schnitzels and a very respectable beef burger (maple bacon and Dijon give it a real punch).
Drinks-wise, you've got the usual suspects. A rotating range of single origin espresso, Inglewood flat whites, turmeric coconut lattes, Prana chai, iced filter, juices, smoothies and the kitchen sink (if these guys do two things well, those things are panna cotta and bevvies).
Mt Waverley, chuck your hands in the air. You just landed one of the best new cafe openings of 2018. Stanley's motto says it all: "Don't forget the dreaming days."
Image credit: Michelle Jarni
---
You May Also Like