Holey. Moley. Prepare for a jaw-dropping experience with the arrival of bar-slash-golf club-slash eatery Holey Moley in the City of Sails. Already well known in Australia, this playground for adults is set to throw open its doors for 700 lucky locals tomorrow night and then will be open to the public from Friday.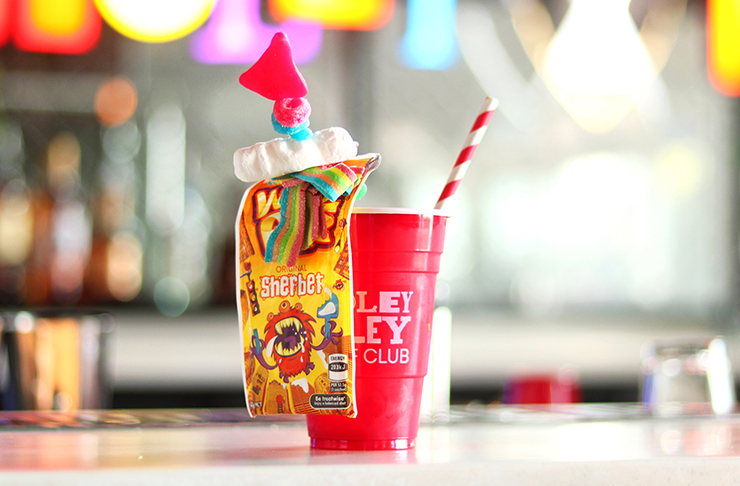 Situated on the stunning Viaduct Harbour, next to Parasoul & Swing, you'll be greeted by friendly staff and an old blue car. Inside, it's one Instagrammable scene after another. First stop: the bar. Here you'll find a wide selection of cocktails—choose from the Caddy Classics or the House Signatures. The Sugar Caddy is a New Zealand childhood dream come true. With Smirnoff Vodka, peach liqueur, passionfruit, lime and apple juice, it's topped with a lolly kebab of a jet plane, eskimo and rainbow strip.
"While we have been in Australia, we've tried to localise it for Kiwis," explains brand manager Maleik Edwards (who happens to be a Kiwi himself).
Buy a token, exchange it for a golf ball, grab a putt and get ready for the time of your life. Naturally, you'll want to pause and get a photo on The Simpsons couch or The Flinstone's car first.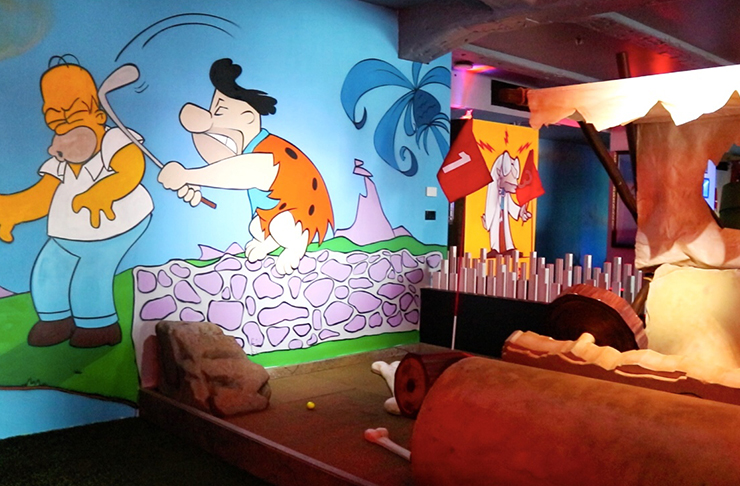 Once that's taken, it's time for golf. On the bottom floor there are two nine-hole courses, with each hole more crazy than the next. Think trying to get a hole-in-one on an Operation board or on a crowd surfing stage. There's a Hobbiton hole, a crazy clown hole and even an ET hole. Each one is designed for interaction—you can hop on the bike with ET to reach the sky or sit on a Harley Davidson for some speed. There's even a room where you'll find everything upside down—handstand anyone?
Each hole also comes with a small table to rest your drinks as you make your way around. That's right, you can do both at once.
Upstairs the magic continues. Here you'll find another bar and, if you happen to be super famous and want a bit of privacy a hidden door gives you access to yet another nine-hole course. From a scene from Jaws to a sitting room with images of iconic Kiwis from your childhood like Suzy Cato, your jaw won't leave the floor.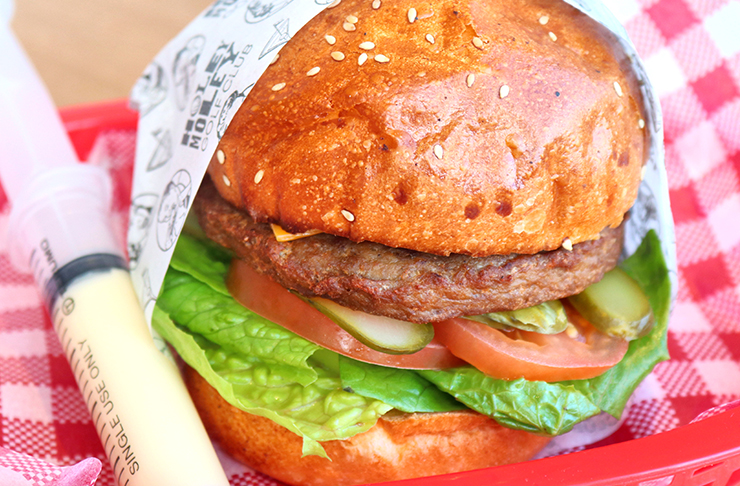 And, after all that golfing has tired you out, it's time to fill your belly. On the menu you'll find a selection of seafood like the Prawn To Be Wild, burgers like The Holey Cheezus, hotdogs pizza, delicious sides and even a section for vegetarians. If you're a vegan, order the Vegan Snack Stack—roasted vegetable lasagne, crispy hash nuggets and tomato relish.
Holey Moley is literally a playground for grown-ups and, with Friday nights already booked out until the end of the year, make sure you head to their website and book a spot quick smart.
Open seven days until late, there's no doubt that Holey Moley is set to become an Auckland late-night staple. Remember people, it's all in the hips.
The Deets:
What: Holey Moley opens in Auckland
Where: 204 Quay St (in the old Nightingale)
When: From Friday 11 October
Image Credit: Jaiden Bhaga