Ah, the margarita—one of Mexico's finest exports. There really is nothing better on a sultry summer's evening (or, at any time of year really) than a glass of this thirst-quenching, tequila and lime-laced tonic (especially when enjoyed by the beach, as is often the Mexican custom). While no one is entirely sure how the margarita came to be, there's certainly a long list of theories. Our fave involves Mexican restaurant owner Carlos Herrera, who reportedly created it in the late 1930s for Marjorie King, a famous showgirl at the time who was allergic to all forms of alcohol except tequila. However she wasn't a fan of drinking the spirit straight, so salt and lime were added and—ta-da—the margarita was born.
But enough of the history lesson, let's get to the good stuff aka where you can get your hands on a glass of this refreshing tipple... so without further ado, here's where to find Auckland's best margaritas.
Hotel Ponsonby
Ponsonby
Hotel Ponsonby's coconut margarita is something of an icon here in Auckland—in fact, so beloved is this tipple that the team put together an at-home cocktail kit so customers could whip it up for themselves during lockdown. Now, with life in lockdown a distant memory, you'll find us kicking back in Hotel Ponsonby's gorgeous courtyard with one of these legendary margs—a refreshing blend of tequila, cream of coconut, lime, and coconut water—firmly in hand.
Parasol & Swing
Auckland Viaduct
Parasol & Swing is home to some of Auckland's best cocktails, which over the years have included some rather memorable margs. Their current offering, the Bangkok Margarita, is a fine example—laced with coconut tequila, orange liqueur, red chilli, a South-East Asian spice blend and citrus, and especially good when enjoyed from their elevated deck, overlooking the Viaduct.
INCA
Newmarket & Ponsonby
It should come as no surprise that this vibrant eatery, with branches in both Newmarket and Ponsonby, is also pouring a rather epic marg. Four margs in fact, all made with premium el Jimador tequila and ranging from the good ol' classic, through to passionfruit and even a sweet chilli and mango number, for those who like it hot. However, it's INCA's frozen margarita that has truly stolen our heart—because nothing quite quenches one's thirst like a boozy slushy. Amen?
The Mexican Café
Auckland CBD
Likewise, it'd be remiss of us not to include The Mexican Café. This Victoria Street legend has been slinging margaritas since opening its doors more than 30 years ago, and at last count stocked over 80 kinds of tequila (meaning that the margaritas here are seriously good). For ultimate margarita feels, we recommend you grab yourself a spot on the coveted undercover deck, amongst the fairy lights and cacti.
Bar Magda
Newton
Surely the fact that these guys have lent the name of their restaurant, to their margarita (it's called the 'Magdarita') means it's legit? Well of course it is silly—this is Bar Magda we're talking about, after all. One of our fave eating and drinking spots, their version of the drink means business, bringing together both Arette tequila and Gracias Dios mezcal, elderflower, agave and salt for a sip that's straight-up delish.
Ghost Donkey
Commercial Bay
What better place to sink a couple of margaritas than beneath the pretty lights at Ghost Donkey. Auckland's newest home of Mexican hospitality, these guys have more than 35 different types of tequila and mezcal on the menu, so it's no surprise that they know how to mix up a damn fine marg. We're big fans of their frozen margarita (aka the Stealth), which comes in two thirst-quenching options: tequila blanco with elderflower, cucumber and agave, or tequila reposado with blueberry, cinnamon, lime and maple.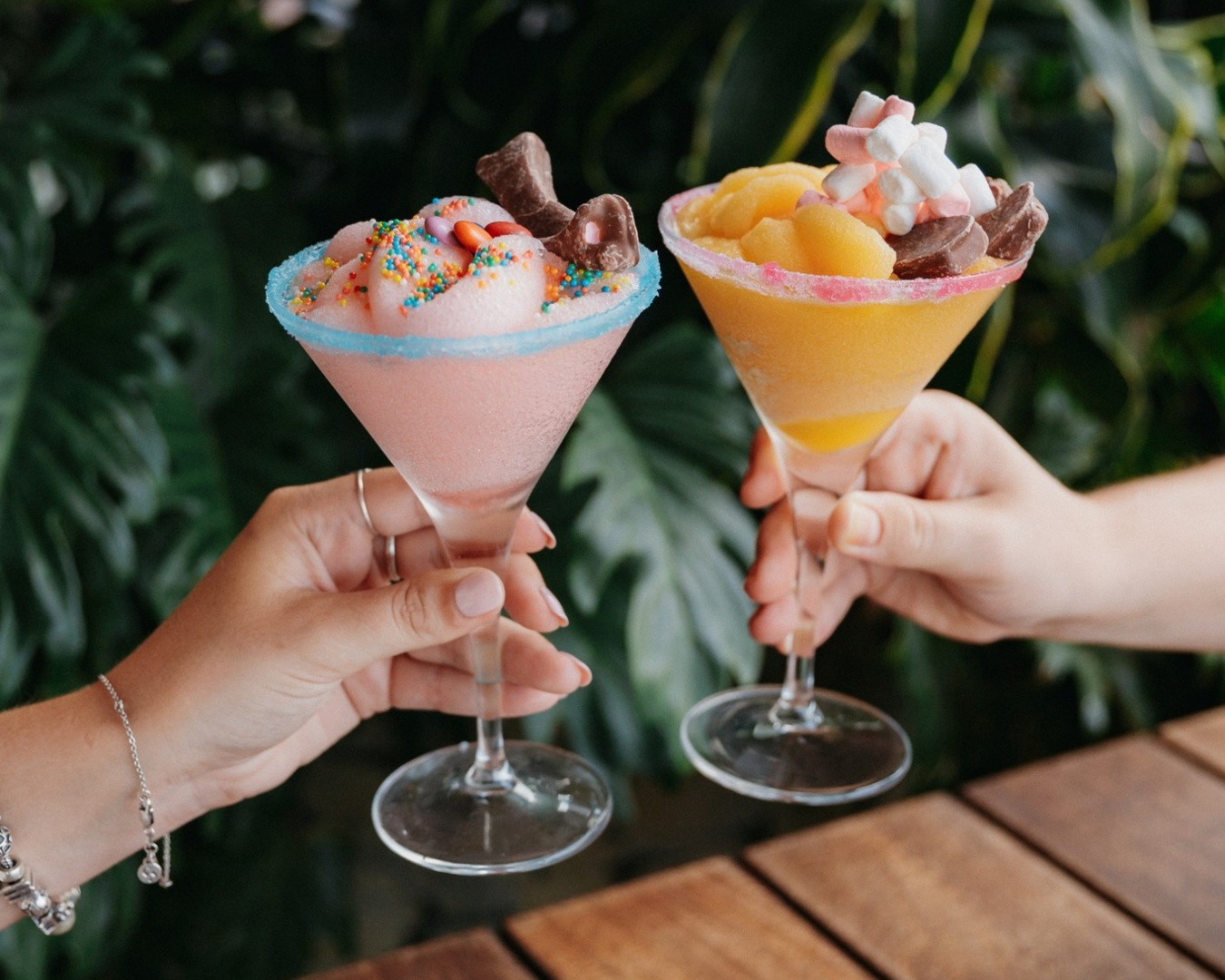 Coops Corner Pub
Auckland Viaduct
Your tastebuds will be throwing a full-on Mexican wave when you visit Coops Corner Pub, because these guys make some of THE best margs around. Not only do they have an ever-changing line-up of frozen margaritas, which you can top with lollies and other treats (say what now?), they offer a solid take on the classic. You should also know that this is the home of tequila ice cream.
The Flying Burrito Brothers
Albany and Newmarket
The Flying Burrito Brothers certainly know a thing or two about margaritas, serving up a slurp-worthy collection from their Mexican cantinas in Albany and Newmarket. From an OG version laced with citrus and salt to those flavoured with mango, peach, pineapple, watermelon, kiwifruit and even pomegranate, fans of this tequila-heavy tipple are in for a real treat. They even do a margarita milkshake—¡ay, caramba!
Frida Cocina Mexicana & Tequila Bar
Viaduct
We wouldn't be surprised to see Frida Kahlo herself sitting in a corner of Frida Cocina, indulging in a sipping tequila or two (rather fitting, considering the eatery's named after her). However, seeing as the famed artist is no longer with us, that honour now falls to you. Kick up your heels amongst the authentic Mexican surroundings and sink a few of this spot's epic margaritas, which come in strawberry and basil and mango and coconut flavours, to name but a few. These can be ordered in different sizes, a factor that is once again music to our margarita-loving ears.
Mexico
Britomart (Temporarily Closed), Ellerslie, Ponsonby, Silverdale & Sylvia Park
No list of top margaritas would be complete without mentioning Mexico, who make theirs with premium, 100% blue agave tequila (that's like the cream of the crop in tequila speak). Enjoy their cracking take on the original; or throw caution to the wind and try out one of their more novelty interpretations in flavours like watermelon and raspberry, pineapple and coconut, and black plum and cinnamon. We also love how these are available by the carafe—though if you're as margarita mad as us, this is dangerous news. Oh, and with locations across Auckland, rest assured there's an excellent margarita in a suburb near you.
Azabu
Ponsonby
Now for something completely different which, ironically, may have you feeling the heat rather than cooling you down, try the Margarita De Verde from Azabu's Ponsonby branch. One of the many 'chilli' margaritas that have popped up on cocktail menus across the city in recent years, this version combines the classic components of tequila and lime with avocado and jalapeño. Arriba!
...and now for a good feed after all that good booze, here are the best Mexican restaurants in Auckland.
Image credit: Louis Hansel, Hotel Ponsonby, INCA, Bar Magda, Coops Corner Pub, Frida Cocina Mexicana & Tequila Bar, Mexico, Azabu.