Ah, the margarita—one of Mexico's finest exports. There really is nothing better on a sultry summer's evening (or, at any time of year really) than a glass of this thirst-quenching, tequila and lime-laced tonic with salt around the rim (especially when enjoyed by the beach, as is often the Mexican custom).
While no-one is entirely sure how the margarita came to be, there's certainly a long list of theories. Our fave involves Mexican restaurant owner Carlos Herrera, who reportedly created it in the late 1930s for Marjorie King, a famous showgirl at the time who was allergic to all forms of alcohol except tequila. However she wasn't a fan of drinking the spirit straight, so salt and lime were added and—ta-da—the margarita was born.
But enough of the history lesson, let's get to the good stuff aka where you can get your hands on a glass of this refreshing tipple... so without further ado, here's where to find Auckland's best margaritas.
The Parasol & Swing Company
Viaduct
Parasol & Swing are known for their creative cocktails, margaritas included. We particularly like the Whistling Blackbird, an elegant, burgundy-coloured version that combines tequila, single malt scotch, spiced blackberry shrub, pineapple and lime. A few sips of this one, and you're well on your way to saying olé.
Frida Cocina Mexicana & Tequila Bar
Viaduct
We wouldn't be surprised to see Frida Kahlo herself sitting in a corner of Frida Cocina, sipping on a tequila or two (rather fitting, considering the eatery's actually named after her). However, seeing as the famed artist is no longer with us, that honour now falls to you. Kick up your heels amongst the authentic Mexican surrounds and sink a few of this spot's epic margaritas, which come in strawberry and basil, mango and coconut and mixed berry flavour, to name but a few. These can also be ordered in different sizes, a factor that is once again music to our margarita-loving ears.
Mexico
Britomart, Ponsonby, Ellerslie, Takapuna, Sylvia Park, silverdale
No list of top margaritas would be complete without mentioning Mexico, who make theirs with premium, 100% blue agave tequila (that's like the cream of the crop in tequila speak). Enjoy their cracking take on the original; or throw caution to the wind and try out one of their more novelty interpretations in flavours like raspberry and yuzu, peach and coconut, or blueberry and lavender. We also love how these are available by the carafe—though if you're as margarita mad as us, this is dangerous news. Oh, and with locations across Auckland, rest assured there's an excellent margarita in a suburb near you.
The Mexican Café
CBD
Likewise, it'd be remiss of us not to include The Mexican Café. This Victoria Street legend has been slinging margaritas since opening its doors more than 30 years ago, and at last count stocked over 80 kinds of tequila (meaning that the margaritas here are seriously good). For ultimate margarita feels, we recommend you grab yourself a spot on the coveted undercover deck, amongst the fairy lights and cacti.
John & Mays
CBD
For a margarita that's sure to brighten your night—and your Insta feed—head along to John & Mays in the inner city. Their Ponche de Leche takes the traditional margarita to decadent new heights, with its fabulously OTT pineapple garnish and exciting addition of milk-washed mezcal. The most impressive looking margarita on the market, for sure.
Besos Latinos and Besos Latinos—Ceviche Bar
CBD and Wynyard Quarter
Run by Mexican artist Cecilia Mijangos and her partner, award-winning chef Luis Cabrera, you know you're getting the real deal when you order a margarita from Besos Latinos. Here they come in a range of authentic flavours that are so highly sought-after, they've even been the subject of the odd masterclass.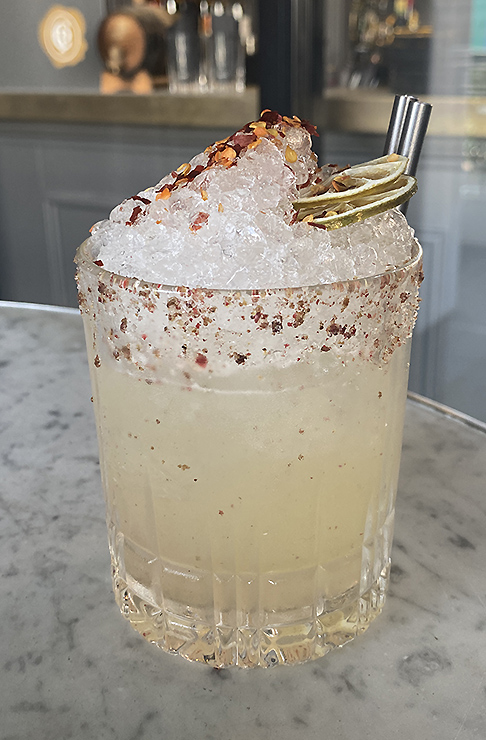 Coley & Punch
Viaduct
Coley & Punch might be known as more of a whisky bar, but they also know how to make a damn good margarita. Pictured above is their chilli margarita featuring pineapple tequila, lime, chilli and pink peppercorn agave. Yowzers! Hit up this swanky downtown spot for their other vibrant versions that are equal parts dangerous, and delicious. And don't get us started on that view.
Azabu
Grey Lynn
Now for something completely different which, ironically, may have you feeling the heat rather than cooling you down, try the Margarita De Verde from Azabu. One of the many 'chilli' margaritas that have popped up on cocktail menus across the city in recent years, this version combines the classic components of tequila and lime with avocado and jalapeño. Arriba!
Wynyard Pavilion
Wynyard Quarter
We're big fans of the cocktails at Wynyard Pavilion, including their Smokey Margarita. This festive treat is about as Mexican as it gets, combining 1800 Silver tequila, Cointreau, mezcal, orange bitters and lime; topped off with an eye-catching, whole chilli garnish. And that waterfront view is very Cancun, if we do say so ourselves.
Talulah
Britomart
A visit to Talulah is always a good idea, especially when there's margaritas involved. Sit out on the rooftop deck and drink in the views, as well as a glass or two of their popular, traditionally-flavoured offering. And maybe it's the tequila talking, but if you squint your eyes just right, we reckon you could be sitting in a bar somewhere in Mexico.
Mexican food more your thing? Here's where to find some of the best in Auckland.
Image credit: Mexico, John & Mays, Parasol & Swing, Coley & Punch