Auckland, we need to talk. Big is NOT better when it comes to brows. The big, bold brow trend has gone too far—your brows shouldn't enter the room before you.
In case you missed the memo, brows should be about believability. That is, working with what you've got and colouring and shaping them accordingly. And no, that doesn't mean filling them in with a jet black Crayola.
But fear not, achieving your best brows is now easier than ever thanks to OFF & ON. As the experts in hair removal and brows, the talented team has unveiled the brow world's biggest secret.
Listen carefully because we're about to share it with you. The secret is… wait for it… henna! Wait, what? Henna?! Yes, the hair tint/dye is taking over the eyebrow world and the results are nothing short of incredible.
We're talking colour, gloss and vibrancy with no nasty chemicals in sight. OFF & ON's innovative (and oh-so pampering) henna spa treatment will leave you with tattoo-like colour—without the commitment. And, better yet, the natural colour lasts up to twice as long as traditional brow tints. Um yes, please!
In desperate need of some brow TLC, we headed along to their Newmarket store to try it for ourselves. Here's why it's so gosh-darn amazing.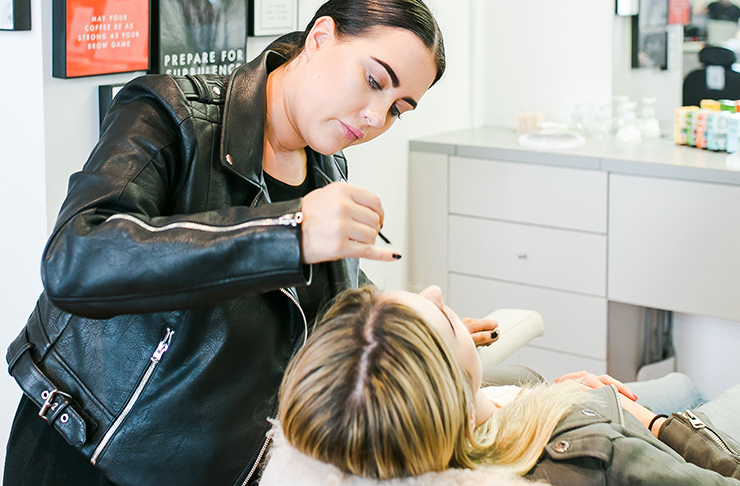 Kick Off With A Kiss-Ass Consultation
When it comes to brows, there's no such thing as one size fits all. OFF & ON's henna spa treatment kicks off with a consultation to get to know you… and your brows. They'll ask you what colour depth you're after and, using a fab checklist, they'll figure out a game plan for your treatment.
They're Armed With A Toolkit Of Techniques
Your brow expert will measure your brows—figuring out exactly where they sit in relation to your eyes and nose. From here, they'll determine how to go about your colouring and, if necessary, your shaping. They might do things such as adding extra colour to a particular part of your brow or letting the colour develop for a different period of time. The attention to detail is incred!
Find Your Perfect Colour
Much like a hairdresser dying your hair, OFF & ON will customise your brow's colour. All aspects are considered including the pre-existing colour of your brows, hair colour, and your skin's tone and colour. The result? Vibrant eyebrows! Unlike traditional tints that tend to produce a flat colour, henna will enhance your natural colour to give a multi-dimensional look.
Did We Mention It Lasts Twice As Long?
Standard eyebrow tinting colours the hair—henna colours the hair and skin. The subtle skin stain and innovation application process lock in the colour, giving you twice the longevity as a standard tint. Yep, you can keep that brow pencil locked up—you won't need it for awhile! Better yet, henna doesn't wash out—it gradually fades over time. And, because the dye doesn't chemically change your brows, your emerging roots are more subtle than alternative tints.
Convinced? We certainly are! Visit OFF & ON in Newmarket, Takapuna, Britomart or CBD to see what the fuss is for yourself.
Editor's note: This article is proudly sponsored by OFF & ON and endorsed by The Urban List. Thank you for supporting the sponsors who make The Urban List possible. Click here for more information on our editorial policy.
Image credit: Lydia Arnold