Waffles are one of those magical foods that can be eaten any time, anywhere (just ask Eleven, right Stranger Things fans?). Whether they're loaded with bacon and maple syrup for breakfast—topped with a stack of fried chicken for dinner—or piled high with ice cream, fairy floss and chocolate sauce for a super decadent dessert, we can't think of a single occasion where these crunchy creations aren't welcome.
Lucky for us Aucklanders, a waffle fix is never far away—with eateries across the city cooking up some super tasty (and super creative) versions of the dish in recent years. Here's where you'll find some of our faves.
Hēmi
Auckland CBD
Nestled next to the bridge at Victoria Park Market lies healthy-eating haven Hēmi. Their breakfasts are all next-level but for those seeking out the star of the show, you can't go past their epic waffles. In the past they've offered the moreish banana and berry waffle pictured above which has morphed into a tasty cacao and banana number. The soft waffle is melt-in-your-mouth perfection, paired with roasted feijoa and nashi pear, the crunch from the coconut and the lashings of tahini caramel plus the fact that they're gluten, dairy and refined sugar free means you've got yourself a breakfast of dreams. Boom.
House Of Chocolate Dessert Cafe
Takapuna
Kickstart your waffle-eating adventure at House of Chocolate, who have an entire menu dedicated to these toasty treats. Take your pick of 10—yes, 10—different variations, all made in the traditional Liège style from a dreamy vanilla bean, honey and caramelised pearl sugar batter. Flavours include espresso—feijoa and apple crumble—and our current fave, hokey pokey (a mouthwatering combo of hokey pokey ice cream, caramel popcorn, honeycomb chocolate chunks and salted caramel sauce). And while these treats are indeed delicious, we're secretly hoping that HoC bring back their savoury options (because where else have you ever seen nacho-flavoured waffles?). To top things off, these guys can make your waffles gluten-free—what more could you possibly want?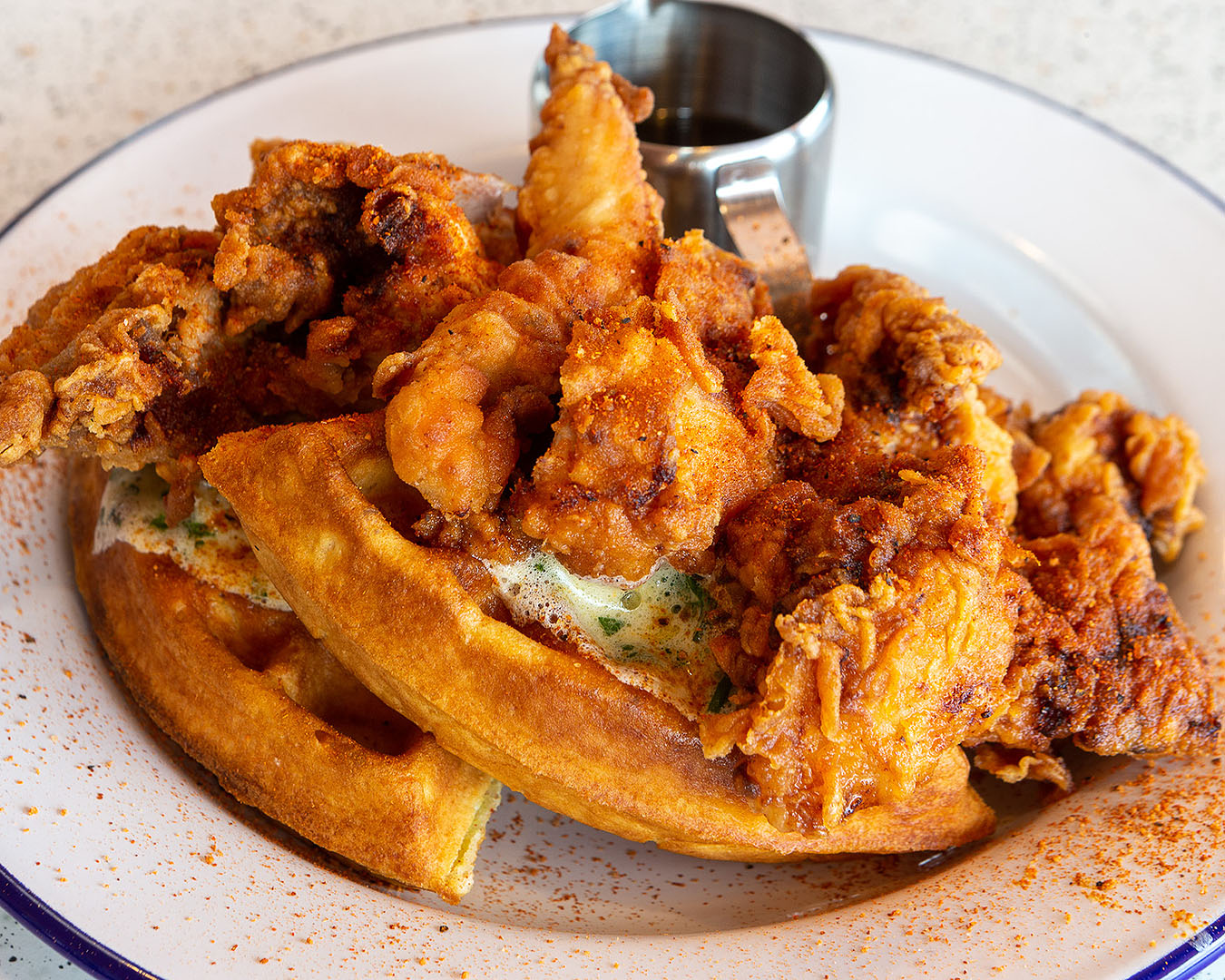 Peach's Hot Chicken
Panmure
What's better than waffles, you ask? Waffles topped with fried chicken, of course. And Peach's Hot Chicken is the place to get it, because they do both of these elements perfectly. Hardly surprising given that one half of the ownership hails from America, where savoury waffles are a BIG deal. Peach's chicken and waffles dish combines generous chunks of Nashville-style fried chicken (some of Auckland's best, FYI) with thick, fluffy waffles—whipped garlic butter—and a jug of chilli-spiked maple syrup, to drown it all in. Drooling yet?
Dear Jervois
Herne Bay
Dear Jervois' matcha waffles are the stuff of local legend, drawing brunch-goers from far and wide since their creation in 2014. One bite of these heart-shaped beauties, and you'll see why—think sweet, matcha-laced batter cooked to waffle-eating perfection, then topped with DJ's famous housemade cruesli (a type of superfood muesli), raspberry mascarpone, maple syrup and a big ol' scoop of coconut 'nice' cream—yummm. And if matcha ain't your thing, they also do a damn good version with bacon and caramelised banana (which also happens to be gluten-free).
Miann
Fort St and Morningside
No list of waffles would be complete without mentioning Miann, whose version—as with everything they do—is insanely delicious. Rumour has it that these guys swirl meringue through the batter to make them extra crunchy, and this is one of the reasons why they're among Auckland's best. You can also expect some seriously amazing flavour combos like triple chocolate, Bomb Alaska and salted caramel, served with a smorgasboard of toppings including their famous gelato.
Little Bread & Butter
Ponsonby
Little Bread & Butter's waffle dish is unapolegetically sweet, and TBH that's exactly why we love it. This one channels some serious black forest vibes, courtesy of its dreamy (and super pretty) combo of cherry compote, chocolate sauce, whipped cream and cacao nibs. We recommend adding a scoop of vanilla bean ice cream to cut through all that rich, choc-cherry goodness which is so damn delicious, a return trip is all but necessary.
Geeks On Sainsbury
Mt. Albert
There's certainly nothing geeky about the waffles at Geeks On Sainsbury. Their version is hands-down one of Auckland's best, combining all the elements you'd expect from a classic, breakfast-style waffle with a few surprises thrown in for extra deliciousness. Think fresh seasonal fruit, mapled peanut butter and a generous scoop of Kapiti vanilla bean ice cream, topped off with some crunchy housemade granola. We've also heard rumours that they once made an affogato waffle, where just as with the traditional dessert, you'd pour a shot of espresso over the top... bring it back, we say!
Little Bird Kitchen
Ponsonby
Also repping the savoury waffle are Little Bird, who have made theirs into a benedict-style dish that's as good for you as it is delicious. That's right, you won't find any ice cream or fairy floss here, folks—instead, a herb-infused batter topped with wholesome ingredients like spinach, mushrooms and salsa verde. Of course, no benedict would be complete without hollaindaise sauce and being Little Bird, theirs is made from cashews.
Crunch Tower Desserts
Parnell
Crunch Tower are in the business of making seriously insane desserts (they were one of the first places to introduce us to freakshakes, after all) and their waffles are no exception. These are hands-down some of the most 'grammable on this list, comprised of puffy little cake-like balls of batter in flavour options like Oreo and Nutella, smothered in an assortment of epic toppings such as fairy floss. Cue the sugar rush.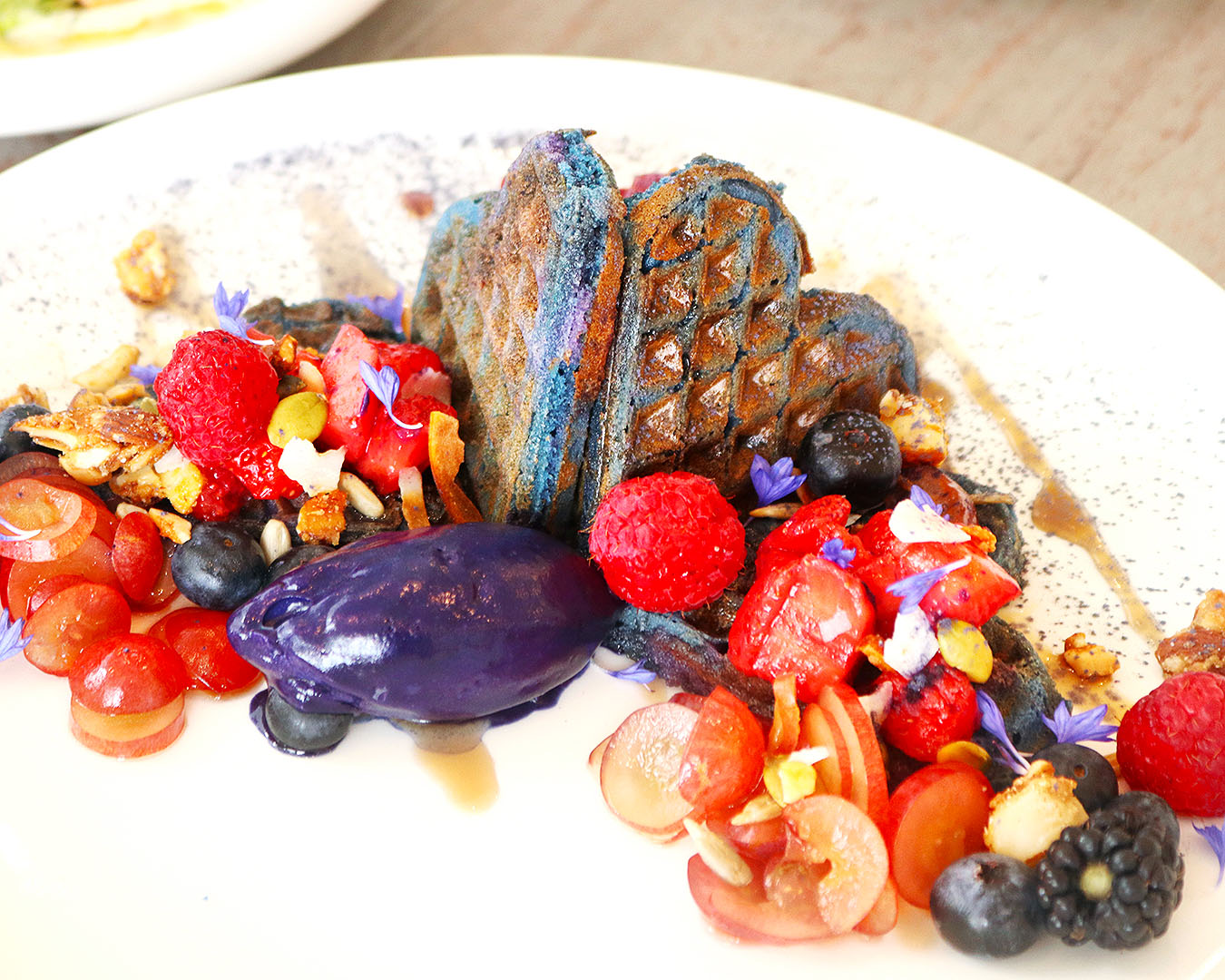 Snö
Remuera
The only thing cooler than Snö's name (which—you guessed it—means snow in Swedish) is their Scandi-style waffles. These blue-hued beauties come artfully-presented as little hearts with fresh fruit, nuts and a good ol' dollop of whipped cream, making them one of the prettiest—and tastiest—waffle dishes around.
Café Mimosa
Takapuna
Takapuna, you're a lucky bunch—because your burb is home to yet another one of Auckland's best waffle dishes, and you'll find it at Café Mimosa. This vegan hot spot has pumped out some pretty epic waffles in its time (red velvet and chocolate banana, to name a few) and are currently slinging a tumeric and ginger creation with orange custard, spiced mandarin, whipped coconut cream and almond chocolate sauce (which, BTW, is also gluten-free). Vegan or not, you'll want to get amongst a dish this ridiculously good.
OKO Dessert Kitchen
CBD
OKO Dessert Kitchen are also bringing some rather amazing waffles to the table and as their name suggests, these babies are seriously sweet. Skip dinner and hit up this mid-city spot for a plate of the good stuff instead, available in mouthwatering options like hazelnut s'mores—lemon and cream cheese—and even bubble tea (yes, bubble tea). See what all the fuss is about and grab yourself some of the latter, which come complete with brown sugar tapioca pearls, salted cheese foam, oat crumble, milk tea cream sauce and a scoop of caramelita ice cream. Damn.
Head out for a breakfast of kings at one of Auckland's best breakfasts.
Image credit: Hemi and Peach's Hot Chicken by Wono Kim, Little Bread and Butter, Sno by Jaiden Bhaga