Found yourself tempted to embrace the wonders of Whiskey? What better time to pour yourself a drop than World Whiskey Day.
While whiskey is delicious, spirits can often be polarising so we don't blame you if you've previously shied away after your first taste. Similarly to your first sip of beer or coffee, there's no doubt whiskey can taste strong at first. To get around this, we spoke to the team at Fever-Tree and brought together some of the best mixologists to share five epic recipes to help us become pleasantly acquainted.
But first, a top tip from the pros—when serving up sips, do yourself a favour and make sure you're using nothing but the best. Filling most of your glass and choosing the right mixer makes all the difference, especially when it's crafted with as much care as the spirit itself. For whisky, look no further than Fever-Tree's refreshing Fever-Tree Dry Ginger Ale —made with a unique blend of gingers from around the world, it's the perfect pairing to unlock the spirit's full flavour.
Mark your calendars, here's what to whip up this World Whiskey Day.
Turn Up The Heat With A Spiced Orange Whisky & Ginger
Bland is boring, why not kick things up a notch with this citrus charged creation from award-winning mixologist Trish Brew. The mixer alone boasts cold-pressed citrus from South African clementines and Sri Lankan cinnamon. How good.
Ingredients
50ml Archie Rose Rye Malt
Fever-Tree Spiced Orange Ginger Ale
Ice cubes
Slice of orange
​Method
Over an ice-filled highball glass, pour in whisky, followed by the Fever-Tree Spiced Orange Ginger Ale. Give a gentle stir and garnish with a fresh slice of orange. It's that easy.
Wrap Your Hands Around Joey Tai's Japanese Highball
If there's anyone who knows their way around a magical mix, it's distiller and spirit specialist Joey Tai. This Japanese Highball is a refreshing twist on the classic serve that's sure to convert any Whiskey sceptic.
Ingredients
30ml Johnnie Walker Black Label (or Hakushu Distiller's Reserve)
A few drops of peach bitter
Fever-Tree Dry Ginger Ale
Method
Over ice in a lowball glass, build ingredients, bring it all together, topping with Fever-Tree Dry Ginger Ale and adorn with an orange wedge and cucumber. Then, serve up and sit back as your whisky cynic turns into a super-fan.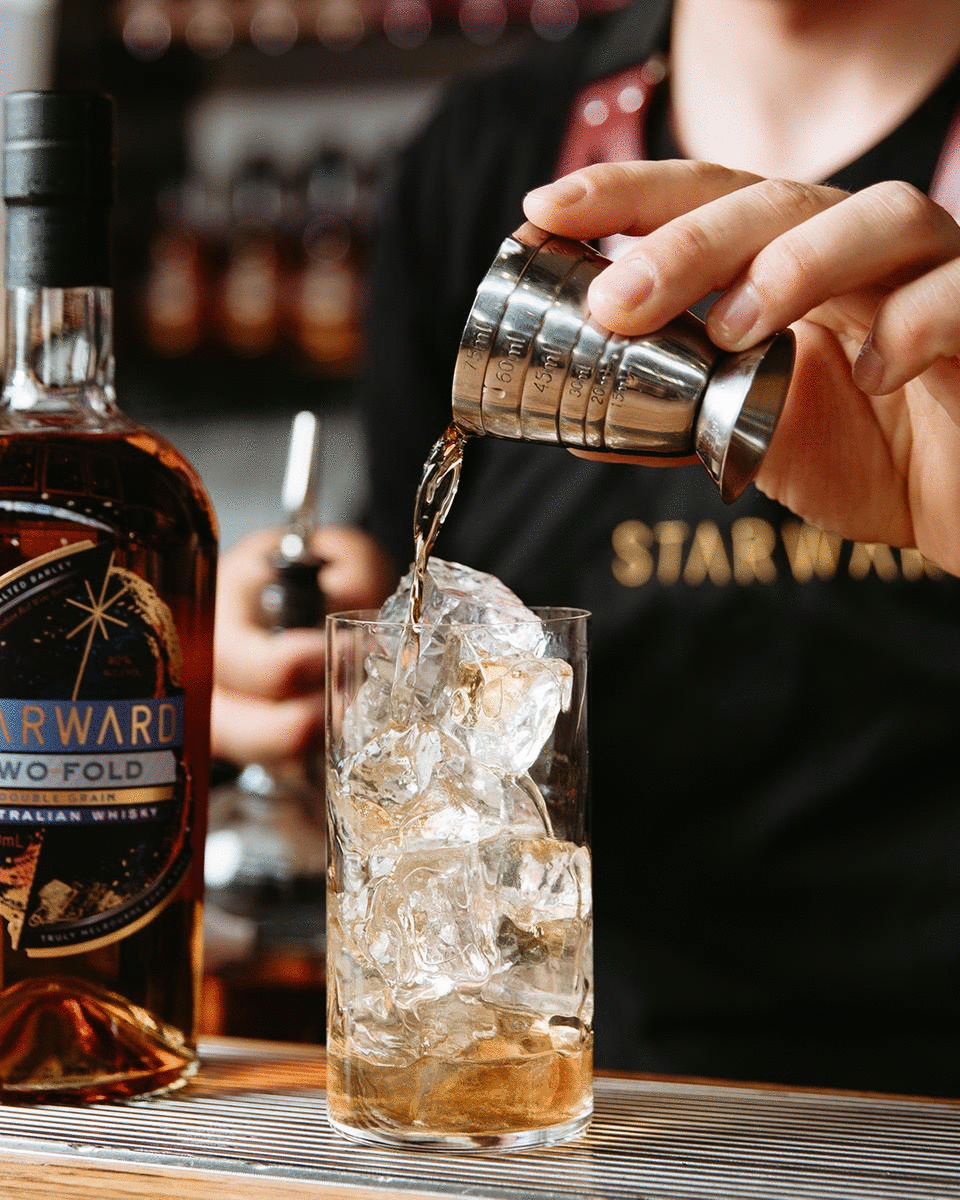 Put Your Paws Up For Josh Reynold's Copper Dog
The mixologist at the helm of Side Bar at The Dolphin Hotel, Josh Reynold's sweet and sour Copper Dog creation is one for confection lovers.
Ingredients
30ml Watermelon Syrup
50ml Copper Dog Whisky
20ml lemon juice
Fever-Tree Spiced Orange Ginger Ale
Method
First things first—to make watermelon syrup, mash up 100g of watermelon with a potato masher, and mix with 100g of caster sugar. Leave to sit for 30 minutes, occasionally stirring, strain, and you're set. Next, build ingredients in a glass of your choice and serve.
Step Up With Matty Follent's Two-Fold Tango
Winner of The Perfect Blend competition in 2016 and finished third in the 2017 Diageo World Class Australian Finals, anything Matty Follent serves up is sure to impress, and his Two-Fold Tango is no exception.
Ingredients
30ml Starward Two-Fold Whisky
10ml Oloroso sherry
Two dashes orange bitters
Fever-Tree Dry Ginger Ale
Method
Combine in a glass over ice, top with Fever-Tree Dry Ginger Ale and finish with an orange slice. Consider this your invitation to tango while you're at it.
Get Toasty With Yao Wong's Smoky Toddy
If you want to turn up the heat, Yao Wong of The Elysian Whisky Bar has just the treat to wrap your hands around through the cooler months. Using Fever-Tree's top-notch mixer is key for this one, bringing with it notes of smoked applewood and subtle citrus.
Ingredients
45ml Scotch Whisky (blended or single malt)
20ml lemon juice
1 tsp honey
Fever-Tree Smoky Ginger Ale
Method
Simply pour ingredients into a heatproof glass and stir before popping in the microwave for 45 seconds (or until hot). Serve in a mug, garnish with a clove-studded lemon wheel or cinnamon stick. And just like that, you've got yourself a smoky winter warmer.
Ready to get in the spirit? Same here. From a Japanese Highball to a Two-Fold Tango, celebrate World Whiskey Day and get around these cocktail combos. And if you want to pour like a pro be sure to pick up Fever Tree's Premium Ginger Mixers and unlock the full flavour in your glass.
Editor's note: This article is sponsored by Fever Tree and proudly endorsed by Urban List. Thank you for supporting the sponsors who make Urban List possible. Click here for more information on our editorial policy.
Design credit: Domonique Lonsdale
Image Credit: Supplied