WA is home to some stunning landscapes, and not all of them are above ground. In fact, some of the most beautiful scenery can be found underground. Whether you're looking for a day trip with the family or an outback adventure, there's a cave out there just waiting for you to explore.
Here's eight of the best caves near Perth, and beyond.
Crystal Cave
Yanchep
At just under an hour's drive from Perth, a visit to Yanchep's Crystal Cave makes for an easy day trip. Tours of the cave are on every day and run for 45 minutes, and you can take in your fill of stalactites and stalagmites for between $12 to $15 or $7.50 for kiddos.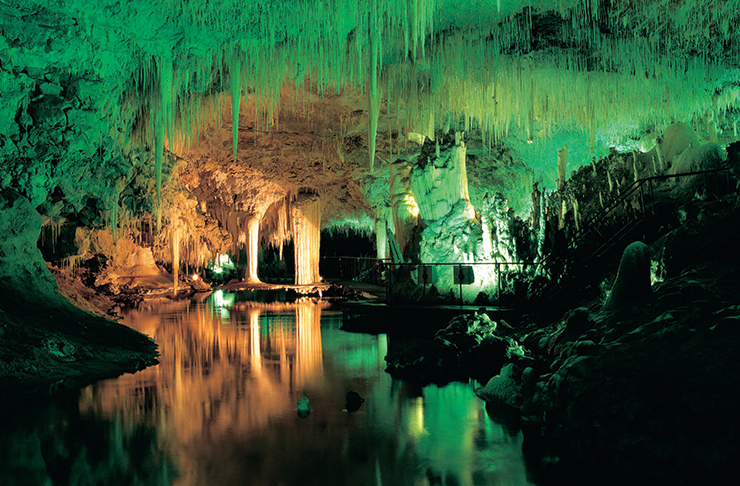 Lake Cave
Margaret River
Margaret River is home to some of WA's most beautiful caves, with Lake Cave being the deepest of all the open caves in the area. Descend 350 steps to the magical underground lake, and admire the surreal reflections highlighted by perfectly placed lighting. Your tour guide will lead you in as it can be a little tricky to navigate, but the walk back up is at your own pace. Tours run for one hour.
Mammoth Cave
Margaret River
Mammoth Cave is one of the south west's most spectacular caves and is one of the few in the area that contains actual fossils. Tours of the cave are self-guided, and the huge first chamber is even wheelchair accessible—just to give you an idea of just how big it really is. Wander through at your own pace, finishing with a nature walk through the towering marri forest.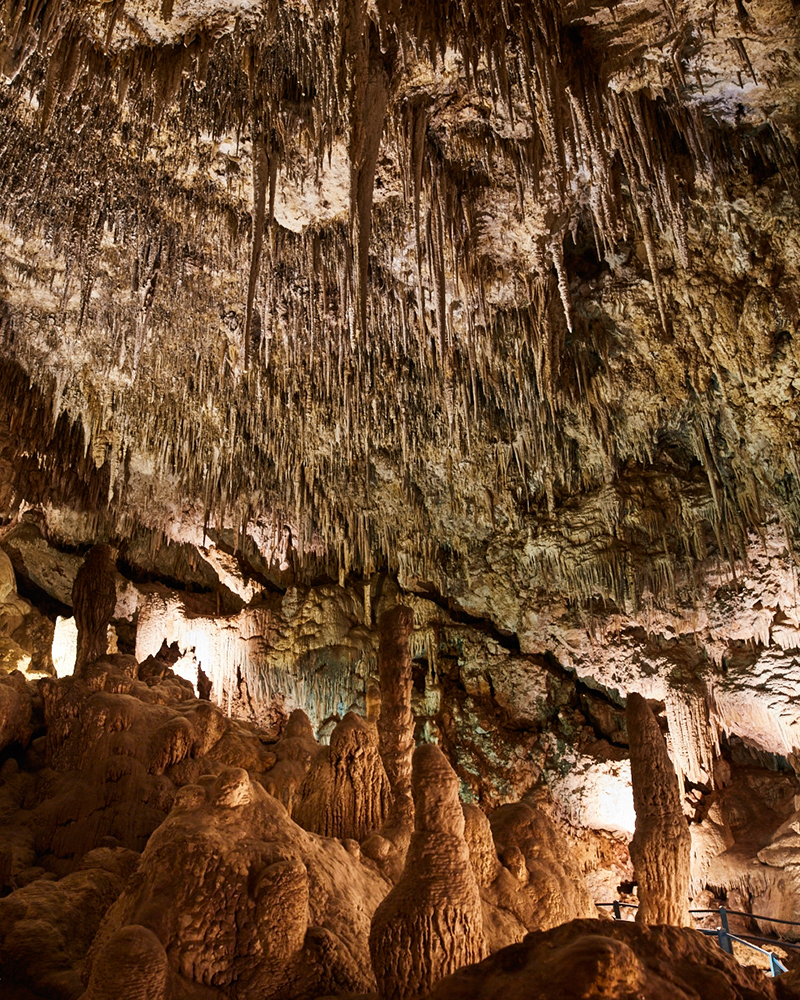 Ngilgi Cave
Yallingup
Despite being one of the first caves in WA to open to tourists Ngilgi Cave has certainly not lost any of its attraction over the years. The network of tunnels and caverns take you down approximately 40 metres, with boardwalks guiding you through the chambers. Take a tour or explore on your own. If you can squeeze through some of the tight spots, you'll be rewarded with some of the most breathtaking parts of the cave.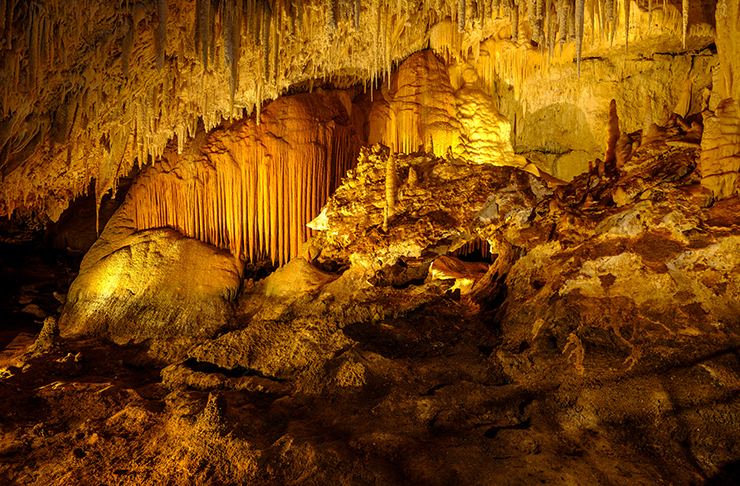 Jewel Cave
Augusta
As one of WA's biggest caves, Jewel Cave is also one of the most stunning. Guided tours run daily and allow you to experience the raw beauty of the cave's three huge chambers which house some of the longest 'straw' stalactites of any tourist cave in the world.
Giants Cave
Margaret River
Giants Cave is one for the more adventurous among us, requiring visitors to navigate vertical ladders, tight spots and rock scrambles. The cave is one of the deepest in the area, dropping to 86m underground. Helmets, torches and a full briefing are provided before entry.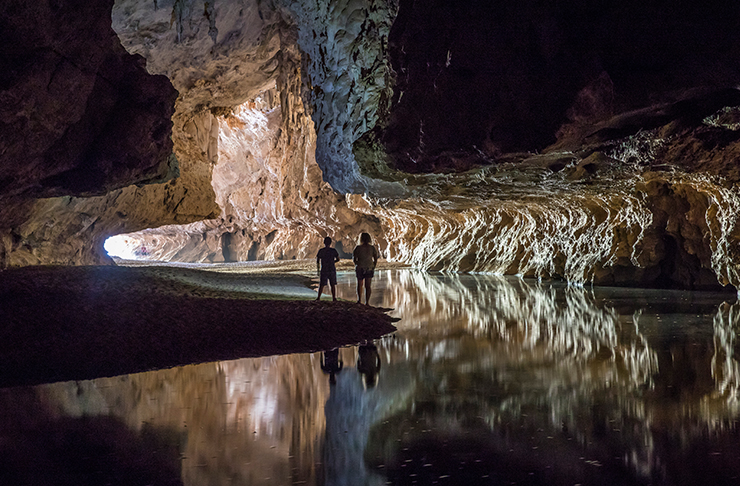 Tunnel Creek
Fitzroy Crossing
Tunnel Creek isn't exactly a day trip away, but if you find yourself in the Kimberley it really is too good to miss. The area is home to WA's oldest cave system, and a walk through the 750-metre tunnel takes you from one side of the Napier Range to the other. You're likely to spot bats, fish and freshwater crocodiles, and several small waterfalls. You'll definitely need a torch for this one, and some bravery.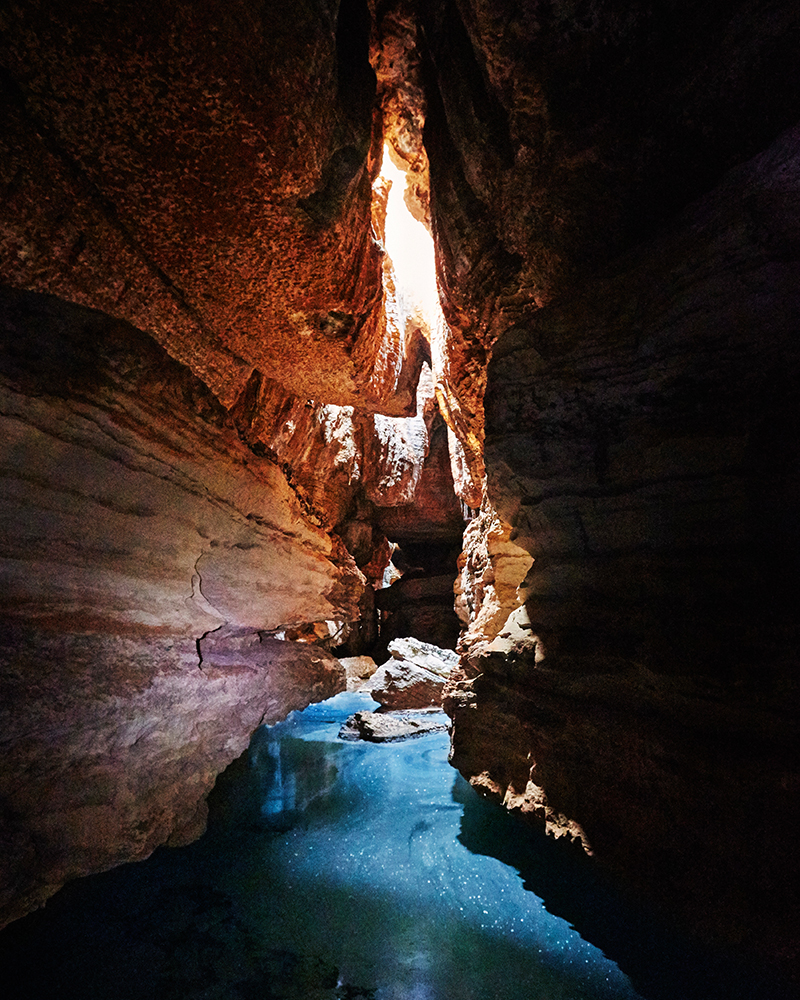 Mimbi Caves
Fitzroy Crossing
Set in Gooniyandi country, the Mimbi Caves were formed over 350 million years ago. Tours are led by a Gooniyandi guide and offer up lessons in bush tucker, Dreamtime stories, billie tea and damper. In the cave, you'll find ancient ochre paintings, fossils and stunning nooks and crannies everywhere you look—and once you're done exploring you'll get to enjoy a soak in a nearby freshwater pool.
Trying to save some dollars? Forget the annual trip to Bali and try free camping instead.
Image credit: Tourism WA