There's something ever so wholesome about getting goods delivered straight to your front door. Maybe it's the thought of skipping the traffic, or maybe it's just being able to chill in your house slacks all-day. Whatever it is, we love delivery.
And to add to the ever-growing list of epic things you can get delivered straight to your home or office, we bring you all the desserts worth throwing your cash at only to have them miraculously turn up at your doorstep. Think fancy cookies, flakey croissants, vegan desserts, cinnamon doughnuts, cannoli, and a whole heap more.
Whether you're looking for a way to spoil yourself or want to liven up the catering at your next office meeting, these are the best desserts to get delivered in Perth right now.
Top Dup Donuts
The doughnut guys at Top Dup have just started delivering their famous sweets around Perth. You can choose between classic cinnamon and iced doughnuts or go for a big dough hole platter with all the extra dipping sauces. With a whole range of size options available, they're perfect for your next office function or house party.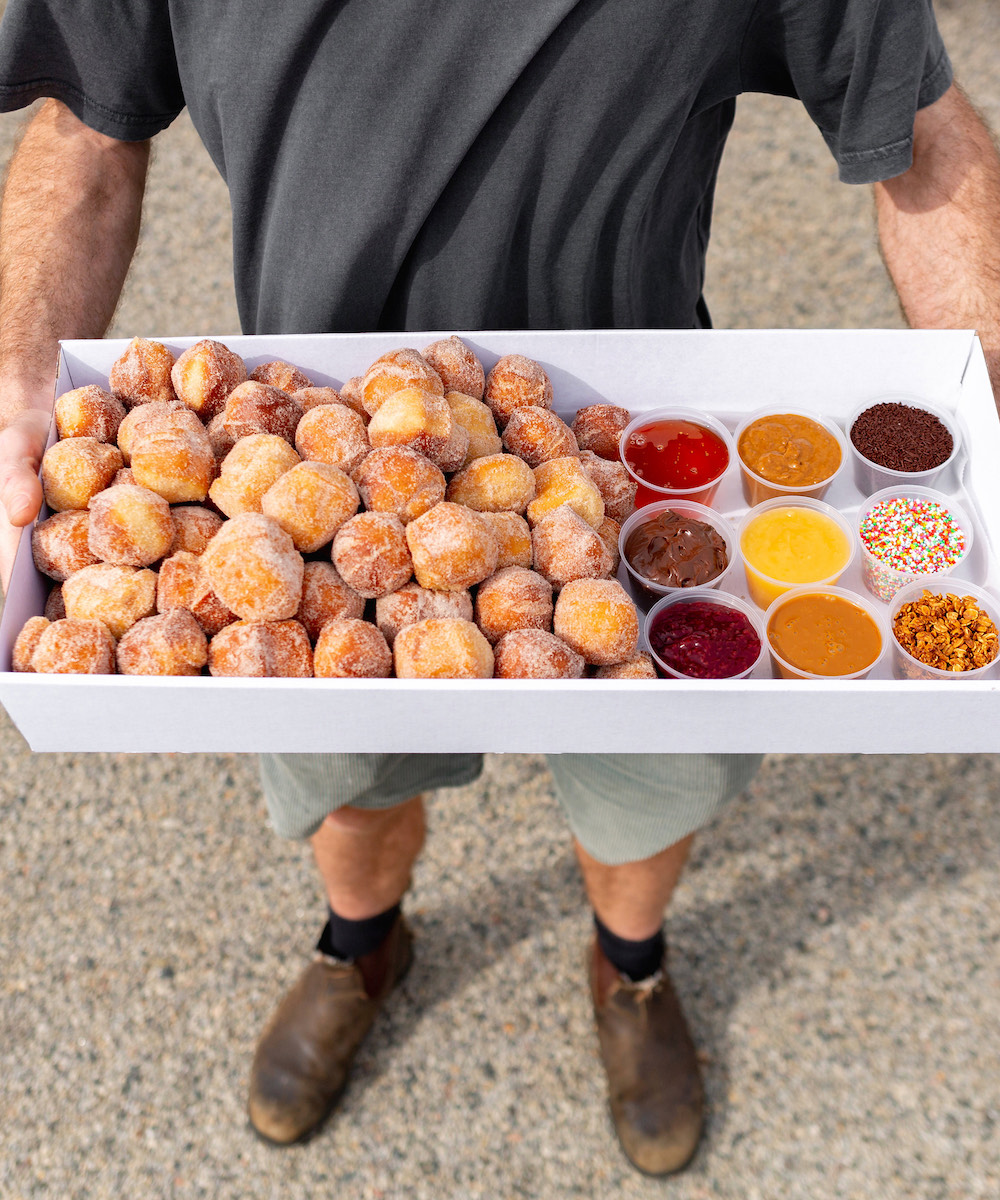 Tartes By Amanda
One look at these delightful baked cheese tartes and it's obvious that Amanda Yong has over a decade of experience as a top-tier pastry chef. They're *almost* too good-looking to eat, but we're sure you'll polish off the whole box of her pretty fruit tartes in no time. The special occasion tarte is also a real winner if you're meant to bring a birthday cake into the office.
W.H.I.P Patisserie
By now you should be familiar with
W.H.I.P Patisserie
. Their French-style desserts are an absolute godsend for any sweet tooths living the vegan or gluten-free lifestyle in Perth. If you're in this camp, you'll want to suss out the mind-blowing range of sweet treats and savoury flaky pastries selection too.
Fatboi Brownies
One look at Fatboi Brownies and there's no going back. Crispy on the outside and gooey on the inside, we're not sure we've tried a better brownie in Perth. Head to the online store to shop ingenious flavours like Red Velvet Oreo Cheesecake, Peanut Butter Jelly Blondie and Salted Pretzel Pandan. They're also slinging some epic "bronuts" (a brownie doughnut hybrid) and "brookies" (a brownie cross cookie), as well as delish options for vegans. Delivery is free for orders over $65 so you may as well stock up.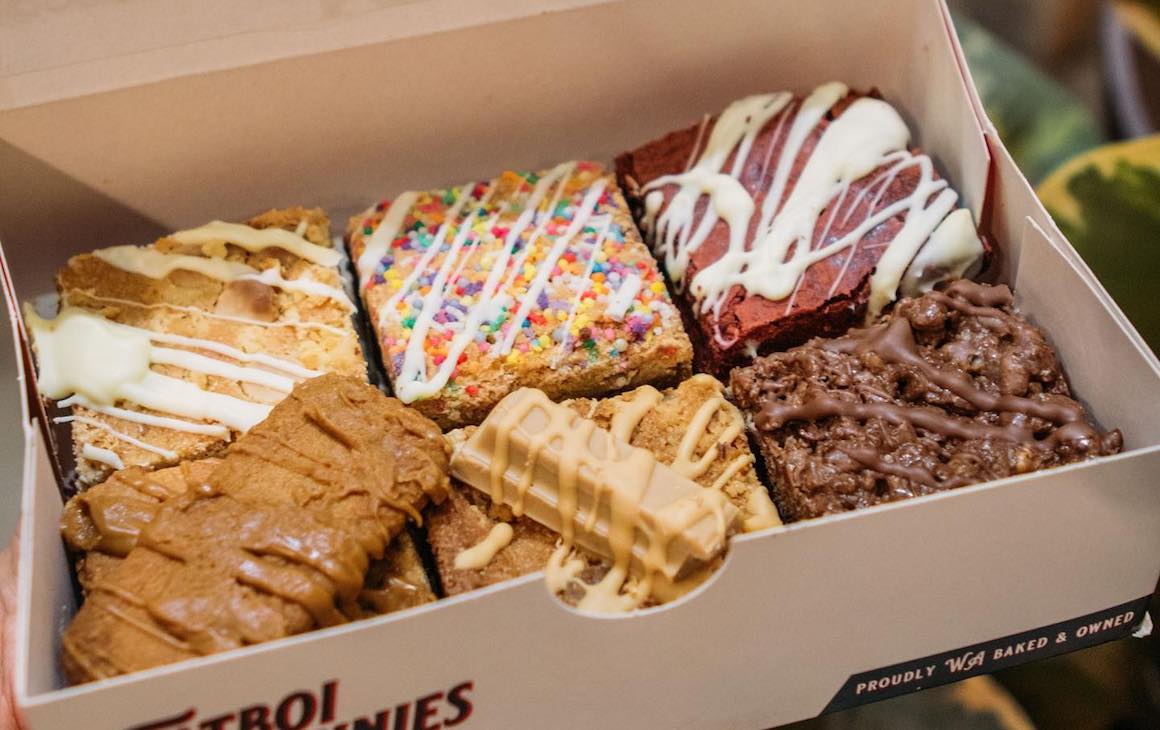 Divine Cannoli
Divine Cannoli have been smashing out artisan handmade cannoli and delivering them across Perth for about a year now, and safe to say we're a little obsessed. With flavours like Bounty Coconut, Apple Pie, Ferrero Hazelnut and Lemon Cheesecake, it's not hard to see why. Order online and have your fat stack of cannoli goodness at your door in 48 hours.
Zonts Bakehouse
Led by Baker Kaz (Le Cordon Bleu alumni), the Zonts Bakehouse team are all about making delightfully light, airy and buttery croissants, with flavours ranging from classic, chocolate and almond through to salted egg yolk custard and honey wattleseed. Order their baked goods for delivery or pick up.
Honeycake
We can all agree that lockdown wasn't the most fun, but there have been a few silver linings and the fact that Perth's famous Honeycake is now delivering straight to your door is certainly one of those. (If you're not in the know about this treat, just think rich caramel creme slathered between layers of honey sponge-like dough, all finished with walnuts and honey flavoured crumbs.) The team is delivering directly to Perth doors every Monday, Wednesday and Friday. You know what to do.
La Bomb Cookies
If you're yet to stuff the sweet treats from La Bomb in your face, let's just say they really are the bomb. They serve up decadent New York style cookies in heaps of flavours, but why get one cookie when you can go a huge cookie pie—just think a cookie style cake topped with extra goodies like Oreos, KitKats, Nutella and more.
Sugar Coat It
Nothing says "I love you" more than a big ol' box of sweet treats delivered to your door. And when it looks this good, you really can't go wrong. Sugar Coat It has loads of sugary and aesthetically pleasing gift boxes to please your giftee. Head to their website and you'll find plenty to choose from beyond the classic dessert options—think everything from booze to balloons, savoury treats, candles, and flowers—as well as fully customisable boxes.
Ox Rabbit
Nothing says indulgence like Ox Rabbit's home-delivered luxury brownies, cakes and cookies. Arguably more beautiful than any bunch of flowers, they'll also satisfy the taste buds to no end. This online bakery even offers same-day delivery for those of you who have left gift-giving to the last minute.
Roho Bure
If you're a vegan in Perth and you haven't tried Roho Bure's ice cream, you've been missing out. As well as being plant-based, all of their flavours are free of gluten and refined sugar, so you can treat yourself and still stay healthy. They've started delivering a few different combos on Thursday nights—our favourite has got to be the Netflix pack which comes with two tubs of ice cream, four cookies, four cones and two sauces—and we're seriously jealous of anyone who has the freezer space to invest in one of their 5L tubs! Get yours delivered here.
Get Chunky
If you're searching for New York style cookies delivered in Perth, then Get Chunky has the answer to your prayers. You'll be hard pressed to choose between the s'mores inspired choc chunk, the PB and chocolate and the coffee infused white choc chunk, but don't discount the oatmeal and raisin—with shredded coconut and deliciously sweet raisins, this will win over even the biggest sweet tooth. Order by 8.30pm for next day delivery.
Crunchbox
If you're looking for healthy vegan treats with no compromise in taste, Crunchbox has got you covered. Take your pick from a range of bliss balls, brownies, raw cakes and slices, or go ahead and order one of their gift packs for a loved one and just wait for all the thank yous roll in. Delivery is free for all orders $45 and over.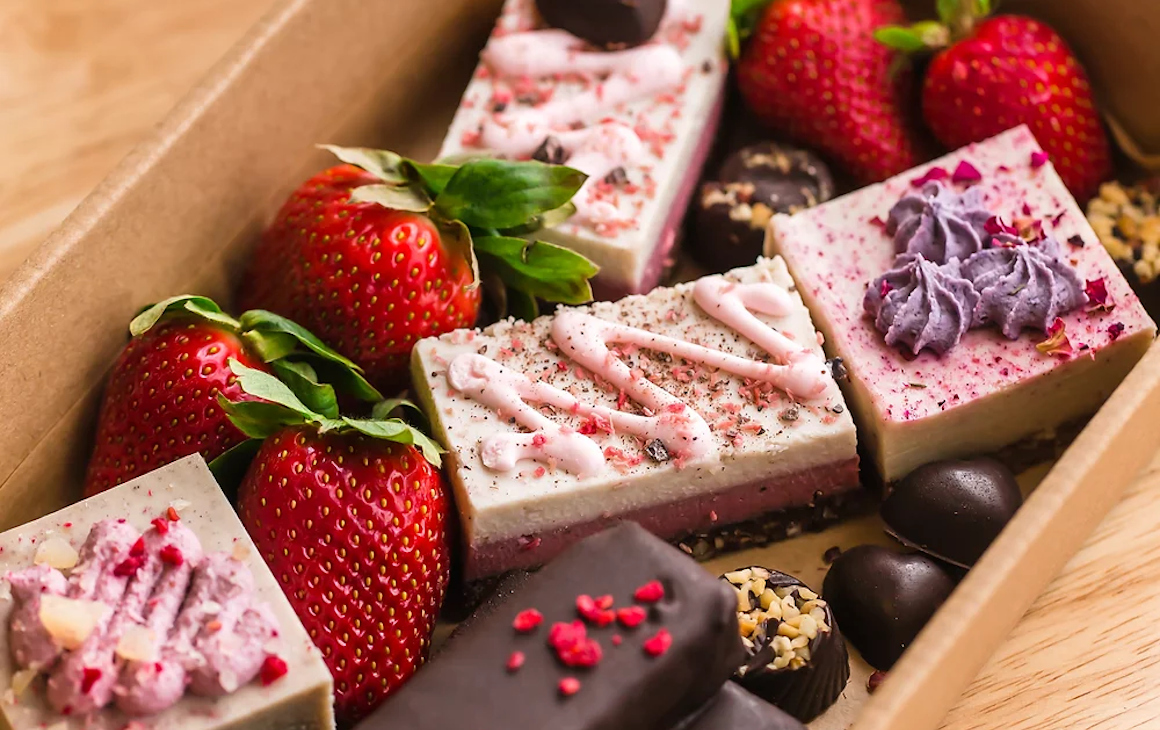 The Grass Fed Doughnut
For drool-worthy vegan doughnuts, look no further than The Grass Fed Doughnut. These self-proclaimed Doughnut Bod specialists have mastered the basics with their Unoriginal Glaze and Cinnamon Sugaa doughnuts, but it's their crazy flavour combinations that will have you hooked. Top picks include the Cookie Funfetti, the Strawberry Custard, the PB Nana Choc Pie and the Oreos n'Cream. Each week they put on a different box of six set flavours for delivery between Thursday and Sunday, but you can also opt for the Plain Jane box if you're not feeling adventurous.
The Douquet
Can't decide between a chocolate or flower delivery? Well, The Douquet has you covered. Designed for all of you out there with a sweet tooth (or four), this innovative delivery service combines doughnuts, chocolates, lollies and all that sugary goodness in the form of a beautifully arranged flower bouquet. These are perfect for wooing your loved one (or making sure that their blood sugar levels are at an all time high). Check out the range on offer here!
Lena Lu Bomboloni
In our minds Lena Lu Bomboloni pretty much translates to 'next level doughnut heaven'. This Perth based kitchen creates the fluffiest doughnuts topped with a mountain of sweet, sweet goodness. Delivery is available on Thursdays and Fridays so why not leave a box of heaven at your best friend's door?
Still hungry? Here's Perth's best dinner delivery services.
Image credit: Top Dup Donuts, Fatboi Brownies, Crunchbox