There's no doubt about it, we're pretty blessed when it comes to amazing places to visit here in WA. With wineries down south, red dirt and waterfalls up north and beautiful beaches no matter where you look, there's really no need to go anywhere else.
The South West is a long time favourite of Perth locals (don't blame you, queue the cab sav please), but there's plenty more to explore in this huge state we call home if you're looking for a scenic change.
Here are the best places to visit in Western Australia.
Wilbinga, Moore River, Wedge Island, Cervantes
TRAVEL TIME: 1 - 3 hours
GREAT FOR: 4WD, camping

If you're a bit of a thrill-seeker, this strip along WA's coastline is for you. Great for camping and a little quieter than our South West destinations, Wilbinga, Moore River, Wedge Island and Cervantes all have so much room for activities.
Go off-road at Wilbinga then head a little further North to cast a line into the brine, paddle out to the pontoon, catch some waves on your board or check out where Moore River empties into the sea.
Go further along Indian Ocean Drive and you'll pass the charming fishing-shack villages of Wedge Island where access until recently was 4WD-only. Here you'll also find the laid-back crayfishing town Cervantes which makes a handy overnight stop with easy access to the Pinnacles Desert, Lesueur National Park and Badgingarra National Park, plus some immaculate beaches.
Whether you're planning to make it a pit stop or stay the night, here are all the options for you.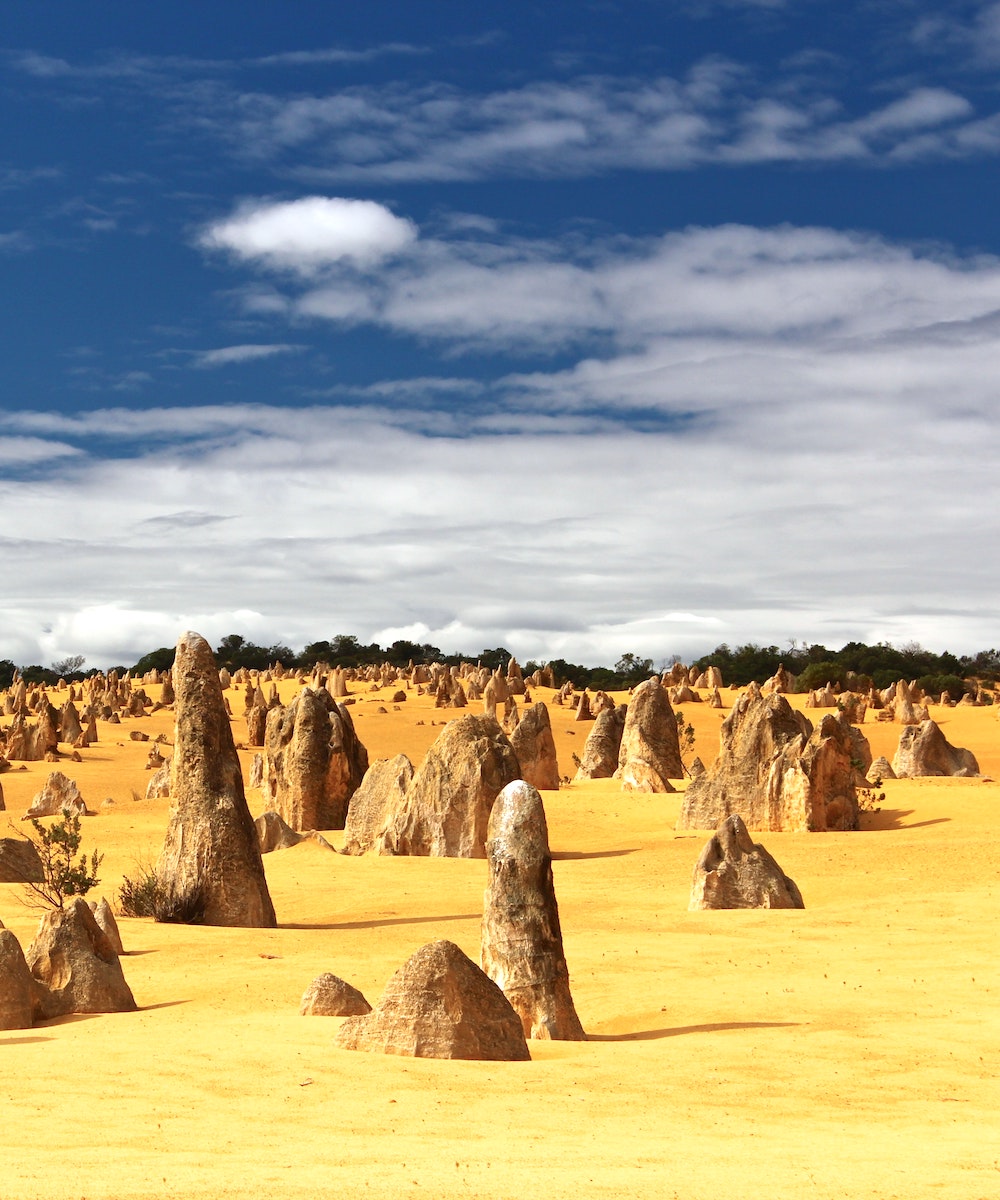 Chittering
TRAVEL TIME: 1 - 1.5 hours
GREAT FOR: Being at one with nature

Only a short drive from Perth, a visit to chittering is perfect for a day trip or a staycation if you're looking to immerse yourself with mother nature. Nestled in the hills of Darling Ranges within our Avon Valley Region, Chittering Valley is made up of untouched bushland, wetlands, vineyards, orchards and seriously amazing wildflowers.
If you are looking to make a weekend of it, Joey The Tiny Cabin might just be the quaintest place to stay.
Collie
TRAVEL TIME: 2 - 3 hours
GREAT FOR: Camping

Probably one of the most Instagrammable spots in WA thanks to its incredibly blue water, hot days at Black Diamond Lake are a must. Located in Collie, this spot is for swimming only but if you're looking to camp, head up the road to Stockton Lake where you can pull the boat up.
Albany
TRAVEL TIME: 5 - 6 hours
GREAT FOR: Food, Drink and History

Of course, we love our South West, but sometimes our Great Southern is worth the longer drive. Settled in 1826, Albany is the oldest European settlement WA; shortly before Perth. A charming mixed bag of history, waterfront bars, cafes and restaurants plus scenic coastal spots, there is plenty to do, eat, drink and see. With world-class wine, food, fishing, surfing, swimming, diving, hiking, mountain biking, four-wheel-driving and camping, there truly is something for everyone.
Throw it back in time and soak up the history at National Anzac Centre, a state-of-the-art interpretive museum overlooking King George Sound. Walk with the ANZACs and experience the Great War through personal stories. Learn why Albany is known as a whaling town at Discovery Bay and see the gentle giants up close on a whale tour in our magnificent King George Sound.
Get your cameras ready for one of the most fearsome and formidable rock formations on the south coast—The Gap—just minutes from town and then prepare to be blown away at their 18-turbine wind farm overlooking the stunning Sandpatch beach.
Sip coffee and get stuck into brekky at one of the many delightful cafes such as The Alkaline Cafe, Vancouver Street Cafe or Gourmandise & Co. Save room for lunch with the famous fish and chips near the fishing harbour and once the sun sets, enjoy a special meal and drinks at one of Albany's best kept dining gems, Liberte Restaurant and Bar.
When it comes to accommodation, you're absolutely spoilt for choice.
Exmouth
TRAVEL TIME: 14 - 15 hours
GREAT FOR: Fishing

When you think of the Pilbara it can be hard not to associate it with our mining industry, but the region has way more to offer than minerals. Hidden away are ancient Aboriginal rock-art sites and two beautiful national parks, home to incredible gorges, remote peaks, tranquil pools and an abundance of wildlife.
One of the Pilbara's sparkling gems, Exmouth is the spot to soak up the sun and sand with everything from snorkelling to fishing to spotting whale sharks. A world wonder amongst this is the magical Turquoise Bay. One of the seriously special things about this beach is the Drift Snorkel Area, where the current carries you on a magical ride, so all you have to do is chuck on your snorkels, face down like a starfish and embrace the coral bommies that you'll glide over. Pro tip: don't miss the exit point or you'll be carried out through the gap in the reef, so get out before the sandy point where the current strengthens!
In regard to accommodation, the campaign grounds are run by Parks & Wildlife Service. The 12 camping grounds of Cape Range National Park stretch from Neds Camp in the north to Yardie Creek in the south.
Karijini
TRAVEL TIME: 15 - 16 hours
GREAT FOR: Waterfalls

As we've already mentioned, we absolutely encourage chasing waterfalls and it really doesn't get much better than Karijini. With 15 narrow, breathtaking gorges, hidden pools and epic waterfalls, this place makes for one of WA's most impressive attractions. If you're a lover of nature, flock to this delightful red slice of the Hamersley Range and its deep, dark charms which is home to heaps of wildlife and over 800 different plant species. Wowsa.
Whether you're looking to level up or keep things simple, you have the option of no-frills, park-operated Dales Gorge Campground, or more-frills camping and eco-tents at Karijini Eco Retreat.
Esperance
TRAVEL TIME: 8 - 9 hours
GREAT FOR: Beaches

Surrounded by crystal clear waters and pristine white beaches, Esperance sits in complete bliss on the Bay of Isles. You can expect easy-going vibes and great beach life. With its picturesque beaches and remote national parks to the town's southeast, and the pristine environment of the 105 islands of the offshore Recherche Archipelago are inhibited by fur seals, penguins and seabirds.
Whether you're looking to soak sun or have your turn at making postcards, you've got your pick from Blue Haven, Twilight Beach, Fourth Beach, West Beach, Salmon Beach and plenty more.
As for accommodation, you're spoilt for choice with any budget but if you're looking for something a little quirky, we've heard that the guys at Esperance Chalet Village know how to do it and they do it damn well.
Coral Bay
TRAVEL TIME: 12 - 13 hours
GREAT FOR: Snorkelling

The name says it all—a bay dedicated to the wonders of coral. Consisting of only one street and a sweeping white-sand beach, the town is tiny enough to enjoy on foot, where you just spend your day snorkelling and swimming. Bliss. The coral is so bright and beautiful and it's about 10m off the shore. If you want to do more than swim and laze, join an ocean tour where they'll take you out further to see the turtles and fish and it's just so surreal.
Usually a family holiday destination, Coral Bay is in high demand in peak seasons so if you're planning on heading here, you've gotta book fast at any of these places.
Broome
TRAVEL TIME: 23 - 35 hours (It's About the journey)
GREAT FOR: The scenic road trip and sunsets by the beach

There's no doubt this is one helluva a drive but we think taking the longer route along the coral coast will make you understand that we have the most unbeatable coastline in the world.
Aside from the serious car karaoke jams that will be happening along with reclaiming your title as the car ride game king or queen, you'll go past some seriously jaw-dropping sites. Nambung National Park is home to the eerie and cool six metre limestone pillars we call The Pinnacles. Say hello to friendly Bottlenose Dolphins that swim close to shore at Monkey Mia. Pop into World Heritage-listed Shark Bay that's home to around 26 species of endangered mammals and give them a wave as well.
Stop at Denham to get the blood flowing through your legs again and take a stroll around the village to enjoy the exceptional views from Eagle Bluff. Hop aboard a glass-bottom board and cruise along Australia's largest and most accessible fringing reef, Ningaloo Reef Marine Park where you can view the colourful tropical fish and forests of corals. Irrespective of what TLC says, do go chasing waterfalls at Karijini National Park, with its spectacular gorges, waterfalls and luscious greenery. In between the rocky escarpments and spinifex-covered hills of Millstream-Chichester National Park, the rock pools and gorges make this treasure seem like oasis heaven on earth.
Just before you arrive at your final destination, you'll want to crack open a cold one and enjoy the pristine coastline at Eighty Mile Beach where the Great Sandy Desert meets the Indian Ocean.
When you do finally arrive, Cable Beach boasts luxury resorts if you're looking to live your best post-iso life plus you can enjoy camels, surf and sunsets. Take time to explore special attractions like Gantheaume Point and Dinosaur Prints, catch a flight on the seaplane to Horizontal Falls and, an absolute winner, go for a dive at Rowley Shoals Marine Park where 600 species of fish and 200-plus different varieties of coral inhibit and catch phenomenal sunsets without everyone else at Reddell Beach.
If you're looking for accommodation that's a little more low key there's Beaches of Broome Hostel, McAlpine House B&B and Broome Bird Observatory. If you have time, the Eco Beach Resort is definitely worth the extra effort. They have luxurious Eco Villas interlinked by over 1km of elevated wooden boardwalks plus 30 safari style Eco Tents. If there's a group of you, they also offer The Beach Houses, with epic views of the Indian Ocean.
Looking to stick close to home? Check out all the best things to do in Dwellingup.
Image credit: Ben Carless, Tobias Keller, Amazing Albany, Amanda Klamrowski