If you've been dreaming of an island getaway and Rottnest just isn't cutting it, it's time to discover the magical Abrolhos Islands—and the best way to do that is with Eco Abrolhos on-board their incredible 35-metre vessel, also named Eco Abrolhos.
With three and five-day tours, the family-owned and operated Eco Abrolhos is one of the only operators offering multi-day trips to the Abrolhos Islands, and let us tell you, a day trip just can't do these islands justice.
According to the guidebooks, the archipelago is made up of 122 islands, though it's probably more like 180. These are split into three main groups—the Pelseart Group, Easter Group and Wallabi Group—and you'll get to cruise through all three of them during your time on the live-aboard boat.
Kicking off in the Pelseart Group, you'll island-hop your way through the crystal clear, coral-studded waters (trust us, you've never seen this many shades of blue) and will be spoilt for choice when it comes to ways to pass the time
If you want to kick back on the top deck and read a book in the sunshine, go for it, but we'd recommend getting amongst the various activities on offer. From pulling cray pots with owner Jay Cox each morning and fishing in the afternoon to snorkelling, visiting pearl farms, exploring shipwreck sites—most notably, the Batavia—spotting sea lions, birds and wallabies and learning all about the islands, there is plenty to see around here.
But let's chat about the fish and the crays for a second. Whether you're a long-time fishing fanatic or you just want to try your hand at it, sign up for at least one session on the King Diver with Jay.
Jay is a fisherman from way back and has spent a lot of his life living and working on the Abrolhos Islands, so you can rest assured he knows all the good spots. On the first day we were out there, the guys brought back 55 crayfish in the morning and the afternoon shift pulled in about 13 fish. If you're better with a screwdriver and hammer than you are with a rod, don't miss Long Island where you'll get to harvest (and eat) oysters straight off the rock—it doesn't get much fresher than that. Even if you're not into fishing at all, you get to reap the rewards when it comes to mealtime.
Chef Jonny is an actual wizard in the kitchen, whipping up tasty eats which would have you believe he's got a team of 10 chefs helping him out. Each meal is served buffet style with about 10 different dishes—from grilled crayfish, fried dhufish and sashimi to roast veggies, chips, freshly cooked bread and salads all in one sitting—so there is no chance you'll go hungry.
We ended up eating crayfish about six different ways—the crayfish omelette for breakfast was a true standout—and can confirm that you never get sick of eating freshly caught crays; at least not when Jonny is in charge. We'd almost go as far to say that the food is reason enough alone to book yourself a spot on one of these trips, especially if you're a huge seafood fan.
But there are so many other reasons. If you're into snorkelling or freediving, you'll have the chance to explore the sea from down below nearly every day. The coral is as thick as you can possibly imagine and, while the water can be chilly, there are plenty of tropical fish to gawk at. If you're lucky, you might even get to swim with the sea lions.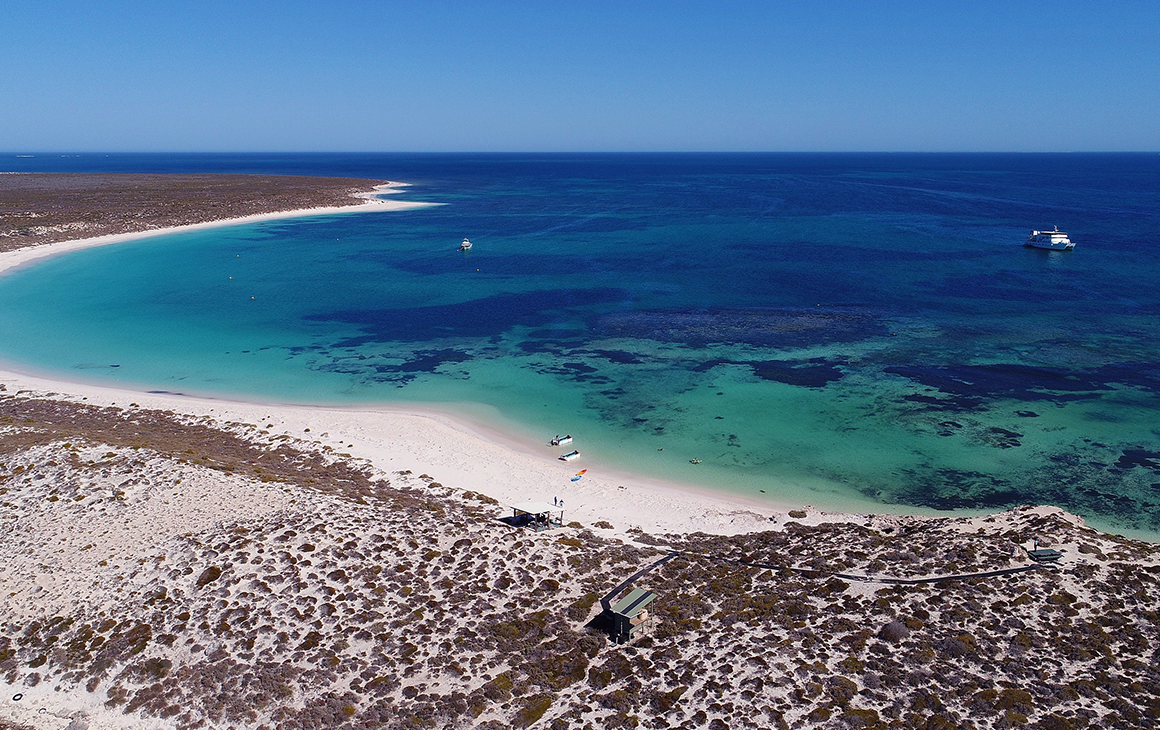 For those of you who don't fancy getting in the water, Eco Abrolhos has two glass bottom boats on board so you can cruise around on those and ooh and ah at the coral below while you're nice and dry.
After a busy day of snorkelling, fishing, wandering around the islands or just napping on the top deck, it's time for drinks at one of the two bars onboard. When the weather is good, head to the top deck and take in the sunset with a drink in hand and a cheese platter or some ceviche, depending on what the fishing crew caught that day.
History buffs will want to make sure they book themselves on a Discovery Tour with Howard Gray. These are so popular they tend to fill up fast, so get in quick for a 2021 trip. A teacher, historian and author, Howard knows just about everything there is to know about the islands and particularly about the shipwrecks. He is a wealth of knowledge and it's well worth sitting down and having a chat with him about the islands—even if it's just so you can score a couple of extra points at Jay's Very Controversial Quiz Night on the final night.
We could go on and on about all the reasons you should head to the Abrolhos Islands, but by the time we finish, the trips for 2021 will all be sold out. So, if you want to take your summer plans to the next level, check out the calendar here.
Want to spend a bit more time on the Coral Coast? Check out these dreamy Coral Coast retreats.
Image credit: Supplied