Whether you've got a special occasion coming up, looking for a romantic evening out or just want to drown in decadence, do yourself a favour and book a meal at Heritage Wine Bar stat. Set within the iconic Royal Insurance building in Perth's CBD overlooking Brookfield Place, this stunning European-inspired eatery has cemented its status as one of the very best in our books.
From the moment you step inside Heritage Wine Bar's charming halls, you'll realise you're in for something pretty special. Its dramatic high ceilings, glorious large windows, Italian marble floors, black leather lounges and endless wine bottles that line the venue will make you feel like you stepped into a chic European bistro, minus the flight. Pretty handy considering the current state of things.
The food offering is also heavily European inspired and bolstered by the finest local produce, with an a la carte menu that includes the likes of wagyu tartare and chicken and rabbit terrine—all of which are as beautiful and sophisticated as they are downright delicious. You could quite happily order a bunch of dishes to share and nibble away over a cracking bottle of wine or indulge in a hearty main and dessert, but to really get a taste of everything on offer (and avoid having to choose) we opted for the chef's menu with paired wines. I mean, it would be rude not to, right?
The set menu is forever changing, but always includes a series of divine little gourmet snacks, followed by an entree, main and dessert, with boujee optional extras along the way like caviar, truffles and an after-dinner cheese board.
Before you even start on the food, you'll also get a glass of bubbles to kick off the night if you opted in on the wine pairing (which you definitely should). Don't sit on that too long though, because those first few dishes will be at the table sooner than you think along with your second glass of wine.
When they do arrive in front of you, it's hard to know which morsel to pop into your mouth first because they're all screaming for your attention. The plump Pacific oyster with citrussy geraldton wax and smoked oil seemed like a good place to start before moving promptly through a gloriously delicate raw fish tart with macadamia and our fave of the entres of the night; an epic mortadella and foie gras concoction.
As good as all those treats were, though, it was the next dish that absolutely blew our minds (and taste buds). Enter the most scrumptious serve of mushrooms you'll ever lay your lips on. Made with an array of perfectly cooked shrooms from The Mushroom Guys alongside a flavourful cultured cream and crunchy walnuts, it's simple, delicious and loaded with umami goodness. Served with fluffy Heritage bread and koji butter, we absolutely wiped the plate clean. They've switched this dish out in their current set menu but thankfully you can still find it on the a la carte selection if you want to give it a go.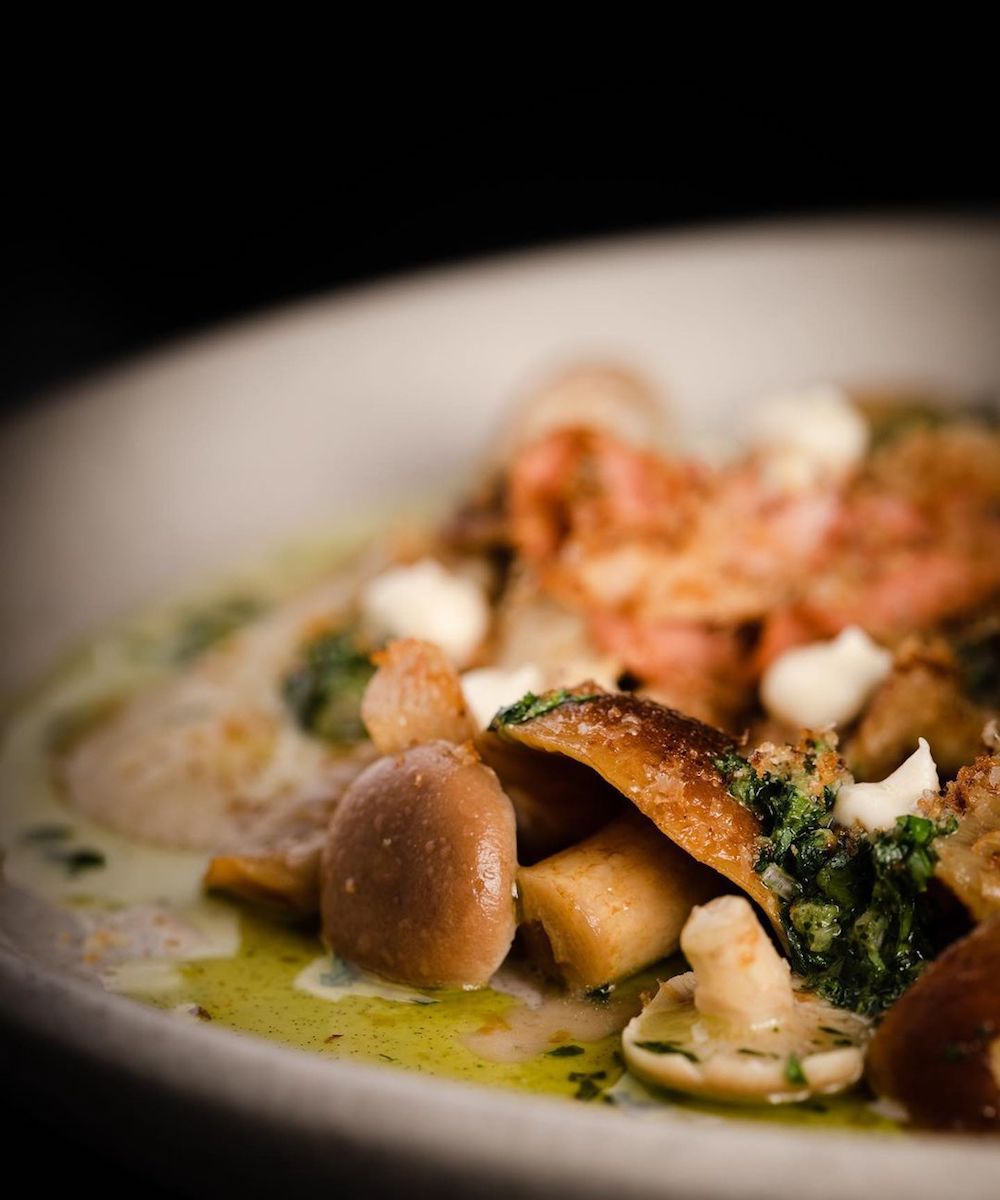 This dish was backed up by an epic wagyu rump for mains, served medium rare alongside smoked fat (yes, it's a thing and it's amazing), bordelaise (a French red wine style gravy) and carrot. At this point we were about ready to unbutton our jeans and call it a night, but we were not done yet. To cap it off, a creamy orange and chocolate dessert which will leave any Jaffa fiend in absolute heaven.
We were definitely too full to even think about adding cheese on after that, but a few late-night cocktails downstairs at Bobeche took very little convincing. The bar staff at this moody underground bar (which shares ownership with Heritage Wine Bar) really know their stuff so feel free to ask for recommendations. We split one of the signature teapots followed by an espresso martini to perk us up for the Uber home. I mean it's basically the same as an after-dinner coffee, right?
If you're about ready to get a taste of one of Perth's most refined dining experiences, book here.
Once you've ticked this bucket-list dining experience off, scope out more of Perth's best restaurants.
Image credit: Sarah Hewer