Today, and every day, we're celebrating the women in WA's food and drink scene that are pushing the envelope. While we could create a never ending list on the women we admire, here are some that we reckon deserve an extra shout out.
Prepare to be seriously inspired.
Pingping Poh
Chef De Cuisine, Nobu Perth
A testament to her dedication and talent, Pingping Poh is making quite the name for herself as the first female chef to hold the top position as Chef de Cuisine at renown Japanese restaurant, Nobu, at Crown Perth.
The new job is far from Pingping's original career path, though, having worked as an accountant throughout her early twenties before making the brave move to switch careers and pursue her love of food. It was at Crown Perth where she got her start, securing an apprenticeship at Crown Perth in 2009. By 2011 she was named WA apprentice of the year and offered a job as Commis Chef at Nobu, and has wasted no time rising through the ranks since then.
Growing up in Malaysia, Pingping has been immersed in food from a young age and has a love and natural flair for Asian cuisine. She's putting that flair to good use, bringing a fresh and creative energy to the Nobu kitchen to develop innovative fusion dishes that will leave you in awe. Don't just take our word for it though, book yourself in for an unforgettable feast and see what all the fuss is about.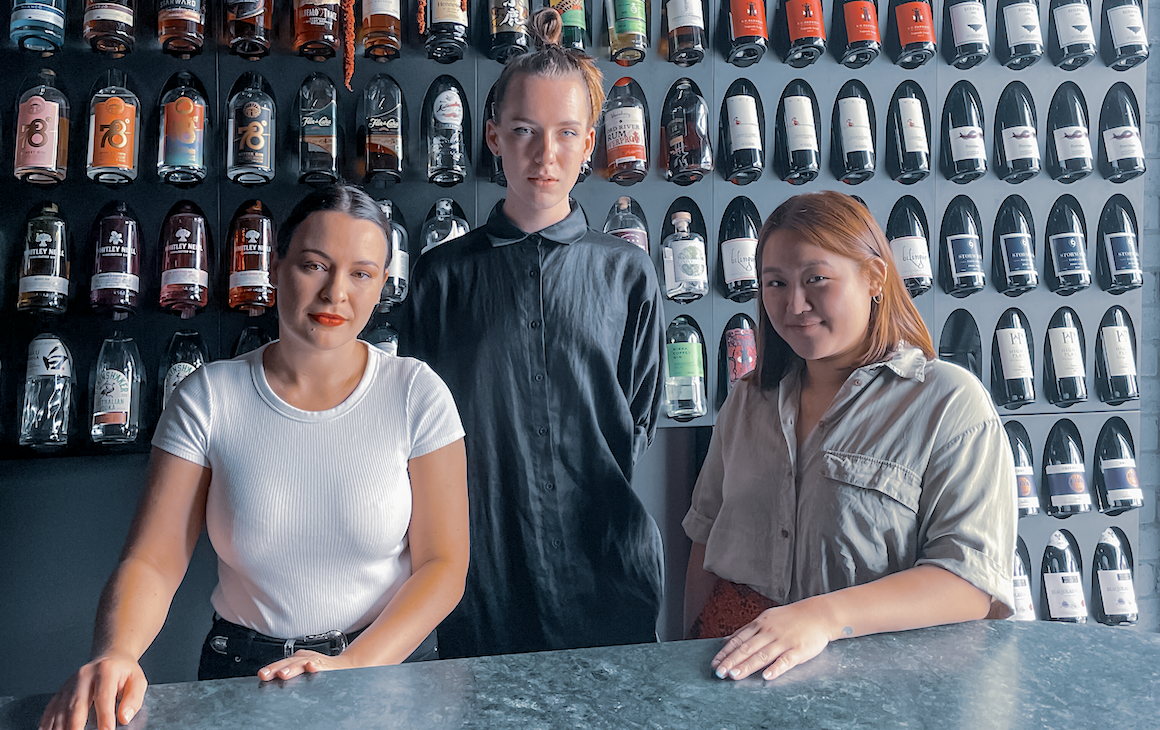 Pippa Canavan, Reid Gunter and
Shirley Yeung
Co-Founders, Mix Haus
Perth hospitality professionals Shirley Yeung, Pippa Canavan and Reid Gunter are the co-founders behind Mix Haus, a local not-for-profit organisation which aims to educate, train and support womxn (not a typo, it's a term that's inclusive of trans and nonbinary women) working in the hospitality industry. Providing exclusive workshops, training and networking events, Mix Haus acts as an important platform for lifting up womxn in hospitality and creating an inclusive space for them to learn and grow a meaningful career.
With decades of combined experience, Shirley, Pippa and Reid all share a genuine love for hospitality but are no strangers to the challenges in navigating the male-dominated industry. They all recognised how lucky they were to find amazing people along the way that helped nurture their careers and want to ensure newcomers have the same opportunities.
For Reid, who now manages the private dining room at Fleur in The Royal, it took time to find her voice and feel validated as a public transgender woman in hospitality. "Fortunately, I found people at an early age that have helped me to strive as a professional," she said. "The reason behind Mix Haus is to relieve the pressure on so many young women, especially queer women, entering the amazing hospitality workforce and offer a programme fostering industry growth and encouragement."
You can find out more about how to get involved with Mix Haus here.
Michelle Forbes And Marinela Antonic
Co-Owners, Lady Lola's
After being at the helm of several of Perth best-loved kitchens, Chef Michelle Forbes has spent over a decade working alongside some of the state's biggest hospitality names. And while the experience has seen her hold exciting positions at the likes of Rockpool, The Trustee, Subiaco Hotel and Cullens, it has always been Michelle's dream to open her own place. So when the perfect space became available in the heart of Dunsborough, Michelle jumped at the opportunity.
Enter Lady Lola Deli Bar & Bistro, the sophisticated new opening from Chef Michelle Forbes and her partner Marinela Antonic. Lola stands for 'love of life's adventures', so no surprise to see the menu features riffs on some of the pair's favourite dishes from their travels around the world, all made with the best seasonal produce available.
While Michelle delivers fresh takes on classic dishes such as vitello tonnato and beef bourguignon her equally experienced partner Marinela heads up the drinks and wine list, which focuses on small batch, minimal intervention, intriguing and textural wines. We love to see such an exciting new offering make its way to Dunsborough, especially one that's 100% female-led. Add it to your hit list for your next south west weekender.
Siobhan Needham
OPERATIONS MANAGER, THE OLD SYNAGOGUE
Like most young people, Siobhan's career in hospitality started as a side gig while studying at uni. But it didn't take long for her to realise that her true passion lied in hospitality. She now looks after over 100 staff including 42 females at Fremantle's The Old Synagogue.
We reckon The Old Synagogue is pretty lucky to have such a talented hospitality legend at its helm, with Siabohan's long list of accolades including working for Jimmy Shu, one of the most successful restaurateurs in Australia, and the globally acclaimed Marco Pierre White Restaurants in the UK as Food & Beverage Manager for four years.
Here in Perth she's also assisted in the opening of Angels Cut by Trustee, and managed May Street Larder and Boston Brewing Co before moving over to Ops Manager at The Old Synagogue. With the 'gog arguably one of Perth's most notable openings in the last few years, it's safe to say when it comes to running a quality venue and leading a first-class team, Siobhan is one of the best in Perth.
Keep the International Women's Day love rolling by tuning into these top podcasts created by women, for women.
Image credit: Shot By Thom (Pingping Poh), Supplied (Pippa Canavan, Reid Gunter and Shirley Yeung of Mix Haus)