If you've been feeling blue about that sun-soaked trip to Bali, that snowboarding holiday to Hokkaido or that adventure-packed week in Thailand that you had to cancel, it's time to stop.
It's true, those exotic destinations will be off the cards for some time to come, but don't let that stop you from getting out there and filling your lungs with fresh air and your Instagram feed with enviable snaps.
There's plenty to see in our own backyard, while we patiently wait for those borders to open up. Western Australia is pretty damn big—and a veritable playground of otherworldly natural phenomena and jaw-droppingly beautiful natural vistas, if you know where to look.
And we do.
Here are our top 5 must-sees and must-snaps in the great outdoors of WA, perfect for the 'Gram.
Get High On The

Granite Skywalk

If you've never visited the Stirling Ranges, now's the time to get out there, soak up some oxygen and hike up some mountains (yes, we have mountains in Western Australia!) and granite outcrops in this remote area.

One of the most Instagrammable locations there is, without a doubt, is Castle Rock. Sitting some 670 metres above sea level, smack bang in the middle of Porongurup National Park, this unique granite range features some pretty striking rock formations and an incredible diversity of wildlife and plants.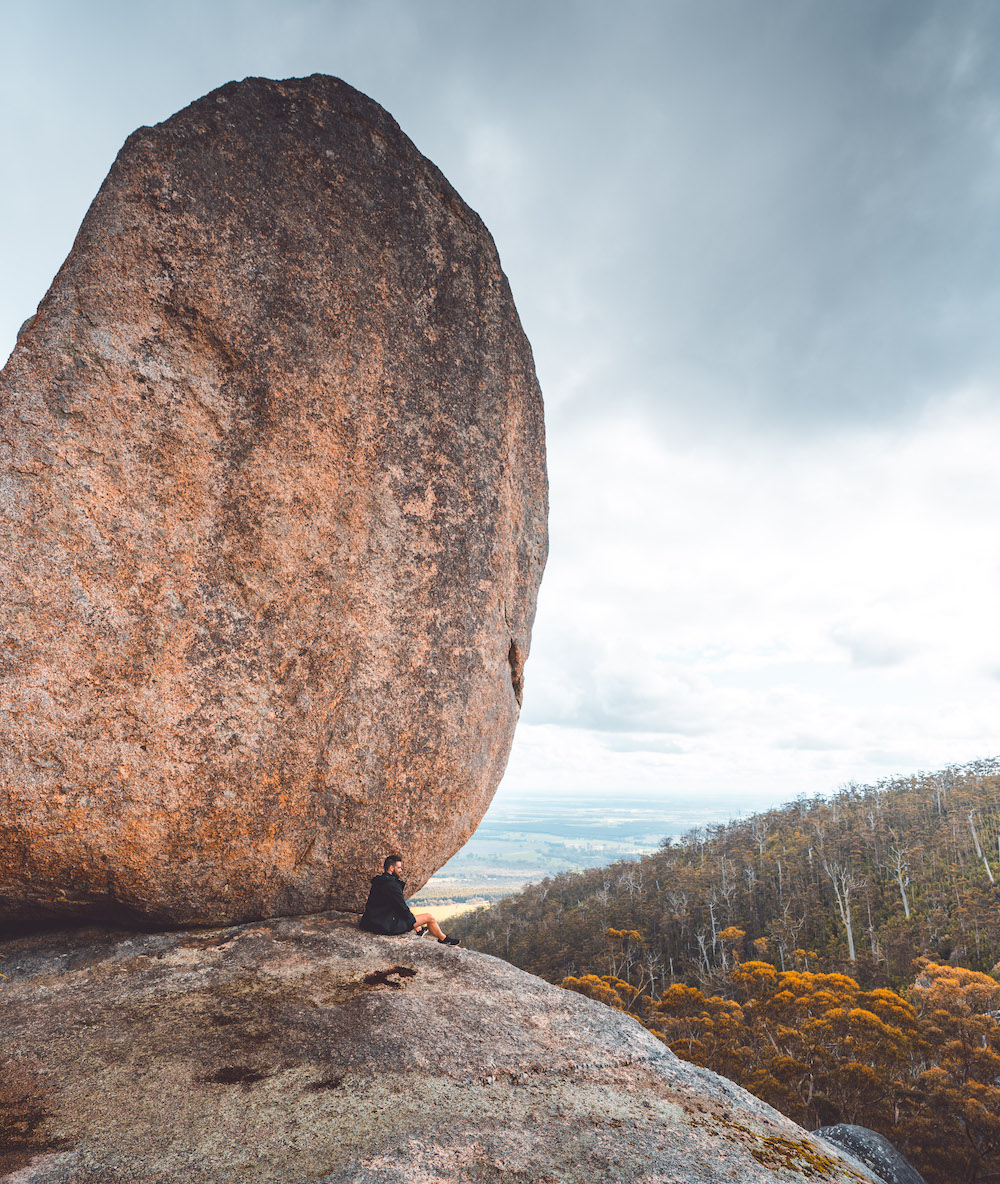 It's also the starting point for the walk to the suspended Granite Skywalk. A marvel of engineering, the glass-floor skywalk delivers heart-stopping, uninterrupted views out to Albany, Mount Gardner and Mount Manypeaks. Just don't look down!
If you're looking for a place to rest your hiking legs at the end of the day, how about a night in a converted Dakota DC-3 aircraft? Or perhaps a slumber party in a five-storey-high Dutch Windmill—one of the largest windmills ever built in Australia—overlooking the Stirling Ranges?
Pro tip: On the drive down, keep an eye out for the pink salt lakes dotted all around the Stirling Ranges.
Climb One Of The World's Tallest Trees
You've probably heard about the Valley of the Giants in WA's South West, with its ancient forests and Tree Top Walk? But for something a little closer to home, take a nail-biting scramble up the tallest climbing tree in the world.
Three and a bit hours south of Perth, just past Manjimup, just outside Pemberton, you'll find The Dave Evans Bicentennial Tree. Not such a thrilling name, we know, but with a soaring height of 75 metres (230 feet) above the ground, climbing this tree to the top of the forest canopy will have your heart racing.
This tall Karri tree is one of three fire lookout trees in the area, which were once used by foresters to scan the landscape for the first signs of fire. To reach the lookout platform at the top, you'll need to scale 165 metal spikes hammered into the trunk. The tree was first pegged in 1988 as part of Australia's bicentennial celebrations, hence the name. Who's Dave Evans then, you ask? No, not the one-time AC/DC singer pre-Bon Scott. Just some local politician dude.
If you're brave enough to scale the tree to the top, you'll be rewarded with the most epic 360-degree views. If your palms are sweating just reading this, did we mention climbing this tree is done without any safety gear?! Get to it.
Pro tip: If you're a foodie, be sure to stop off at nearby Manjimup, home to Australia's most successful black truffle industry.
See Red Atop WA's Most Famous Twins
One of the State's newest natural attractions can be found up north on Australia's Coral Coast. Opened earlier this year, the Kalbarri Skywalk is a beautiful feat of architecture, overhanging the rust-red cliffs of the Murchison River Gorge from on high.
The twin skywalks jut out over the gorge and join together at the apex where you can lean over and peer down to the river below, some 100 metres below.
In the surrounding Kalbarri National Park, you can explore sandstone cliffs, wildflowers and walking trails. Just 500 metres from the skywalk is one of WA's most iconic natural attractions, the famed "Nature's Window"—a natural window formed from layers of Tumblagooda Sandstone. No doubt you've seen a few pics of it on Instagram. It's a bit of a selfie hot spot.
Pro Tip: Time your visit towards the close of the park (6pm) and witness the sunset as it lights up the rocks in red at the horizon.
Witness The Magic Of Horizontal Falls
Described by Sir David Attenborough as "one of the greatest wonders of the natural world", this ocean phenomenon is the icing on the cake of any trip to the remote and stunningly beautiful Kimberley.
Known as The Horizontal Falls, this intriguing and unique waterfall effect is the result of one of the world's highest tidal shifts, where two large bays shift water back and forth in the narrow gorges, with powerful tides reaching more than 10 metres.
You can't just rock up in your car for this one. You'll need to plan ahead, as the falls are accessible only by water and air.
Get right up close on a cruise, luxing it up onboard one of True North's exclusive, boutique Kimberley cruises or book a more affordable day trip with one of the many operators in the region.
Or you can reach the falls by float plane and enjoy a thrilling boat ride through the rushing water torrents.
Pro tip: Watch out for crocs! And we don't mean the comfortable shoe variety. (Although you really should avoid those too).
Swim With The Wonders Of The Sea
Pack your snorkel, it's time to get your road trip on and venture up the coast to explore the world's largest fringe reef and the mystical land of whale sharks.
Ningaloo Reef is protected under the World Heritage for good reason: it's one of the most beautiful, untouched underwater playgrounds on the globe. We're talking crystal-clear azure blue waters, crowds of dolphins and dugongs, currents of colourful fish, and coral reefs so close to the coast you can easily snorkel over to it from the shore. Not to mention, some of the most eye-poppingly stunning white sand beaches you'll ever see.
Right now, the majestic humpback whales are migrating through this area, so the time is ripe for a once-in-a-lifetime close encounter, while whale sharks are best spotted from April to August.
Cap the experience off with a snappable West Coast sunset from your camp chair.
Better still, splash out on a night at uber-luxe Sal Salis tented camp retreat, where you'll be treated like royalty while surrounded by one of the most beautiful places on earth.
Looking for more travel inspo? Check out all the best places you should have visited in WA.
Immanuel is editor of Flight Hacks, which helps Australians to travel in style without breaking the bank, sharing reviews, news and deals on Frequent Flyer credit cards, hotels, airlines and travel insurance. One of the most active Frequent Flyers in Australia, Immanuel earned and spent more than 3 million points in the 12 months pre-Covid-19, travelling 332,533km (equivalent to circumnavigating the globe 8.5 times) and taking more than 100 business and first-class flights to 28 different countries.
Image credit: Immanuel Debeer, Lauren Bath, Tourism WA