Editor's note: Be sure to check any alerts and closures on the NSW National Parks website, as well as any weather warnings via The Bureau of Meteorology.
We hate to rub it in (sorry Melbourne) but Sydney is the luckiest city. We may have a population surmounting five million but our harbour-lined metropolis also has a plethora of national parks right at our doorstep, allowing for all the nature-packed respite over the weekends.
For your convenience, we've rounded up the absolute best of these beautiful parks so you can get cracking on waterfall loop tracks, sky-high lookouts, blue swimming holes, overnight hikes, and suspension bridges (we know you like those).
These are the best national parks to visit near Sydney.
South
Royal National Park
1 hour drive
By far one of the most popular national parks near Sydney, the Royal National Park is a gift that keeps on giving. A place rich with First Nations rock engravings, shell middens, rock shelters with drawings and stencils, and grinding grooves, before European settlement began, this area was home to the Gweagal people, a Dhawaral-speaking clan.
You can expect a myriad of adventures at your fingertips here with overnight hikes and a bunch of epic swimming spots for summer including Wattamallo Falls, Karloo Pools and Olympic Pool—a place donned "the best swimming spot" in the national park that stretches 60 metres.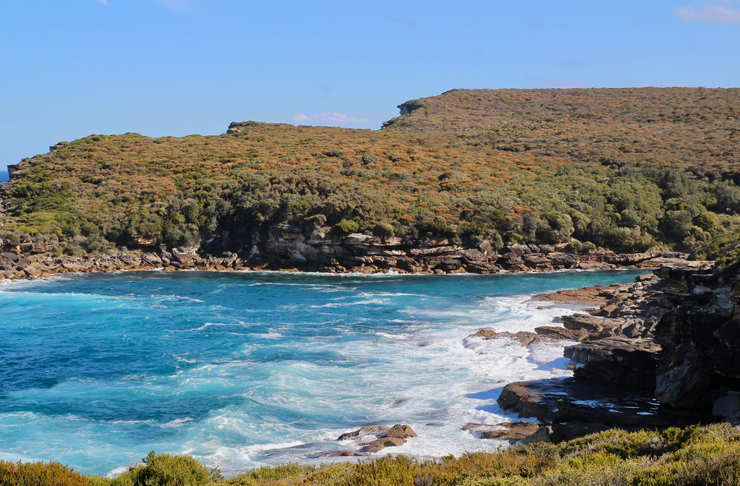 Dharawal National Park
1 hour drive
As one of NSW's newest national parks, Dharawal National Park is a huge contender on our best national parks radar. Filled with a distinctive web of natural creeks and rock pools, this park holds huge significance to the Dharawal people.
You've probably heard of Minerva Pool walking track which encircles the pristine Minerva Pool, a picture-perfect waterhole studded with sandstone and a stony island. This one is a sacred women's place for the Dharawal People so it's imperative you respect the cultural importance of this site: only women and kids can actually take a dip here.
However, Minerva isn't the only highlight of this national park near Sydney, you should also make time to hit up Madden Falls, O'Hare's Creek Walking Track, and Jingga Walking Track (this one only takes you about an hour return and has a freshwater swimming pool and loads of picnic spots).
Heathcote National Park
1 hour drive
There's big debate around whether you should skip Sydney's Royal National Park entirely and throw yourself into the deep end of Heathcote National Park (with many saying the latter beats the former by a mile). However, we like to think you should absolutely do both. Also originally occupied by the Dharawal people, Heathcote makes visiting waterfalls, beautiful bushwalks and camping super easy to access from the CBD. In other words, it makes for the perfect day trip.
Bullawarring Walking Track is the main event here and is undoubtedly the jewel of the park. There's enough steep sections, ridges, swimming holes (eg. Kingfisher Pool) and bushland to make you feel like you've soaked up a good dose of nature over your weekend. There's also a delicious amount of campgrounds to work your way through including the remote clearing of Mirang Pool, Lake Eckersley (which only fits up to six campers) and Kingfisher Pool, which can only be accessed by foot.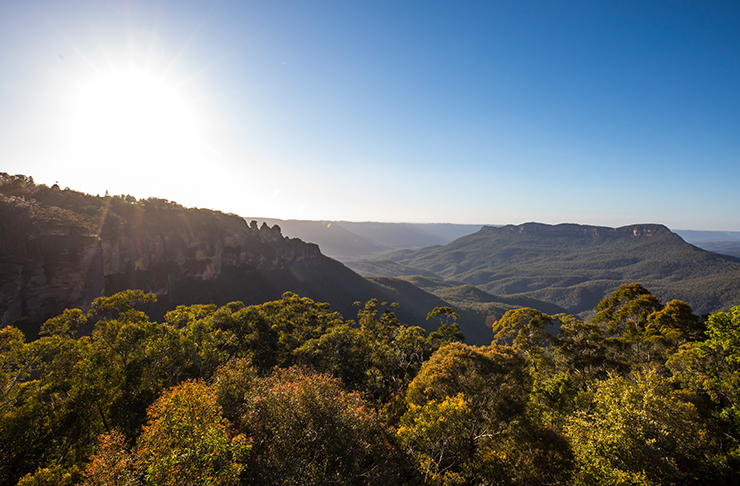 Nattai National Park
1 hour 30-minute drive
Nattai National Park is famous for its sandstone escarpments and gorges (including Grant Head and Golden Moon Bluff) and contains some rocks a casual 440 million years old. At this point in time, First Nations use of the Nattai area is still relatively unknown, but the Gundungurra tribe are understood to have occupied the park's flats.
Make sure you slap your hiking shoes on for the Couridjah Corridor Walk—an incredible bushwalk combining the best spots of Thirlmere Lakes and Nattai National Park. Loaded with heaps of sheltered gorges, eucalypt forests and wetlands, this trail is an absolute Mother Nature feast for your soul. Wollondilly Lookout is another gem that will reward you with some insane, panoramic views of sandstone cliffs and mountain ranges of Nattai National Park.
West
Blue Mountains National Park
1 hour drive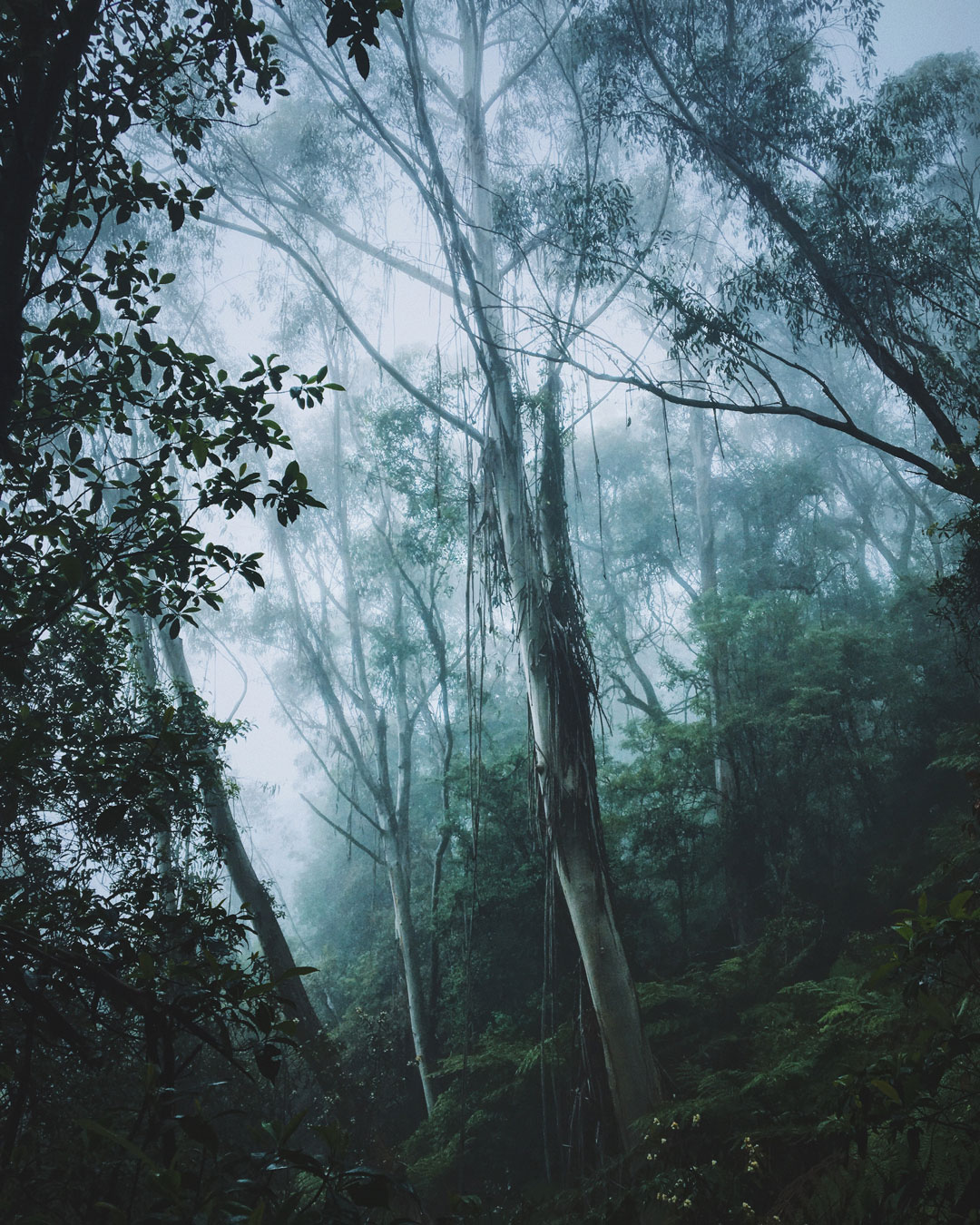 You can spend years inside Blue Mountains National Park and still never see everything. It's made up of six different areas; Katoomba, Blackheath, Glenbrook, Lower Grose Valley, Mount Wilson and the Southern Blue Mountains area. Before the region was invaded, the Blue Mountains had two Indigenous tribes—the Gundungurra and Darug tribes. Near the Jenolan Caves, it was also home to the Burra Burra tribe.
There's a lot to do here so don't expect to tick everything off your adventure bucket list however, our main picks have to be the Glenbrook Gorge Track, the Ruined Castle Walking Track, Wentworth Falls and the historical Six Foot Track (one of the most breathtaking bushwalks dating back to the 1880s).
Kanangra-Boyd National Park
3 hour 30-minute drive
This one definitely sits a bit further away than other national parks surrounding Sydney but Kanangra-Boyd National Park is an underrated weekend destination. This area is home to the Gandangarra people in the southern part of the area and the Dharug tribe in the northern part. It's also a refuge for families of koalas who are suffering the onslaught of climate change and excessive deforestation (conservation groups like Science For Wildlife are working to protect them, more on that, and details on how you can help, here).
Part of the Greater Blue Mountains World Heritage Area, Kanangra-Boyd National Park is brimming with magnificent scenery. There are sandstone cliff faces, dense forest and secluded campsites too. You'll want to make sure you spend some time at Kanangara-Boyd lookout which overlooks Kanangra Walls and Mount Cloudmaker, Kanangra Waterfall Walk (which only takes about 30 minutes), the Mount Emperor loop (epic for bike riders) and Boyd River campground which is fitted out with vehicle access.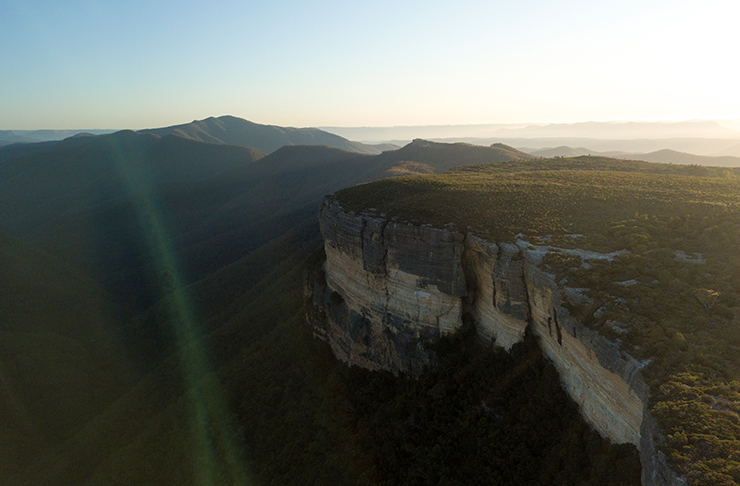 North
Marramarra National Park
1 hour 30-minute drive
Marramarra is part of the traditional lands of the Dharug people and you'll find many surviving First Nations sites within the park including cave art, rock engravings, grinding grooves, midden and scarred trees.
The national park remains relatively unvisited on the Hawkesbury, which is part of what makes the park so great. It's filled with so many opportunities to go kayaking, swimming, cycling, camping, bushwalking, picnicking and birdwatching, so the real question is: how much time do you have to spare?
Twin Beaches campground is only accessible by boat, but is a standout if you're keen to bring a kayak (your own or rented) and get into all the water adventures. We also love the Canoelands Ridge Walking Track, which spans 10km, but you can turn back at any time. You'll score insane ridge-top views of the Hawkesbury River and heaps of native flowers on this one.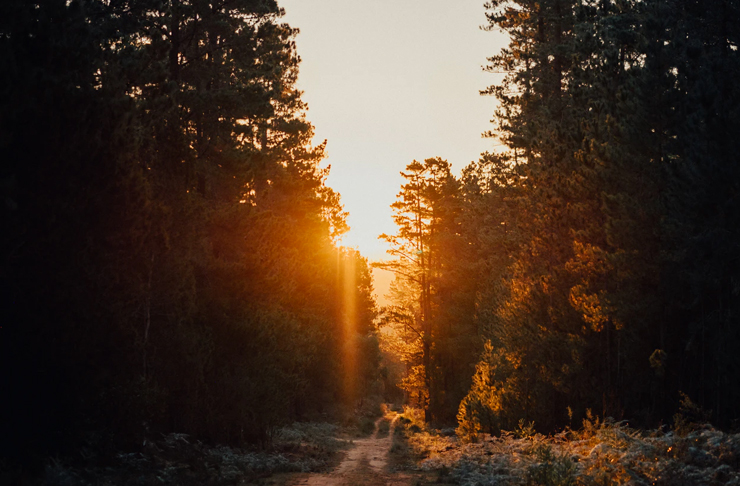 Brisbane Water National Park
1 hour 45-minute drive
Brisbane Water National Park will go down as one of the most stunning national parks in NSW. The land here is home to the Darkinjung and Kuringgai people who used the estuary and foreshore areas for thousands of years. The park protects many ancient Indigenous rock engraving sites.
The national park is loaded with a heap of breathtaking lookouts including Warrah Lookout, which gives you scenic views of Broken Bay and the Hawkesbury, and Staples Lookout, which treats you to wide-open panoramas of Brisbane Water and Woy Woy Bay. There's also an awesome track worth your Saturday or Sunday called Piles Creek Loop. This guy makes you feel like you're walking in a jungle in the middle of Costa Rica, and it's here you'll find waterfalls, a Eucalypt forest, rocky gorges, stepping stones, and even an old suspension bridge.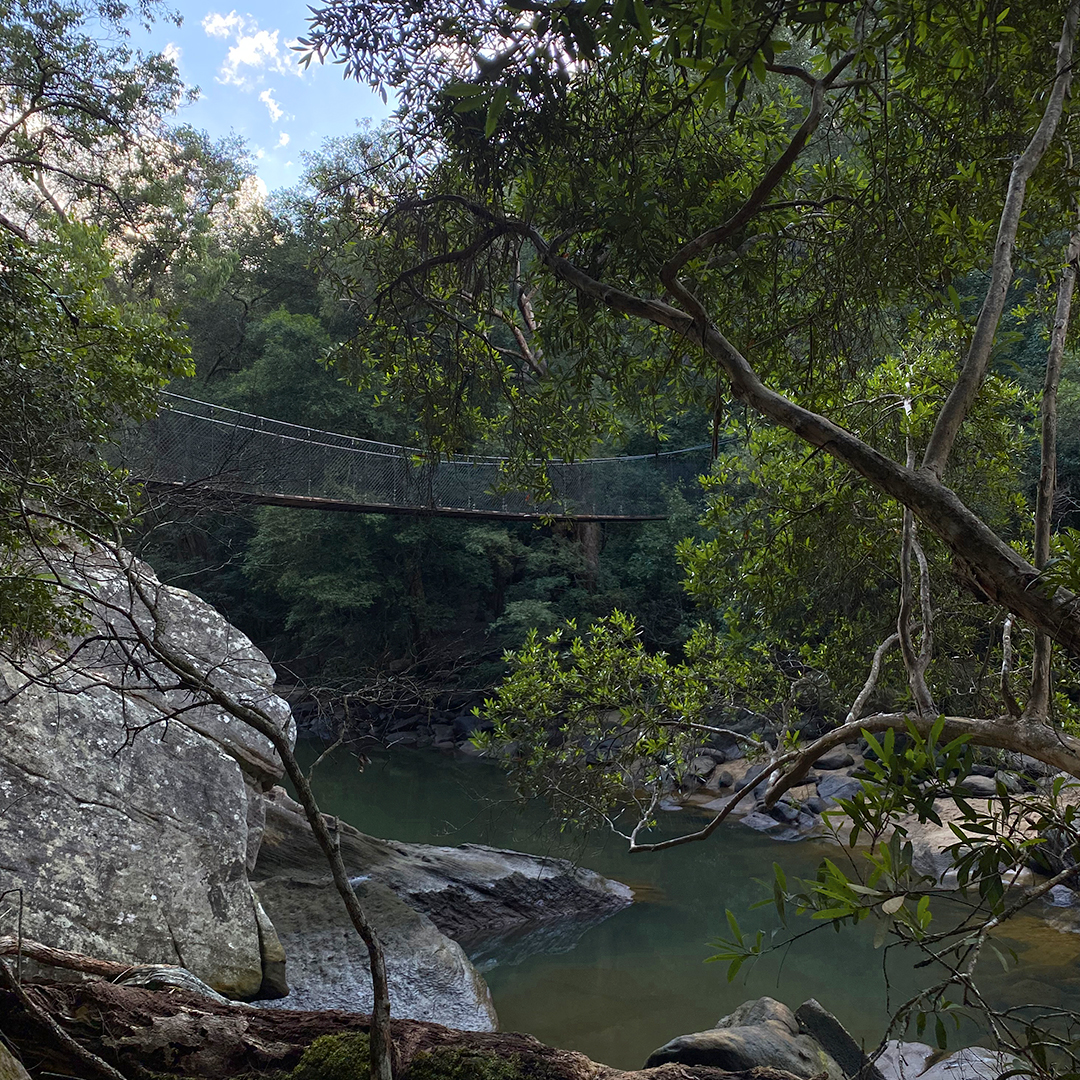 Dharug National Park
2 hour drive
Dharug National Park is the traditional country of the Dharug people and its expanse still shows many aspects of this native culture associated with Dreaming stories.
On top of this, it's also popular for the Old Great North Road World Heritage Walk—a historic convict-built road with all the river views. The national park contains a lot of rugged bushland so it's one of the best places in NSW to see majestic gang-gang cockatoos, satin bowerbirds, green catbirds and sugar gliders. If you're keen to camp here, Ten Mile Hollow is the way to go, it's a tranquil clearing with basic facilities and the perfect place to hit when you want to get off the grid for a weekend.
Now, check out the best scenic hikes in and around Sydney.
Image credit: Destination NSW, Bee Balogun, Destination NSW, Jeff Finley, DNSW, Lydia Nada, Jessica Best


Gamble Responsibly.
Help is close at hand.
GambleAware
gambleaware.nsw.gov.au​
1800 858 858