After much anticipation, Karrinyup Shopping Centre finally opened last month, bringing with it a bunch of new restaurants, stores and fun activities for us eager Perthites. From high-speed sushi trains to boozy 10-pin bowling, here are the best new openings at Karrinyup.
Best Restaurants, Cafes And Bars At Karrinyup
Topi
If you know good Indian food, chances are you're well and truly familiar with the vibrant Indian dishes coming out of Sauma in Northbridge. You'll also be glad to hear the talented guy behind this institution, affectionately knowns as Gurps, is spreading those mouth-watering Indian eats to a new Karrinyup restaurant called Topi. The beautiful modern eatery is inspired by Gurps' trips through rural India where farm-to-table dining is an everyday occurrence, so expect authentic, rural, homestyle Indian dishes loaded with the best WA produce. As for what to order, the menu features plenty of small snacks, fresh salads and larger plates so we suggest rounding up a few friends so you can share all the good stuff. And just make sure you leave room for a cocktail and sweet treat. Find Topi at The West Deck, the heart of Karrinyup's new culinary hotspot.
Authentic Bites
If you've ever lined up at this popular eating spot in Northbridge, you'll already know that Authentic Bites Dumpling House is slinging some of Perth's best dumplings, so we're pretty excited to hear Authentic Bites Dumpling House is here to serve you fresh bao buns and dumplings when you're in the mood for a light lunch.
Spice Market
Having already established themselves in Freo, Spice Market has headed up to Karrinyup to show the north of the river folk what they're missing. This Thai eatery has an extensive menu,with bao buns, fragrant salads, spicy soups, stir frys, curries, roast duck, pork belly, and even a large selection of vegan editions. Oh, and we can't forget their list of tropical cocktails.
O Mare Mio
After you've walked laps around Karrinyup, it's time to rejoice in a carb fest at O Mare Mio. Transport yourself to Italy and at the new home of "fish, wine and pizza" and choose from a menu of oysters, arancini balls, pasta, grilled octopus, chilli mussels, tiramisu  and more. With a classy wine list to match, this joint will satisfy your pasta and pizza cravings.
Good Company
After you've shopped 'til you dropped, plunk yourself down at Good Company and order from their menu of yummy pub classics, crowd-pleasing nibbles, fresh salads and pizza. If you're in the mood for a drink, check out their list of wine and tantalising cocktails. With Three Pound Group (Stables Bar, The Camfield, The Elford and more) behind this new opening, we're not too surprised to see the fit-out is absolutely gorgeous—think light, breezy, with a hint of coastal inspo.
Pretzel
Decked out in its iconic pink decor, Pretzel is a small hub of happiness dishing out the best pretzels we've ever had. They have massively successful stores around Perth and Melbourne (a special shout out to the Pretzel in Northbridge providing pure joy and contentment after a night out in the city). We're keen to dig into these sweet and savoury pretzels as we make our way around Karrinyup.
Super Tetsudo
Imagine a sushi train, but the food is brought to you on a super speedy express train. That's what Super Tetsudo is famous for, so you Japanese cuisine lovers can now get your sushi fix in a flash. Choose from traditional maki or nigiri sushi, or from an a la carte menu with noodles, soups and rice dishes.
Arirang Korean Barbecue
Arirang Korean Barbecue have been around since 1999, and after successful ventures in the CBD and Cannington, they've set up shop in Karrinyup. Expect a combination of traditional Korean dishes and modern street food, including dumplings, kimchi soup, ramen and barbeque wagyu and pork. Plus, there are Korean liquors such as Soju (hello, old friend) and cocktails.
Baguette Me Not
We were a bit disappointed when Baguette Me Not shut up shop in Subiaco, but breathed a sigh of relief when we discovered they were setting up in Karrinyup. Baguette Me Not have got baos, taco sliders, loaded fries and a new whopping Banh Mi baguette called Four Seasons. At 60cm long, you can fill this bad boy up with four different fillings. Ideal for sharing with your shopping buddies.
Billy van Creamy
In the heat of Perth summer, or any time of year when you're craving a sweet treat, Billy van Creamy are here to save the day with their handmade, high-quality ice cream. Using organic milk and natural ingredients, a scoop of this sweet and cold ice cream will perk you right up.
Best New Stores And Experiences At Karrinyup
Hoyts
Fitted out with 10 auditoriums, this new HOYTS is the first Western Australian cinema to have an immersive HOYTS D-BOX in the mix. In this immersive experience, your reclinable seats also move and shake with the action on the screen. The other nine auditoriums are still pretty special too, with super comfy reclining seats, a few Xtreenscreens and two HOYTS LUX auditoriums, which feature a lounge and bar looking over the city. New releases and salty popcorn aside, you'll want to come to this HOYTS just to say you've been to the most technologically advanced cinema in all of Australia.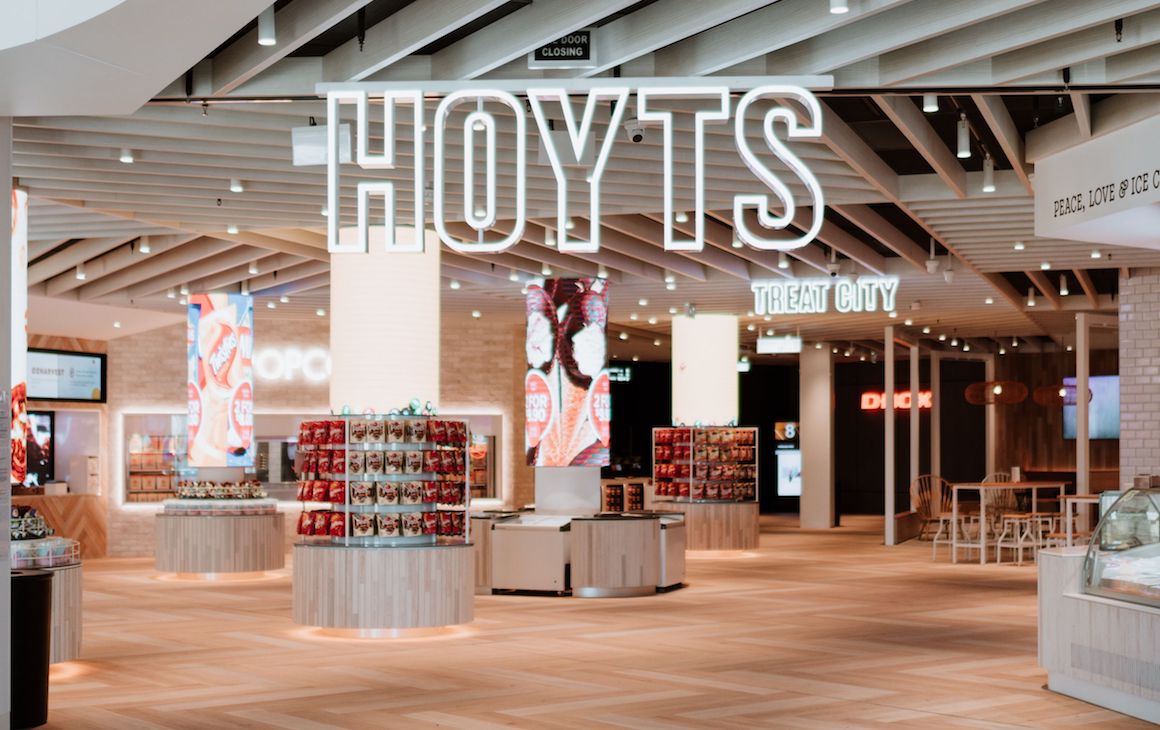 Sephora
Gone are the days where you had to duck out to Sephora while away on interstate trips (not that they've been happening much lately) or order online without the joy of testing all the things in store. Global beauty giant Sephora has set up shop in Karrinyup, its first venture out here to the west. With Sephora stocking so many of the beauty brands you know and love—think Fenty, Huda Beauty, Marc Jacobs—and of course their own affordable in store range as well, we suggest you start stashing some cash aside now.
Archie Brothers Cirque Electric
Archie Brothers Cirque Electric is a dazzling circus-themed adventure land already big over east, jam-packed with fun things like arcade games, a ride-on 4D XD-Theatre, virtual reality games, full-scale dodgem cars and heaps more. All of which you can enjoy while slamming back some super 'grammable cocktails and tasty bites.
Strike Bowling
The new Strike Bowling is home to eight bowling lanes, a taxidermy-filled library lounge, two escape rooms and two karaoke rooms to belt it out in, plus, a whole laser tag arena, for good measure. Sounds like the perfect place to overload on fun this summer.
Holey Moley
This new Holey Moley has five awesome never-before-seen holes to putt away at, alongside some old faves you may have already tried your luck on. A cool spot for dates, birthdays and work parties.
Lego® Certifified Store
If you've been looking for an excuse to expand your LEGO set collection, or are starting to think about Christmas presents, look no further than Perth's first official LEGO store. This custom-built, interactive retail space has 3D brick models and mosaics inspired by local icons and landmarks.
Bec + Bridge
Sydney-based clothing company Bec + Bridge have a bit of a cult following, and for good reason. Their high quality attire is timeless and stylish, from outwear to loungewear. You can browse WA's only Bec + Bridge store at Karrinyup.
Image credit: Supplied