When it comes to your skincare routine, there's no room to mess around.
No matter where you are on your skincare journey, from a simple cleanse and tone to a seven-step process—it's essential to know how, when and why to use what's in your cabinet. With so many myths, rumours and 'hacks' out there, we decided to ask the experts.
Enter the Boost Lab team, responsible for a slew of high-performance, award-winning serums—they know their stuff. From the right amount of retinol to the wonders of niacinamide, here are five common skincare myths debunked.
1. The Skin Around The Eyes Is The Same As The Rest Of The Face
False: Put simply—skin comprises three layers. The first layer, the epidermis, is the thinnest around the eyes, causing this area to be particularly fragile and susceptible to eye bags and dark circles. As we age, this skin area becomes thinner compared to other facial areas—calling for bespoke treatment.
Enter Boost Lab's Eye Reset Serum. Its formulation remains gentle on the eye area while packing a slew of active-blend ingredients that includes a powerful peptide that works to improve dark circles in as little as seven days, so you can confidently hit 'next episode' on your next late-night binge-watch.
2. The More Vitamin C, The Better
False: This one's a case of quality over quantity. Experts note vitamin C is particularly unstable, often rapidly degrading in cream and serums and can be a skin irritant.
To combat this, you want to keep your eyes peeled for stable and sensitive skin-friendly vitamin C derivatives such as Sodium Ascorbyl Phosphate. The key ingredient in Boost Lab's Brightening Serum, the solution rapidly releases vitamin C into the skin, with a little help from vitamin E to max out its antioxidant benefits and trap free radicals.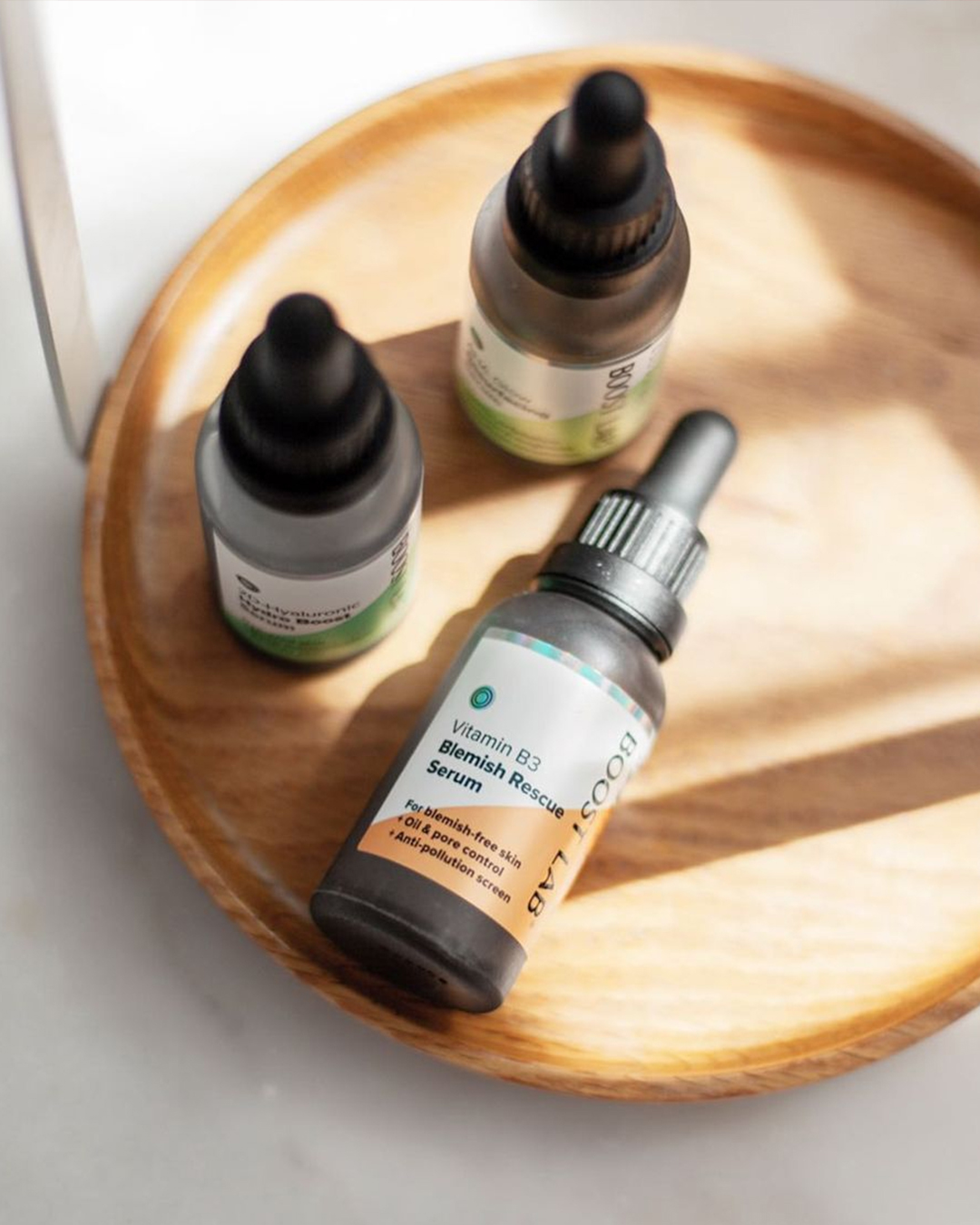 3. Hyaluronic Acid Should Be Applied To Damp Skin
False: The first thing you need to know is Hyaluronic Acid moisturises the skin by its humectant property—drawing water from the air into the skin (with the capacity to absorb 1,000 times its weight in water). Dry skin is the perfect canvas for making the most of its moisturising benefits.
Boost Lab's 2D-Hyaluronic Hydro Boost Serum contains Hyaluronic Acid and two skin penetrating humectants—Hyaluronic Acid and Panthenol—Hydrolysed Hyaluronic Acid and Panthenol which give instant and sustained hydration.
4. Retinol Must Be High Strength
False: We were shocked to learn this isn't the case—with the consistency of use rather than strength being key to getting the most of the hailed staple. Like vitamin C, retinol requires stabilisation—with high concentrations (0.25—1%) potentially causing dry and flaky skin. Not cute.
Doing the hard work for us, Boost Lab's Night Renewal Serum comes set with a healthy 0.1% dose. Perfect for those with sensitive skin, too, so no one misses out on the anti-aging benefits.
5. Niacinamide Is Ineffective For Blemishes And Must Be Paired With AHA And Vitamin C
False: If you're yet to board the niacinamide hype train, this is your sign to jump aboard. Unlike AHA's and vitamin C which require lower pH to do their thing, niacinamide is formulated at a non-irritating skin pH of 4.7—5.5.
The ingredient offers a trifecta of benefits; increasing hydration by strengthening the skin barrier, calming redness from irritation and improving uneven pigmentation while controlling excess sebum to manage shine.
Niacinamide is a key active in Boost Lab's Blemish Rescue Serum, alongside a zinc-amino acid and Pollustop®— which adds a soothing film atop skin for a silky flawless finish.
Ready to step up your skincare game? Australian-owned, NZ-made, and cruelty-free with no nasties, Boost Lab is where it's at. Head here to shop their full range.
Editor's note: This article is sponsored by Boost Lab and proudly endorsed by Urban List. To find out more about who we work with and why read our editorial policy here.
Image credit: Boost Lab via Instagram