Nothing says Christmas quite like a festive light display, and right about now is when the streets of Perth come alive with twinkling trails around the suburbs. You have to appreciate the amount of effort it takes to create a picture-perfect scene that would impress Santa himself, so jump in the car and take a spin to see what you can see.
Here are the best places to check out Perth's Christmas lights.
Best Christmas Light Displays Around Perth
Sherlock Rise
Carramar
This Carramar delight feels more like a mini theme park than a light display. Walk into Santa's grotto to visit the man himself, meet the Elves, or have a dance with Olaf as the snow falls around you. The owners have been putting the festive show on for about a decade and it takes about a month to set up each year.
Williamson Avenue
Cloverdale
This display is made up of a whopping 30,000 lights, plus a full-size Santa's throne and reindeer with a sleigh, which you can climb in for photos. You'll spot lots of homemade decorations, too.
Pontiac Avenue
Cloverdale
These owners have been decorating their Cloverdale home for over 20 years and absolutely love seeing the community come together each year. For 2022, they've built a fresh Down Under Christmas display, showcasing our beloved Australian wildlife—think: koalas, kangaroos, galahs and more—along with a fun Santa Disco set under laser lights and a Chrissy photo booth you can jump in.
Kennack Vista
Atwell
This Atwell home is sporting a stunning multi-coloured light display this year. Just picture sparkling walkways under enchanted trees, large inflatable Christmas characters, music and automated lights synched up to match. If you rock up on weekends or closer to Christmas, you might also catch a magical snowfall.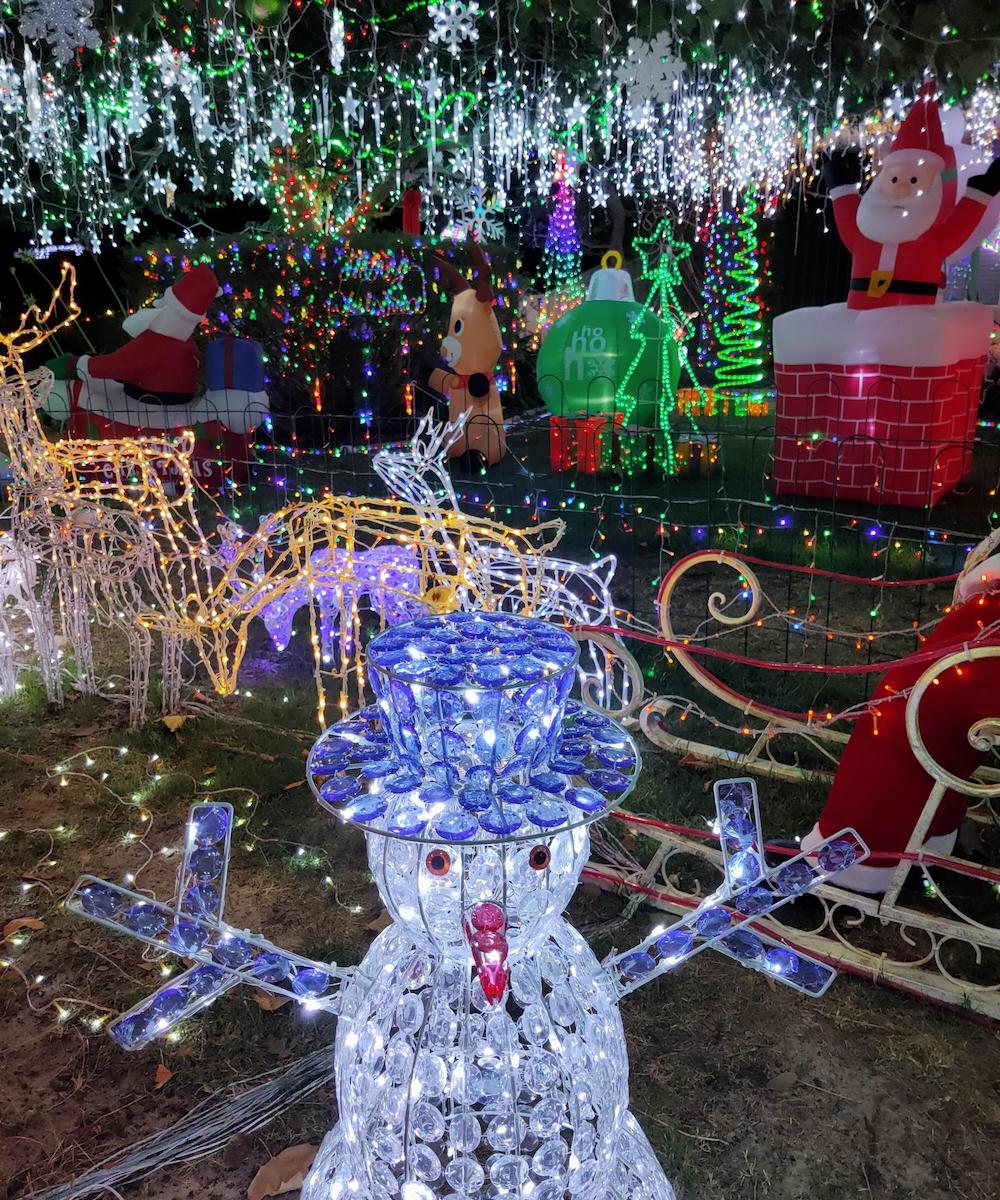 D'Ercole Court
Gwelup
This stunning Christmas themed audio and visual show on D'Ercole Court in Gwelup features over 15 songs programmed to the lights. Enjoy the Christmas classics or get dancing with some contemporary hits. It's a magical explosion of colour and sound, and the show runs for about 40 mins on a loop, beginning each night at 7pm. Oh, and it snows here too, but only on Thursday to Sunday nights.
Warrina Place
Armadale
Bigger and better each year, this house in Armadale is packing almost 350,000 LED lights for 2022. Literally, every part of the house and yard is covered. See it from space, or roll up and witness in person.
Gimber Street
Melville
A family-friendly display with a variety of lights and inflatables. Some of the features include walk-though-arches, floating stars, cheeky reindeers, unicorns and much more.
6 Aromatic Crescent
Atwell
With donations going to the Starlight Foundation, this Atwell home is another great stop on your festive drive. The front yard is filled with heaps of inflatables and flashing lights in every colour.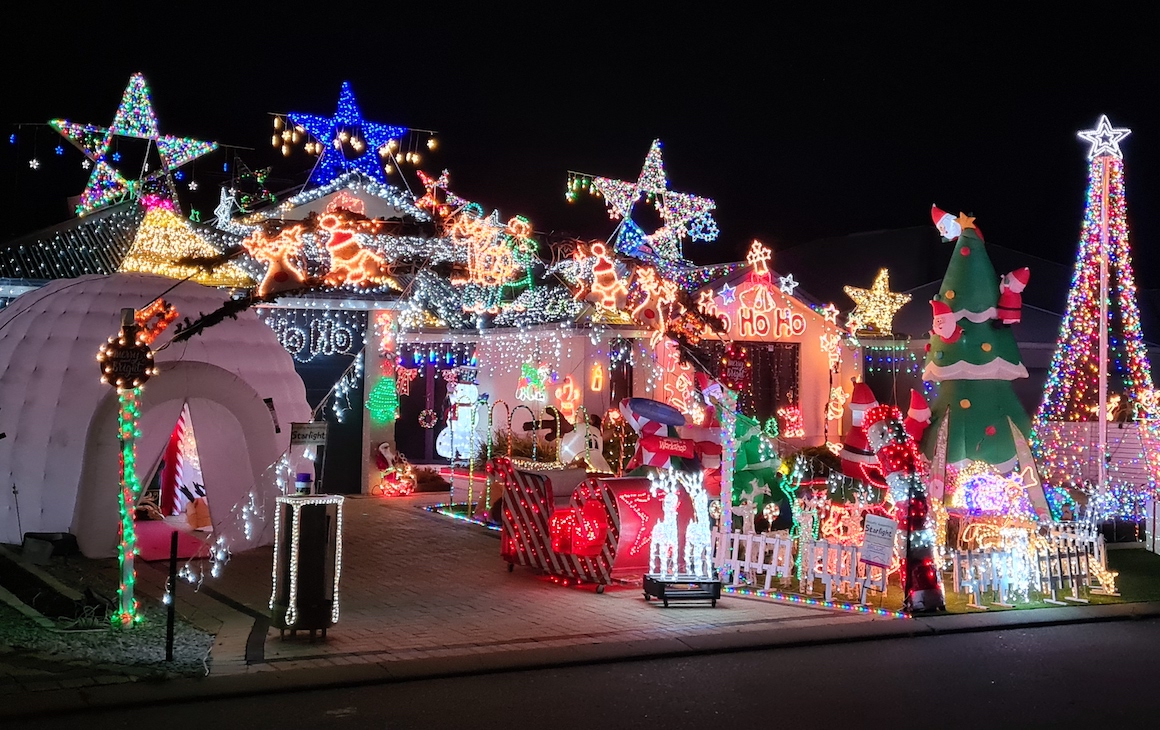 Langford Avenue
Langford
Raising money for Miracle Babies, this display is truly wondrous. They have it all—music, moving features, celebrity characters, walkthrough displays, Christmas statues, plus a bubble and smoke machine.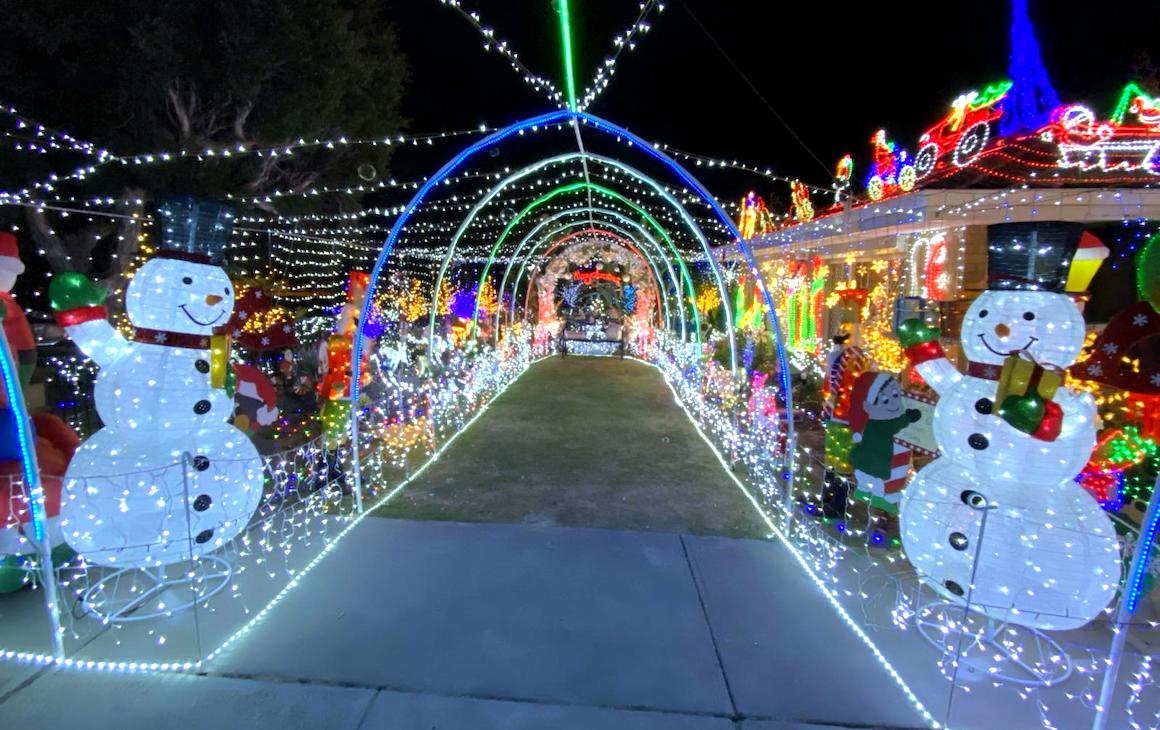 Alkimos Beach Lights
Alkimos Beach
Anyone living up in the Northern suburbs should be well across the Alkimos Beach Lights display. Now in its third year running, the home is decked out with over 13,000 lights, each individually programmed for a show synchronised to music (just tune into 99.9FM if you want to hear it in your car) kicking off at 7.30pm every night.
Baumea Turn
Hammond Park
This sparkly Hammond Park display has a nice mix of lights and decorations to admire on foot or from the car. If you do hop out for a closer look, you can walk up the drive and through the nativity scene, or check out the Christmas grotto display in the garage. It runs right up to 1 January 2023.
Samson Court
Duncraig
There are some really creative displays on show down at Samson Court in Duncraig, with pretty much the whole street joining in on the action. You'll see snowmen, reindeers and even a sneaky elf or two alongside all those flashing lights. Plus, keep those eyes and ears peeled for the home with the huge 45,000 LED light show sequenced to music—they've been doing it since 2016 and it's one of the best in Perth. We suggest you bring some gold coins along too, as they'll be raising money for Wheelchairs For Kids again, adding to the $120k+ already raised over the years.
Bauer Street
Cannington
This Bauer Street Christmas yard display has heaps of lights, decorations and ornaments to wander through but the three-meter sleigh and snow is what we're most excited by. They also run a colouring comp for the kids.
Palmer Crescent
High Wycombe
You'll find a ginormous illuminated scene in this front yard on Palmer Crescent, with a kangaroo, koala, wombat, reindeers and Santa all on show, along with heaps of lights and decorations. The kids will love this big display, but can they find all the cheeky Santa's and the one naughty Elf?
Livonia Street
Brabham
Come visit this lovely display in Brabham, where you can admire a beautiful big snowman, dazzling LED Christmas tree, XL Santa and of course, lots of lights too.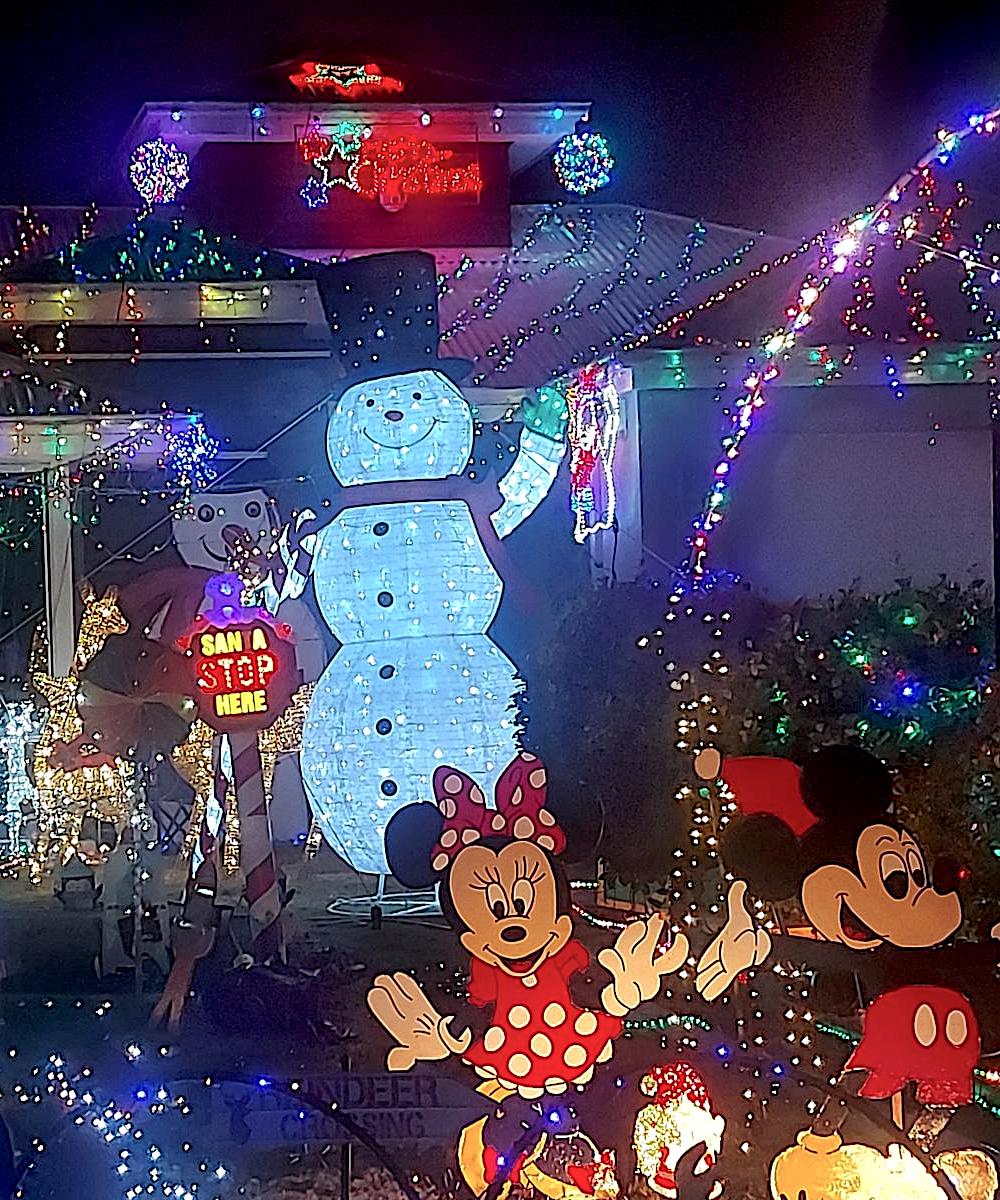 Geebung Street
Maddington
These owners have built up an impressive display complete with decorations and Christmas characters. Apart from the lights in the yard and on the roof, you'll love the Christmas workshop where a large collection of Santas cheerfully oversee the elves hard at work. Turn left and gaze into the miniature North Pole village with a working ski lift and ski slope.
Best Christmas Ligh Displays Outside Of Perth
Stone Street
Chidlow
You'll find plenty of sparkles and decorations here, including a Christmas lights canopy over the front yard with funky Christmas village scenes in the windows.
Atkinson Street North
Collie
This family loves Christmas and this year they wanted to do something extra special. With the help of five Minions and Mickey Mouse, these guys are out collecting donations for Ruah Community Services charity. Roll on down to Atkinson Street, enjoy the show and support a special cause.
Clydebank Avenue
West Busselton
We're obsessed with this funky house in West Busselton and its gingerbread house and family. Of course, if you aren't feeling peckish, you'll find more traditional displays too featuring reindeers, inflatables and much more.
If you're a Christmas Lights fanatic and keen to make a night of it, we suggest you head over to Christmas Light Search where you can find hundreds more on their Perth Christmas Lights Map.
Chasing more festive action? Check out Perth's best Christmas markets.
Image credit: Supplied