With so many new openings and fabulous events happening around our city this weekend, there's no better time to organise that long overdue catch up with friends and have some fun. Here are some of the best things happening around Perth this weekend to get you planning.
All Weekend
Countdown 10 Years Of Bobèche's Classic Cocktails
One of Perth's coolest longest living favourite bars Bobèche has just hit double digits, and to celebrate, the fabulous team are bringing back some of their most popular cocktails and counting down the classics over the month to keep the party going. From their Absinthe Frappe to the Hot Buttered Rum with Fresh Truffle Cocktail, you'll probably want to cancel any other plans for the evening so you can really settle in and test them all.
Head Into The City For A Fabulous Night Of Theatre
His Majesty's Theatre has become home to Tennessee Williams' classic The Glass Menagerie from now until August 21st. Familiar face Mandy McElhinney leads a stellar cast in this world-renowned play that follows ex-socialite Amanda Wingfield on her journey to balance motherhood with re-climbing the social and financial ladder in which she has fallen from. With tickets from as little as $30, this gorgeous show is the perfect cheeky date night out. Grab your seats here.
Check Out Linton And Kay's Newest Young Guns Exhibit
Linton and Kay can do no wrong in our eyes, so when we find out they're opening an exhibit that showcases some of the best and brightest young local WA artists, you know we've got to be there. You'll be able to revel in some of the works of local legends like Sam Bloor, Isabelle DeKline and Luke Morgan amongst other fabulous talents. Young Guns—To The Left is a free exhibit, and kicks off 5th August at their West Perth Gallery running until the 27th August.
Run Away To The Circus
The Circus has just landed in town, so rally the girls and guys and strap yourself in for one helluva show featuring high-flying aerialists, BMX bandits, clowns, whip crackers and much much more.
Thursday 11 August
Indulge In A Mediterranean Feast At Pogo
For one night only, Pogo Restaurant in Mt Hawthorn will take your tastebuds on a voyage through some of the most beautiful European cities with their divine six-course menu each paired perfectly with a wine from the Mediterranean region. Tickets are $79pp, and if you're a sweet tooth, you can even add on dessert and a sticky Ximenez for an extra $10. Molto bene!
Catch The Last Day Of The State Buildings Artist In Residence Program
If you haven't had time to catch the Artist in Residence Program yet in the city, then this is your last chance at the intimate In Conversation with Tessa Mackay from 6 - 7.30pm discussing the technique, practice and inspiration behind Tessa's brilliant work. Tickets are $45 and will also get you two beverages as well as some yummy canapes, making it a beautiful way to end the week.
Start The Weekend Early With Some Vintage Drops
The good people at King Somm in Bayswater are teaming up with Vino Volta and Swan Valley Wines to create a night of great wine and company at their next instalment of Vintage Drops. You can grab tickets for $30 here which will also include some tasty bites coming out of the kitchen too.
Friday 12 August
Get Down To Heritage For Some Free Wine Tasting
There's nothing like a pinot, particularly when it's free, so fortunately the beautiful team at Heritage Wine Bar have you covered with some free tasting in the wine store between 4 - 6pm. Join sommelier Lisa Chambers as she takes you through some stunning drops from Australia and beyond.
Challenge Gender Stereotypes At Freo Arts Center
Tania Ferrier's new exhibition Pop Porn is a reverent acknowledgement of women's experiences and representations in 1980's pornography. This edgy exhibit presents a series of print works and short animated videos with the intention of challenging misogynistic gender ideals and giving voice to feminine authority. The free frivolity kicks off at 6.30pm at Fremantle Arts Center, so organise a crew and head down to celebrate local art.
Saturday 13 August
Celebrate World Prosecco Day With A Processo Tree
For one day only, both The Flour Factory and Hadiqa are popping the corks and spreading some sparkle with their oh-so-instagrammable Prosecco Trees each adored with nine scrumptious Villa Sandi glasses to get your Saturday night started off right. Each tree contains the equivalent of 1.5 bottles of sparkling aka a whole magnum worth, meaning that you're getting big bang for your buck. Available from 4pm til late, you can book in advance via their websites to avoid missing out.
Come Say Happy Birthday To Besk
Head down to Besk for a huge day of great food and drink from a bunch of legends, as well RTRfm DJs spinning tunes all the way until midnight. Beer lovers are sorted with Garage Project and Range Brewing's 24-tap takeover, wine connoisseurs will be absolutely spoilt with rotating all day tastings with stunning producers like Blind Corner, Chouette and Sam Vinciullo, while foodies of course will be in for all of the Besk classics plus a few more fun surprises.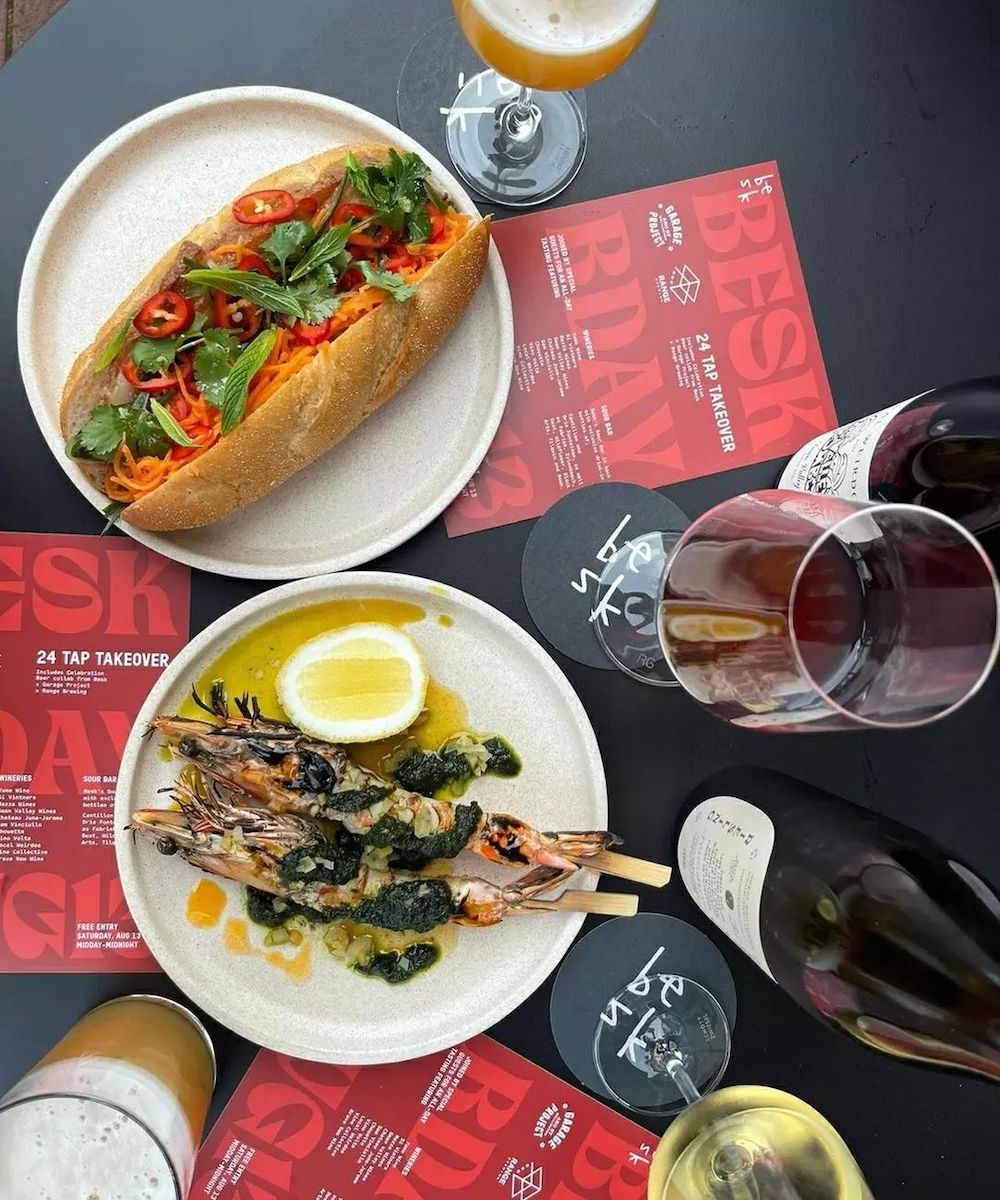 Get Fancy At The Westin's New 'A Weekend In Paris' High Tea
The Westin Perth has launched their new Parisian High Tea in the decadent light-filled Haven Lounge, ideal for a sophisticated ladies day out. Each perfect morsel is inspired by a typically french element—think crème brulée, smoked salmon, grilled camembert with fig jam, and plenty of tea and champagne to top it off. For those designated drivers after unlimited tea and coffee, tickets are $65, a glass of Chandon will take you to $75, and if you're feeling especially luxe then why not add on a glass of Moet and Chandon for $10 more. Get booking here.
Get To A Sip Sip Session At Market Grounds
Make no mistake, Market Grounds knows how to throw a good party, especially one with bottomless booze. Now, they're back with something special for the gin lovers with their latest run of Sip Sip Sessions dedicated to bespoke gin tonicas. The gourmet long lunch comes with two hours of craft gins paired with botanicals and fruity garnish combos for you to play with, plus, wines, beers and sparklings if you need to break up your gins. It's on every Saturday in August from 1pm - 3pm so get the gang together and buy tickets now.
Take Advantage Of Truffle Season At Dandelion
Yet to get in on this season's beautiful truffles? Take a look at Dandelion's Fine And Dandy Truffle Lunch on Saturday 13 August. It's absolute extravagance from start to finish, with Manjimup's finest truffles on show throughout. However, unlike most truffle menus that are heavy on the classical European vibes, Executive chef Chase Weber's takes a Southeast Asian spin that is opulent, refined and perfectly suited to Dandelion Spirits delish gin and vodka. Get final tickets here.
Join Old Bridge Cellars For Their Birthday Celebrations
Another brilliant local institution celebrating a birthday, Old Bridge Cellars Como will be putting on wine, beer, spirits and food tastings from 1 - 5pm along with a stack of fab giveaways, free donuts and more. Superstars like Rocky Ridge Brewing Co, Canberra Distilling and Republic of Fremantle will all be heading down to help get the party started as well, so don't miss out.
Head Up To Core Cider's Fire, Fable & Feast
It's no secret that we are a bit obsessed with the Perth Hills and all they have to offer, so we were just a teensy bit excited when we heard about a bonfire and mulled cider festival popping up this winter. Brought to us by the legends at Core Cider House, Fire, Fable & Feast is hitting the hills on Saturday 13 August, so mark that day in your calendars right now, we'll wait. Along with toasty mulled cider and an orchard bonfire, there'll be hearty eats, a live band, fire twirlers and dancers to get you celebrating yet another successful harvest.
Grab Some Mates For A RoyAl's Kitchen Takeover
One of Perth's superstar burger masters RoyAl's Chicken and Burgers will be heading to Old Habits Neighbourhood Bar in West Perth for a night of burgers and beats. The all-ages event is ideal for a cheap cheery night of seriously good fried chicken with a punch with free entry from 6 - 9pm.
Feast On Bottomless Baos And Bubble Teas At Lucky Chan's
Every Saturday from 12—4pm, the beloved team at Lucky Chan's Laundry and Noodle Bar are serving up Bottomless Baos for the teeny price of $35 along with a range of delish alcoholic bubble teas to really kick your lunch off right. So grab a crew, get booking and spend an arvo up on the terrace scoffing down some serious Asian delights.
Sunday 14 August
Bring The Kids Down To The Camfield For A Fun Family Day Out
The Camfield are joining forces with their friends at Never Say Neverland to celebrate their very first event - a music festival for the little ones! Head down to the launch party from 10am to meet the stars of Paw Patrol and Transformers, get their faces painted and then grab some tasty bites from a bunch of great food vendor stalls. All profits will raise much needed funds for Perth Children's Hospital Foundation as well as some other very worthy charities around WA. Head over to the website for more info or to grab some cheap $10 tickets.
Awaken Your Creative Side At House of Hobby
The brilliant team at House of Hobby are constantly releasing fabulous workshops perfect for these frosty Winter weekends that suit any level of creativity or artistic talent. This Sunday, they're hosting both a Resin ocean-themed Cheeseboard and Coaster and Watercolour and Wine workshop. Spots sell out fast, so get organised.
Enjoy A Lazy Afternoon of Jazz In At A South Perth Institution
One of Perth's most adored pubs The Windsor Hotel is putting on free jazz sessions every Sunday afternoon along with some cheap drink specials to relax you into the week ahead. Order one of their epic $29 Sunday roast deals, and you're in for a perfect cosy afternoon.
Not enough? Check out more of what's on in Perth.
Image credit: Pogo, Besk