Eating and shopping your way around the Sunshine Coast's best restaurants and boutiques can be thirsty work. Luckily, our glorious region is blessed with an extensive array of top-notch bars in which to whet your whistle.
While the definition between watering hole and restaurant gets a little blurry these days, we've compiled a bucket list of 15 of the best bars on the Sunshine Coast. If you live on the Sunshine Coast, we hope you've had a sip at these spots by now, and if you're passing through, consider this your must-drink guide.
Village Bicycle
Noosa Heads
Complete with festoon lights, astro turf and some serious street art, Village Bicycle's beer garden is next-level awesomeness. If you can find a spare table, that is. This place gets packed with locals and in-the-know tourists ready to throw back a beer and some cheap nosh, but it all adds to the party-on vibe. The masterminds behind Village Bicycle, Trevor and Luke, are all about 'food, booze and good times' and this ethos resonates in every aspect of what is certainly one of the Sunshine Coast's best bars.
The Rooftop Bar & Garden
Maroochydore
Taking the Sunshine Coast bar scene to a whole other level quite literally, The Rooftop Bar & Garden is a grand, seven-storey-high lavish bar in the heart of Maroochydore. Home to incredible views, a stunning fit-out with a retractable roof, cocktails that'll have you ordering another on first sip, and a global menu packed with fresh flavours—it's safe to say one visit to this incredible bar won't be enough.
Boston Shaker Bar
Mooloolaba
This 1920s Art Deco-inspired cocktail bar is tucked away in Mooloolaba's trendy Wharf precinct and is a true hidden gem of the Sunshine Coast. Regularly boasting live music performances, the Boston Shaker Bar is an intimate, soulful venue with lots of heart. Sink into their plush red booths, order a martini (shaken, not stirred) and you'll feel like a true VIP. Come for the live music, stay for the cocktails.
Moonstruck
Noosa
The Sunshine Coast's quaint European-style gin and coffee bar has been making waves ever since it opened and it's easy to see why. Only the best local gins have a space on the Moonstruck shelf, including a few rare limited-edition bottles. New gins are added regularly and they're carefully paired with the tonic or mixer that will make them shine the most. If gin isn't your thing they've also got some incredible local beers and Australian wines. Great cocktails plus a cosy, European vibe; what more could you want?
Rice Boi 'Upstairs'
Mooloolaba
You might know Rice Boi as one of the Sunshine Coast's best Asian restaurants, but did you know it also boasts an upstairs Japanese-inspired dive bar with balcony views along the Mooloolaba River? Now you do. Rice Boi 'Upstairs' has a full acoustic license, hosting regular live music and DJ nights and is opening for function bookings. Both Rice Boi and Rice Boi 'Upstairs' dish up their famed menu, so you can get comfortable knowing you won't have to move anytime soon. Hot tip: don't leave without trying the espresso martini on tap.
Circa Rooftop
Maroochydore
Perched high at the top of The Kontiki building in the heart of Maroochydore, Circa Rooftop is a relaxed mix of rooftop bar meets cocktail lounge meets restaurant. Offering panoramic views of the ocean and hinterland, Circa's extensive drinks and cocktail menu is inspired by the decadence of the 1920s and is certainly not to be scoffed at. Their boutique rooftop is prime for every occasion, from casual dining to cocktail soirées and the sunset views are absolutely unmatched. Hands down, one of the best bars on the Sunshine Coast.
Old Soul
Maroochydore
Kick back with some funky beats in Old Soul's lounge with a top-shelf single malt, or we dare you to try and choose just one of their cocktails. Don't get too comfy though, because when the DJ steps it up, you'll want to hit the d-floor quick smart. This cocktail bar and nightclub hosts some epic headliner artists and although it's certainly not for those looking for chilled vibes, this is the place to be for a big night.
The Nautical
Maroochydore
This nautical-themed (yes, it's in the name) alehouse and galley takes out a spot as one of the funkiest bars on the Sunshine Coast. The galley restaurant has a focus on fresh, local seafood and we recommend popping in on a Sunday, where you can score freshly shucked oysters for just $2 before 12pm. The Nautical's alehouse is where the magic happens and boasts a curated collection of exceptional Aussie wines, expertly blended cocktails, top shelf spirits and an impressive array of local beers on tap.
Paradise Arcade
Noosa Heads
Pair a couple of Paradise Arcade's tostadas with a margarita on tap and you'll understand why we're rating this funky Mexi-Cali restaurant as one of the best bars on the Sunshine Coast. With a super-cool interior, complete with a loft space for larger groups and a festoon-lit courtyard, this is the perfect place to spice up your summer nights. If you're a tequila lover, this is undoubtedly one of the best bars on the Sunshine Coast for you.
Solbar
Maroochydore
The granddaddy of Ocean Street night life, Sol Bar is at the centre of all great Maroochydore nights out and is hands down one of the Sunshine Coast's best bars. The landing spot for any music heavyweights visiting the region, Sol Bar also boasts an impressive cocktail selection and you can soak up the alcohol with their great bar food menu. Their monstrously huge pizzas are seriously addictive and are dangerously cheap.
Rick's Garage
Palmwoods
Okay, so this might be a diner dedicated to burgers and greasy American nosh at its finest, but with an awesome beer garden and an upstairs whisky bar beckoning, many a burger mission has turned into an all-night drinking session at Rick's Garage. This old-school American diner hosts some epic weekly events, including Rockabilly Friday's and live music on Saturdays and Sundays, so you can chill out to some groovy tunes while you sip on a coldie.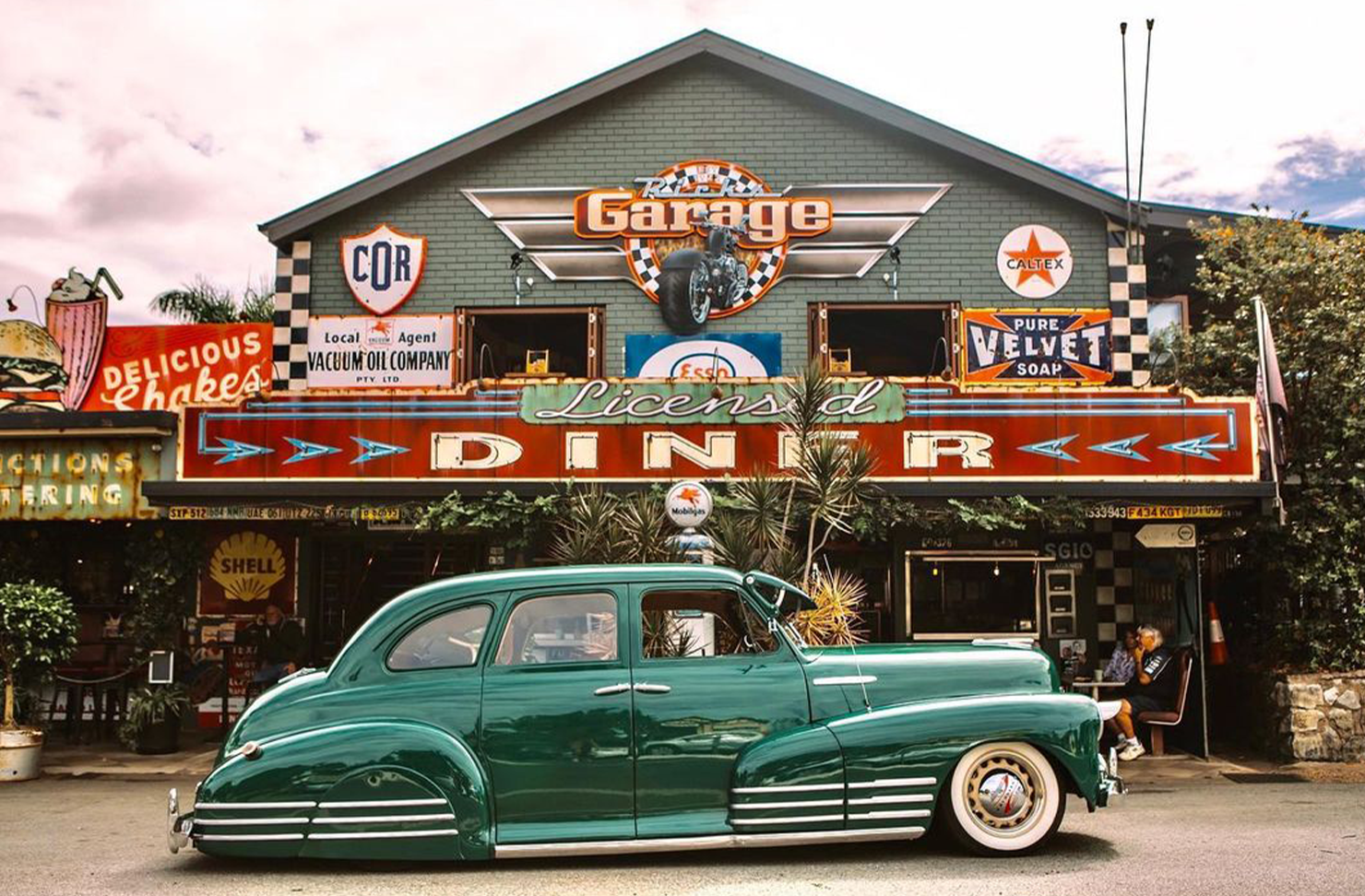 Pier 33
Mooloolaba
Among our list of the best bars on the Sunshine Coast, locations don't come much better than Pier 33's. Sitting on the stunning waterfront in Mooloolaba, in what used to be the old yacht club, Pier 33 is light and bright with a Hamptons-esque theme throughout. Sip on cocktails in the bar and lounge area, or step outside where you can grab a picnic table overlooking the marina or sprawl out on the lush lawn. Sophisticated but casual, if anywhere is made for day-drinking, it's this place.
The Good Bar
Mooloolaba
Boasting one of the best RnB sessions in the region, The Good Bar is the answer if you're lurking around Mooloolaba with mates and searching for epic (read: huge) burgers, cold beers and fun times. Their extensive cocktail menu is not to be scoffed at and they also specialise in some pretty incredible gin and tonic combos.
Locale
Noosa
Can't convince your man to take you to a fancy-ish bar? You can always bribe him with beer, woodfired pizza and incredible Italian cicchetti, like gnocchi tossed in a rosemary and sage cream. Incredibly romantic, the dimly-lit Locale is one of the best restaurants in Noosa but it's their bar area, complete with gorgeous lounge booths and top-notch cocktails, that we've really fallen for.
Looking for a gorgeous view with your brew? Sip sky-high at the best rooftop bars on the Sunshine Coast.
Image credit: Lumea Photo, Daniel Hine & Rick's Garage