As wellness and holistic health have started to gain popularity over recent years (and with good reason too), massages have become an essential part of self-care these days. Do you want to uplift, enliven and improve your wellbeing? Massage. Do you want to feel rested, rejuvenated and re-energised? Massage. We like to think there are very few problems a massage won't help with.
From remedial massages to hot stone massage to foot massages, we've tried them all. Scroll on for ten of the Sunshine Coast's best massages in 2022, which are sure to rub you up the right way. Let bliss ensue.
Spa Anise
Maleny
Hidden in Maleny among lush rainforest, Spa Anise at Spicers Tamarind Retreat is the ultimate relaxation destination and home to one of the best massages on the Sunshine Coast. Every treatment begins with a welcome drink and a signature foot bath ritual using aromatic oils, and with a spa menu boasting remedial, relaxation, hot stone and pregnancy massage, the incredible team have all your needs covered. To make the most of the facilities, we recommend booked a Day Spa Sampler, where you'll get to enjoy the Hydrotherapy Room—featuring a steam room, mineralised spa pool and rainfall shower—followed by a 60-minute aromatherapy massage.
Aesthete
Maroochydore
The Sunshine Coast's newest medispa, Aesthete offers an unparalleled experience in relaxation, rejuvenation and revitalisation and is, hands down, one of the best massage spots on the Sunshine Coast. Their holistic menu of relaxing rituals and rejuvenating experiences is based on natural, sustianable and organic Australian botanical products and use only the most luxurious of skin care products, so you know you're in safe hands. They cater their extensive range of massages to both men and women and all of their treatments are customised individually, because we all deserve to look and feel our best. Pay a visit to Aesthete and we promise you'll leave feeling relaxed, reset and revitalised.
Ikatan
Doonan
Dying to holiday in Bali and relax by the pool with a massage? Save money on those flights to Indonesia and instead, book in a visit to Ikatan Day Spa, just minutes from Noosa. The true definition of a luxury destination spa, this tropical oasis is renowned for giving some of the Sunshine Coast's best massages. Clear your schedule and lock in a 90-minute Balinese Massage—a signature treatment where a unique blend of stretching, long flowing strokes and forearm moves by your therapist, will slowly ease stress from your body.
Tank Bathhouse & Day Spa
Bli Bli
This boutique bathhouse, nestled away on lush coastal farmland in Bli Bli on the Sunshine Coast, offers clients a welcome escape from the daily grind and promotes a holistic approach to wellness in body, mind and spirit. Tank Bathhouse's rejuvenation experiences are all about restoring balance to your body and have been designed to take you on a curated journey of relaxation. We recommend booking for their deep tissue massage, where you'll be treated to 60 minutes of deep tissue, relaxation or pregnacy massage with botantical heat therapy and a soothing foot bath. Ahhhhh, bliss.
Ripple
Sunshine Coast
If your idea of relaxation consists of not leaving your own home or hotel room, then you need to get Ripple on speed-dial. Professional therapists will come to you, creating an in-home spa experience, complete with a massage table, portable towel warmer, and all the oils and potions needed to send you into a state of bliss. From relaxation and deep tissue, to reflexology and a cowrie sea shell massage, whatever experience you're chasing, Ripple will bring it to you.
Stephanie's Ocean Spa
Noosa Heads
A short stroll from Hastings Street and big enough to accommodate group treatments, Stephanie's offers a spa menu that's dripping with decadence. It'll be difficult to decide where to start, but we recommend the Hot Stone Crystal Massage. This indulgent treatment spans over 1.5 hours, and begins with foot exfoliation and skin brushing, before things turn really special with ancient techniques using warm volcanic Basalt stones. The massage ends with Chakra crystals being placed on your body, helping to restore balance.
Salt Caves
Mooloolaba
A visit to Salt Caves will have you back on track in no time. A two-in-one kind of treatment for holistic health lovers, you'll benefit from the natural healing properties gained from spending time in a tranquil salt room, at the same time as enjoying a deeply relaxing massage. Whether you choose remedial, relaxation, aromatherapy or magnesium, you can be rest assured knowing you're about to experience one of the best—and unique—massages on the Sunshine Coast.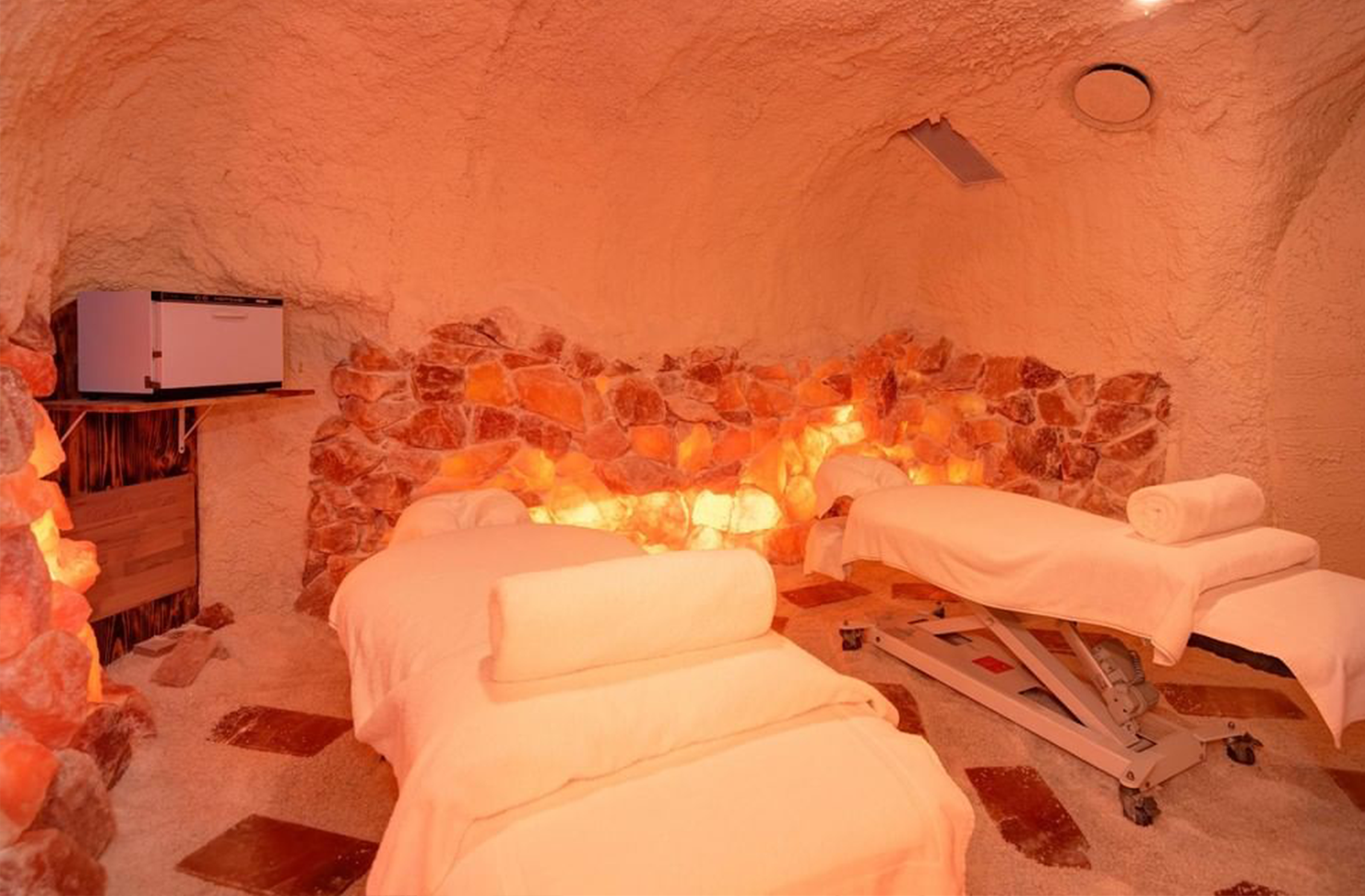 Organica Day Spa
Peregian Beach
This boutique day spa is nestled in Peregian Beach and with after 33 years of operation, you can rest easy knowing in you're in extremely capable (and massage-worthy) hands. Organica Day Spa offers a blissful range of massages, spa treatments, beauty treatments, waxing and detox treatments. If you're after a little something exra after your massage, they provide some of the most advanced and organic facials around, with great active ingredients to cater for all skin problems.
Endota Spa
Noosa Heads and Maroochydore
A few hours cocooned within the soothing walls of Endota Spa will have you back on track in no time. With one of the most recognisable names in the industry and two locations across the region—Noosa and Maroochydore—you're always within easy reach of the Sunshine Coast's best massages. This modern, full-service spa offers clients a momentary escape from their hectic daily lives with essential massages, including soothing hot stone massage, pregnancy massage, remedial massage and more. Or spoil yourself with a tailored package complete with foot soaks, organic facials and detoxifying body wraps.
Waterfall Day Spa
Mooloolaba
Just metres away from the Mooloolaba beachfront, you'll find The Waterfall Day Spa. Located in the beautiful Landmark Resort, this relaxation haven has so many massage treatment options, it'll make your head spin. From couples massages to waterfall nature massages to Indian head massages, there's truly something for everyone—they even do wedding and group packages if you're looking for the ultimate gal's night out. If that hasn't convinced you already, all their 60-minute massages come with a foot ritual, foot massage and scalp massage. True bliss.
Looking for more ways to relax and get your Zen on? Treat yourself at ten of the Sunshine Coast's most gorgeous day spas.
Image credit: Tank Bathhouse & Salt Caves