If you need a break from the beach and are up-to-date on shows from your last Netflix binge, then there's really only one solution. Get kitted up in your activewear and shock your system by actually using your Lululemons for their intended purpose.
We've broken down the best walks and hikes on the Sunshine Coast, from a quick stroll to a full day in the wilderness, that'll even make Tarzan jealous. So, lace up your sneakers, get out there and start exploring 11 of the Sunshine Coast's best hikes.
Buderim Forest Park
Buderim
Most of you have probably heard of Buderim Forest Park, but have you ever actually been there? Starting at either Harry's Lane or Quorn Close, both paths will take you on a spectacular journey through Buderim Mountain's tranquil bushland, with a soundtrack of birdsong and babbling brooks. All roads lead to the falls, and if you're brave enough to venture into the chilly waters after working up a sweat, we promise it's worth it. This is one of the easiest and prettiest walks on the Sunshine Coast to do this winter.
THE DETAILS
Distance: 0.8 kilometres
Time: 45 minutes
Grade: Easy
Emu Mountain
Noosa National Park
If hikes were products, this one would have 'best value' stamped all over it. Just between Coolum and Peregian Beach, the Emu Mountain Summit Walk is a short hike with huge rewards. It goes without saying that you'll get great views from most mountains around here, but the stunning sights of the region's mountain peaks, such as our majestic Mount Coolum, are just another perk. Make sure you also stop and smell the roses, literally…Emu Mountain is home to some beautiful flora.
THE DETAILS
Distance: 1.4 kilometres
Time: 22 minutes
Grade: Moderate
Mount Coolum
Coolum Beach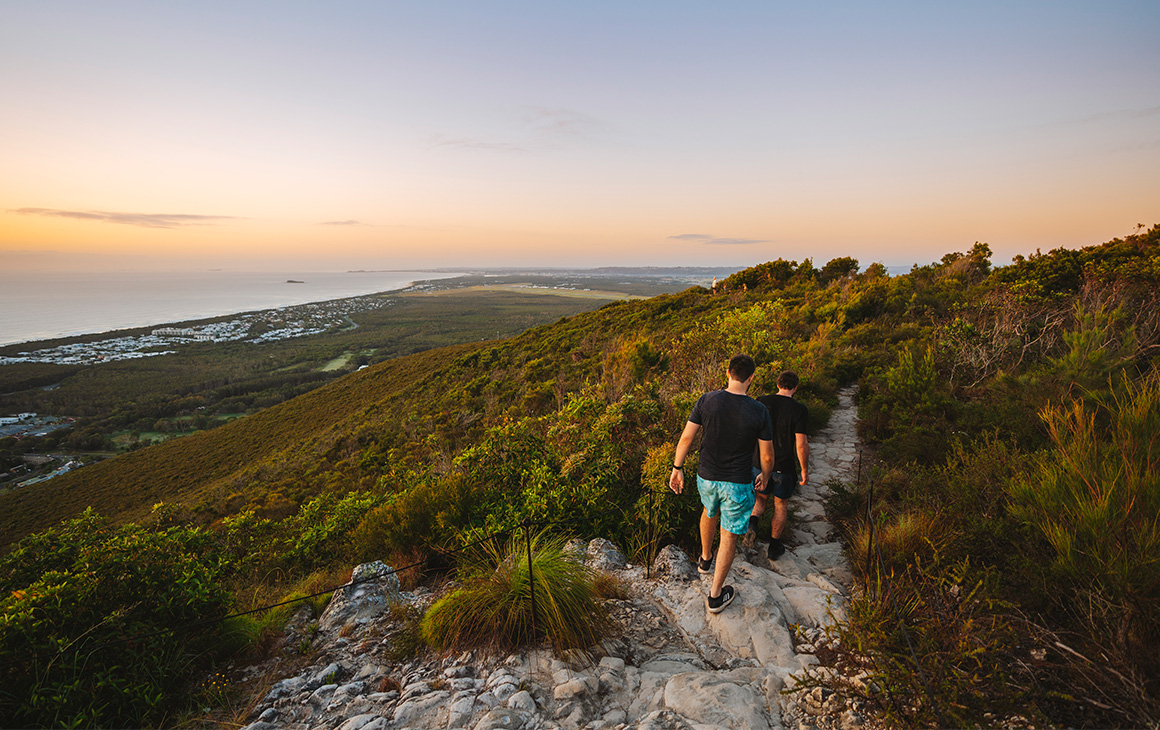 ​
Mount Coolum is one of the Sunshine Coast's most well-walked hikes, and for good reason. It's a steep trek up to the summit, which is 197m above sea level, and from the peak you'll be rewarded with stunning 360-degree ocean and hinterland views. Mount Coolum is one of the Sunshine Coast's ancient volanic domes, so we think it's pretty cool it's right here in our backyard. Keep an eye out for whales during whale watching season, from May to August.
THE DETAILS
Distance: 2.6 kilometres
Time: 1.5 hours
Grade: Moderate
Mount Ngungun
Glasshouse Mountains
How do you get the best views of the Glasshouse Mountains? Climb one of them, of course. While they've all got their pros, if there's one to add to the to-do list this season, it's Mount Ngungun. With uninterrupted views of the neighbouring mountains, your Ngungun experience is guaranteed to put a spring in your step for the rest of the day. Any time is a good time to climb, but we're a sucker for a good sunrise. Phones charged and at the ready, after all we're not listing this as one of the best hikes on the Sunshine Coast for no reason.
THE DETAILS
Distance: 2.8 kilometres
Time: 1.5 hours
Grade: Moderate
Bribie Island Beach Walk
Moreton Bay Marine Park
This hike isn't as challenging as others, but it sure is pretty. Scoot down the Bruce and over the bridge to Bribie Island, parking around Bongaree Jetty. With the beach on one side and bush on the other, this 8km walk is the perfect compromise between a leisurely stroll and an intense hike. Stop for a swim at Woorim (that's the divine surf beach) and then follow the tree-lined path back to Bongaree for a milkshake or a trip to the pub. Runners aren't necessary, but you'll need shoes of some description. Don't forget a hat, togs, sunscreen and plenty of water.
THE DETAILS
Distance: 8 kilometres
Time: 1.5 hours
Grade: Easy to moderate
Booloumba Falls
Conondale National Park
This one requires a tad more commitment than the rest, but we assure you, it's worth the extra effort. Tucked away in the Conondale National Park, the Booloumba Falls track is a hinterland oasis. Think lush open rainforest, crystal-clear rock pools and boulders bigger than you've ever laid eyes on. Head towards Maleny and follow the signs to Kenilworth, then pass through the town of Conondale and take the Booloumba Creek turn-off. Best to take a 4WD for those gravel roads, if possible. It also might be worth kicking it old school with a map, as phone reception can be a bit hit and miss. A sense of adventure is a must.
THE DETAILS
Distance: 1.5 kilometres
Time: 1 hour
Grade: Easy
Kondalilla Falls
Montville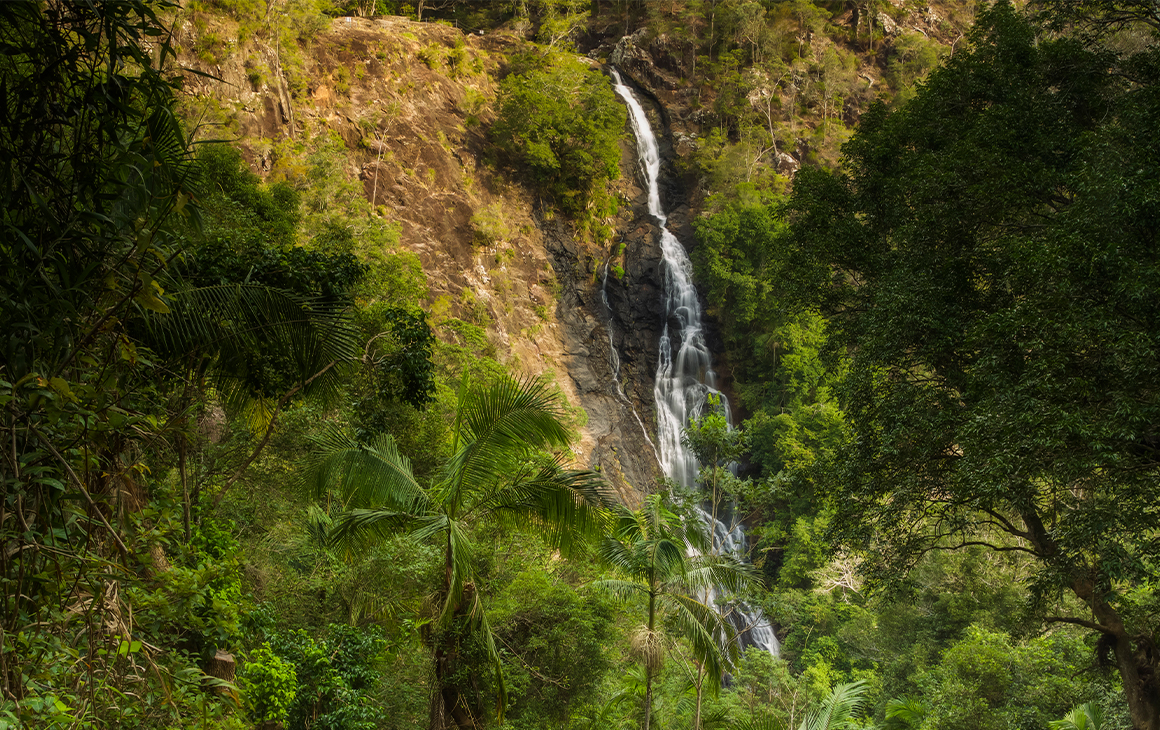 Kondalilla, the Aboriginal term for "rushing water", is just that. In fact, it's 90 meters of rushing water plummeting into a gorgeous valley. This stunning walking track leads from Kondalilla Falls down the escarpment into a lush rainforests valley, which is ripe with prime photo opportunities. If you're after a real adventure, ditch the easy 2.4km Picnic Creek Circuit, even the moderate 3.2km Rock Pools walk, and get lost on the 4.6km Kondalilla Falls Circuit. This subtropical rainforest trail winds around chilled gorges and secluded rock pools with plenty of scenic lookouts along the way. Hint: use this opportunity to take in the view, and some deep breaths too, because once you reach the main event, it's another 4.6km back. After all, what goes down must come back up.
THE DETAILS
Distance: 4.6 kilometres
Time: 2 hours
Grade: Moderate to hard
Mount Tibrogargan
Glasshouse Mountains
Ok, you've done Mount Coolum and could probably do without having to hike up another million stairs for the next few days, enter Mount Tibrogargan circuit. While no Glass House Mountains hike is complete without a mountain view lookout, so expect some upward ascents. This hike is great for enjoying the native bushland without burning those calf muscles. Make your way around the base of the mountain on a moderately flat track that circles back to the beginning car park. A fairly cruisy hike perfect for the whole fam. If you are a bit of a thrillseeker—looking for rock climbing dizzying volcanic peaks, and other hardcore, death-defying active stuff—Mount Tibrogargan summit is the ideal thrill-seeking hike for you. Expect to be rewarded with panoramic views from the 364-metre-high summit.
THE DETAILS
Distance: 3.3 kilometres
Time: 1.5 hours
Grade: Easy
Dularcha Tunnel Track
Dularcha National Park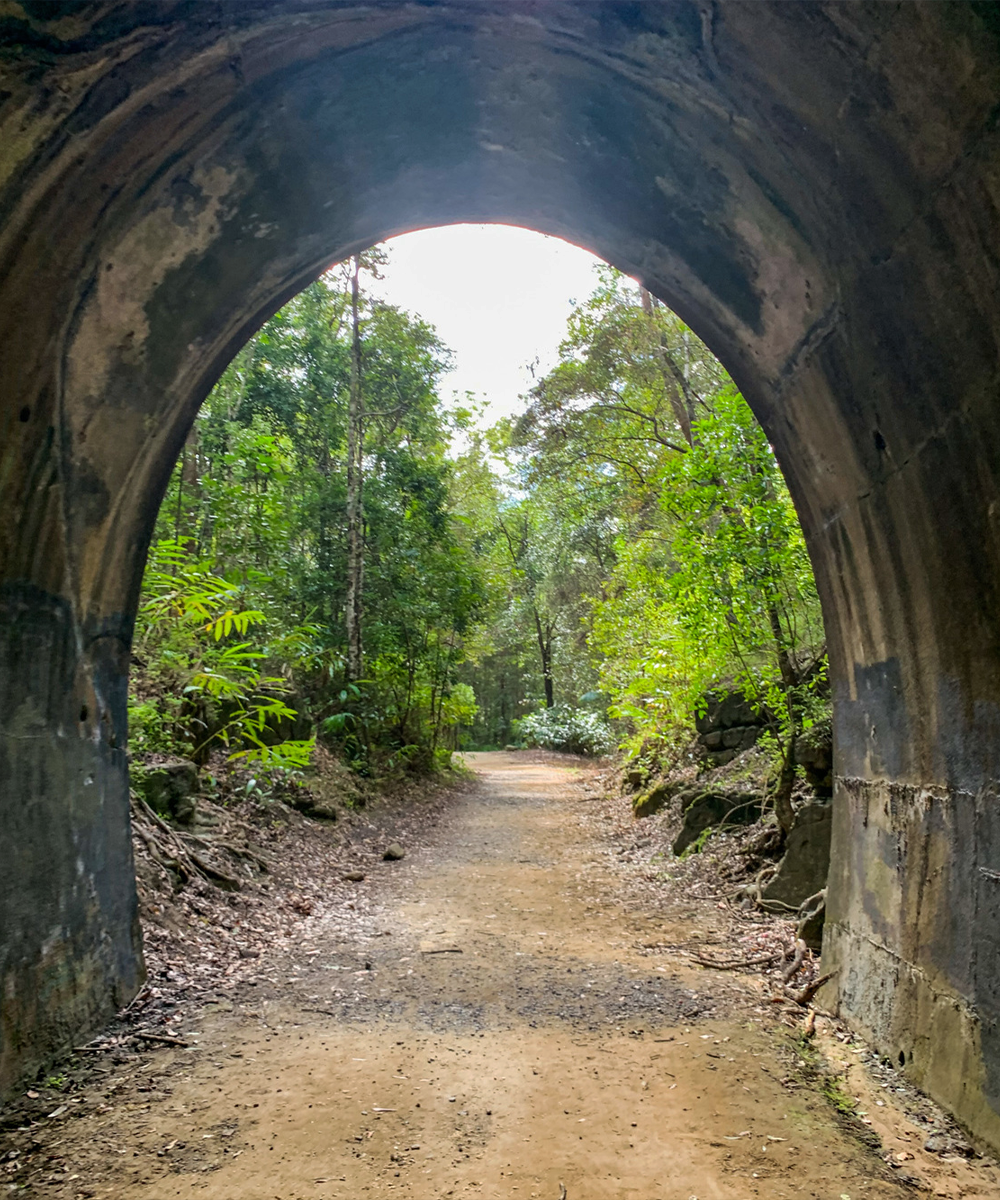 Almost every Sunny Coast walk is sure to provide amazing views but we think we've found something a little different. If you're inspired by a little history—and not too put out with the potential of dangling wildlife—the Dularcha Tunnel track might be the perfect spot for you. Built in 1891 and heritage-listed, the Dularcha Tunnel is a 94 metres long railway tunnel. Set amongst lush cool rainforest surroundings and perfect should you need a place to hide on a warm summer day. Start this track from the southern Landsborough entrance off Beech Road and be sure to bring a torch if you're not overly fond of dark spaces and bats.
THE DETAILS
Distance: 6.6 kilometres
Time: 2 hours
Grade: Easy
Mapleton Falls Lookout
Mapleton National Park
Another of our favourite hinterland walks here on the Sunny Coast that will tick all your boxes. Lush scenic bushland. Check. 120-metre waterfall. Check. Views of Obi Obi valley below. Check. This picturesque Mapleton Falls lookout walk is perfect for giving you those rewarding views without the taxing 100-stair price tag. In fact you have a choice, pull up and be immediately rewarded with amazing views of the valley below. Or meander the 1.8 km journey around the well maintained dirt and boardwalk track. We guarantee you won't be disappointed either way.
THE DETAILS
Distance: 1.8 kilometres
Time: 1 hour
Grade: Easy
Mount Ninderry
Ninderry
If you're ready to get that blood pumping and work off those few weekend bevvies Mount Ninderry will not disappoint. Take the scenic drive through Yandina as you make your way upwards to the already reasonably high starting point carpark. From there, be sure to tie those running shoes tight as you prepare to make the non-stop upward climb to the summit above—think Mount Coolum but with better bushland. Once you've conquered the stairs prepare to be rewarded with not one, but two viewing platforms of the canefields below and Maroochy River surrounds. Perfect for avid sunrise hikers.
THE DETAILS
Distance: 3.3 kilometres
Time: 1.5 hour
Grade: Moderate
Done them all? Here's ten of the Sunshine Coast's prettiest walks for you to conquer.
Image credit: Supplied, Aussie Bush Walking & Lumea Photography