April was an absolute ripper of a month, wasn't it? Having consumed copious amounts of chocolate, enjoyed more long weekends than any other month, and attended some seriously cool events right here on the Coast, it's safe to say that the last month flew by.
It's going to be hard for May to compete with the epicness that was April, but we'll give it a red hot go! From tours and masterclasses to markets and expos (and a handful of stuff in between), here are 21 super fun things to do throughout the month of May on the Sunshine Coast.
SUNSHINE COAST WOMEN IN BUSINESS | THURSDAY 3RD MAY
On the first Thursday of every month, ladies of the Sunny Coast are invited to meet, chat, learn and network with other likeminded women in business. The May Sunshine Coast Women in Business event is happening at Casablanca's Cafe on Duporth Avenue - #girlbosses, defs add this one to your calendar!
When: 9:30am
Where: Casablanca's on Duporth, Aurora, 2/4-8 Duporth Avenue, Maroochydore
Cost: Free
For more information, check here.
BEN SALTER AT THE BISON BAR | FRIDAY 4TH MAY
Don't miss your chance to catch this much-loved Aussie muso before he heads overseas for six months! Ben Salter loves The Bison Bar in Nambs and will play a heck of a gig there on Friday 4th May.
When: 8pm
Where: The Bison Bar, C-Square Courtyard, 52-64 Currie Street, Nambour
Cost: Single tickets available online for $16.50, or $20.00 at the door
For more information, check here.
NAMBOUR OUTDOOR MOVIES FEAT. RED DOG | SATURDAY 5TH MAY
Everyone loves a good dog movie! If you haven't seen 'Red Dog', there's no time like the present to tick it off your list. Starry Nights Outdoor Movies are screening this heart-warming doggo story in Quota Park, as a fundraiser for Thriving Families Nambour. BYO picnic and some dosh for snacks.
When: 6:30pm
Where: Quota Park, Matthew Street, Nambour
Cost: Gold coin donation
For more information, check here.
SUNSHINE PLAZA MAJOR SALE | SATURDAY 5TH MAY
Everyone loves a a good sale don't they?! Well you're all in luck guys, 'cause Sunshine Plaza is having a REALLY BIG sale and you're all invited. But what we're most excited about is the Macrame workshop you can attend! Hurry up though guys, cause bookings are essential with this one!
When: 9:30am till 4pm
Where: Sunshine Plaza, 164 Horton Parade, Maroochydore
Cost: Free
For more information, check here.
SUNSHINE COAST VEGAN MARKETS |SUNDAY 6TH MAY
Yep, you guessed it, these markets are 100% vegan! The Sunshine Coast Vegan Markets take place the first Sunday of every month and showcase a delish range of vegan food, lifestyle, and fashion products. You wouldn't know some of the stuff was vegan, so c'mon, give it a go!
When: 10am till 4pm
Where: C-Square Nambour, 52-64 Currie Street, Nambour
Cost: Free
For more information, check here.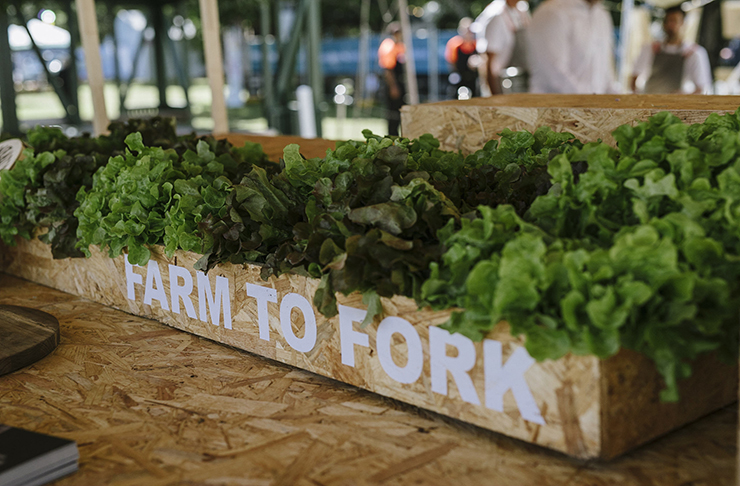 YOGA ON THE DECK AT CLOVELLY | SATURDAY 12th MAY & SATURDAY 27th May
Our faves Spicers Clovelly Estate are hosting an incredible yoga experience in conjunction with Varsha Yoga not once, but twice! On May 12th or 27th, head for the hills and enjoy a relaxing morning of yoga in a serene outdoor setting. With a lush breakfast spread to enjoy afterwards, as well as the chance to explore the grounds, or even take a dip in the pool. We can't think of many more perfect ways to spend a Saturday morning! Bookings are essential.
When: 7:15am
Where: Spicers Clovelly Estate, 38 Balmoral Road, Montville
Cost: $50.00 per person (includes breakfast)
For more information, check here.
SUNSHINE COAST LIGHTNING VS. WEST COAST FEVER | SATURDAY 12TH MAY
Winners are grinners! The Suncorp Super Netball has just kicked off, and our girls play their first home game of the season this month, taking on the West Coast Fever. We can't wait to see what 2018 has in store for the Lightning, who took out the premiership last year as a brand new team. Secure your spot here and get ready to cheer them on!
When: 5pm
Where: USC Stadium, University of the Sunshine Coast, Sippy Downs
Cost: Tickets range from $20.00
For more information, check here.
OPEN AIR MOVIE NIGHTS FEAT. DIRTY DANCING | SATURDAY 12TH MAY
We asked, and they delivered…on Saturday 12th May, Open Air Movie Nights will be screening the ultimate chick flick, 'Dirty Dancing'! Hosted by Coastline MINI Garage, the evening will start with some live music, as well as chances to win some EPIC prizes, with the movie kicking off at 7pm. Gals, it's time to get the squad together. Although guys, we're pretty sure you'll score some serious brownie points if you come along!
When: 5pm
Where: Sunshine Coast Turf Club, 170 Pierce Avenue, Caloundra
Cost: Tickets start from $12
For more information, check here.
MOTHER'S DAY BRUNCH AT PIER 33 | SUNDAY 13TH MAY
In case you didn't know, here is your big fat reminder that Sunday 13th May is Mother's Day! Watch this space in the coming days for our list of the best spots to take yo' mama this Mother's Day, but here's one to start folks. Why not treat your mummy dearest to a two-course brunch at Pier 33, feat. fresh juice, tea and coffee, and of course, mimosas? Bookings are essential.
When: 10am (arriving 15 mins early is recommended)
Where: 33 Parkyn Parade, Mooloolaba
Cost: $40 per person
For more information, check here.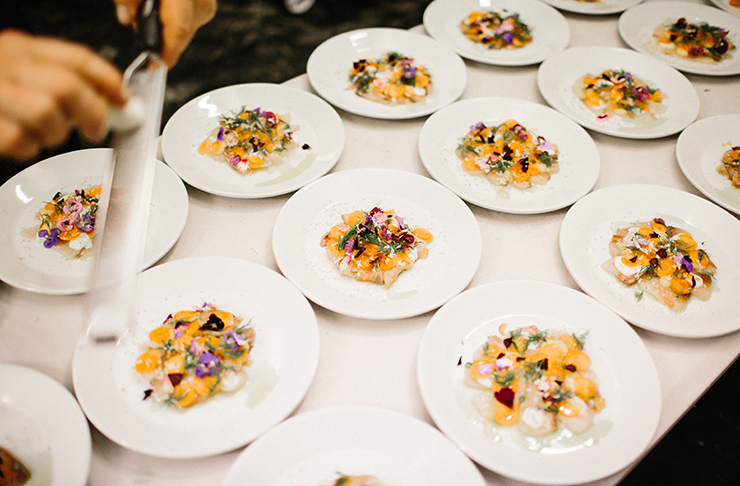 THE ASHTON SHUFFLE X SALTWATER SUNDAYS | SUNDAY 13TH MAY
Y'all know that the M.V. Catalina is the home of an epic Sunday sesh, but here's a Saltwater Sunday like no other! Aussie music legends The Aston Shuffle have managed to fit a sneaky trip to Noosa into their busy national tour and will be performing aboard the M.V. Catalina on Sunday 13th of May, joined by our fave Tim Fuchs. Epic beats, delicious drinks and a cruise along the Noosa River…a pretty incredible way to welcome in a new week, don't ya think?
When: Boarding at 2:30pm for a 3pm set-off
Where: M.V. Catalina Noosa, Noosa River
Cost: First release tickets are $25 + booking fee
For more information, check here.
NOOSA FOOD & WINE FESTIVAL 2018 | THURSDAY 17TH MAY TO SUNDAY 20TH MAY
Yassss, it's that time again! The Noosa Food & Wine Festival is almost upon us – which, for those of you not in the know (shame!), means four incredible days of food, wine, sunshine, and more food and wine! With a new-look waterfront Festival Village, and a heap of events featuring some of Australia's best and most well-known chefs, Noosa Food and Wine 2018 is absolutely unmissable. Check out the full program here, but keep reading for some more recommendations!
Where: Noosa Heads and surrounds
Cost: Varies from event to event
For more information, check here.
CLOUDY BAY AT SAILS NOOSA | THURSDAY 17TH MAY
Hands up if you've had the pleasure of sampling a glass of wine from Cloudy Bay Vineyards? If you haven't, we highly recommend treating yourself to a bottle or maybe just come along to this event! One of Cloudy Bay's own winemakers is coming from across the ditch to host this four-course dinner with matching wines at Sails. It's sure to be a night to remember, although after a few glasses of the good stuff, the details might get a lil' hazy…
When: 7pm till late
Where: Sails Restaurant, 75 Hastings Street, Noosa Heads
Cost: $202.57 per person.
For more information, check here.
NOOSA BREWERY TRAIL | FRIDAY 18TH MAY
The little ol' Sunny Coast's brewery game is getting seriously strong – so much so that as part of Noosa Food and Wine this year, there's a whole event dedicated to them! Beer fanatics will love the Noosa Brewery Trail – after all, what's not to love about a lazy afternoon exploring three boutique breweries, sampling craft brews and enjoying tasty treats too?
When: Departs 1pm
Where: Bus departs from Noosa Heads Bus Station
Cost: $156.33 per person
For more information, check here.
TASMANIAN PINOT NOIR MASTERCLASS | SATURDAY 19TH MAY
When it comes to food and drink, Tassie hits the nail on the head in pretty much all areas, so it should not come as a surprise that their wine regions are also world class! Get your wine nerd on with this masterclass highlighting the various sub-regions of Tasmania and the differences in wine styles.
When: 2:30pm
Where: Sofitel Noosa Pacific Resort, 14-16 Hastings Street, Noosa Heads
Cost: $115.23 per person
For more information, check here.
WILD PURVEYORS WITH PIER 33 | SATURDAY 19TH MAY
If you needed an excuse to indulge we're handing it to you on a silver platter, right here! 'Wild Purveyors' at Pier 33 presents a five-course tasting menu, with matched Australian wines, showcasing the Sunshine Coast's best wild produce. Focusing on sustainably sourced produce (particularly seafood, as that's Pier 33's game) expect nothing but edible perfection from this event.
When: 5pm till late
Where: Pier 33, 33/45 Parkyn Parade, Mooloolaba, Queensland 4557
Cost: $197.43
For more information, check here.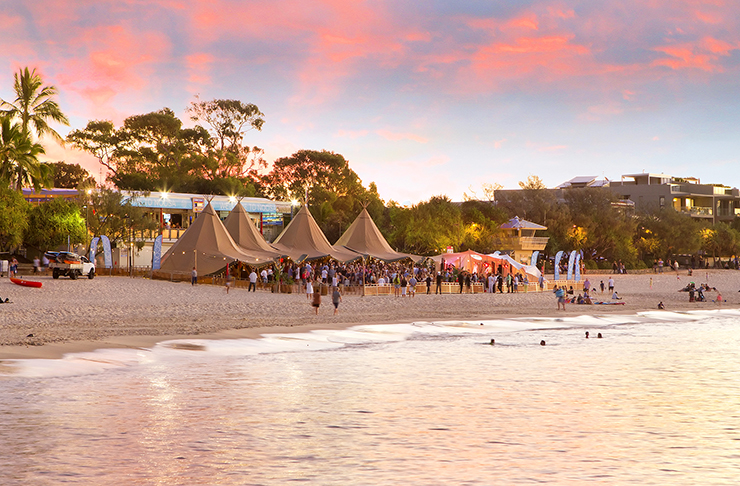 CHARDONNAY AND PINOT: A SHAW AND SMITH MASTERCLASS | SUNDAY 20TH MAY
Who's up for a spot of wine tasting? Join Shaw & Smith's senior winemaker, Adam Wadewitz, from the beautiful Adelaide Hills, as he hosts a masterclass showcasing the most exciting grape varieties in Australia right now! You'll get to taste award-winning wines and taste some salty snacks from Olsson's Salts to really elevate the sweetness of some of these wines. Sah fancy!
When: 2:30pm
Where: 'Festival Village' – Lions Park, Noosa Heads
Cost: $33.03
For more information, check here.
SUNSHINE COAST WEDDING EXPO | SUNDAY 20TH MAY
Getting hitched, or know someone who is? Attending a wedding expo is practically a rite of passage, so make sure you head down to Maroochydore to the Sunshine Coast Wedding Expo on May 20. Take advantage of expo-only promotions, check out over 70 of the Coast's best wedding vendors, and, most importantly, have fun with your wedding planning!
When: 11am – 3pm
Where: Maroochy RSL, Memorial Avenue, Maroochydore
Cost: Tickets start from $10
For more information, check here.
AUGIE MARCH AT THE IMPERIAL HOTEL | THURSDAY 24TH MAY
Augie March are on the road promoting their fab new album, Bootikins! Rollin' in to The Imperial Hotel towards the end of the month, we're told to 'expect all the new with a good dose of the old'…so surely this means they'll play 'One Crowded Hour', right?
When: 7:30pm
Where: The Imperial Hotel, 1 Etheridge Street, Eumundi
Cost: $39.80 per person
For more information, check here.
RUNAWAY NOOSA HALF-MARATHON | SATURDAY 26TH MAY
It's easy to see why Noosa is so busy all the time, cause it's just so damn pretty! The Runaway Noosa Marathon is a chance to experience the best of Noosa and celebrate a healthy, active lifestyle. Enjoy running through the Noosa streets, past the canals, and alongside the river in this friendly multi-lap course. Hustle up your running buddies and/or your cheer squad, and let's go!
When: 6:30am
Where: Noosa Parade, Noosa
Cost: Entry fees start from $25
For more information, check here.
THAI WINTER COOKING CLASS | SATURDAY 26TH MAY
One of the first things that comes to mind when we think of winter is Thai food. Let's be clear – we'll devour a Thai feast any time of the year, but a creamy curry or a spicy soup is extra yummy on a cool winter's evening. Enrol in the Thai Winter Feast cooking class at Spicers Tamarind Retreat and master the secrets of combining simple ingredients to produce fresh, delicious Thai flavours. The best part is you get to eat all your dishes at the end!
When: 9:45am
Where: The Tamarind Restaurant, Spicers Tamarind Retreat – 88 Obi Lane South, Maleny
Cost: $165 per person (includes lunch, matched wine, an apron to take home and a recipe book)
For more information, check here.
SUNSHINE COAST COLLECTIVE MARKETS | SUNDAY 27TH MAY
These seriously awesome markets take place on the fourth Sunday of every month and we get so excited when this time rolls around! The Sunshine Coast Collective Markets are a testament to just how amazing our region and its people truly are. You won't find anything mass-produced here, instead, you'll find an incredible array of artisans, street foods, music, and much more…all made right here baby!
When: 8:30am-12:30pm
Where: Coolum Primary School, Coolum Beach
Cost: Free
For more information, check here.
Did you hear the news? The First All Vegan Bakery Is Opening On The Sunshine Coast in May! Woot!
Image credit: Spicers Tamarind Retreat and Noosa Food & Wine Festival