It's nearing the end of the year, which can only mean one thing—Christmas parties! From casual drinks on a Friday afternoon to an all-out festive bash of epic proportions, it's time to get together, spread some holiday cheer and help even your most uptight co-worker let loose.
To help out, we've done the hard yards and found ten Christmas party venues on the Sunshine Coast that don't suck. So if you're invited to a shindig at any one of these, make sure you RSVP with a big fat YES, otherwise you'll be sorry you missed it.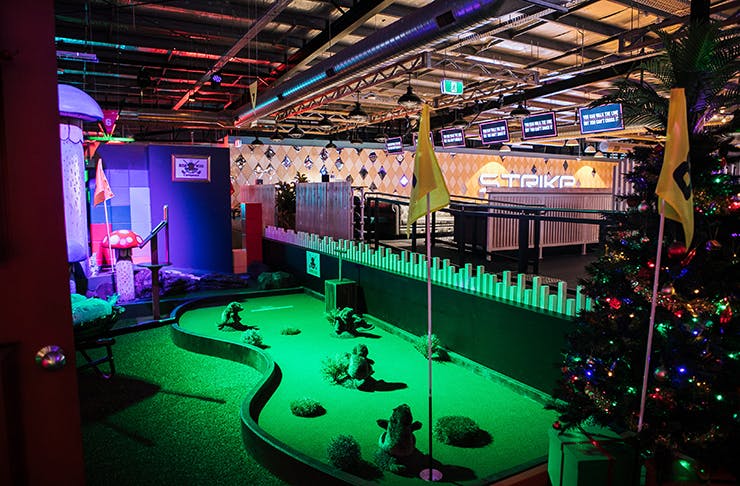 Holey Moley
Maroochydore
Nothing screams silly season quite like a Christmas party at Holey Moley in Maroochydore. Hit the 18-hole mini golf course to blow off some steam from the crazy year that has passed, or perhaps you have a score to settle with a work mate! Either way, they have a fully-stocked cocktail bar and tasty bites on hand to keep your stamina up for loads of mini golfing fun. Expect all the LOLs with a labyrinth of holes featuring everything from an ass with Trump's face on his, well, ahem, ass, to a hound dog with The King himself upon his throne.
Malt Shovel Taphouse
Birtinya
This local favourite waes sure to be a popular choice among our list of Christmas party venues on the Sunshine Coast, with endless possibilities at this massive joint. Seating up to 400 people, Malt Shovel Taphouse spans across three areas—a covered beer garden and two indoor spaces—so it doesn't matter how big or small your group is, they've got you covered. But the most impressive feature at this brand spanking new venue is the bar (of course!). Malt Shovel Taphouse boasts 40 taps, featuring 16 rotating beers, which pair perfectly with the succulent slow-cooked meats on the menu, all prepared on a custom-built rotisserie in an open kitchen. Now that's our kind of way to celebrate.
M.V. Catalina
Noosa
It's been a hectic year (or two years?) to say the least, so you and your work buddies deserve to round out 2020 in style, and what better way to do that than aboard the M.V. Catalina. Let their expert skippers choose the best cruising and mooring locations while you sip on Sauv Blanc from the Terrace Bar atop the picture-perfect boat. Providing ample backdrops for those tipsy group shots, we can't think of a better way to sail into a new work year.
The Rooftop Bar
Maroochydore
The Sunshine Coast's first open-air rooftop bar is a jaw-dropping location for your Christmas party. Let's run through the perks shall we? Panoramic views, extensive list of wines and spirits, a great selection of local beers on tap, 40 cocktails (yep, that's right!), and a mouthwatering menu. The Rooftop Bar really is in a league of its own and that is why it is hands down one of the coolest Christmas party venues on the Sunshine Coast.
Aussie World
Glenview
Let's face it, our inner child comes out to play at Christmas time, so what better place to let them run wild than with a party at Aussie World? Let the team at Aussie World handle all of the nitty gritty with their Christmas function package, while you and your work mates let loose in the park, stuff your faces with a two-course dinner, and then party into the night with live entertainment and an awesome lights display, complete with a snow machine! It's your very own Winter Wonderland—and yes they can even hook you up with a visit from Santa.
Rice Boi
Mooloolaba
Rice Boi boasts an epic waterfront beer garden which is undoubtedly one of the hottests place to book for your Christmas party. We already know they dish up the goods when it comes to tasty Asian street-style eats, and with this waterfront space comes a more refined beer, cocktail and wine list—perfect for those festive feels. Now, the only decision left to make is whether you and your fellow party goers head to the new beer garden to fill up on dumplings and bao, or take a detour to the live music of Rice Boi "Upstairs". Good times all 'round.
Brouhaha Brewery
Maleny
Gather the troops, load up a minibus (don't forget the Christmas karaoke playlist for the drive home) and head to Brouhaha Brewery, where festive fun will ensue. It's a versatile venue with the outside deck area practically made for those balmy summer nights, as well as the restaurant and bar inside, so you can book a few tables for an intimate end-of-year soiree, or book out the whole space. With a selection of delish small and large eats and an incredible lineup of beers on tap fresh from the onsite brewery, what better way to say 'hoppy' holidays!
Pier 33
Mooloolaba
If you're vibing on a chilled farewell to 2020 (good riddance!), Pier 33 is a no brainer. Knock off early on a Friday and head down to the Mooloolaba Marina for a few cocktails and a bite to eat with your workmates, it'll be the ideal wind down. Pier 33 also has a stunning function room upstairs with a glorious sunset view if you have a larger celebration planned, and even better, let their events team do the heavy lifting with a bevy of function packages.
Sum Yung Guys
Sunshine Beach
Christmas is all about bringing people together, good times and great food, which is why one of our fave local venues is Sum Yung Guys. When you think about it, it's the perfect precursor for Christmas Day... plates filling the table, food being generously passed around and everyone always eating WAY too much. The SYG legends also have a wicked cocktail menu to have you feeling warm and festive this season.
The Dock
Mooloolaba
Looking for a prime venue for your Christmas party on the Sunshine Coast and don't know where to start with planning? You're in luck because events just so happen to be The Dock's specialty. They have loads of great packages available, not to mention insanely delicious grub and a whopping 52 beer taps across their three sprawling bars; leaving you to kick back and enjoy the year's end with your work buddies. In fact, our friends at The Dock love a good ol' Christmas bash so much that they're even throwing their very own party on 25 December. Feliz Navidad!
Image credit: Lumea Photo for Urban List