After two solid years of travel restrictions, our collective wanderlust has reached an all-time high—one that won't be satiated looking back on past trips overseas, or plans for a vacay yet to come. No, this time, we aren't settling for anything less than a true taste of life outside our home down under.
Thankfully, restaurants across the Sydney foodie scene have stepped up to the challenge, bringing the international tradition of aperitivo to Australian shores. As any well-travelled foodie is no doubt aware, aperitivo is a cultural ritual (read: recreational drinking) meant "to open" the stomach before treating yourself to a tasty shared meal. And what better way to kick that metabolism into gear than with a sip of our fave summer tipple—a cool glass of Aperol Spritz?
Enter the Aperol Aperitivo Passport, aka the ultimate excuse to eat and drink your way around Sydney this season. Treat your palate to an international adventure, celebrating aperitivo time over an Aperol, followed by the most amazing cuisines the world has to offer. We've teamed up with six of our fave restaurants around Sydney to unlock exclusive dish and drink pairings at a wallet-friendly price point. The only question left is, what's on the menu?
Alpha Restaurant
Travel destination: Cyprus
Following its 2021 refresh, Alpha Restaurant is more than ready for the new year, treating diners to a taste of Ancient Greece while drawing on the stunning architectural styles the region is known for. Think towering ceilings, a warm, muted palette, and plenty of creamy marble to whisk you away to the shores of the Mediterranean.
Alpha's aperitivo deal will treat diners to an absolute cult fave—halloumi manti, filled with mint, rhubarb, caramelised onions, and a dollop of burnt butter. Similar in appearance to steamed dumplings, manti is a classic Mediterranean dish enjoyed throughout Turkey and Cyprus, combining the sweet, rich flavours of sheep's milk halloumi with the sharp, bitter finish of roasted rhubarb. The tangy orange garnish elevates the dish to the perfect summer snack, pairing beautifully with the delicate citrus characteristic of Aperol. Anyone else feeling hungry?
Deal: $40 for a share plate of halloumi manti, complete with rhubarb, mint, preserved orange, and burnt butter served with two Aperol Spritz. Book here, offer valid until 13 March 2022.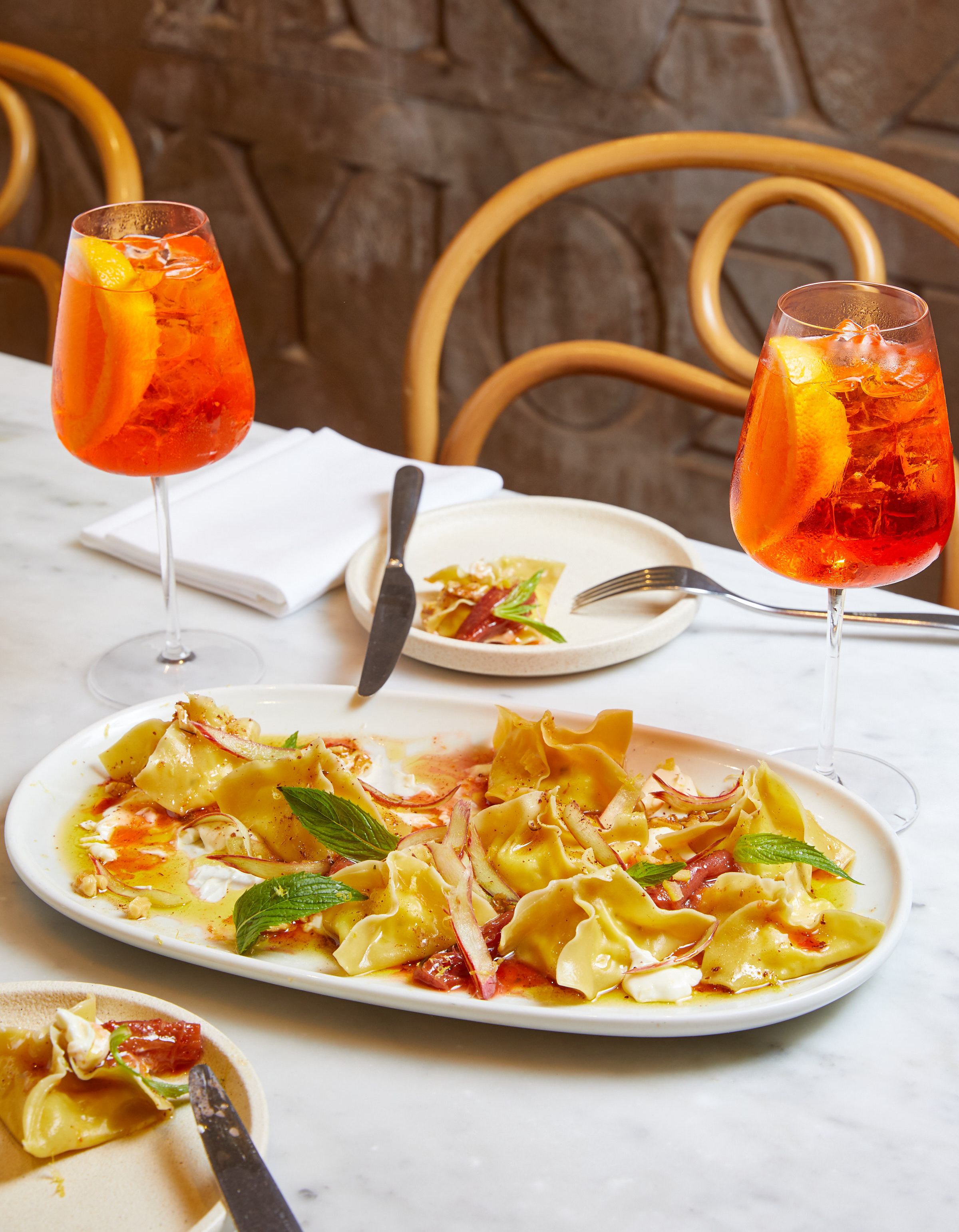 Cucina Porto
Travel destination: Puglia
Our go-to dining venue for dinner post-matinee, Cucina Porto is known for its fresh summer produce and drool-worthy Italian dishes. Drawing inspiration from the abundant sea life found on the Amalfi Coast, the chefs at Cucina Porto have concocted the perfect dish to pair with your spritz. Enjoy a plate of gamberetto (prawn) roll, pizzetta fritta, and prosciutto crudo, served with melon, house-made giardiniera (pickles), and plenty of pecorino.
While the ingredients are deceptively simple, together this platter offers a suite of flavours that pay homage to the light antipasto served up and down the Italian coast. Feel refreshed with a bite of sweet seasonal melon, contrasting the sour house-made giardiniera and salty prosciutto, yet complementing the bitter taste of Aperol. With all produce locally sourced from Sydney farmers, you can enjoy your meal, even more, knowing you're supporting small businesses in the process.
Deal: $46 for a gamberetto (prawn) roll, pizzetta fritta, sundried tomato dip, crunchy almonds, prosciutto crudo with melon, tomato bruschetta, pecorino and aged balsamic rice crackers, and house-made giardiniera, served with two Aperol Spritz to share. Book here, offer valid until 13 March 2022.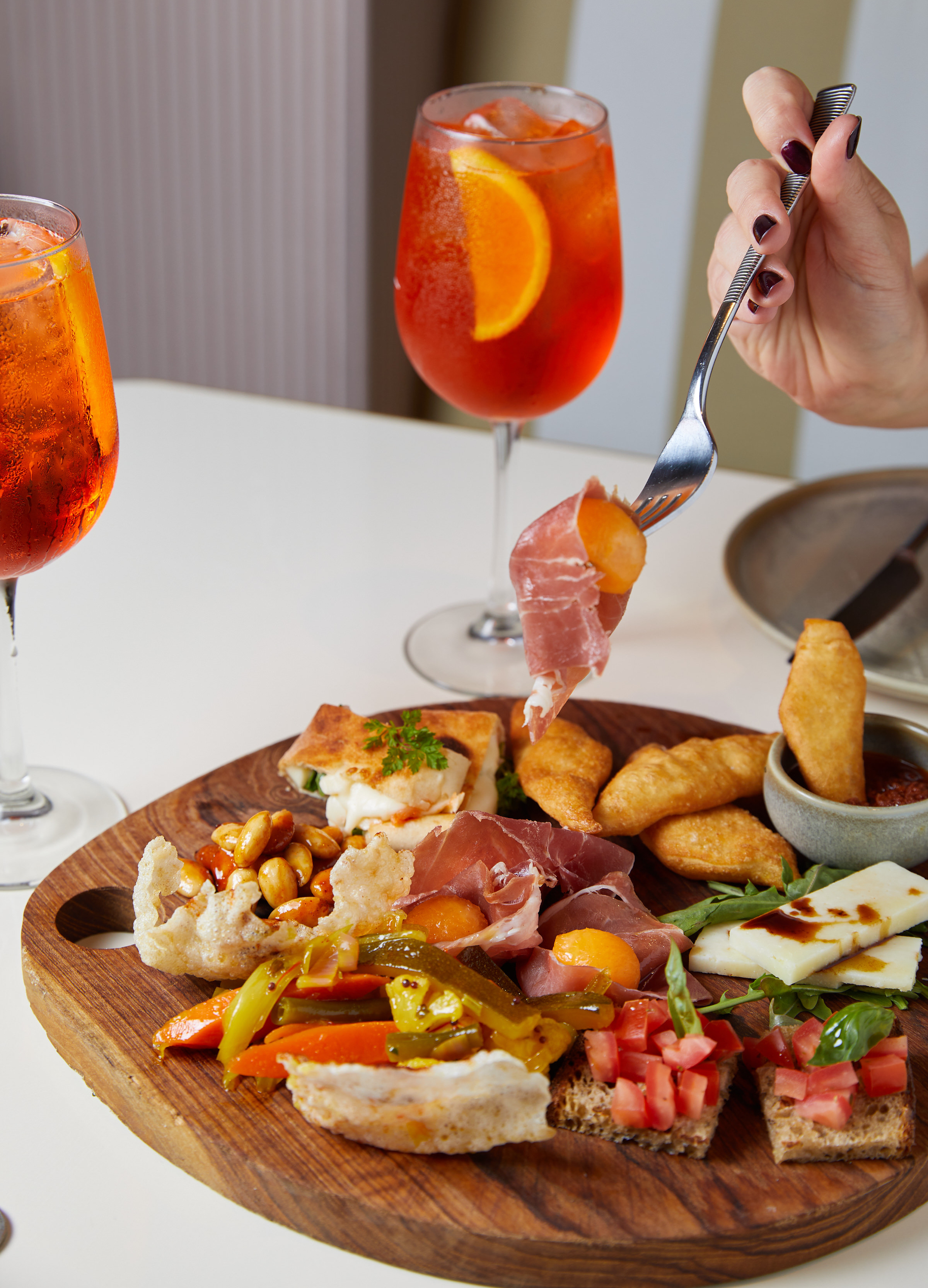 Long Chim
Travel destination: Bangkok
Trade in a typical night out for a trip to Thailand thanks to Long Chim's incredible white pepper squid. The simple yet vibrant dish evokes the spirit of aperitivo by drawing on spicy flavours with a bit of zing, perfect for nibbling over drinks with friends. Featuring scored slices of fresh chilli, the squid is mixed with white pepper, sugar, and a glug of fish sauce before being thrown in the fryer to cook. After two minutes, the squid is carefully retrieved and seasoned with chopped coriander, crispy garlic, and authentic sriracha sauce hailing straight from the little island of Koh Loy (as opposed to a factory in California). The result is a dish so good you'll be licking your lips for hours, searching for one more taste of those quintessential Thai flavours.
Deal: $40 for two Aperol Spritz and one serve of crispy squid to share. Book here, offer valid until 13 March 2022.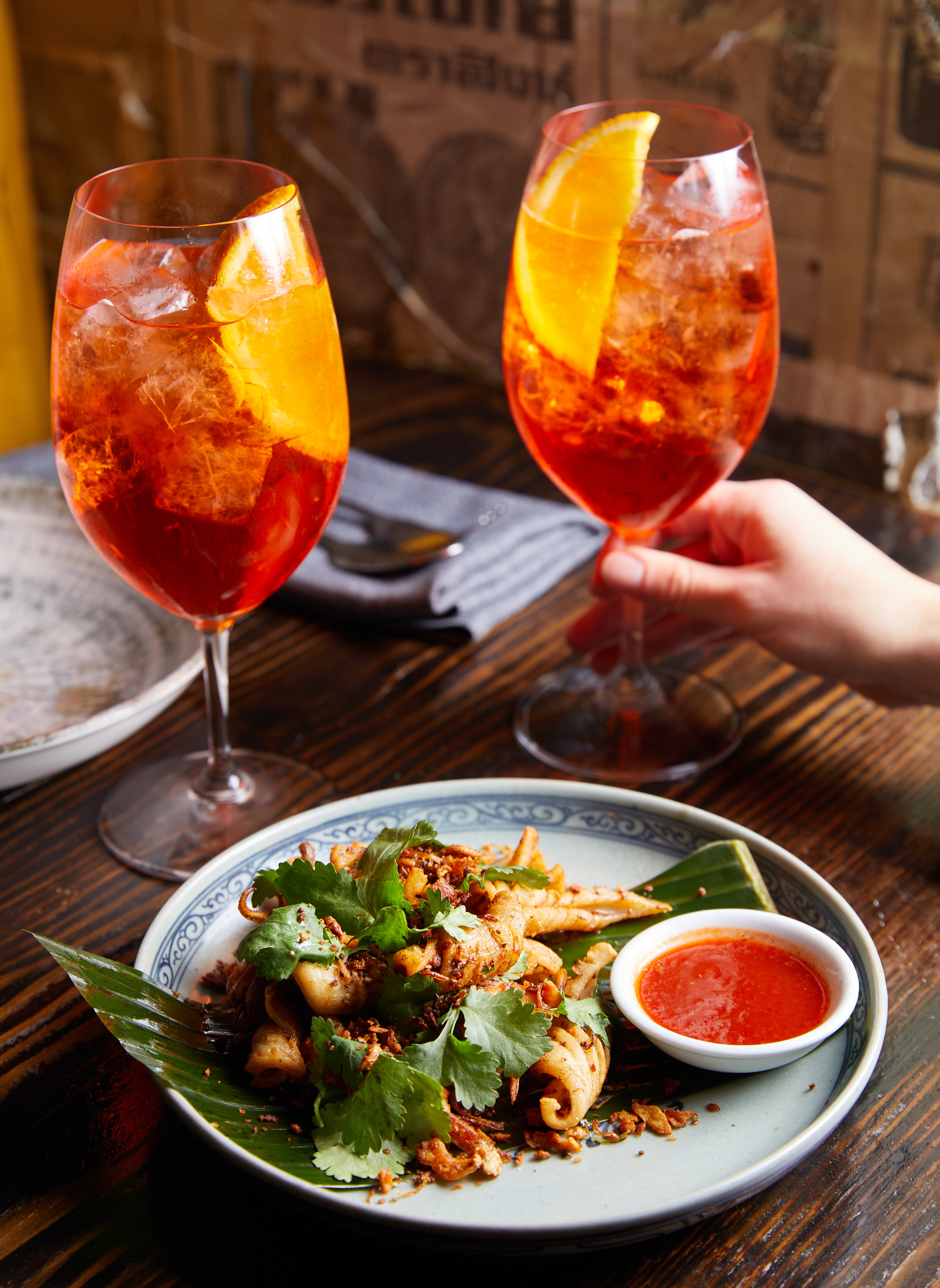 Carb

ón
Travel destination: Mexico City
Set your sights on Carbón, the only restaurant in Sydney that offers authentic charcoal-cooked Mexican cuisine. On the menu for Carbón's Aperol Aperitivo Passport is a charred blue-eyed cod, served with a traditional Morita chilli salsa infused with blood orange and confit-herbed sweet peaches. The dish pays homage to authentic Mexican flavours passed down through generations, combining the smoky haze of charcoal with the subtle spice of dried Morita chilli for a delicious meal often served at family celebrations, or fiestas. The herbal, bittersweet and zesty notes found in Aperol pair perfectly with the smokiness of the fish, whilst the house-made salsa pays homage to the coastal states of Mexico, where cooking from scratch is customary. Order the cod with a side of warm corn tortillas for the ultimate crowd-pleaser, and be sure to thank the chef on your way out.
Deal: $38 for one serve of the charred blue-eyed cod, served with a Morita chilli salsa and two Aperol Spritz. Book here, offer valid until 13 March 2022.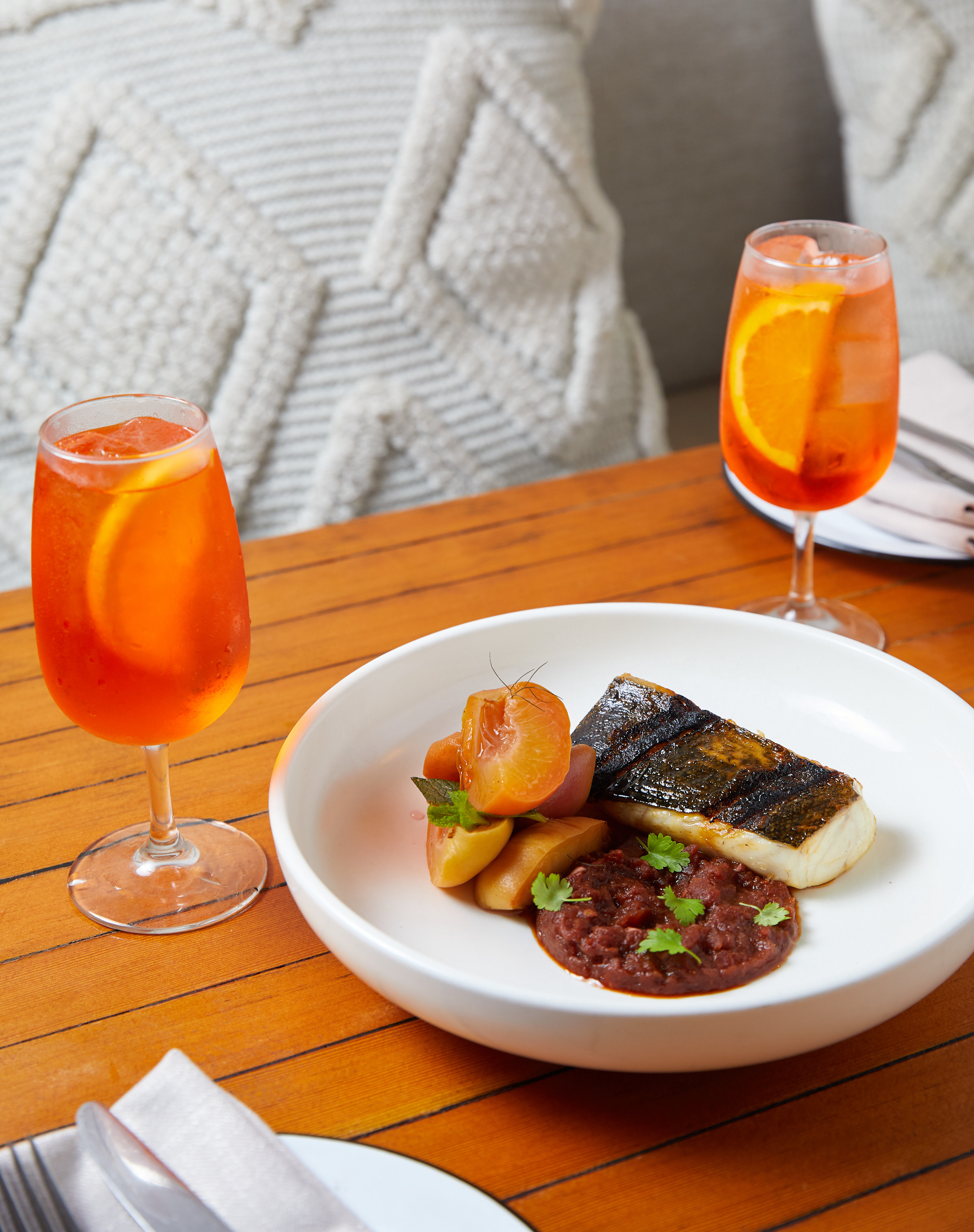 Beckett's
Travel destination: New York
A visit to Bubba Gump Shrimp Co. in Times Square is practically a rite of passage for aspiring New Yorkers but thanks to Beckett's, the experience just became a heck of a lot more affordable. Pair two glasses of Aperol Spritz with the restaurant's take on Skull Island tiger prawns, served with a splash of warm prawn butter and fresh watermelon all to share. Yes, you read that right—turns out, melon is the secret to refreshing your palate, so you can enjoy that same orgasmic first bite over and over again.
Sourced from the chef's very own private supplier, these prawns are nothing short of the best in the country. Their sweet flavour balances the delicate bitterness of an Aperol Spritz, resulting in a clean prawn flavour unmatched by anything else on the Sydney foodie market. Better still, the prawns are farmed, caught, harvested and packaged sustainably, so you can gorge yourself without the guilt. Oh, and word to the wise—eat the tail! Eat the shell! That's where the flavour is.
Deal: $45 for Skull Island tiger prawns, served with warm prawn butter, watermelon, and two Aperol Spritz. Book here, offer valid until 13 March 2022.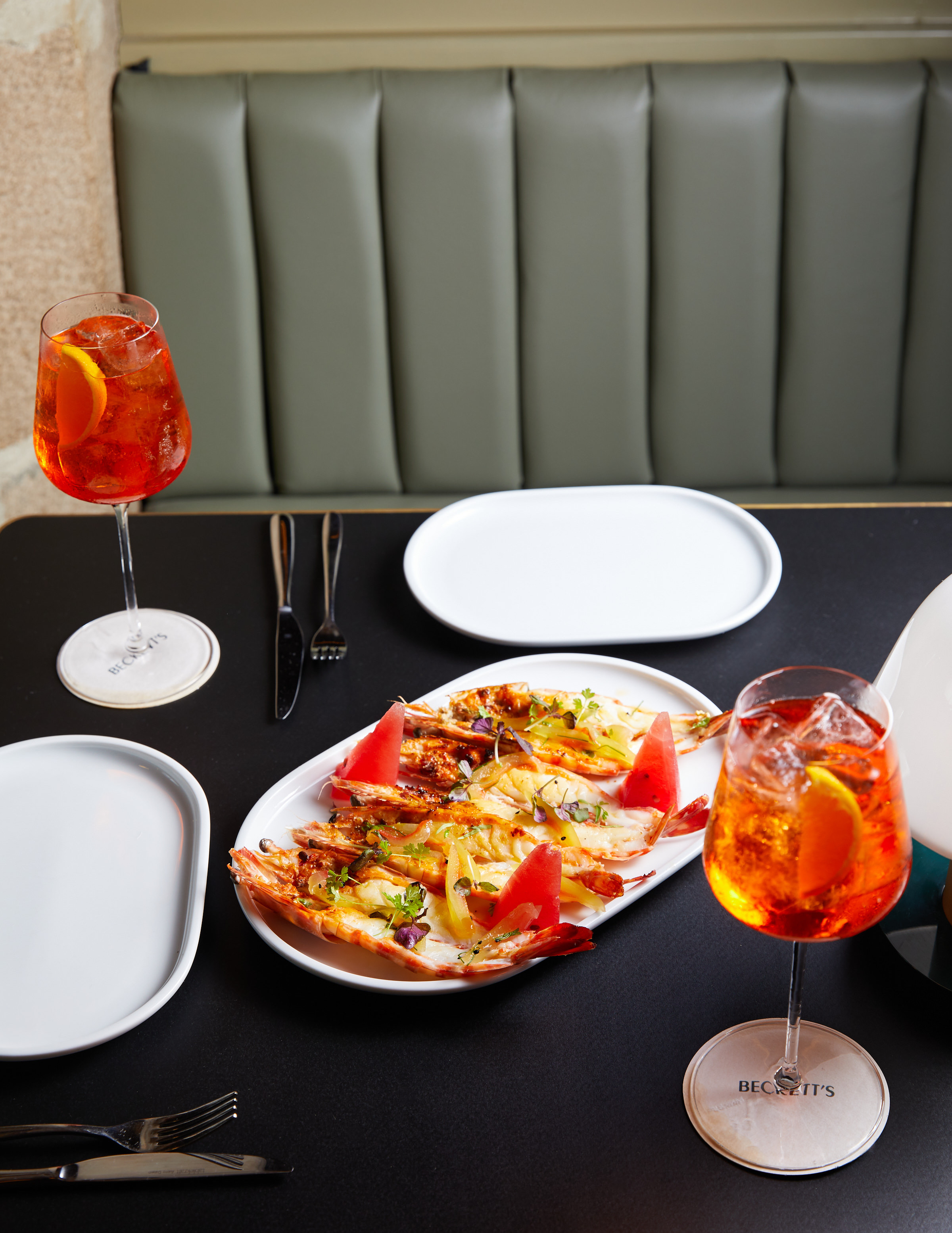 XOPP
Travel destination: Hong Kong
Boasting a modern take on traditional Cantonese cuisine, XOPP by Golden Century is a mainstay of the Sydney restaurant scene. If you aren't already addicted to every item on their menu then consider this a warning—stretchy waistbands are an absolute must. The headliner for XOPP's aperitivo menu is the venue's famous salt and pepper squid with a healthy serving of their mouthwatering XO sauce. Complementing the squid is an entrée serving of Peking duck spring rolls, the perfect summer snack to wash down with two cool, refreshing glasses of Aperol Spritz to share.
Deal: $35 for two Aperol Spritz, an entree size of the XO salt and pepper squid, and two Peking duck spring rolls to share. Book here, offer valid until 13 March 2022.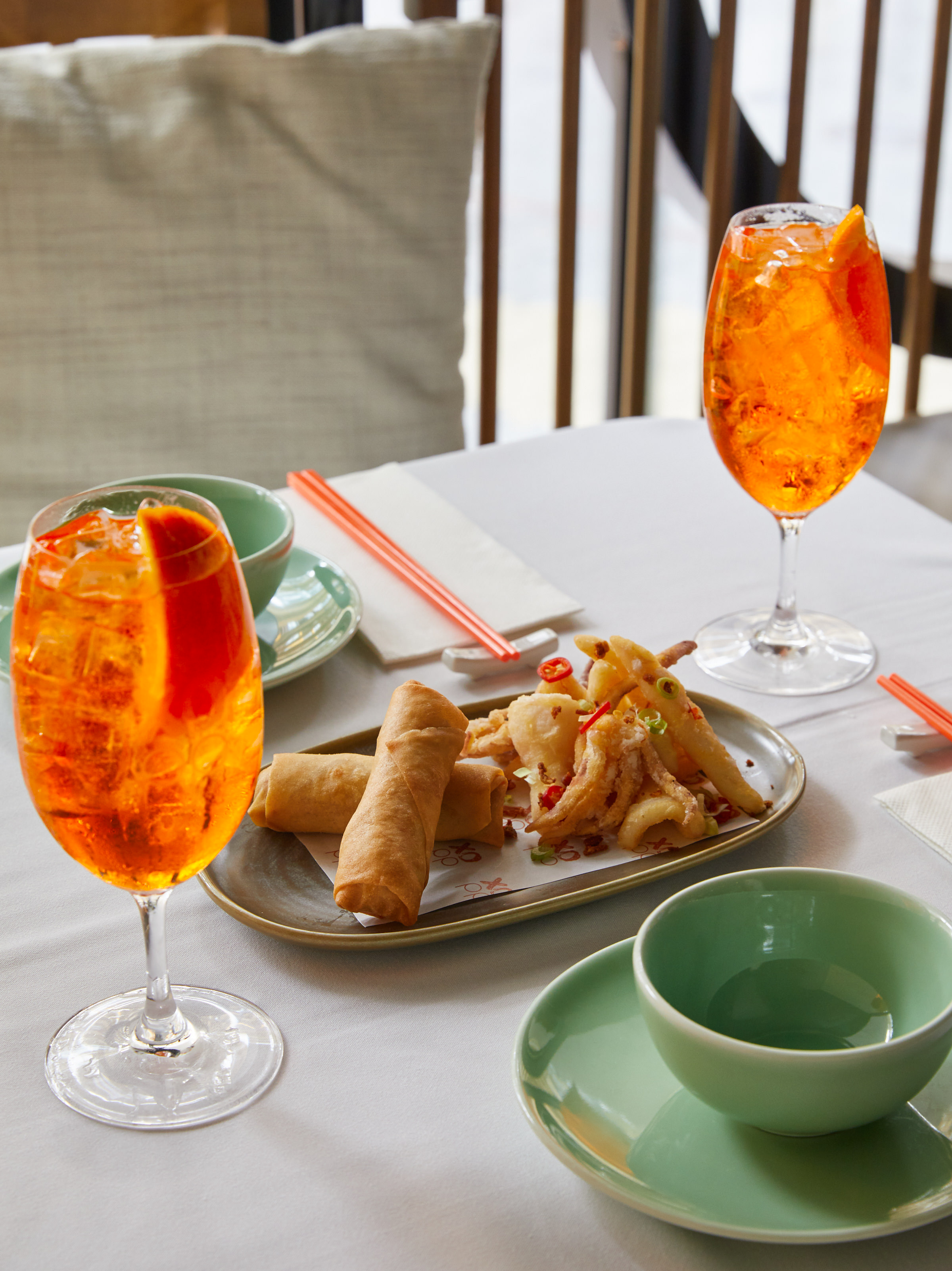 This summer, travel the world with your tastebuds and indulge in these six exclusive share plates, thanks to Aperol. But be quick, this deal is valid until 13 March 2022.
Better still, you could win an internationally-inspired Sydney staycation by entering here. We'll cheers to that.
Image credit: Yasmin Mund