There are plenty of things we've become competent at making for ourselves at home. But if there's something we'll forever leave to the experts, it's fried chicken. There's unimaginable magic that happens when you combine a tender piece of chicken with eggs, flour, spices, and maybe cornstarch or buttermilk. Out of the deep fryer comes a miracle in the form of a hot piece of golden fried chicken.
Sandwiches, burgers, tenders, drumsticks, wings, thighs, breast, southern, spicy, buffalo, sticky, American, or Korean—we'll take them all, and Sydney is delivering the delicious goods. Choose your spice, ready your sauce and grab a napkin. Here are the best places in Sydney for fried chicken.
Honey
Darling Square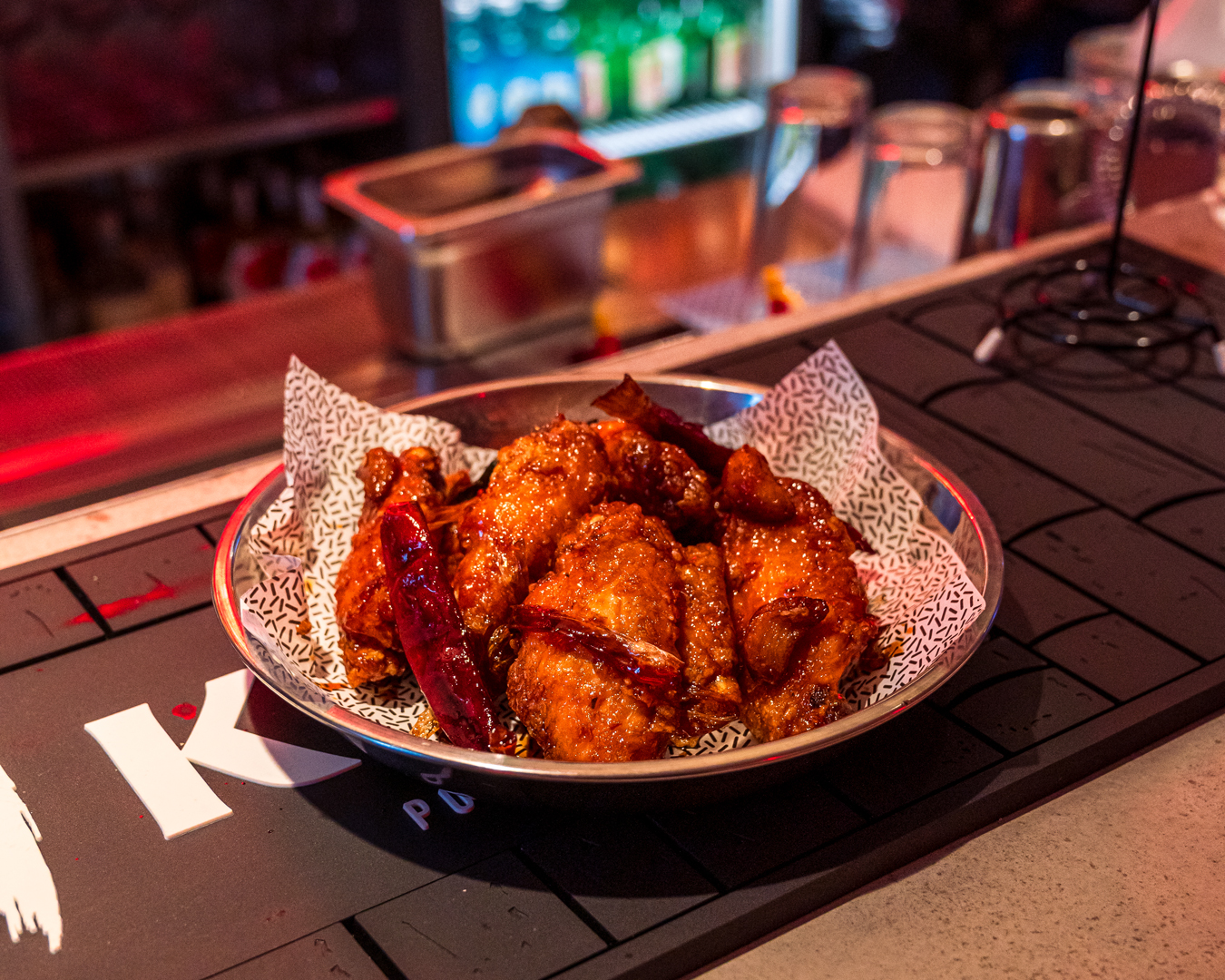 If you like your fried chicken with a side of K-Pop and lashings of neon, pop Darling Square newcomer Honey on your radar. Loud, vibey, and literally drenched in neon lights, Honey is inspired by the nightlife of Seoul and serves a menu of Korean "Pocha" or late-night snacks. The highlight of the snack menu is the Korean fried chicken, served crispy and juicy and best enjoyed with Honey's icy cold house beer. If you're keen to venture beyond fried chicken, Honey's Pocha menu also includes their take on Korean Bulgogi pizzas—Korean-style Bulgogi beef served on a fluffy pizza base and typically topped with mozzarella, kimchi, and other fun seasonings.
Butter
Surry Hills, Parramatta, and Chatswood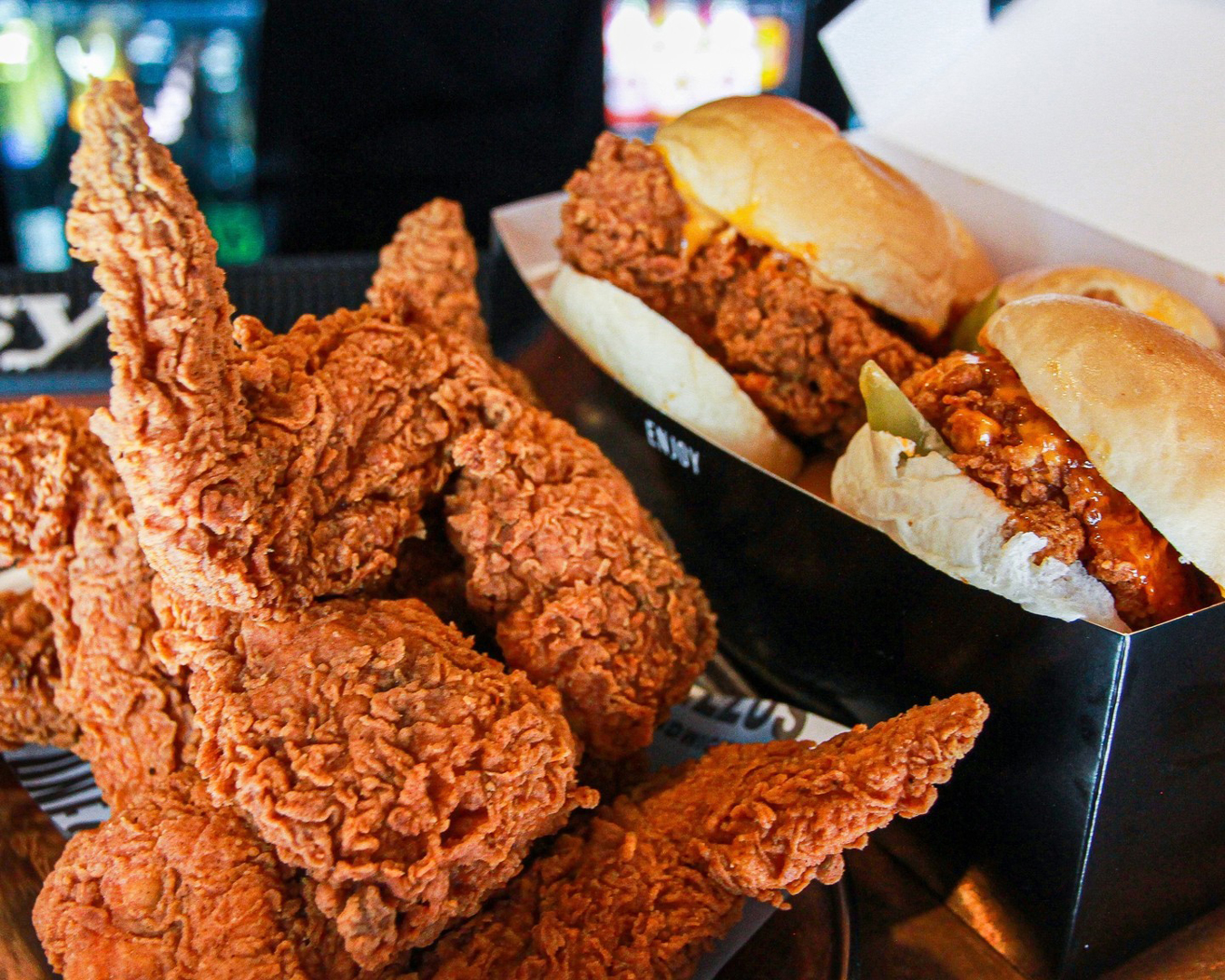 Since opening up the first Surry Hills outpost back in 2016, Butter has made a delicious mark on Sydney's fried chicken game—and we've never looked back. With rare sneakers for sale in the front window, hip-hop playing over the speakers, Hennessey cocktails on offer, and fancy champagne in the fridge, Butter is a vibe like non-other. But it's with its beautiful golden fried chicken that the eatery has made a name for itself.
The traditional "O.G." sandwich is a true ode fried chicken in America, served simply with a fried chicken thigh, dashi butter, and pickled cucumber between buns. Butter's fried chicken doughnut topped with salted butter and pure maple syrup has also become the stuff of legend here in Sydney. However, our pick is the "Master Spice", with your choice of heat, spicy mayo with pickles, and double cheese. Make sure you order up some chicken wings or tenders as well, to be promptly dipped in mash and gravy or into brown onion gravy and tonkotsu ramen broth during winter.
Belles Hot Chicken
Barangaroo and Forest Lodge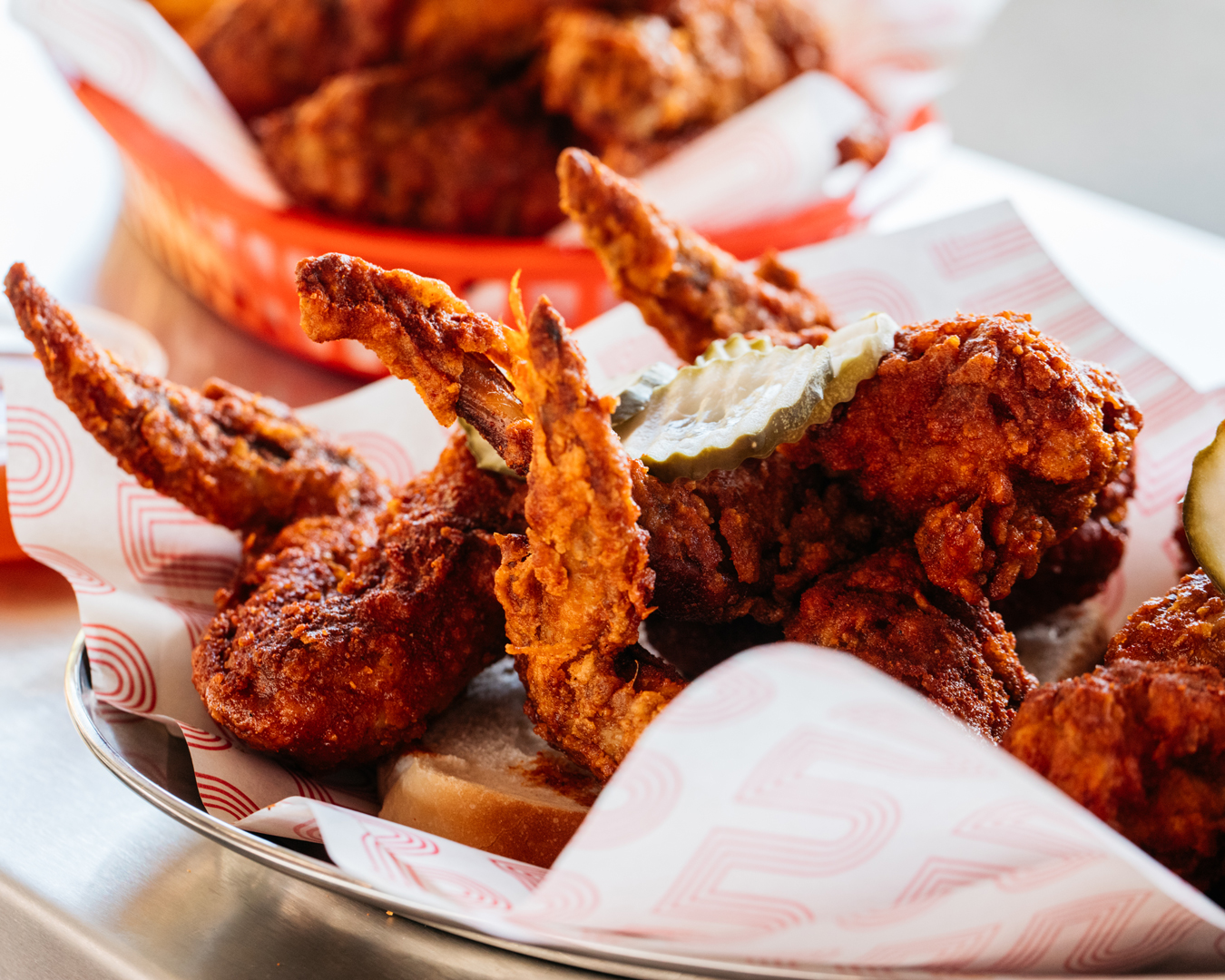 Originating in Melbourne's Fitzroy in 2014 as a wine bar with hot chicken, Belles Hot Chicken soon made its way North to Barangaroo for a pop-up—and the rest is history. We now have three locations for absolutely bang-on fried chicken. Ditching Sydney's fine dining scene, founder Morgan McGlone found his passion for spicy but tender chicken during a stint in Nashville (if you don't know, that's a hell of a place for all things hot fried chicken).
From tenders to drumsticks, from hickory BBQ to Mississippi Comeback sauce, and from heat levels of "southern" to "really f**cking hot"—you can't really go wrong on this menu. But in our mind, the classic spicy chicken sandwich is always a winner with chicken thigh tossed in "traveller" spice, lettuce, onion, cheese, and what they call "good-good sauce", which we'll attest is indeed very good.
Super Nash Brothers
Waitara and Waterloo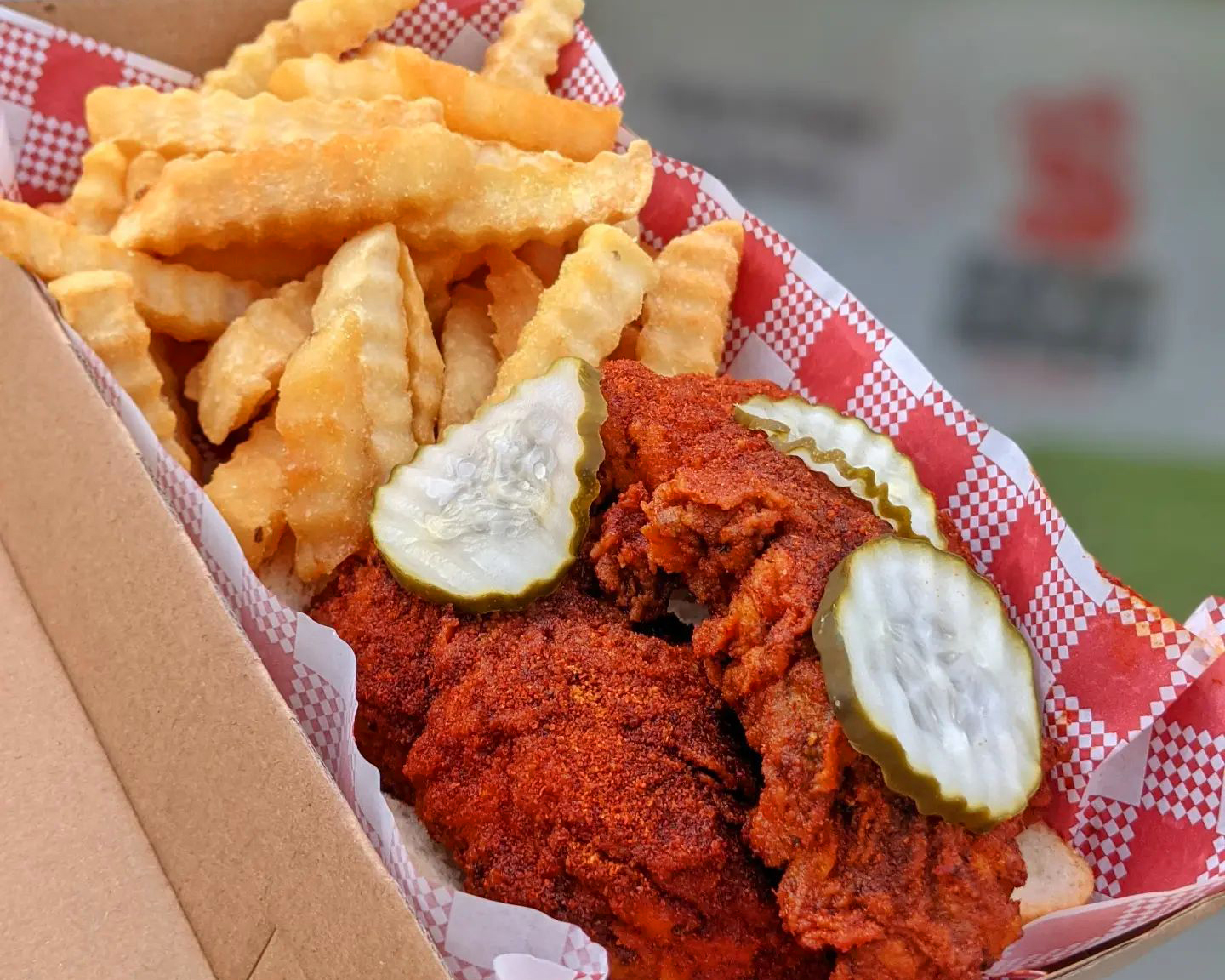 Remember how we mentioned that Nashville-style fried chicken is the bee's knees? Well, there's plenty more where that came from up North in Waitara, courtesy of Super Nash Brothers. If you're searching for that good stuff, look out for spiced fried chicken batter that almost reaches a deep red hue–that's when you know you've hit Nashville gold. It's also when you might need more than one (or eight) of those tiny wet wipes after eating.
The Waitara shop keeps it nice and simple, offering a few combos with crinkle-cut chips and cans of drinks–as a good takeaway shop should. Choose between a sando, tenders, or thigh, and you're on your way. If the Upper North Shore is a little out of your way, keep an eye out for their travelling food truck taking fried chicken on the road.
Mary's
Newtown, Circular Quay, and CBD
The crew who once upon a time opened a tucked away burger joint on Mary Street just off Newtown's main strip nailed two critical things: a simple, killer menu and some eternal rock n roll vibes. The classic Mary's burger undoubtedly belongs on any list of Sydney's best or most iconic burgers. Before expanding to other locations in the past few years, fried chicken existed only as one of the best burger-accompanying sides in town. You could order a half or a whole bird and go to town with grease running down your arms and not a care in the world. That still occurs today, of course, but make sure you also check out Mary's chicken burger or spicy chicken burger. And we highly recommend adding some trashcan bacon to that order. If you're in a Mary's venue and searching through the candlelit darkness for a menu—they're usually written on the walls.
Johnny Bird
Crows Nest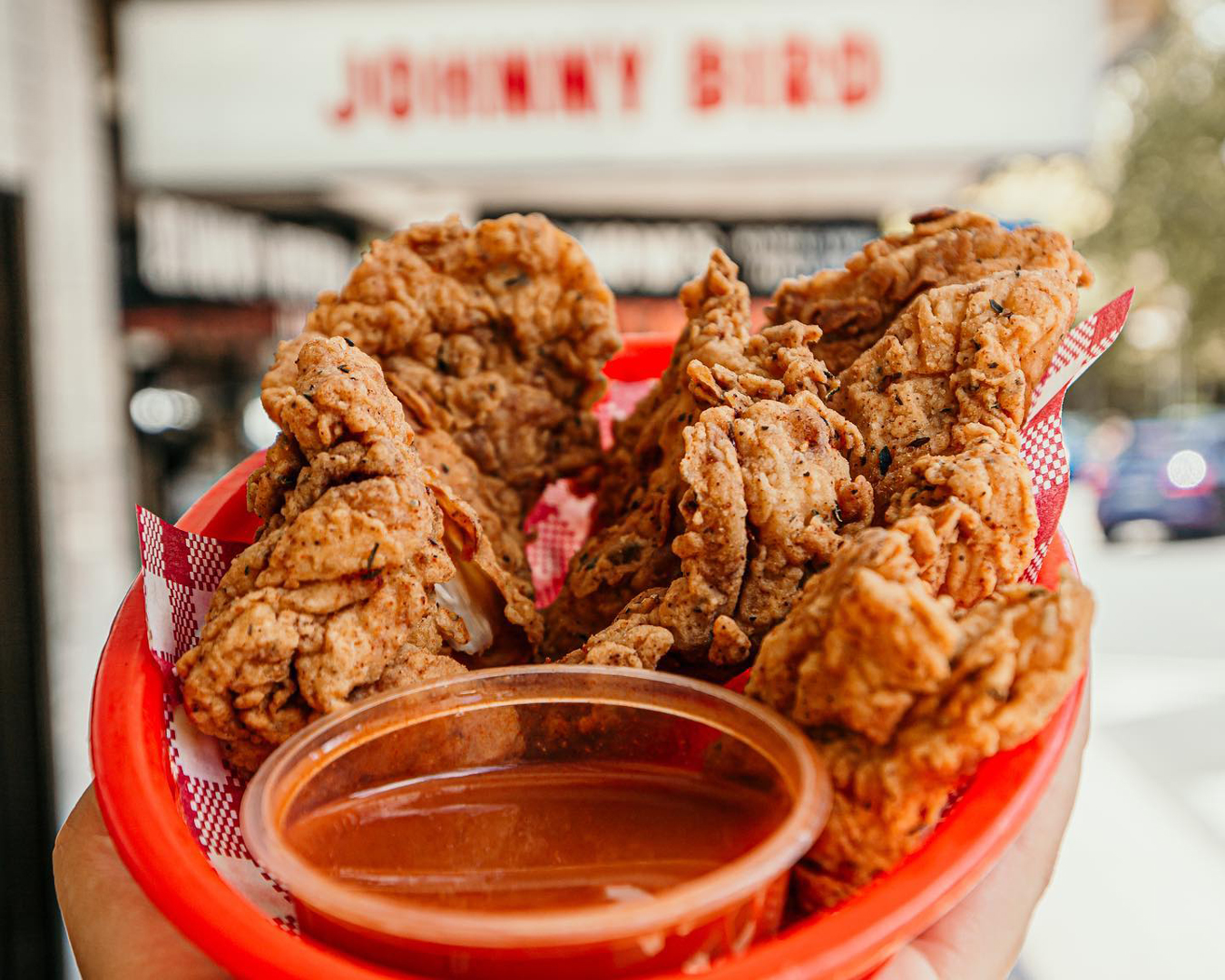 You might remember that until 2018, Johnny Bird was called Johnny Lobster. But after realising more than half of their sales were actually coming from their fried chicken options, owners Jason Hall and Tom Baker decided to change Johnny's last name and, consequently, his menu. Today, other than a cheeseburger and some legit-good tofu and vegan options, the menu is lovingly dedicated to chicken.
Here, fried chicken comes in all forms—tenders, thighs, sticky wings with your choice of sauce, in popcorn form, or on loaded fries. But as usual, it shines on burgers. You can't go wrong with the classic "Johnny Burger" with fried chicken, pickles, coleslaw, tomato relish, and chipotle mayo. But for something a little different, try the "Sticky Ricky" fried chicken burger with sticky Szechuan sauce, lettuce, spring onion, and sesame. Add a side of mac & cheese or southern slaw, and you're on your way to food bliss.
Thirsty Bird
Newtown and Potts Point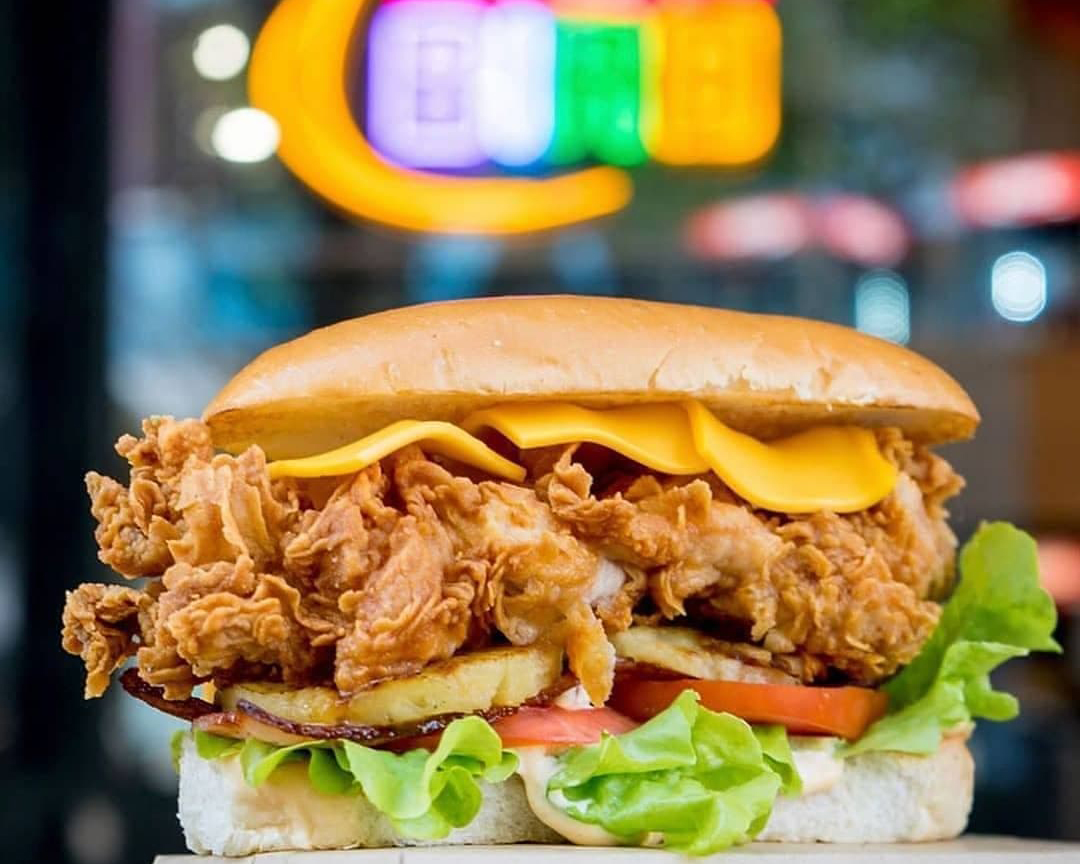 When news broke in 2016 that the legends behind Darlinghurst's Mr Crackles were opening up a new shop specialising in fried chicken, expectations were very high. Five years later, and with a second Newtown store open, let's just say those expectations were met and smashed out of the park. A regular visitor might love Thirsty Bird for their loaded waffle fries, tater tots, bacon mac n cheese, buffalo wings, or maple syrup-covered Belgian waffles. But as you probably expected, it's the southern fried chicken that keeps us coming back again and again. Order it as an original piece set numbered to your liking and with whichever dipping sauces you prefer or placed inside a burger.
Again, sandwich choices are aplenty with options that include pineapple and bacon or jalapeno salsa and chipotle mayo. We look straight to the classic southern fried chicken burger, on a bun softer than air and with fresh slaw and special sauce.
Redfern Surf Club
Redfern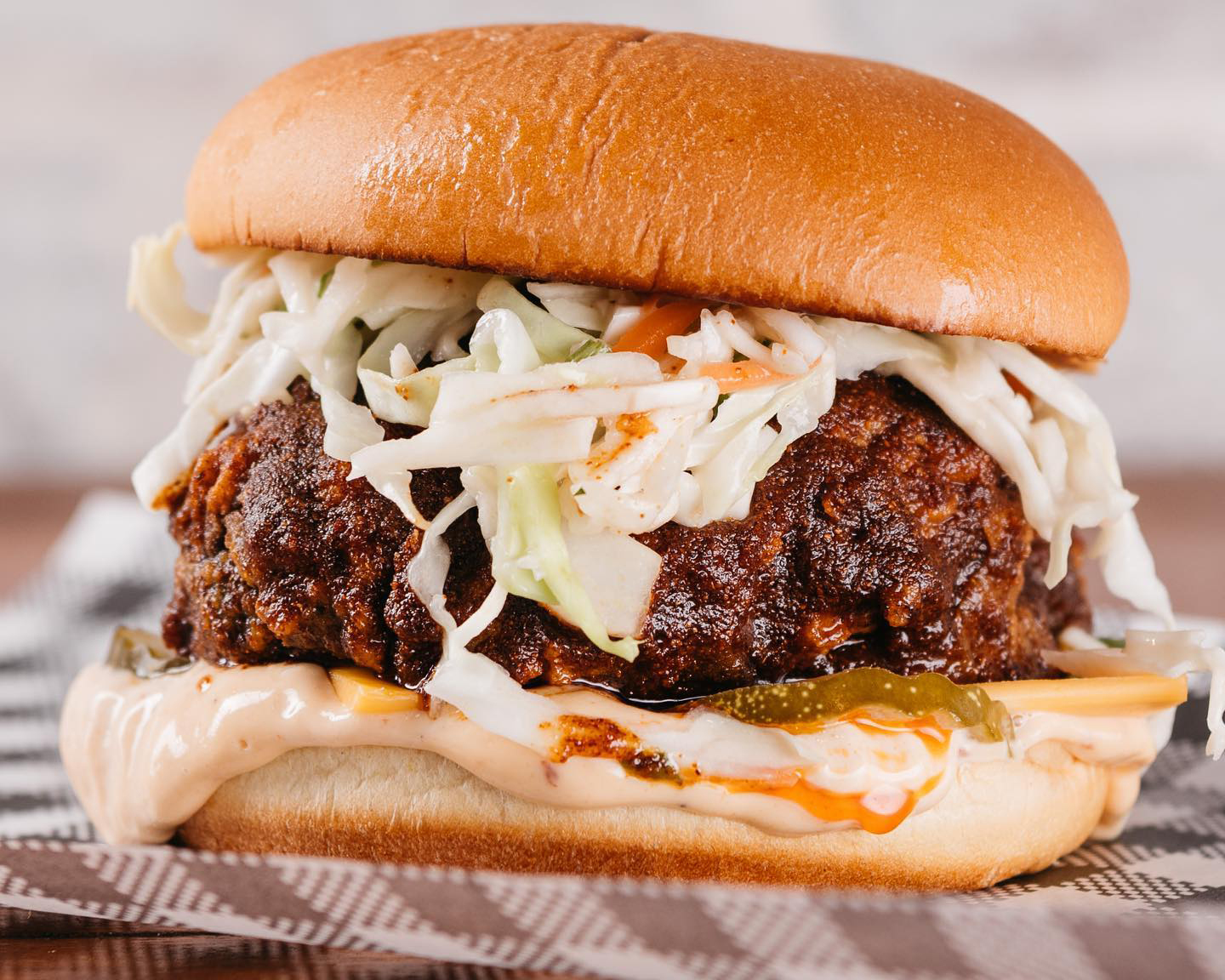 Since swinging open its doors back in 2018, Redfern Surf Club has brought all the chill surf club sausage sizzle vibes to bustling Botany Road—and we definitely dig it. Being in Redfern, this neighbourhood bar isn't technically a surf club (you won't find sand or surf boats out the back, for example), but it is inspired by the culture of the iconic Australian beach clubs—and their cheap drinks. Alongside the surf rock soundtrack, Aussie beers on tap, and cute signature cocktails, Redfern Surf Club's menu has also caught the eye of fried chicken fiends in Sydney.
Redfern Surf Club's fried chicken burger is one of the most underrated in Sydney. The menu also ticks off a buffalo chicken burger with Franks Hot Sauce crispy fried chicken, and a hot chicken burger, with Cayenne chill glazed Southern fried chicken. Each comes served on a pillowy potato bun. Delicious.
Clem's Chicken Shop
Newtown
An absolute icon of King Street, Clem's has been in the fried chicken game since 1982. Clem's is a go-to for a late-night feed, serving roast chicken, veg dinners, potato salads, and, of course, mouthwatering fried chicken, this family-owned and operated spot holds a place in many Sydneysiders' hearts. It's a simple chicken affair here—don't expect the bells and whistles of some of the trendier spots on this list. Order up fried chicken in five or nine-piece packs, with or without chips, in a burger, or as a slab of schnitty. Sometimes, it's the simplicity that really hits home.
Newy Fried Chicken
Newcastle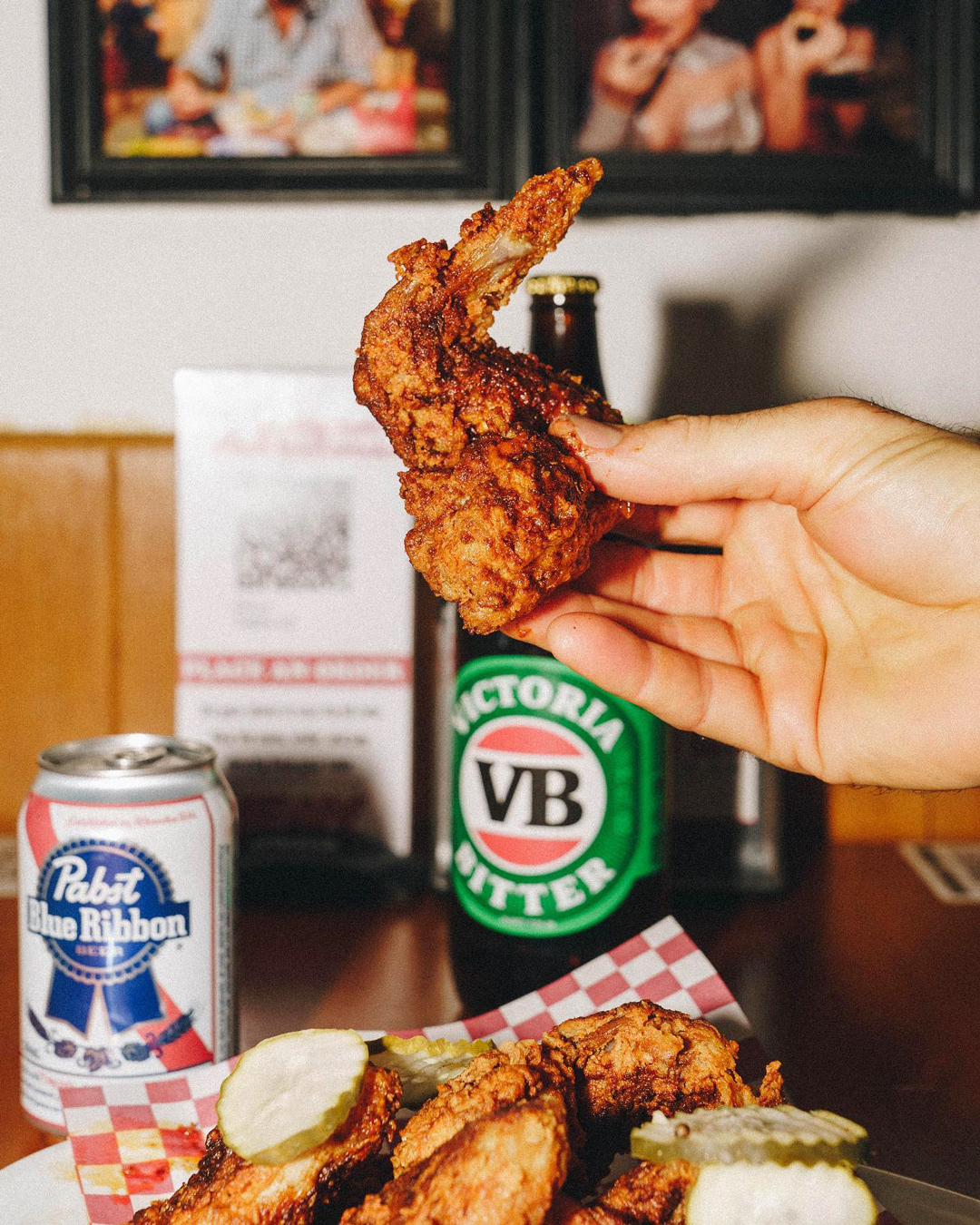 Ok, we're stepping outside of Greater Sydney here. But we hope you'll indulge us because a few of you guys shouted this spot out over on Instagram—and we do love a good road trip, especially where fried chicken is involved. Specialising in Nashville-style fried chicken, Newy Fried Chicken is Newcastle's only dedicated fried chicken joint, and it also rivals some of Sydney's top spots. From the classic fried chicken sando with Carolina slaw and housemade comeback sauce, to the Sunday sando with hi-melt American cheddar, to the "Boujee Bucket" packed out with 20 pieces of bird, fries, pickles, and sauces, that car ride up the Pacific Highway will be well worth it.
Wing Shack
Kings Park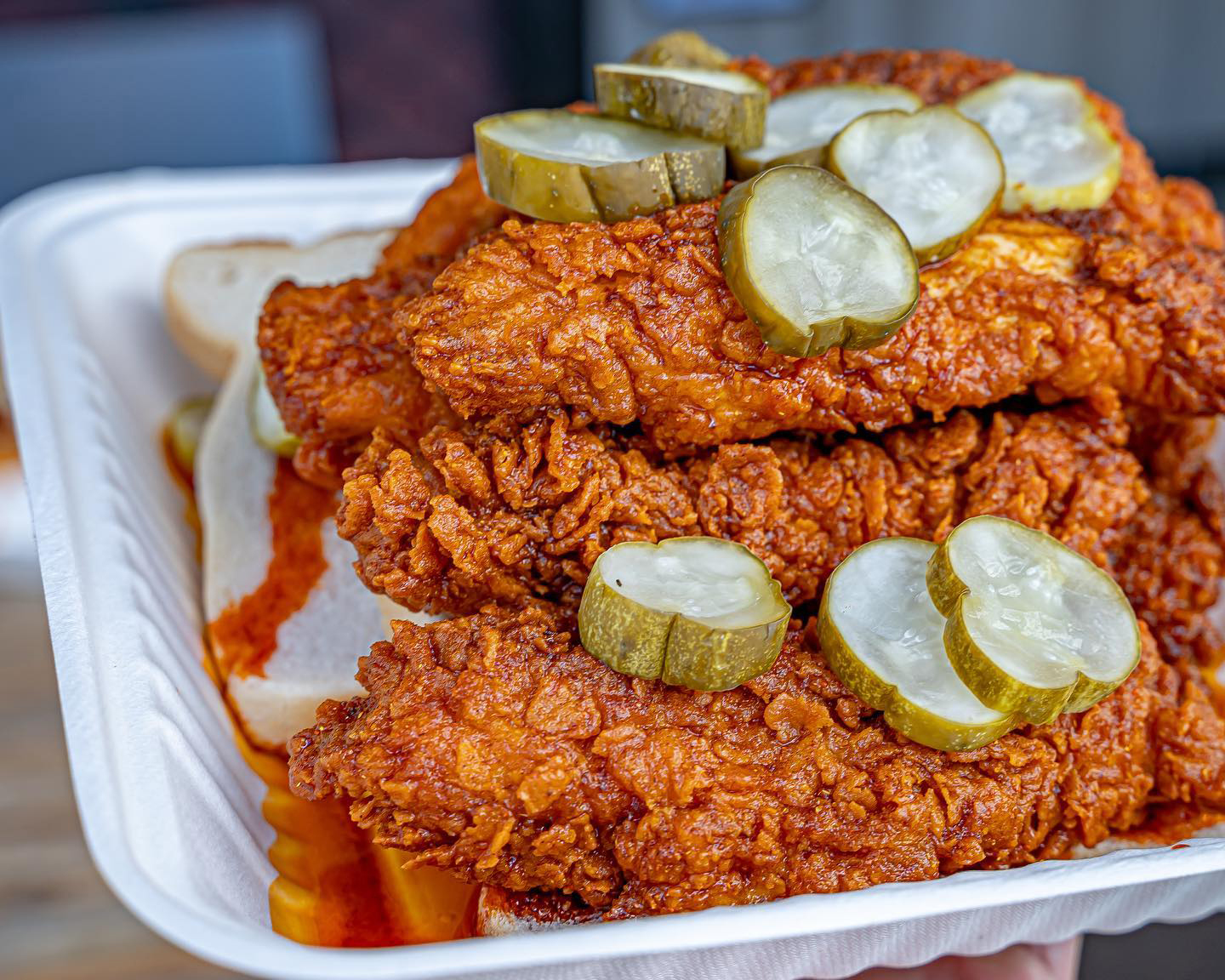 Wing Shack sounds like a place straight out of the United States. And we don't think the owners would mind that connotation attached to their name one bit, with the burger and fried chicken joint initially born out of love and admiration for American cuisine and authentic southern fried chicken. From the humble beginnings of market stalls around Sydney in 2017 to their now bricks-and-mortar home in Kings Park, Wing Shack delivers American eats in a big way.
For fried chicken, the choices are simple—it all comes down to how you like it. Original or Nashville spices, wings, or tenders? There are plenty of sauced-up naked wings, too, if you prefer. But if you're really hankering for a chicken fix, this slate of burgers is no joke. Options include cheesy BBQ, buffalo blue cheese, Nashville spicy, Southern classic, or honey sriracha. Those options are also available in wraps if you feel like pretending you're having a healthy day. Finally, this is a big if-you-know-you-know: American-style biscuits are also on the menu.
Suzie Dukes
Ingleburn, North Rocks and Kareela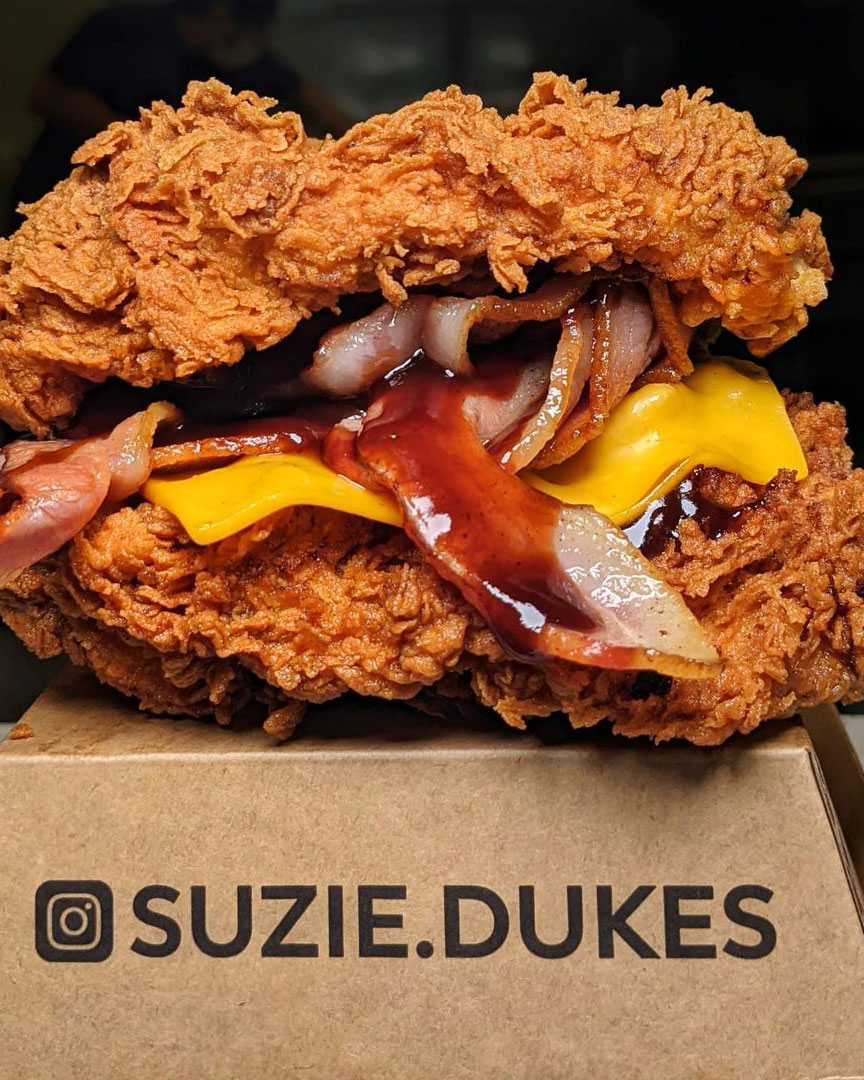 When it comes to putting up delicious and unique flavour combinations on burgers, Suzie Dukes has a confident command of the game. With a secret fried chicken coating and soft milk buns baked daily in their neighbouring bakery, this burger joint receives a well-deserved spot on this list.
From the regular menu, choose between a classic buttermilk fried chicken burger with oak lettuce, tomato, onion, and aioli, or spice it up with house slaw, pickled radish, and sriracha mayo. Pair that with one of their monstrous shakes (we recommend going for Nutella) and loaded fries—and you've got yourself one hell of a cheat day. But like all creative burger lovers, Suzie Dukes also keeps us on our toes with specials that in the past have involved doughnut or waffle burger buns, buffalo chicken, honey, hummus, pancakes, and so much more.
Bar Luca, BL Burgers, And Loaded by BL
CBD, Newtown, Parramatta, and Darlinghurst
In whichever store form and wherever in Sydney, the burgers originally conceived in Bar Luca's CBD restaurant are some of this city's best. There's a good chance you already know the signature, maple-bacon and poutine-filled "Blame Canada" burger. And while the menus from Bar Luca spinoffs BL Burgers and Loaded by BL are more so dominated by beef creations, don't discount what these folks can do with some fried chicken either.
Alongside southern fried chicken tenders and fried chicken wings served in sauces like buffalo and ranch, habanero hot sauce or chipotle BBQ is the "BL Chicken". The burger comes with a southern fried chicken thigh, American cheese, streaky bacon, lettuce, black garlic aioli, and chilli jam. Make sure you're also on the lookout for Bar Luca's weekly specials, which have featured some absolute chicken-tastic doozies. Including the recent "Belgian Dip", with southern fried chicken, maple bacon jam, double American cheese, and sriracha maple aioli, between two Belgian waffles, with a maple syrup dip.
Henrietta
Surry Hills
Opened in 2020 by the team that gave us nearby restaurant Nour, Henrietta is a Middle Eastern charcoal chicken joint that has become one of the hottest dine-in and takeaway spots on Crown Street. We hear your cries of "charcoal isn't fried", which is why we're delving a little further into the menu towards the fried chicken options that'll make you rethink your order. Once again, showing off the multitude of ways we can enjoy the crumbed protein in question is Henrietta's fried chicken burger with harissa mayo, tomato, and lettuce. Sounds simple enough, but like the charcoal chicken on offer or even the legitimately outstanding chips, this burger is a standout thanks to whatever spices are put into it. We'll just eat it and not ask too many questions. The fried chicken is also available as a side, served with garlic toum and pickles.
Stockman's BBD
Dee Why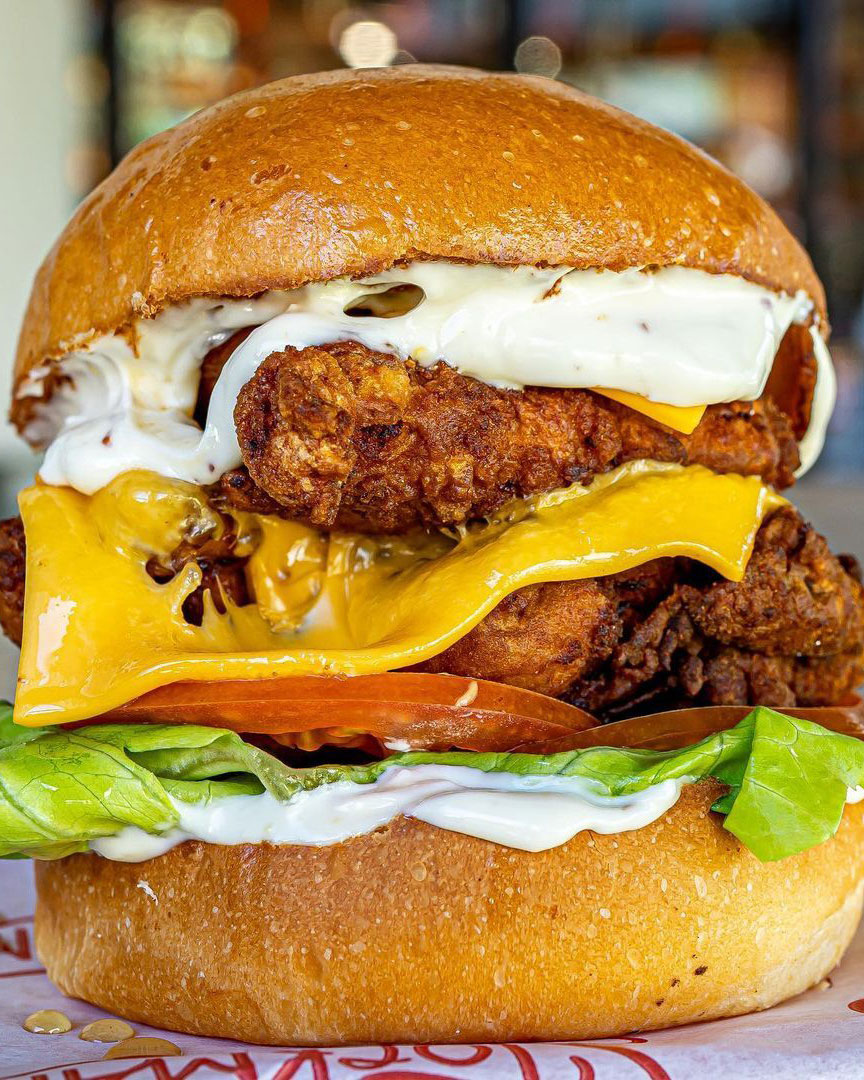 Opening up a shop on the Northern Beaches, it seems Stockman's BBD decided one thing about their menu: that everything on it would be far from ordinary. With that in mind, we're eternally grateful the Dee Why shop is dedicated to burgers, beers, and desserts (that's what the BBD stands for). If you're not ordering a plate of loaded waffles, a pina colada, a popcorn milkshake, or one of their wagyu patty beef burgers, we highly recommend anything with fried chicken.
For burgers, choose between the "Cluckaroo" with fried chicken, bacon, cheese, lettuce, tomato, and aioli, or the "Hot N Clucky" with jalapeno and pineapple salsa, cheese, bacon, fried avocado, and chipotle mayo. Otherwise, look for the Nashville chicken-loaded fries or the waffle chicken bites, deep-fried in house-made waffle batter and topped with parmesan cheese.
Ume Burger
Barangaroo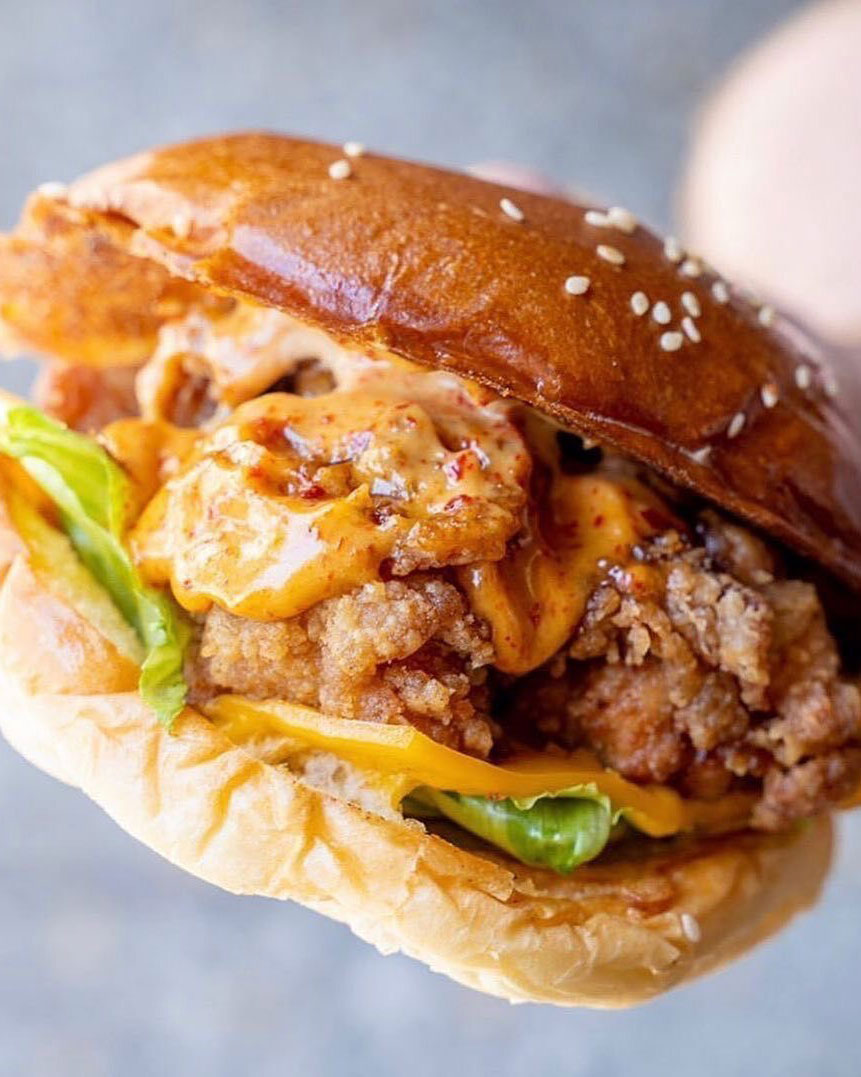 Last month came the news that Bourke Street's Bar Ume was sadly closing its doors. The restaurant had built a beloved following in a nearly decade-long run, shifting from an upmarket Japanese restaurant into one of the most unique burger dining experiences in town. Luckily for us, those burgers are still available at Ume Burger's Barangaroo outpost with an even more casual and simplistic vibe.
Here, the burger reigns supreme. With this list in mind, we advise you run mouth-first to the karaage burger. We're talking Japanese fried chicken, cheese, lettuce, and onion, with Ume spicy sauce and tonkatsu sauce. Or order that Japanese fried chicken as a side and dip it liberally in mayo. Pair that with a slate of drink options like Japanese beers and ciders, house-made sodas, Japanese whisky, or a Yuzushu spritz–happy days.
Sparrow's Mill
CBD, North Ryde and Haymarket
We now gladly enter into Korean fried chicken territory (the only KFC we'll be discussing here today). Sometimes, all we really want is a large plate topped with a mountain of fried chicken–and that's precisely what you'll get at Sparrow's Mill. In the stuff of dreams, these legends have concocted an entire menu dedicated to Korean fried chicken that is so bloody extensive you might cry a little tear of joy. Choose from options like the signature, sweet and spicy, snow cheese, hot chilli, gangjung (cinnamon and soy sauce), spicy garlic, or creamy onion.
El Jannah
Various Locations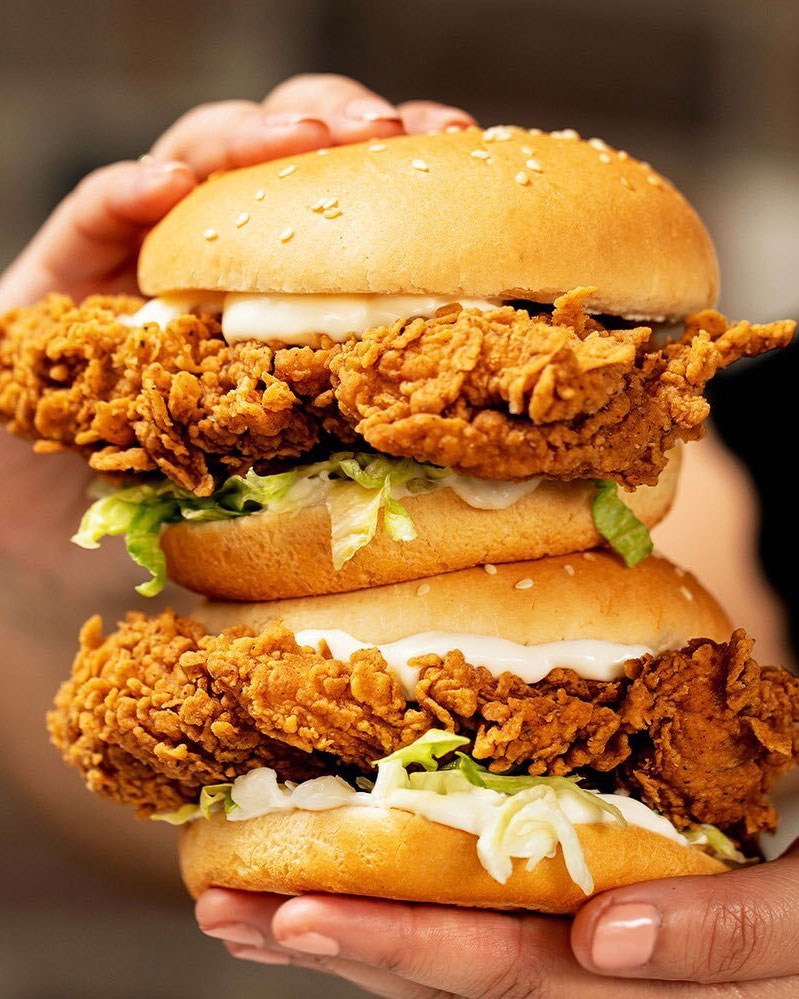 If you live somewhere across the Greater Western Sydney area, then you'll know that this list can't be whole without the inclusion of El Jannah. The cult Lebanese charcoal chicken store opened its first Granville location in 1998 and has since spread out across Sydney's West, with nine spots from Blacktown to Newtown and from Penrith all the way South to Kogarah.
We won't hold anything against you if you go straight for the takeaway shop's signature charcoal chicken with garlic sauce, pickles, and bread. But take a second to admire the perfectly golden and crunchy, southern-style fried chicken on offer as well. Tenders, wings, mixed pieces, on a burger with spicy mayo and lettuce, with a side of tabouli, coleslaw, or traditional hummus. It's hard to go wrong here.
Sandoitchi
Darlinghurst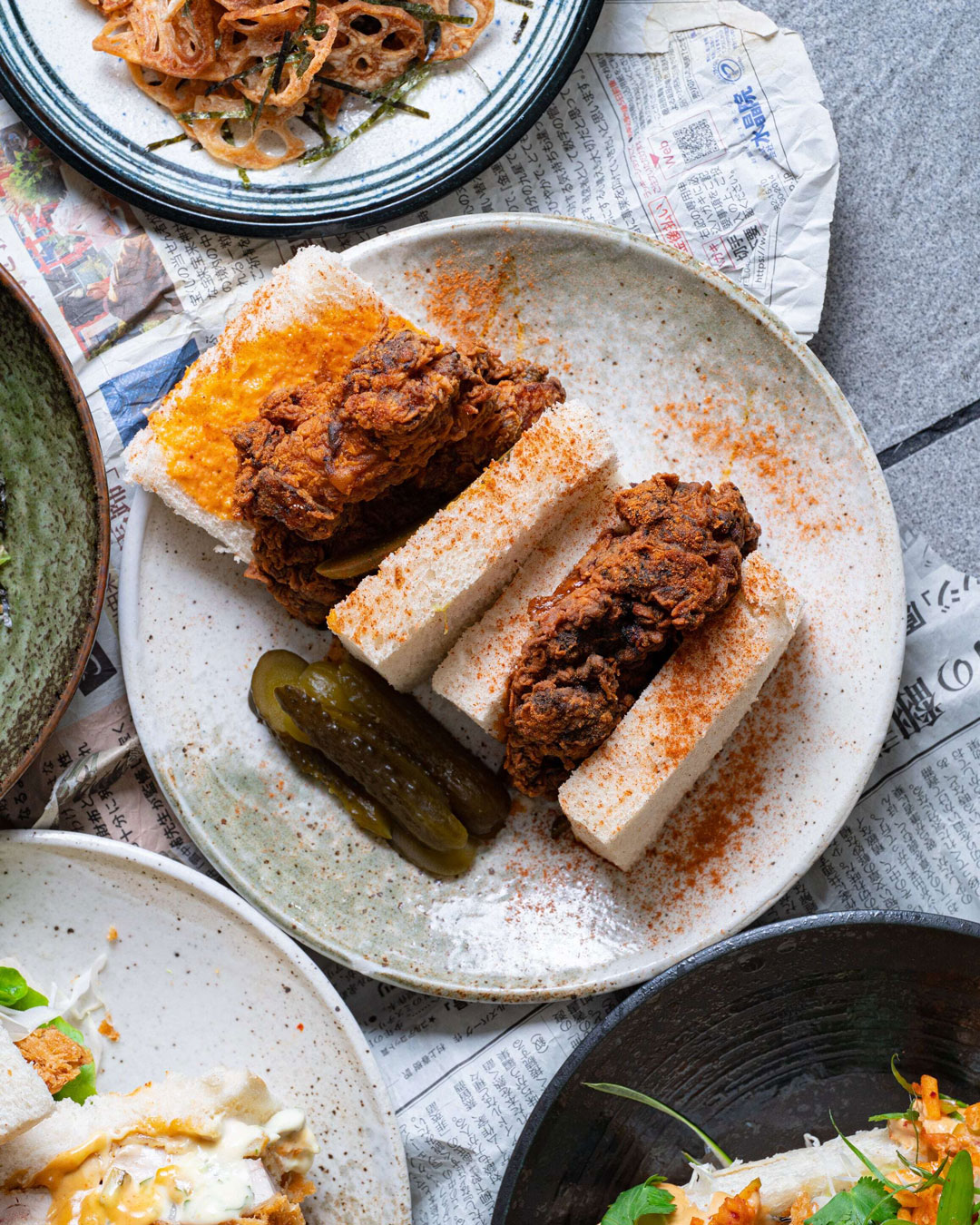 Sandoitchi has become well known for a few reasons: causing a long line down Oxford Street, delightful service, and their delicious Japanese-style sandos. There's plenty to choose from, including prawn katsu, pork katsu, fish katsu, or strawberry with yuzu whipped cream—none of which you'll regret ordering. But in the deep-fried poultry game, the buttermilk fried chicken sando is the go. In essence, this is a sandwich that absolutely nails simplicity, with beautiful and crunchy fried chicken, 'Sandoitchi seasoning', juicy pickles, and just enough spice with its sriracha mayo all brought together on soft and thick, crustless bread. But as revealed by Sandoitchi's chef and owner Pureephat "Bhas" Kraikangwan's recipe, the last thing you want to call this sandwich is simple.
Hot Star Large Fried Chicken
Various Locations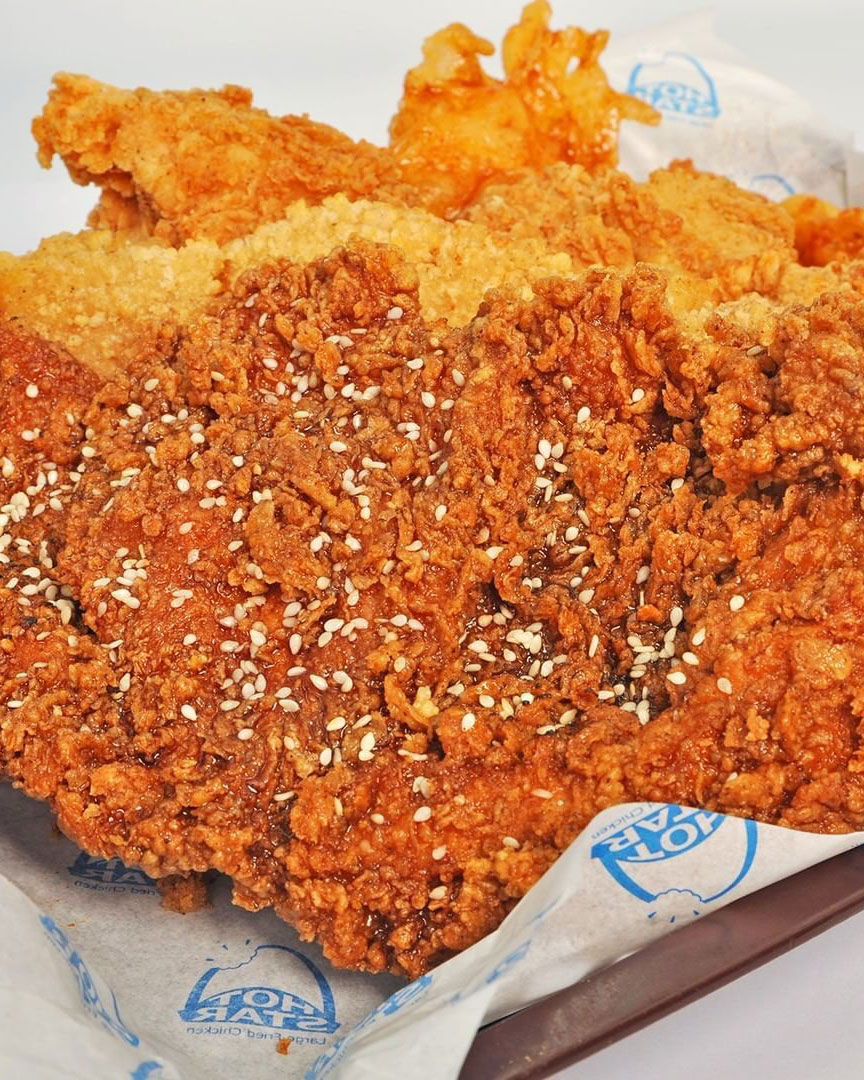 We all know the saying, quality over quantity. But a long time ago, Hot Star Large Fried Chicken asked, "why not both?" It's all in the name—these Sydney legends are delivering hot fried chicken, and it's large. First bringing the flavours of Taipei's Shilin Night Market to our city in 1992, the fried chicken joint now has 10 locations across greater Sydney and a few more around the country. At a Hot Star shop, XXL isn't just the shirt size you might need after tucking into some lunch; it's also a fried chicken size you can order. Fried chicken that requires a double-handhold, chicken bites, curly fries, a chicken "subwich" with gravy or chilli or cheesy chicken–there's a good reason these folks have been around for so long.
Fat Belly Jack's
Newtown (Pop-Up At The Marly)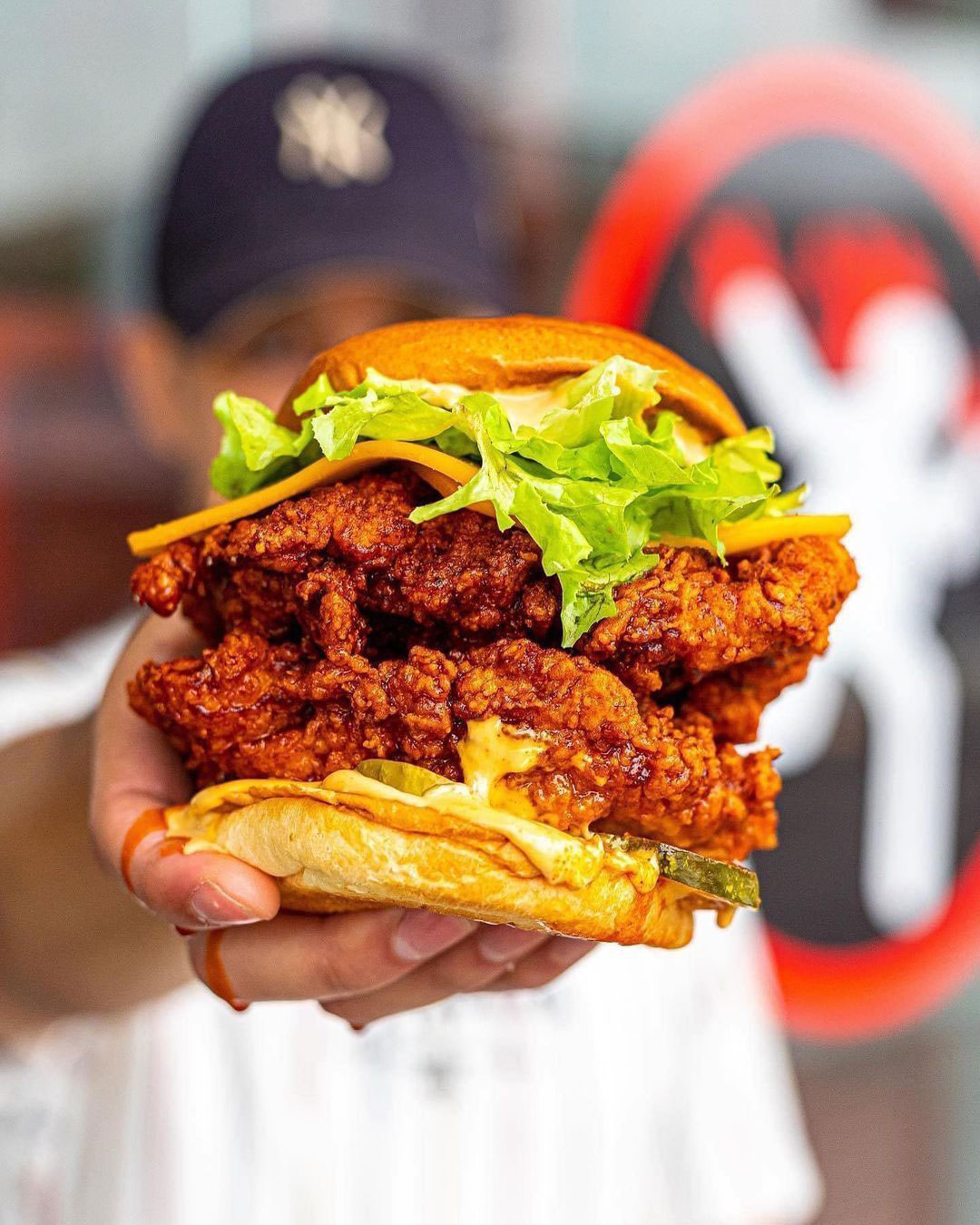 We realise that mentioning Sydney lockdown pop-up Fat Belly Jack's is perhaps dangerous. Those within its delivery range are likely to become attached to the Nashville fried chicken takeaway joint only to have them disappear when things return to the norm. Well, our mentality is more so leaning towards—let's force them to find a permanent spot here in Sydney.
Originally from Brisbane, Fat Belly Jack's was established by Sydneysider Ben Kagan, who has brought a limited menu home to keep us fed and happy during this lockdown period. Currently operating out of The Marly in Newtown, the burger joint is offering a small but killer menu. The three options are a traditional Nashville fried chicken (or tofu) burger with oak lettuce and red-eye mayo, a Kentucky, southern-style fried chicken burger with American cheese, Kentucky BBQ sauce and sweet mayo, or something completely different with truffle aioli, Kentucky slaw, bacon chunks, and Swiss cheese. This may disappear as quickly as it arrived, so make sure you order ASAP. Check out the pop-up's opening hours and more here.
Flying Tong
Newtown
Flying Tong has a simple tagline: "chicken x beer". Tick, tick. Drink choices range from Korean beers on tap to Inner West local craft brews and from traditional soju to unfiltered rice wine. But make sure you leave plenty of room for some fried chicken. As always, you can't go wrong with some original Korean fried chicken in all its golden, crispy goodness. But if you're ordering to share, shake things up with soy garlic, sesame seed, and spring onion, "spicy bomb" with chilli flakes and coriander, or sweet chilli with crushed peanut and parsley.
Need something sweet? Here's where to find Sydney's best vanilla slice.
Image credit: Thirsty Bird Butter, Honey, Kitty Gould, Super Nash Brothers, Johnny Bird, Thirsty Bird, Redfern Surf Club, Newy Fried Chicken, Wing Shack, Suzie Duke's, Stockmans BBD, Ume Burger, El Jannah, Sandoitchi, Hot Star, Fat Belly Jack's