No, your eyes do not deceive you. Lobster rolls are everywhere right now and for good reason too. Simply—the pandemic has put a halt to Australia's international exports, which has meant the price of lobster has been on a steady decline. The knock-on effect? Well, you're going to be seeing a lot more of the red tail and claw this summer.
So, we thought we'd start off this pending crustacean craze with the almighty lobster roll which will no doubt be your bite of choice over the next few months, and who could blame you?
Buttery, crunchy, and chunky—no wonder Cardi B is savage for them.
Read on for the best lobster rolls in Sydney.
Bart Jr
Redfern
Let's give a hand to the lobster roll of the hour. What started off as a limited-run special has now evolved into one of Sydney's cult lockdown feeds and for good reason too—it's bloody delicious. In fact, these lobster rolls are so tasty that they sell out every week, so pre-ordering as early as possible is non-negotiable. For now, you can order this lobster roll for lunch every Friday through Bart Jr's BART-MART, a lockdown pivot from the Redfern's usual wine bar antics making it easy for patrons to order hampers, pies, fish burgers, natural wine, takeaway cocktails.
As for what this creation gets loaded up with, you'll find a salty combo of WA Rock lobster and local King prawns, tarragon-dill-horseradish mayo for a mighty kick, soft lettuce leaves, and garlic butter all on a warm milk roll. To snack between bites of this morsel, you'll also get a side of French fries.
Bart Jr is currently open for takeaway. Order here.
Viet Hoa Oyster Bar & Kitchen
Cabramatta
Having opened its doors back in 2016, Viet Hoa Oyster Bar & Kitchen is a serious treasure trove of Asian fusion seafood dishes, fish and chips, and, unsurprisingly, a seafood bar that whips up fresh oysters and fine cuts of sashimi on the daily. Heaven. When you've got a hankering for the mighty morsel that is the lobster roll, the team here cooks up a creation like no other (honestly, you won't find it anywhere else in Sydney).
The Viet Hoa crew source lobster tail from Sydney Fish Markets, ideally because the tail is undoubtedly the best part if you're wanting firmer meat than the claws. From here, all the meat is cut out, mixed with housemade salad dressing (a concoction of olive oil and Italian dressing), and left to marinate for 24 hours. Then, the lobster gets thrown on the grill in a glorious fry-up before being added to a soft roll. Finally, it's a few lashings of kewpie mayo, sriracha mayo, a topping of melted mozzarella and tasty cheese, and a sprinkle of paprika.
Viet Hoa Oyster Bar & Kitchen is currently open for takeaway.
Fish & Co
Tramsheds
A casual dining restaurant, takeaway fish and chip shop, and a haven of sustainably caught wild fish all in one, Fish & Co makes it all that much easier for you to load up on the good stuff (Cardi B-style) with good conscience. The idea is that everything that's been caught in the ocean has been caught with minimal impact on its surrounding environment, with seafood only being sourced from fisherman and fisheries that are entirely committed to sustainable fishing practices.
The lobster roll here will set you back a very worthy $20 with trimmings sitting in, what we're calling, a very fluffy bread boat. The roll gets generously buttered, packed with lobster, and filled with crunchy lettuce and zingy lime aioli.
Fish & Co is currently open for takeaway and delivery. Order here.
101 Kissa
CHIPPENDALE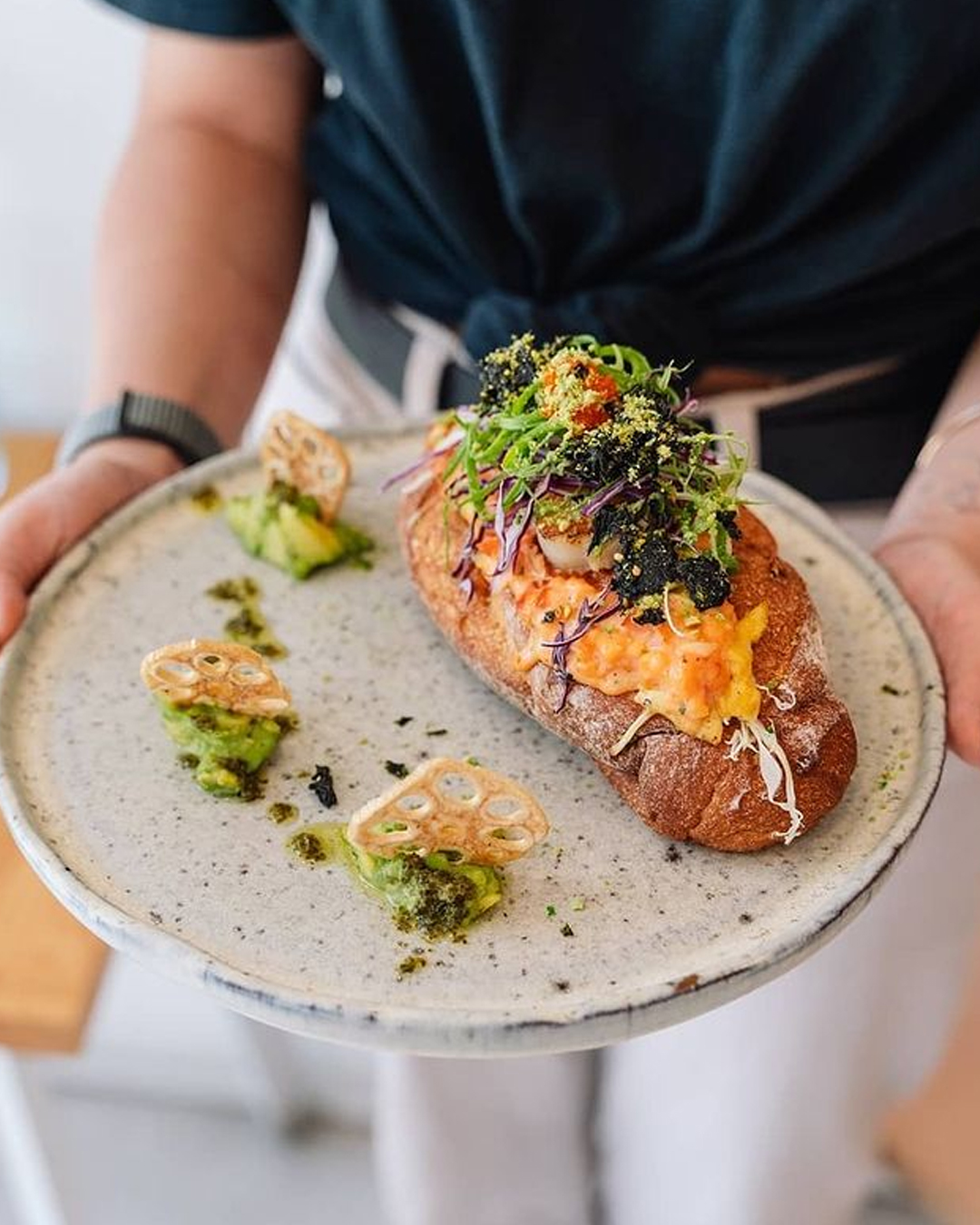 If dining al fresco with a mega lobster roll in hand is high on your agenda (perhaps featuring a four-legged companion too), you'll want to lap up the goodness at Chippendale's 101 Kissa. With a menu bent on bringing the best of Japanese and Asian fusion, dig into this cafe's famous jumbo lobster and scallop roll because it's the juiciest in Sydney, period. Nothing less than a work of art, this lobster roll is treated to a touch of wasabi, a soft omelette, Tasmanian sea scallops, lotus chips, and caviar because you should always Carpe Diem.
​​101 Kissa is currently open for takeaway.
Peter's Sydney Fish Market
Sydney Fish Market
As the beating heart to our city's booming seafood scene, it should come as no shock that you can most definitely find one of Sydney's best lobster rolls at Sydney Fish Market. Humbly created within the bustle of the store that is Peter's Fish Market, this tasty seafood log can be found at The Aburi Bar, home to blow-torched cheesy scallops, baby octopus skewers, and Mentai King crab legs. Made with rock lobster, the entire feast is an epic train of said lobster meat, melted cheese, and fresh fish eggs all tucked into a sweet brioche bun.
Peter's Sydney Fish Market is currently open for takeaway and delivery. Order here.
Now, check out all the major food news in Sydney this week.
Image credit: Destination NSW, Viet Hoa Oyster Bar & Kitchen, 101 Kissa, Peter's Sydney Fish Market