Whether you've got a soft spot for sweet potato or you simply subscribe to ethical eating, plant-based eats are quickly taking over the Brisbane burger scene. And sure, to start with, things were a little dicey on the flavour front, but thanks to v2food and their plant-based burger patties, you can enjoy food that's good for you, good for the planet, and even better for your tastebuds.
Loaded with all the nutritional goodies burgers are usually lacking, go grab a big juicy burg to try it for yourself with the added bonus of getting your daily hit of protein, iron, and vitamins while supporting your local. Sounds like a win-win? We thought so, too.
So go on, really lean into that 'Taste-a-tarian' lifestyle and make your way through the best places for a tasty plant-based burg. The planet will thank you for it—and so will your stomach.
Bonditony's
Bondi Beach
If you haven't been to Bonditony's, get out from that rock you've been under and drive yourself down to Bondi Beach. The family-owned burger joint has adopted a rock and roll theme, paying homage to the owner's former life in the music biz. Their field-to-fork mentality means you're always getting the freshest produce, especially if you're ordering off their plant-based menu. Score a seat outside in the afternoon sun and shine a light on the benefits of ethical eating, while making the most of a drool-worthy meal.
Piccolo Me
Royal Botanic Gardens, Crows Nest and Guildford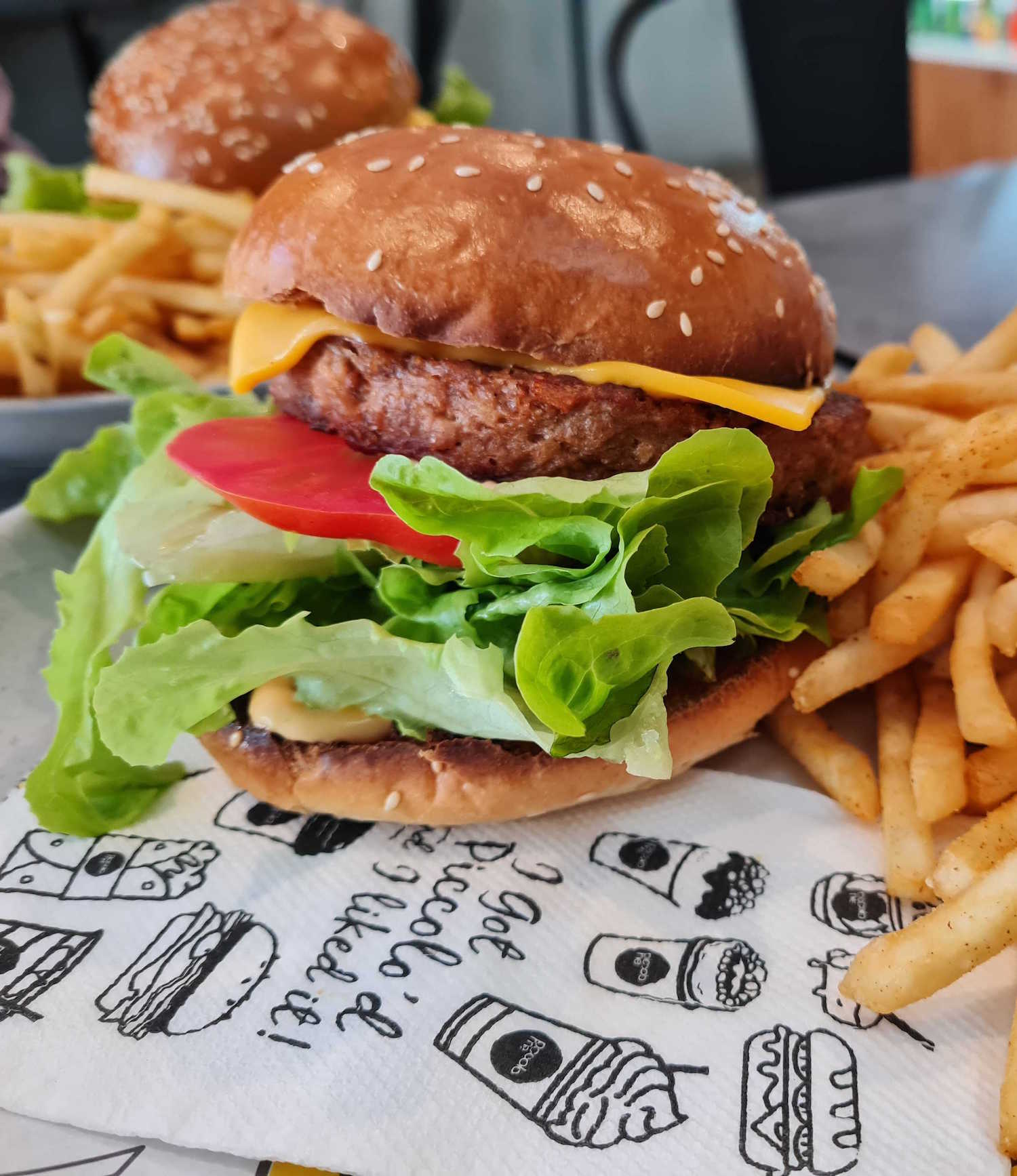 Coffee, burgs, and spicy fries—need we say more? Piccolo Me really has got it all, with a menu so long that scrolling through it is a minor finger workout. But hey, since you've burned all those extra calories, you might as well go ham on your order, and throw in as many extras as your plant-based patty can take. Double cheese, anyone?
The Horse
Surry Hills
A longstanding institution for good times, late nights and great bites, The Horse has one heck of a juicy plant-based burg on their menu. Ticking all the boxes, the burger packs a v2 plant-based patty, American cheese, pickles and relish between two super soft buns. Drools. Just be sure to send your compliments to the chef when you inevitably become as addicted as we are.
Soul Burger
Randwick, Newtown and Glebe
Having secured the title of Australia's first plant-based burger joint, trust us when we say that Soul Burger knows their way around a meat-free patty. The good news is, their successful expansion across Sydney has made it easier than ever to get your mouth around these burgs. Since Soul Burger's entire menu is plant-based, you're spoiled for choice when it comes time to order. If you're really struggling to choose, nab yourself a Sydney Sider with an extra slice of pineapple—it's nothing short of heaven in food form.
Suburgia
Redfern
Pegged as the best burgs in the burbs, Suburgia is one to add to your foodie bucket list. Their massive menu covers all the classics, with each burger named after a different suburb across Greater Sydney. Our personal fave? The Pyrmont plant-based patty, served with cheese, grilled onion, pineapple, and plenty of aioli. Score it with a side of loaded gems and you've got a meal worthy of the gods.
BayGer
Byron Bay
Anyone up for a road trip? The burgers at BayGer are totally worth forking out for the extra petrol. The restaurant's commitment to using only the freshest, locally sourced ingredients has paid off in spades, earning BayGer a loyal following amongst the Byron community. We recommend sampling the Tree Hugger burger so you can taste what all the fuss is about. When you know, you know—yum!
Beloporto Burger Bar
Byron Bay
Beloporto has only one mission: to make each and every meal they serve at their Byron digs a "bloody beautiful" experience. And boy, do they deliver. Thanks to v2, Beloporto's plant-based patties taste just like the real deal, pairing perfectly with their range of housemade sauces for an added flavour kick. Be sure to load up on the sweet chilli aioli to truly take your burg to the next level.
Not only can you devour v2's damn delish and ethical plant-based goodies at these venues, but you can also shop v2 at your local Woolies and Coles and get creative with your cooking at home.
Can't get enough of v2's plant-based eats? See here for even more inspo on your ethical eating journey.
Image credit: Soul Burger Instagram, supplied
Editor's note: This article is sponsored by v2 and proudly endorsed by Urban List. Thank you for supporting the sponsors who make Urban List possible. Click here for more information on our editorial policy.