To make sure that you're on top of all the new developments and newsworthy chats happening around Sydney, we've wrapped up this week's top city news right here.
Sydney's Huge IMAX Theatre Will (Finally) Reopen This Year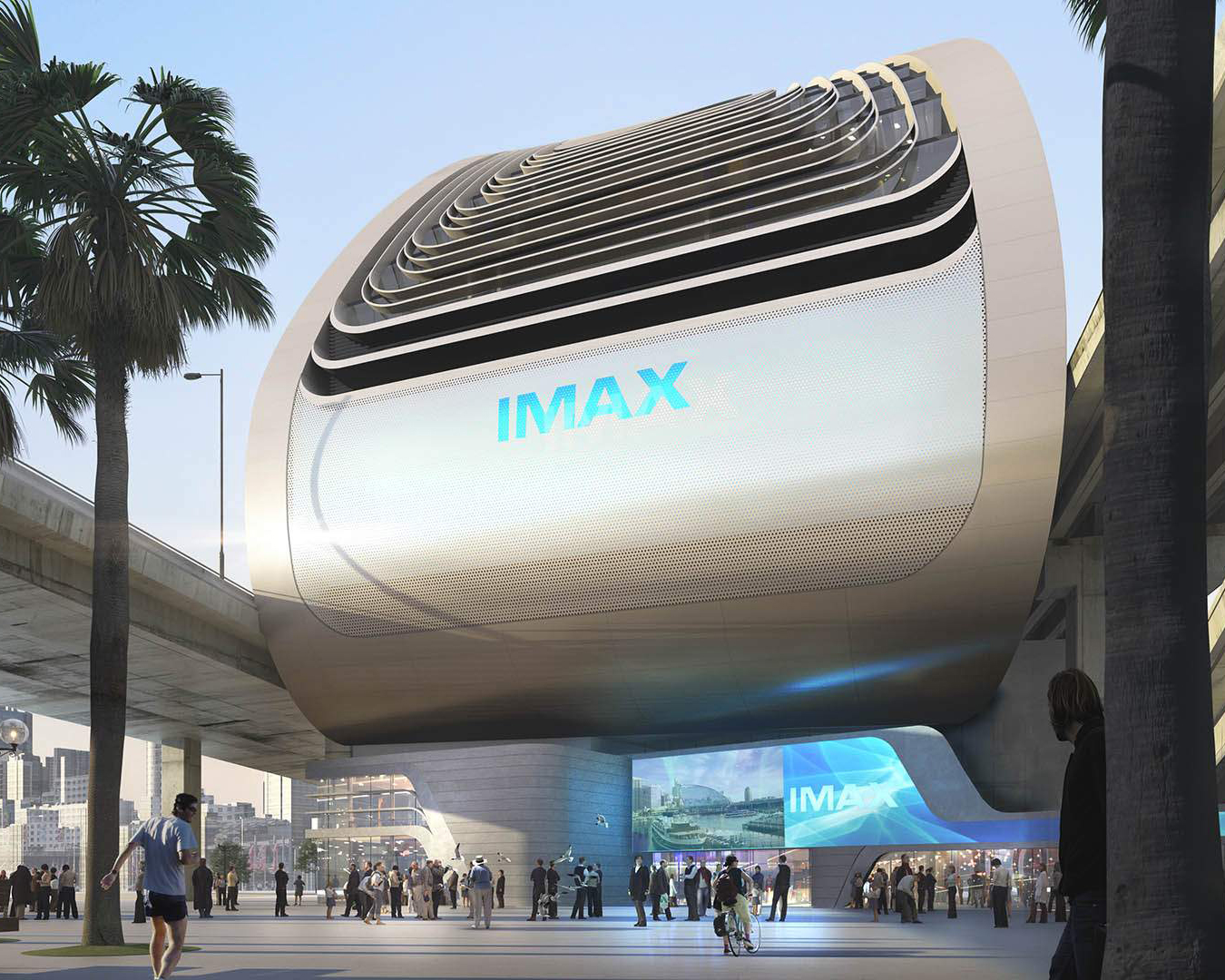 After being demolished back in 2016, Sydney's biggest big screen is locked to reopen this year. Located in the same spot in Darling Harbour, it's now housed within the stunning "Ribbon" building along with the new W Hotel. The all-new IMAX Sydney theatre will be managed by the team behind Event Cinemas. It's about the same size as before (430 seats), but now has a whole lot of updated features to expand your movie experience. Like new IMAX laser projection technology, updated sound technology, larger seats, recliner chairs, couples loungers, private booths, and an "elevated" food and drink menu too.
"We're thrilled to partner with EVT to bring audiences a world-class movie-going experience at the new IMAX Sydney theatre in The Ribbon," IMAX's Chief Sales Officer Giovanni Dolci said in a statement. "We're confident that this iconic venue will become a cultural landmark and will instantly join the ranks of our most celebrated and successful flagship cinemas around the world, from New York, Cannes, and Tokyo to Los Angeles, Seoul, and London."
IMAX Sydney will open in 2023. A precise opening date and movie program are yet to be revealed, so stay tuned for more.
Now Open: The Art Gallery Of NSW's Stunning New Building, Sydney Modern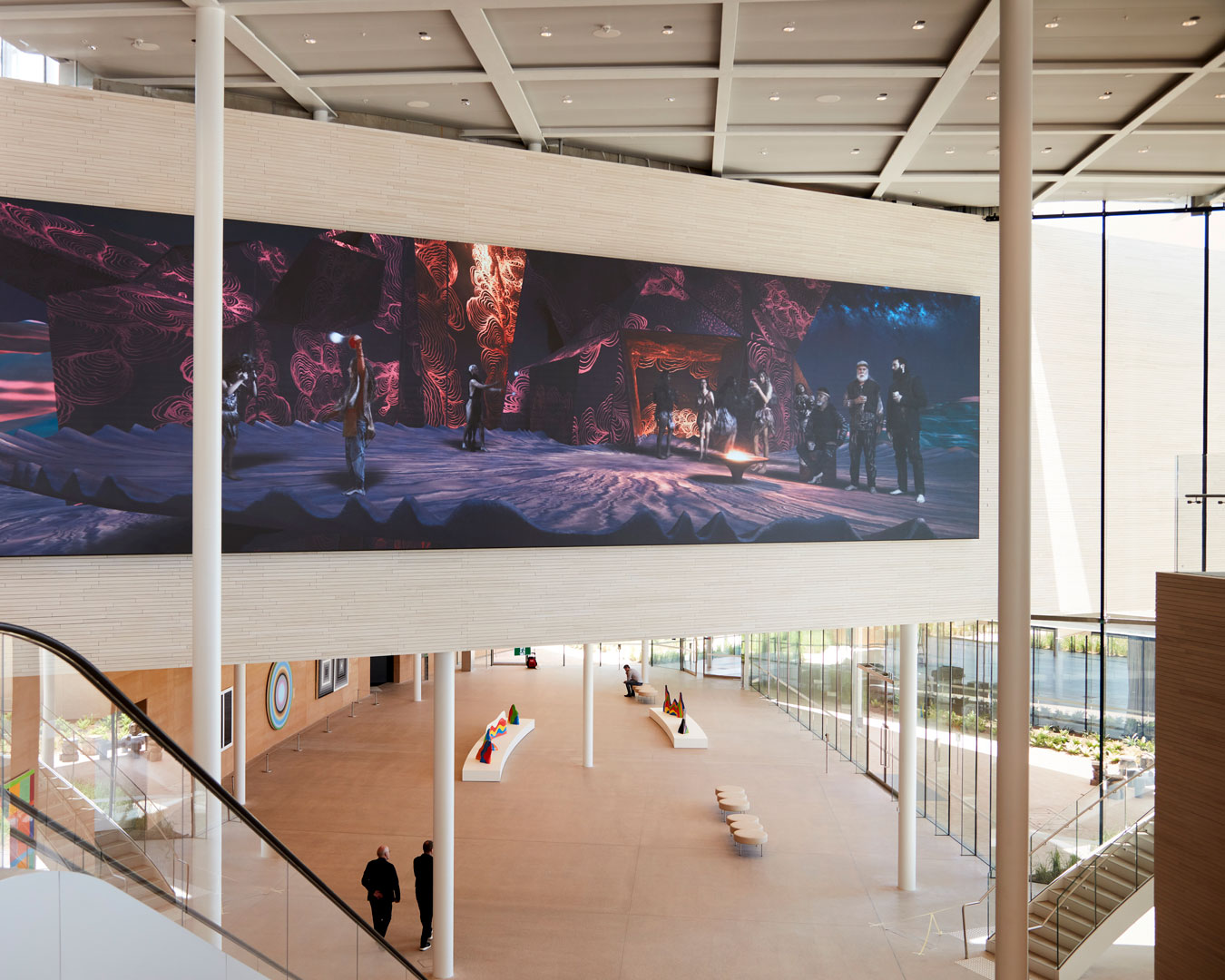 It's been called the most significant cultural development to open in Sydney in nearly half a century—and it has officially opened to the public. Sydney Modern—a huge new building on the Art Gallery of NSW campus—is finally ready after years of construction, almost doubling the gallery's exhibition space.
The hotly anticipated multi-level contemporary art museum was designed by Pritzker Prize-winning architects Kazuyo Sejima and Ryue Nishizawa of SANAA, and boy—is it stunning. Standing to the north of the original sandstone gallery building, towering glass walls let light pour into the space with multiple sightlines out across Sydney Harbour's best natural features. However, of course, we're here to see art—and inside there are multiple new exhibition spaces to check out.
"Yiribana" is the first gallery within the new building, creating a new destination space for Aboriginal and Torres Strait Islander art. Further inside, there's a column-free gallery, a gallery for time-based art, and—four levels down—an enormous decommissioned Second World War naval fuel bunker, now called "The Tank", which makes for a totally eerie underground exhibition space. Outside, there are rooftop art terraces and courtyards and three limestone pavilions that lead down towards the harbour.
As for the art you'll encounter at Sydney Modern—it's a wonderland of contemporary works from new-wave Australian artists (like Kamilaroi artist Reko Rennie, Atong Atem, and Ramesh Mario Nithiyendran) and international artists (Takashi Murakami and Yayoi Kusama). More women artists are displayed than men, and a roster of nine new site-specific works by Australian and international artists can be found inside and around the gallery. Inaugural exhibitions include Dreamhome: Stories of Art and Shelter, Making Worlds, Outlaw, and in the bunker space "the Tank"—Adrián Villar Rojas: The End of Imagination.
There's lots happening to celebrate the opening of Sydney Modern. Entry to the museum is free and, until Sunday 11 December, the gallery will be open until 10pm daily. There's a free concert in the Domain on Saturday 10 December, a nightly drone show designed by Reko Rennie, special performances, and so much more. Check out the full program here.
World-Class Action Sports Facility Woodward Is Coming To Sydney
Woodward, the global leader in action sports experiences, is opening a three-story, purpose-built facility in Castle Hill in late 2024. It'll host skateboarding, BMX, scooter, snowboarding, skiing, aerial awareness, rock climbing and bouldering areas, catering to all skill levels from beginner to professional (48 Olympic medals have been won by former Woodward athletes).
The facility will have a variety of zones including climbing and bouldering walls, a skatepark, pump track, mini ramps, mega ramp, foam pits, a spring floor, trampolines and a gym. It will also have a café, bar and event space overlooking all the action.
Woodward Sydney will offer casual access passes, memberships, individual classes, multi-week programs, school PE programs, school holiday camps, birthday parties, events and competitions, with a focus on fostering female talent in action sports, and supporting emerging elite athletes. Stay up-to-date on the development here.
The NSW Single-Use Plastic Ban Has Come Into Effect
We knew it was coming; ingle-use plastic items including straws, stirrers, cutlery, plates, bowls and cotton buds have been banned, as well as food ware and cups made from expanded polystyrene and personal care products containing plastic microbeads. Of course, if you have a disability or medical need, it's not a prob. You can learn more and check out some tips to make the adjustment period a little easier here—but with the amount of plastic in our oceans predicted to outweigh the amount of fish by 2050, it's a small adjustment that we're more than happy to make.
A Game-Changing New Ride-Share Has Launched In Sydney
If you've felt frustrated by Uber recently, chances are you're not alone. From the crazy price surges during peak times to the subpar routes and the poor treatment of drivers, the time is ripe for someone to step in and shake up the ride-share scene here in Sydney. Enter inDrive, a new global ride-share with a key point of difference. Specifically, inDrive allows you to negotiate your fare with your driver before you set off. Rather than using algorithms to calculate a price—which is the current status quo for all other ride shares—inDrive has humanised the process with a peer-to-peer model.
inDrive is currently available in 700 cities and 47 countries and has already kicked off in Brisbane and Melbourne here in Australia. The concept of negotiating your fare is pretty simple. You suggest a fare for your selected route, and the driver will either accept your price or send a counteroffer. Once you put a price out there, you'll also be presented with offers from multiple drivers, and you can pick and choose which suits you best—based on price, driver info and ratings, the ETA, and even the car make and model.
inDrive is available to download on Google Play, the AppStore and the Huawei Gallery.
The Revamped Bondi Pavilion Has Reopened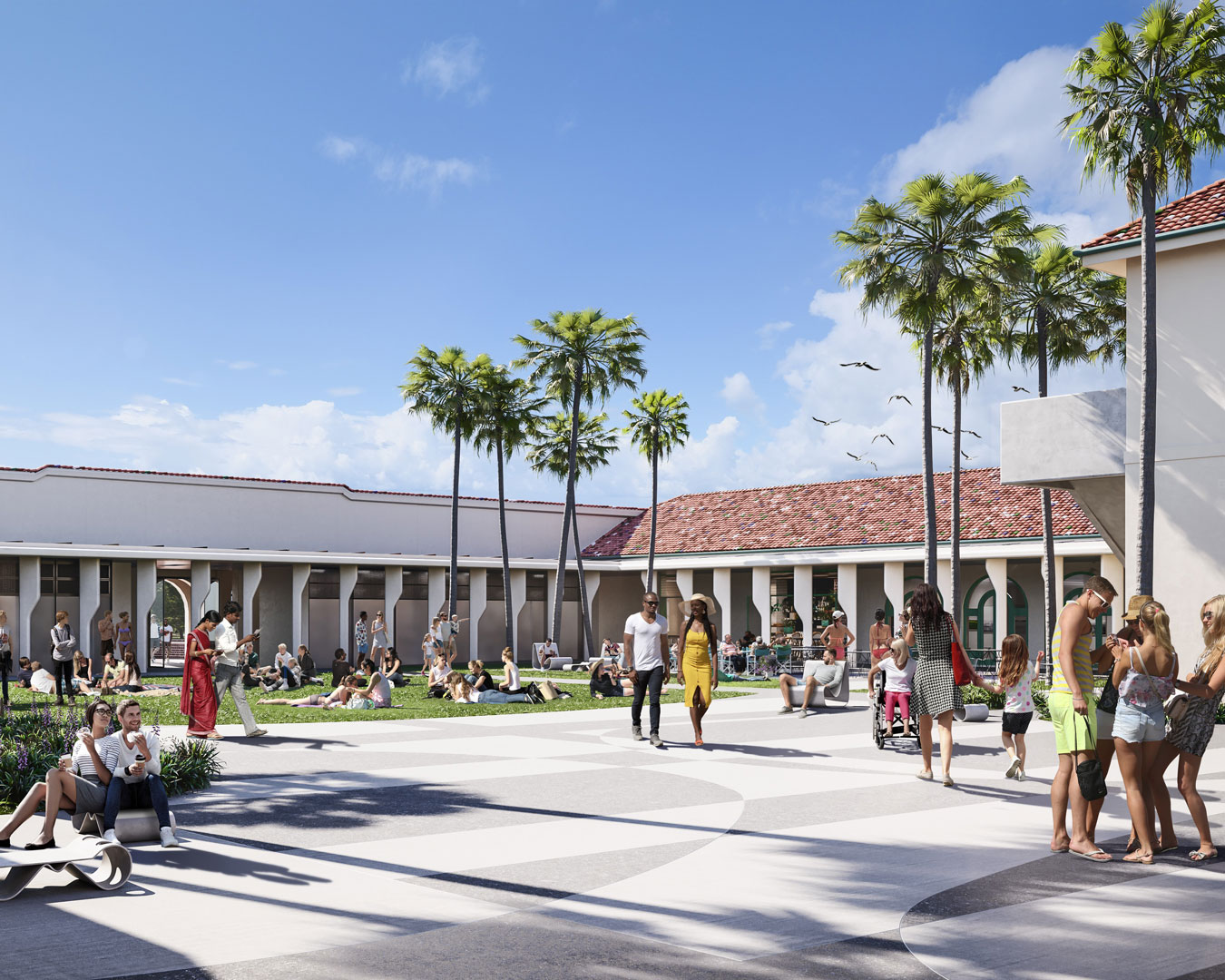 After two years behind scaffolding, Bondi Pavilion reopened in September. The nearly 100-year-old heritage building has undergone a massive $48 million restoration and now boasts a revamped art gallery, a restaurant, a cafe, retail space, a 223-capacity theatre, a pottery studio, function rooms, new-and-improved bathrooms and changing rooms, two internal courtyards, and sprawling lawns.
Led by architect Peter Tonkin, the design includes a swag of sustainability initiatives, too, including 220 solar panels that'll power 70% of the building's energy needs. "The Bondi Pavilion is a fine example of how an old building located in a hostile coastal environment can be reimagined through ingenuity and innovation in design," Tonkin said in a statement.
As for the soon-to-open dining venues, there'll be a classic beachside cafe serving brekkie with a side of uninterrupted Bondi Beach views as well as an all-day Italian diner from the same team behind Glory Days in North Sydney. For slightly finer affairs, there's casual bistro Bondi Promenade, which will be serving up super-fresh seafood dishes and charcoal-grilled veggies, as well as coffee and baked treats in the morning. All dining venues are set to open in December, so don't pop down for a fish 'n' chips and Aperol spritz just yet.
For more general information on Bondi Pavilion, head to the website.
A $2 Billion Performing Arts Precinct Proposed To Revamp The Domain Car Park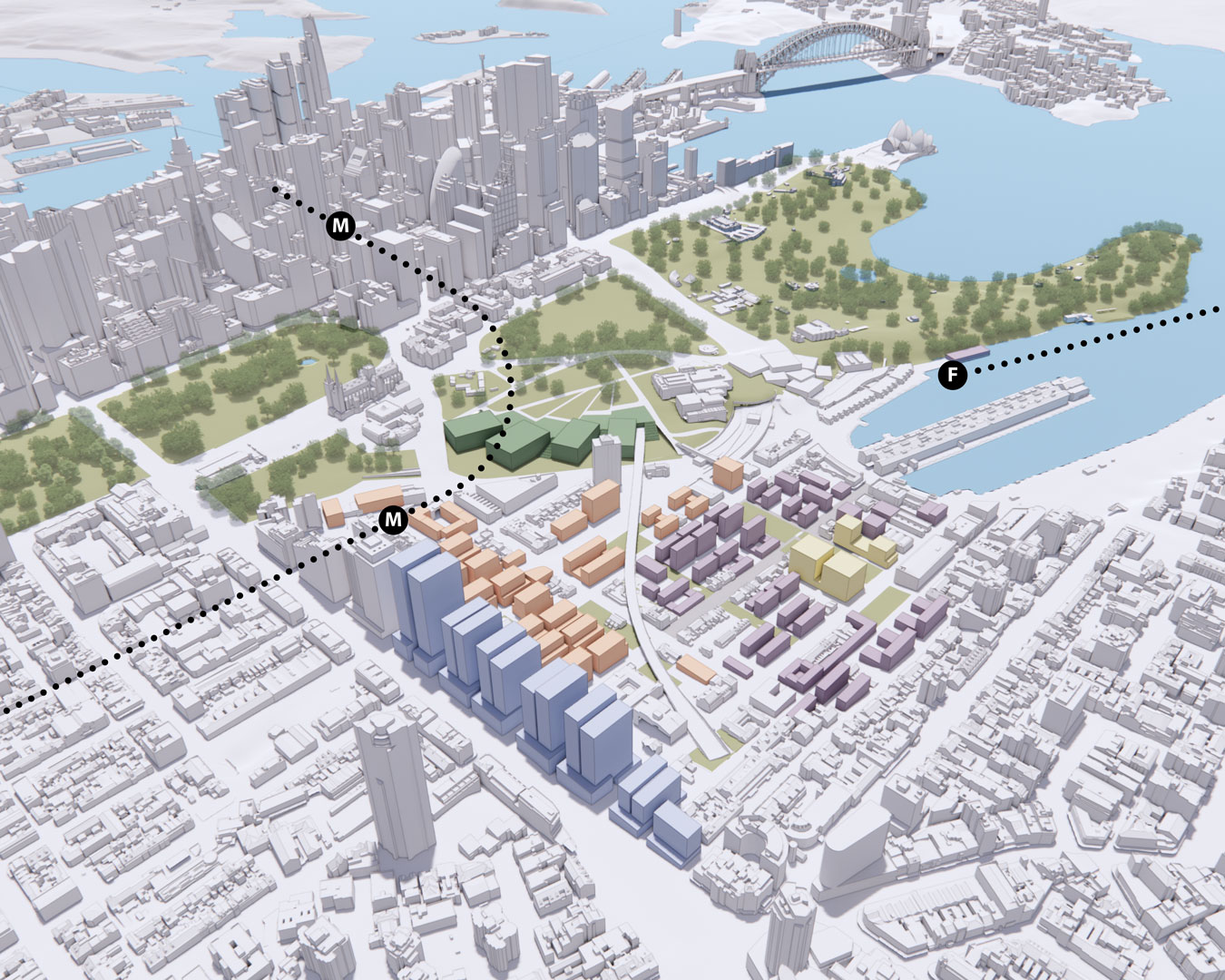 Sydney is showing no signs of slowing down on development with recent news of a massive revamp proposed for The Domain that'll transform the current (and, let's face it, pretty underutilised) car park into a world-class arts precinct.
Proposed by global architect firm Grimshaw Architects, the proposed development features four new performance spaces on the existing site of The Domain car park. The biggest space would be a 2500-seat state-of-the-art theatre. Also in the designs is a dance theatre with an estimated 800-person capacity; "The Academy" intended as a rehearsal and teaching space; and Sydney's first and only dedicated First Nations performance space.
"We tried to look at other places to put it in the city and the simple answer is it doesn't fit," Grimshaw Architects Director of Strategic Communications Bradford Gorman told Urban List.
"There is [also] no lyric theatre in Sydney. The theatres that exist to host large productions are located in casinos. And notably, which is really shocking, we don't have a centre for Indigenous performance in Sydney. They've talked about putting [one] in Barangaroo in The Cutaway, which in our opinion is not progressive thinking because it literally puts Aboriginal facilities underground," says Gorman. "We believe First Nations performance should have its own facility."
And while the proposed cultural precinct would mean losing the playing fields atop the current car park site, Grimshaw has drafted up increased green space by transferring it to in front of the Art Gallery of the NSW, as well as landscaping on the roofs of the proposed buildings.
Also part of the proposal are designs set to revitalise and invigorate the wider Woolloomooloo and East Sydney area with a snazzy new 24-hour entertainment and hospitality precinct as well as an upgrade and expansion of social and affordable housing.
"East Sydney has sort of deteriorated. The public housing is not fit for purpose, and you've got a community which is right in the midst of Sydney and yet hasn't been brought along with [the rest] of Sydney's development," says Gorman. "We believe the community deserves to have the facilities for social housing upgraded and expanded to provide more social housing solutions."
Now check out all the food news you have to catch up on.
Image credit: IMAX, IMAX, Art Gallery of NSW, Bondi Pavilion Grimshaw Architects, Kelly Hulme/ DPIE