This old butter-laden morsel is being fancified in hotspots all over Sydney, so it's high time we address the most over-the-top flaky croissants in town.
It's long been a cherished baked good and perhaps one of the greatest treats to come out of France, but these days jazzed up modern-day croissants are taking Sydney by storm. Yep, we're talking about those completely over-the-top flaky pastries all over your Instagram feed that are encrusted and filled with deliciousness.
We've rolled out a list of the best over-the-top croissants in Sydney that you need to get your mouths around quick smart.
Here's where to find Sydney's best loaded croissants
Madame & Yves
Clovelly
A delicious new venture has landed in Clovelly's decade-defying Sweet Kiss Cake Shop. Meet Madame & Yves, the Eastern Suburbs' latest pastry, cake and ice-cream haven. Headed by pastry chef extraordinaire Yves Scherrer (coach of the 2019 Australian team in the World Pastry Cup), this newbie means serious business. On the croissant front here, you're in for an almond cross raspberry dream and an extra special Ferrero Rocher croissant.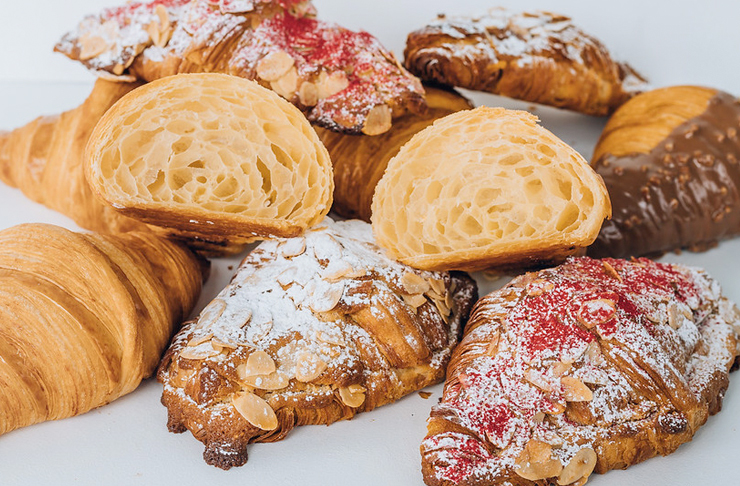 Top Impression Bakery Café
Wolli Creek and Mascot
It's a big call, but we think this may be one of the most colourful croissants you ever did see. There, we said it. Top Impression Bakery has some of the most exotic flaky gems going around, we're talking hints of matcha, taro, charcoal, gin and chilli chocolate. Put a knife to one of these perfectly dusted or encrusted morsels and watch the deliciousness ooze out on to the plate.
Penny Fours
LEICHARDT
This ultra-charming little treasure is owned by a former pastry chef at Tetsuya's and Sepia, so you have the right to lose your marbles over the croissants they're rolling out. Meet 'lady marmalade', she is orange scented with crème caramel and a hard toffee casing and she's well worth getting to know. As for all those bounty hunters, Penny Fours has a dark choccie and coconut crème crumbly delight on offer which is smothered in coconut chips, and it has your name on it.
Rollers Bakehouse
Manly
This baked-good-haven on the northern beaches is making waves with its epic variety of croissants. The menu at this trendy laneway joint is always changing but expect croissant flavours like peanut butter brownie, salted caramel oat and black forest. Savoury lovers, fear not, these legends are also serving up Reuben sambo, garlic bread and sushi-inspired croissants.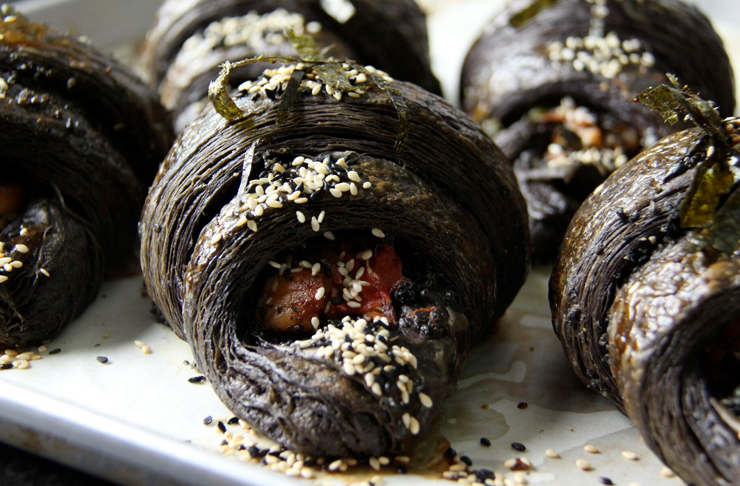 Son Of A Baker
Sans Souci
Each morning the vast marble baking counter at Son of a Baker holds a whole lotta' buttery deliciousness. Start the day off right by grabbing a coffee and a seriously beautiful pastry from this joint pronto. Expect strawberry jam croissants, lobster tail benedict (yep, you guessed it, featuring our favourite rolled and baked morsel) and their signature red velvet flavour which is dipped in white choccie and edible flowers.
Textbook Boulangerie Patisserie
Alexandria
The ridiculously talented team at Textbook Boulangerie Patisserie have plated up everything from gold croissants to white truffle pumped packs of goodness. In other words, loaded croissants here are a normal thing so make sure you keep an eye on the changing specials (people have lined up out the door as early as 4.30am to get their hands on them).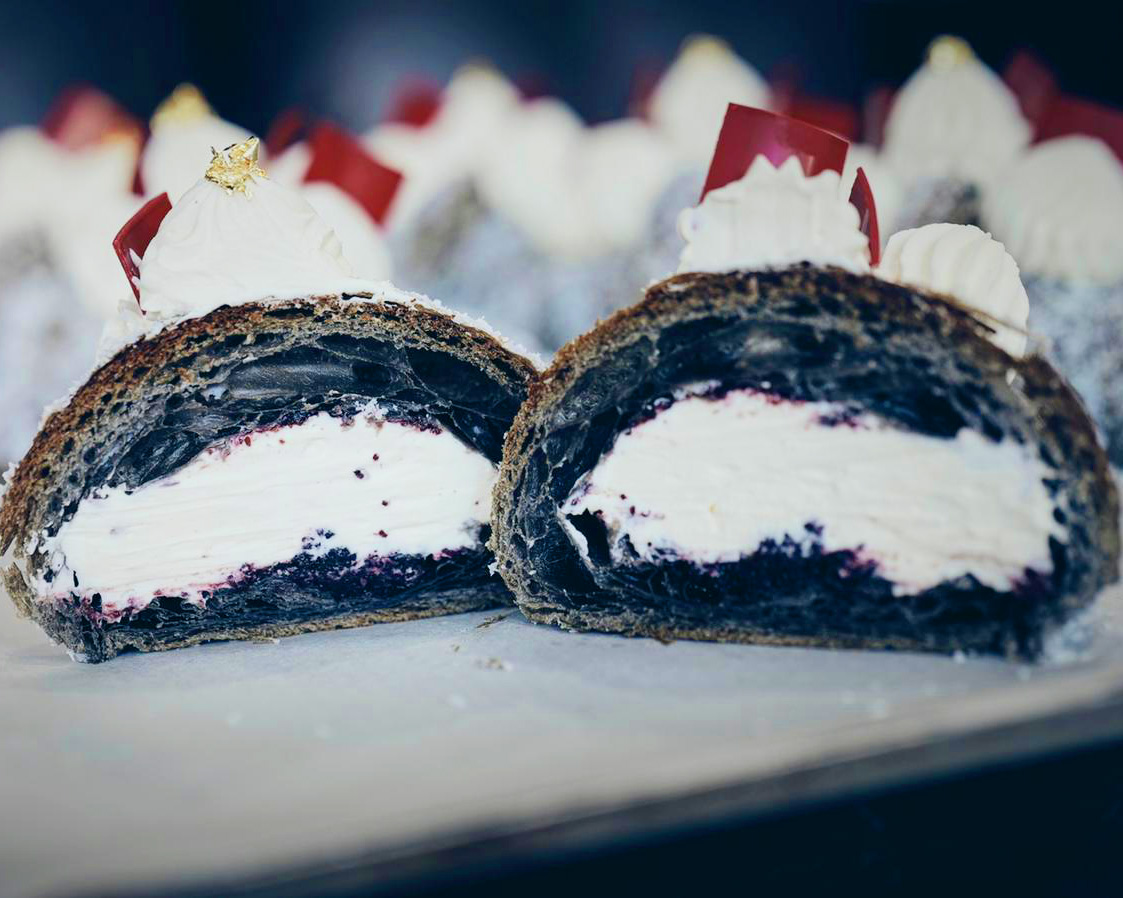 Butcher And The Farmer At Tramsheds
Forest Lodge
"That's too much bacon" – said no one ever. This is not a drill, there is a heavenly croissant on offer at Butcher and the Farmer with your name on it. This baby is packed with maple bacon and has a cornflake crust. You're welcome.
The Fine Food Store
The Rocks
This little gem tucked away in one of Sydney's oldest streets has an energetic atmosphere and an oh-so-funky, flavourful menu. The real hero at The Fine Food Store though is the savoury croissant with pulled brisket, poached egg, parmesan crisp and pickled savoy. Thinking this baby is a must with a cold brew or sparkling mimosa for brunch.
Berkelo
Mosman and Brookvale
Berkelo is cherished by locals for their ultra-fresh and seriously tasty baked goods. Let's just say they know their way around a good ol' butter croissant. But we know that's not what you're here for, so grab the oh-so-sexy macadamia or almond and cacao filled gem and a piping hot coffee and thank us later.
You're probably wondering where to find Sydney's best coffee, right? Head over here.
Image credit: Rollers Bakehouse, Madame & Yves, Rollers Bakehouse, Butcher And The Farmer