There's nothing quite as cool or chic as a city wedding. And with Sydney's city hemmed by the natural beauty of its harbour, botanical gardens, beaches, national parks and traditional and modern architecture, it's a literal treasure trove of places perfect for hosting everything from formal wedding affairs to modern (and not-so-traditional) nuptials.
But, beyond the more obvious spots, Sydney also has a plethora of unique, interesting and centrally located venues just waiting to host you and yours on your wedding day. From poolside rooftops to underground bars and traditional heritage homes to fire-side gatherings and chic private dining rooms, keep reading below for the best (and coolest) wedding venues Sydney city has to offer.
Art Gallery Of NSW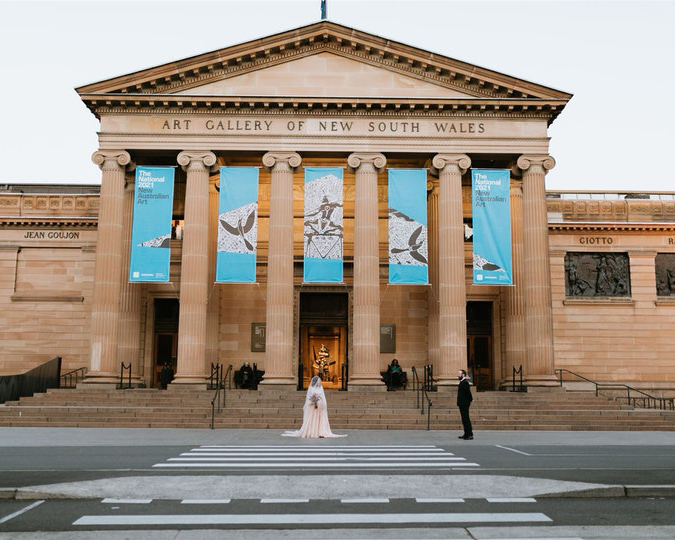 Located close to the CBD, Royal Botanic Gardens and Sydney Harbour, the Art Gallery of NSW is perfectly placed for wedding ceremonies and receptions. Well-versed in catering to weddings of all sizes, their experienced team will guide you through every step of the planning process, with various event spaces suitable for small groups through to guest lists in excess of 300. As a bonus, venue hire contributes back to bringing art to the community by funding its gallery programs—a nice touch for any aesthete. Enquire here.
Restaurant Hubert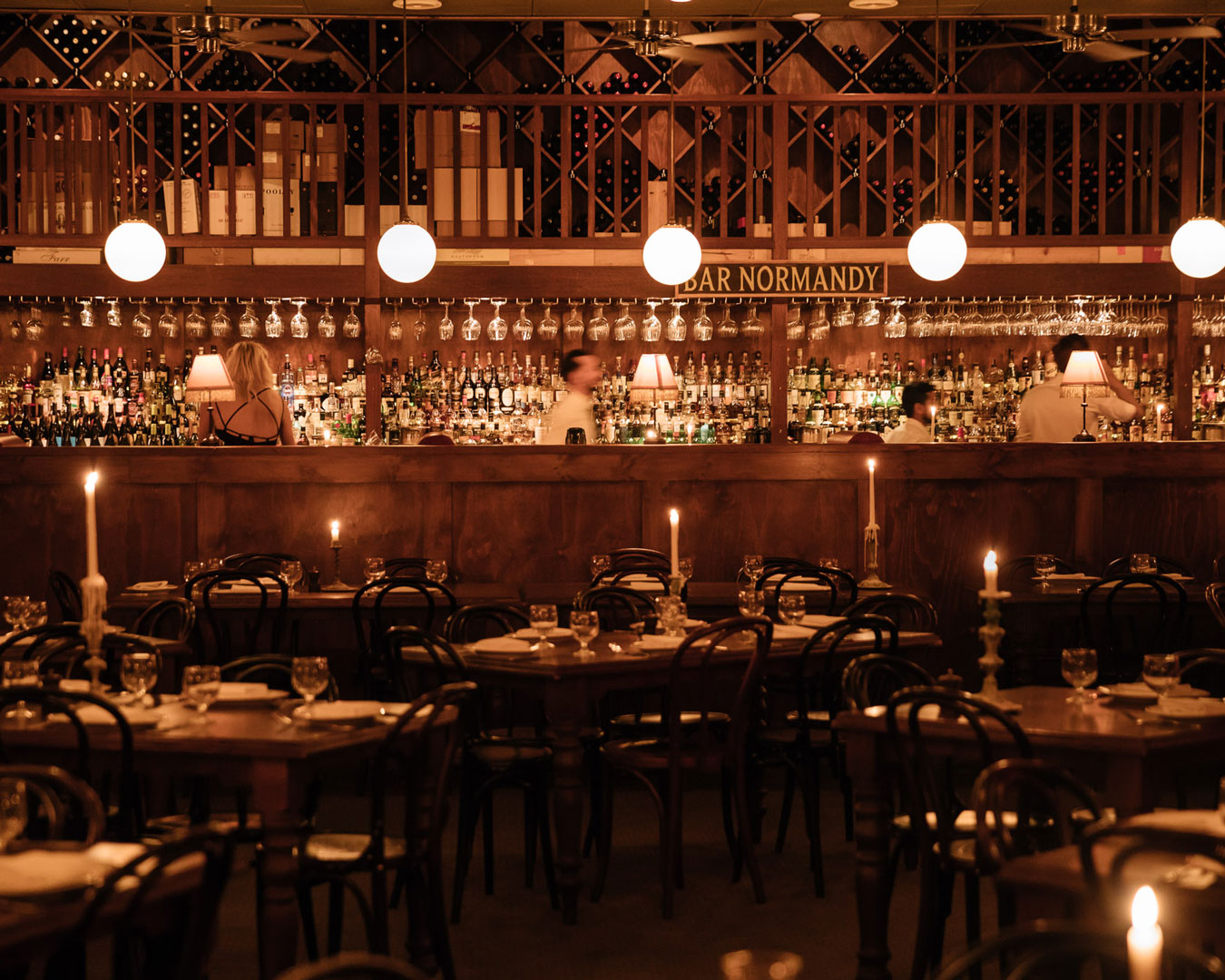 While undoubtedly romantic and sophisticated, fine-dining French restaurant Hubert is not lacking in ambience or good vibes thanks to its vintage speak-easy decor, permanent live jazz and hefty list of Martinis. Experts in service, Restaurant Hubert offers four spaces that are available for exclusive hire: The Theatre Royale, The Botero Room, The Port Cave, and The Bridge Bon-Appétit. For smaller groups that don't require exclusive use, the main dining room can also accommodate groups of up to 20, allowing you to take full advantage of the atmosphere from Hubert's regular clientele. The entirety of Restaurant Hubert is also available for private hire to accommodate up to 200 guests for more expansive celebrations. Enquire here.
The Eveleigh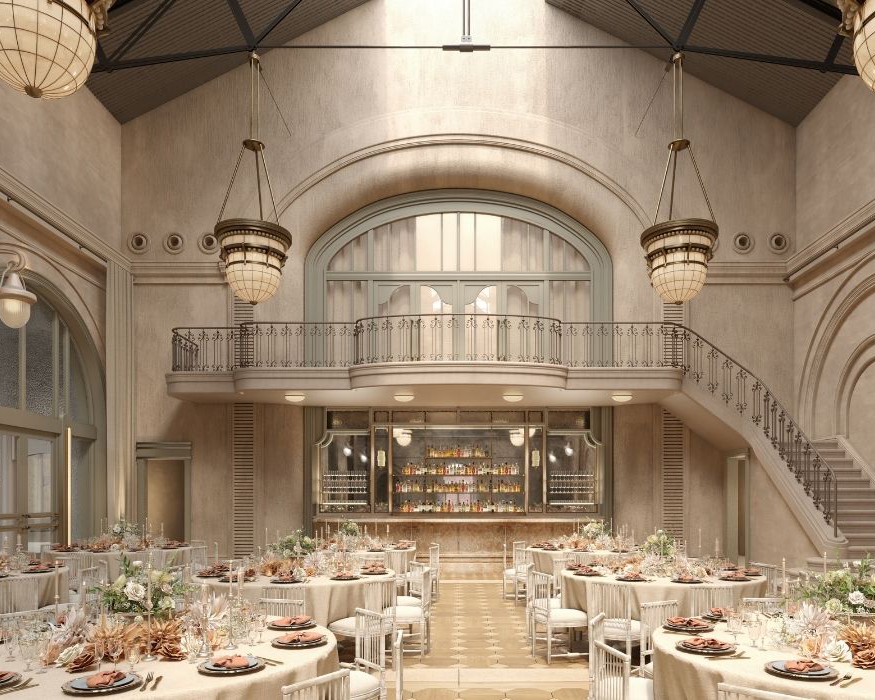 The newest venue on offer from The Grounds, The Eveleigh, is a purpose-designed function space within the old locomotive workshops at Sydney's Australian Technology Park. The vast and spectacularly designed venue offers a unique space for large-scale weddings, specifically catering for guest lists between 200 - 600. Thanks to its custom design and recent refurbishment, the venue features many wedding must-haves, such as a state-of-the-art sound system, an onsite bridal suite and multiple ceiling rigging points. However, the icing on the cake has to be the spectacular staircase that's just begging for a Princess Diaries-style grand entrance. Enquire here.
Henry Deane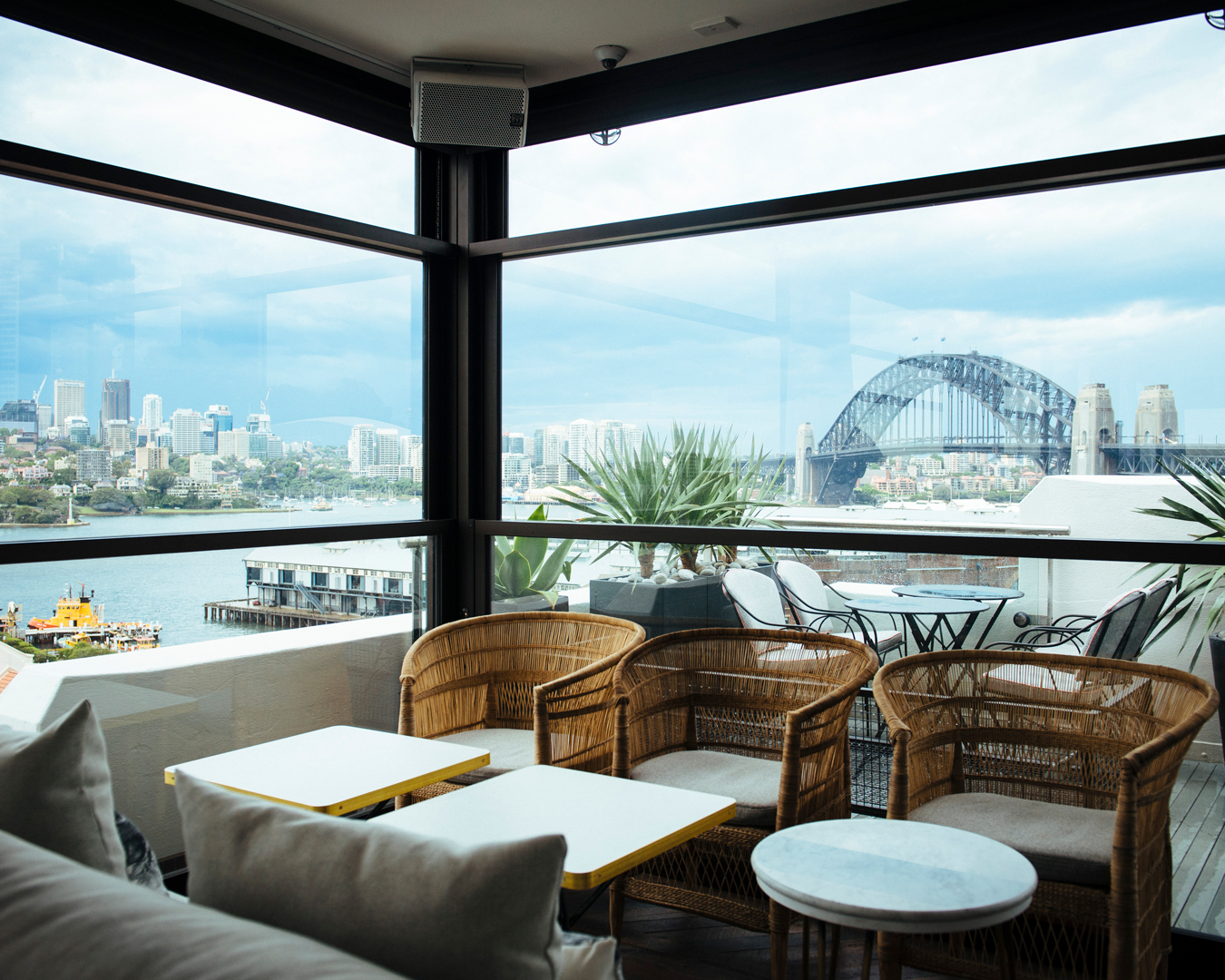 With almost unbeatable views of the Harbour Bridge, Barangaroo Reserve and the surrounding harbour, Henry Deane can be found perched on the top two levels of Hotel Palisade. The beautifully designed space is spread across two floors, serving delicious cocktails and bites alongside lunch and dinner menus. As a smaller venue, this location is perfect for more intimate celebrations, with its largest space capable of catering to groups of up to 50. Conveniently, Hotel Palisade also has a boutique hotel of 8 rooms spread across its middle floors, giving you the unique ability to stay on the premises and take full advantage of the fantastic views. Enquire here.
The Old Clare Hotel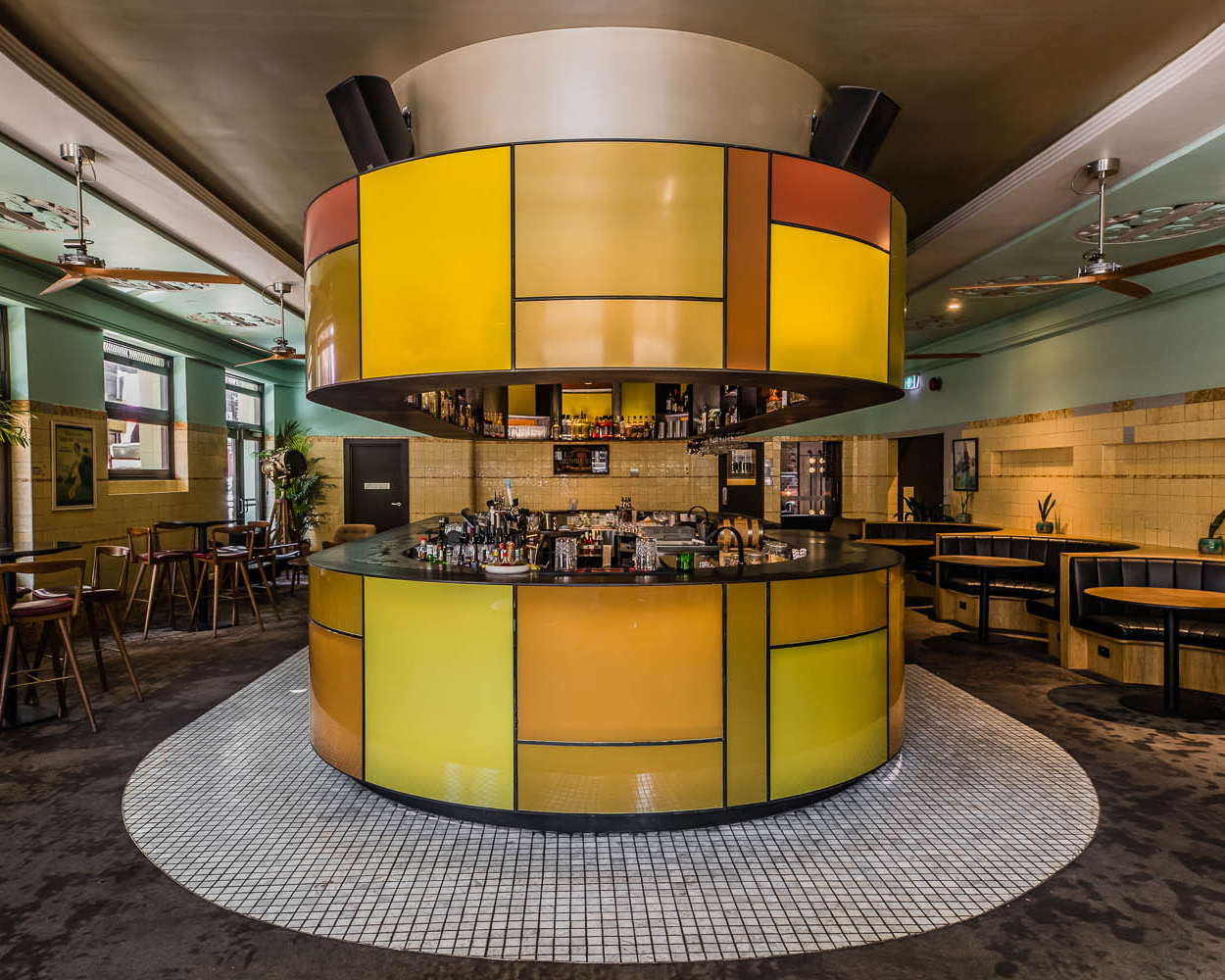 A self-declared expert in "unorthodox weddings", The Old Clare Hotel is a venue with a difference. Located in Chippendale, close to a wealth of dining (and drinking) options, the team are ready to assist with creating custom events that bring all the good vibes. There are a host of different event spaces on offer, including a rooftop bar (complete with glass canopy and pool). As the name suggests, The Old Clare also has a full-service boutique hotel on site, perfect for extending your stay or acting as a base for your celebrations. Enquire here.
Crystalbrook Albion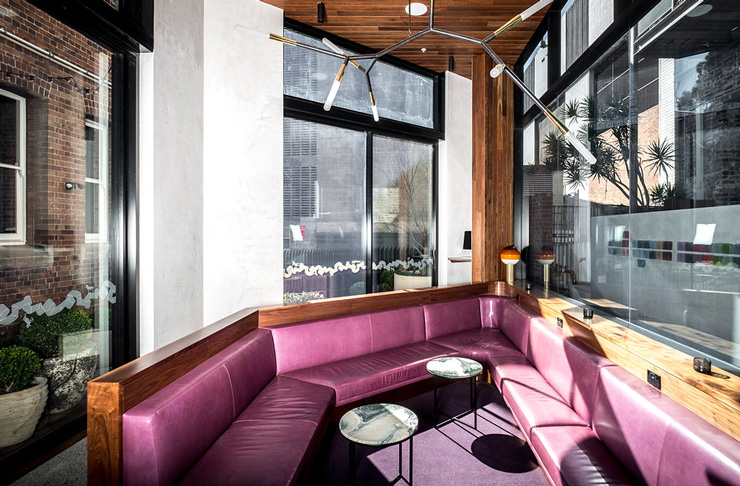 Whether you're looking to house your entire wedding party or a more intimate and low-key celebration, the opportunity to have everyone in one place for your special day is pretty appealing. Crystalbrook Albion allows you to book their entire venue for special occasions, giving you exclusive use of all 35 hotel rooms. The venue also provides round-the-clock service, daily housekeeping, breakfast, an honesty bar and a rooftop terrace, making it the ultimate group accommodation. Also, did we mention the luxurious accommodation is also pet friendly? It doesn't get much better than that. Enquire here.
Beta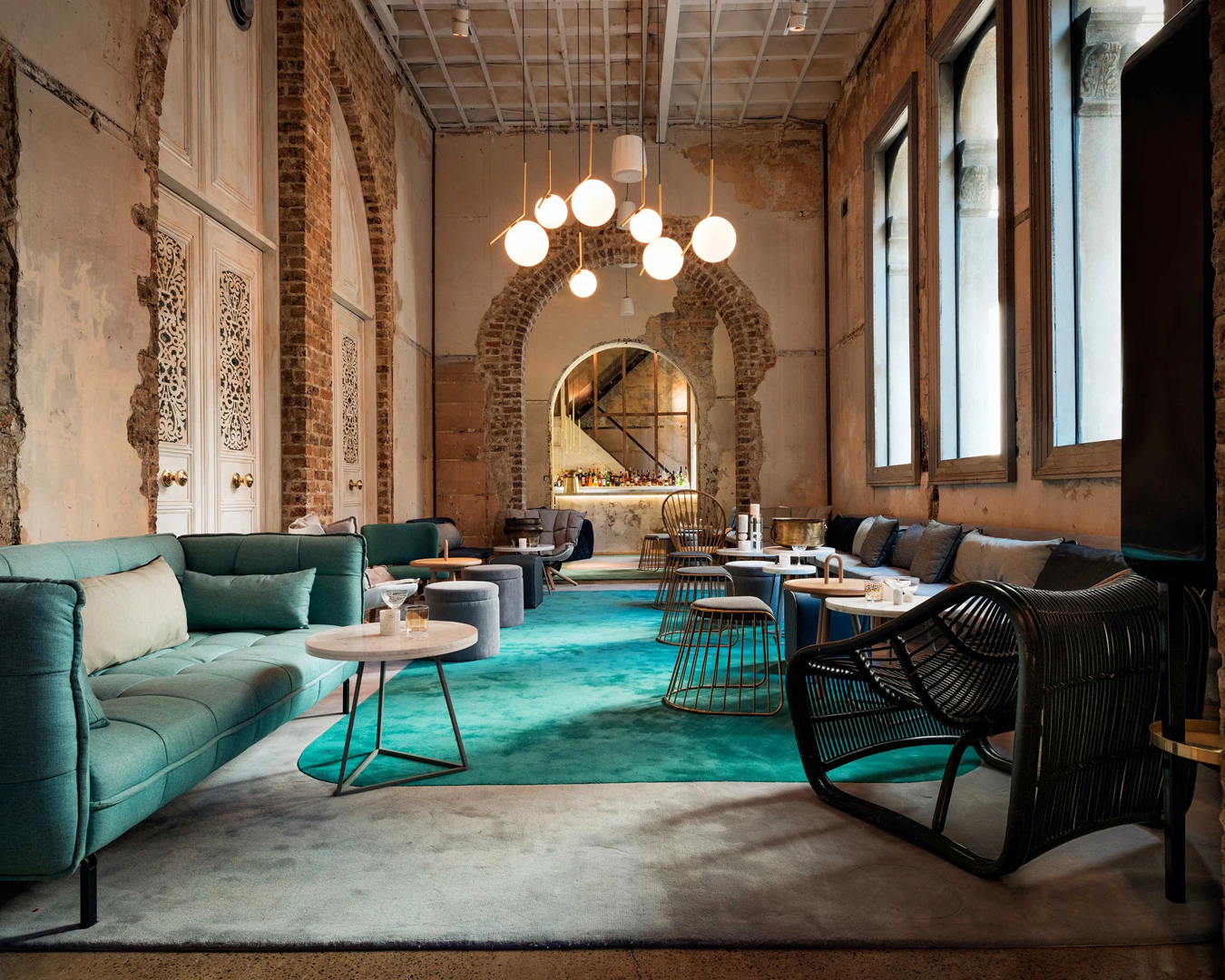 Home to Alpha restaurant, this historic Victorian building in the heart of Sydney's CBD also houses a dedicated events space, Beta. Designed to host groups of between five - 500 people, the beautifully decorated space takes full advantage of the building's original structure with exposed brickwork, high ceilings and contemporary decor. The venue also features a charming outdoor terrace, bridal dressing room and a team of dedicated event planners ready to create the occasion of your dreams. Thanks to its ties with Alpha Restaurant, a diverse range of catering options are also available, all designed by acclaimed Executive Chef Peter Conistis. Enquire here.
Baba's Space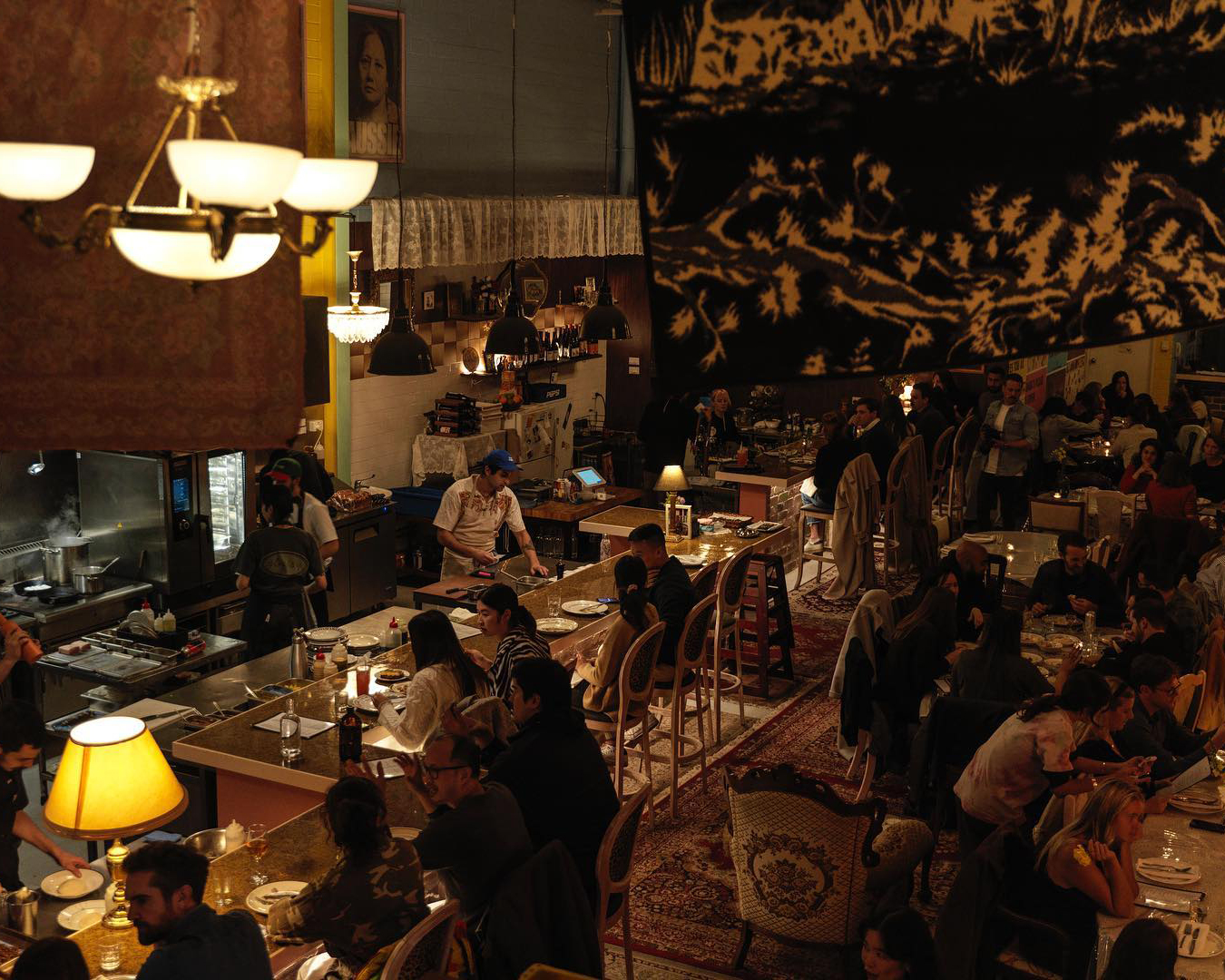 New to the Sydney restaurant scene, eclectic Baba's Place, located in Marrickville, has already won over the foodies. However, the colourful and quirky restaurant also offers its warehouse-style venue for exclusive event hire on Sundays (and other days on special request). Offering both catered lunch and dinner style events for guest lists between 50 - 70 people, Baba's Space is the perfect option for less formal wedding receptions, wanting to take advantage of delicious food, good vibes and the Baba's Place's unique style and flair. Enquire here.
Bop & Tone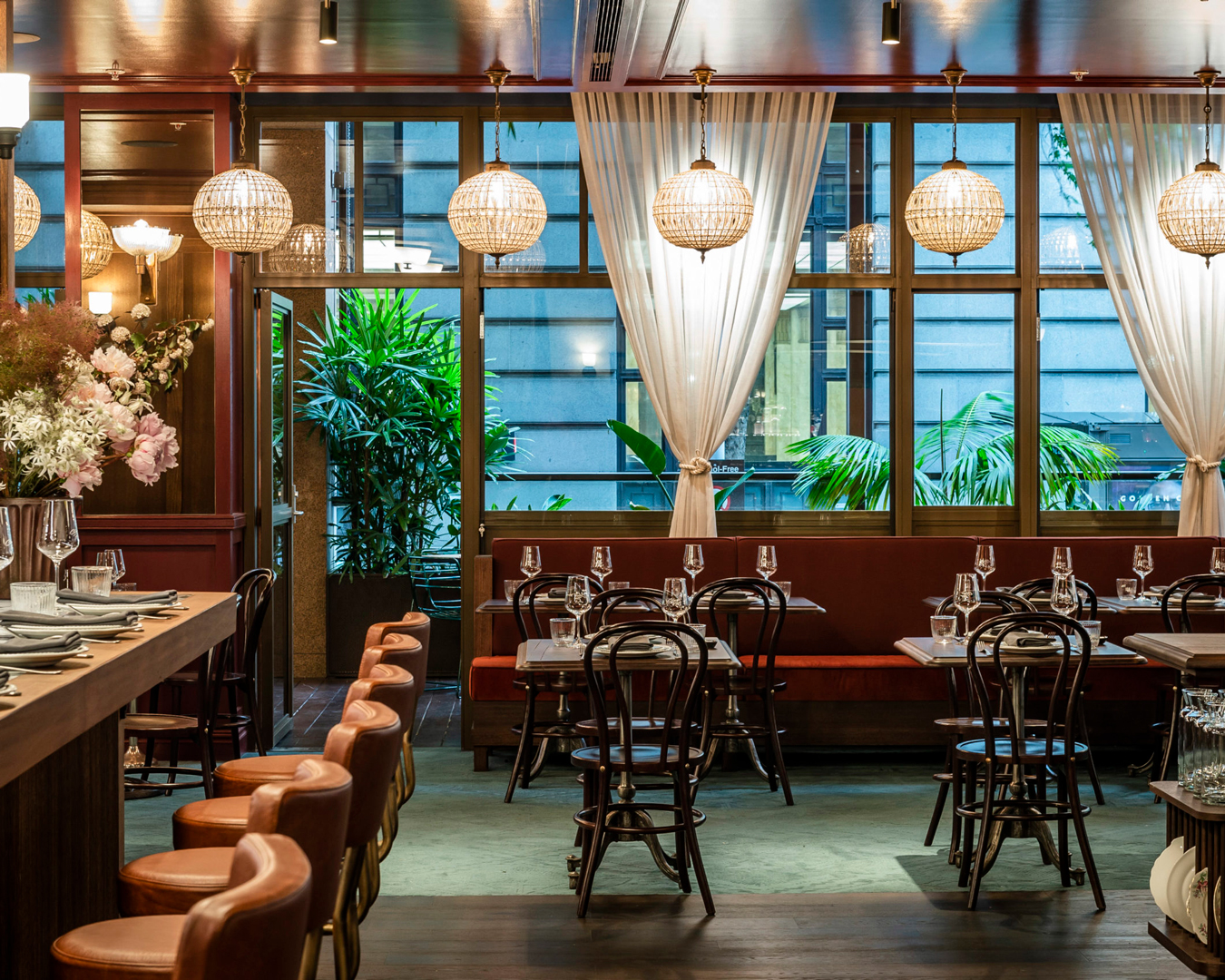 Well-versed in all things events, Bopp & Tone provides the perfect space for various celebrations wanting a touch of old-world style glamour. Giving you the option to keep things easy, with no-fuss group dining menus, through to entirely customisable and tailored events, their team has a variety of private and semi-private dining and cocktail spaces on offer. The dedicated private dining room seats up to 28 (something hard to come by in other private dining rooms). Alternatively, the entire venue can be hired exclusively, or more extensive guest lists between 40-100 can be dedicated to their Wynyard Terrace or Dining Room. Enquire here.
Chiswick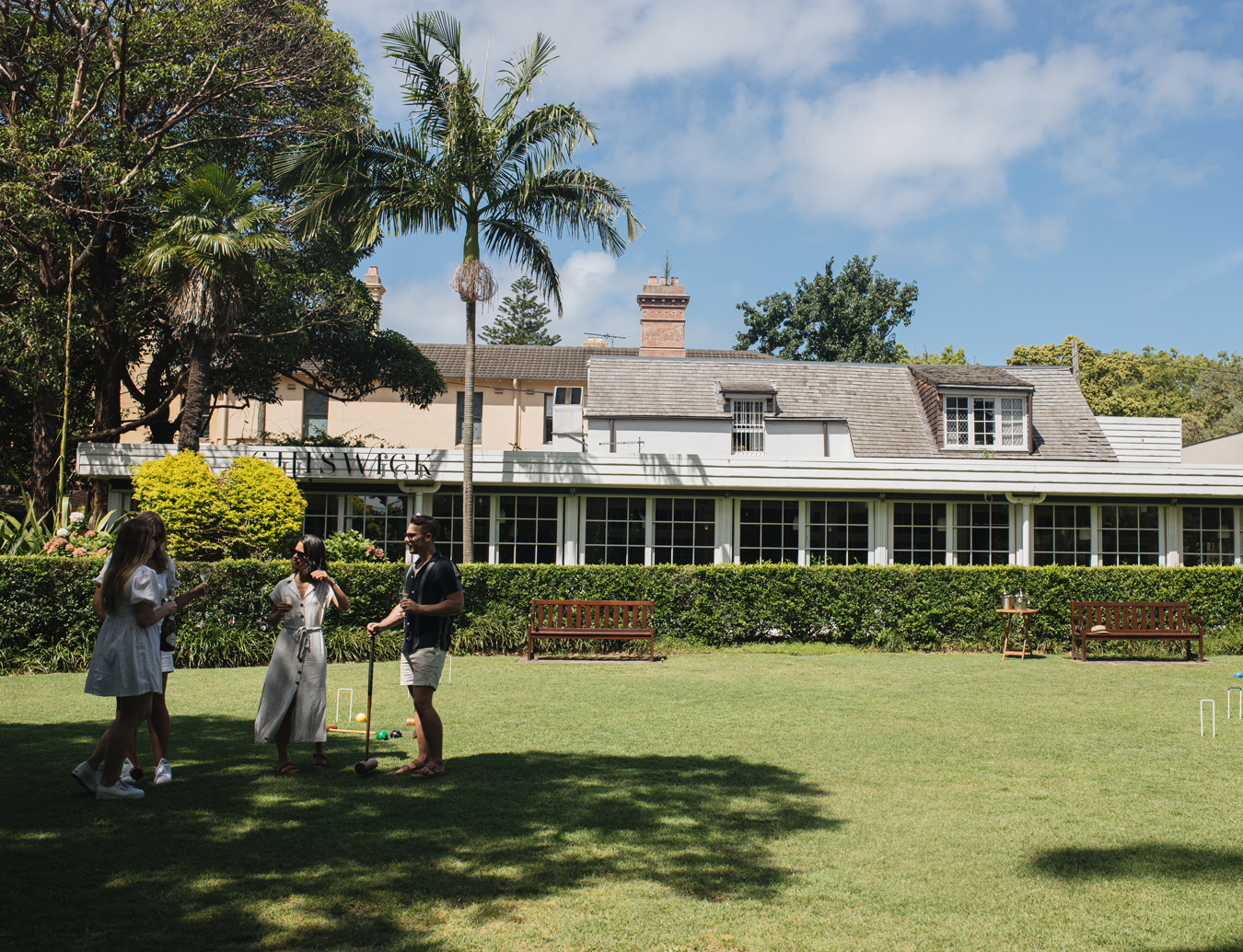 Large or small, Chiswick provides the perfect location for weddings looking for a garden-side setting. Serving up charming and memorable food, Chiswick's private dining room seats up to 40 guests for lunch or dinner, allowing you uninterrupted views of the lawns and kitchen garden. For larger groups, the main restaurant's dining room is suitable for up to 70 guests, either seated or cocktail style. However, the dedicated events team can work with you to customise arrangements to perfectly suit the vision for your day and create a truly memorable experience. Enquire here.
Kittyhawk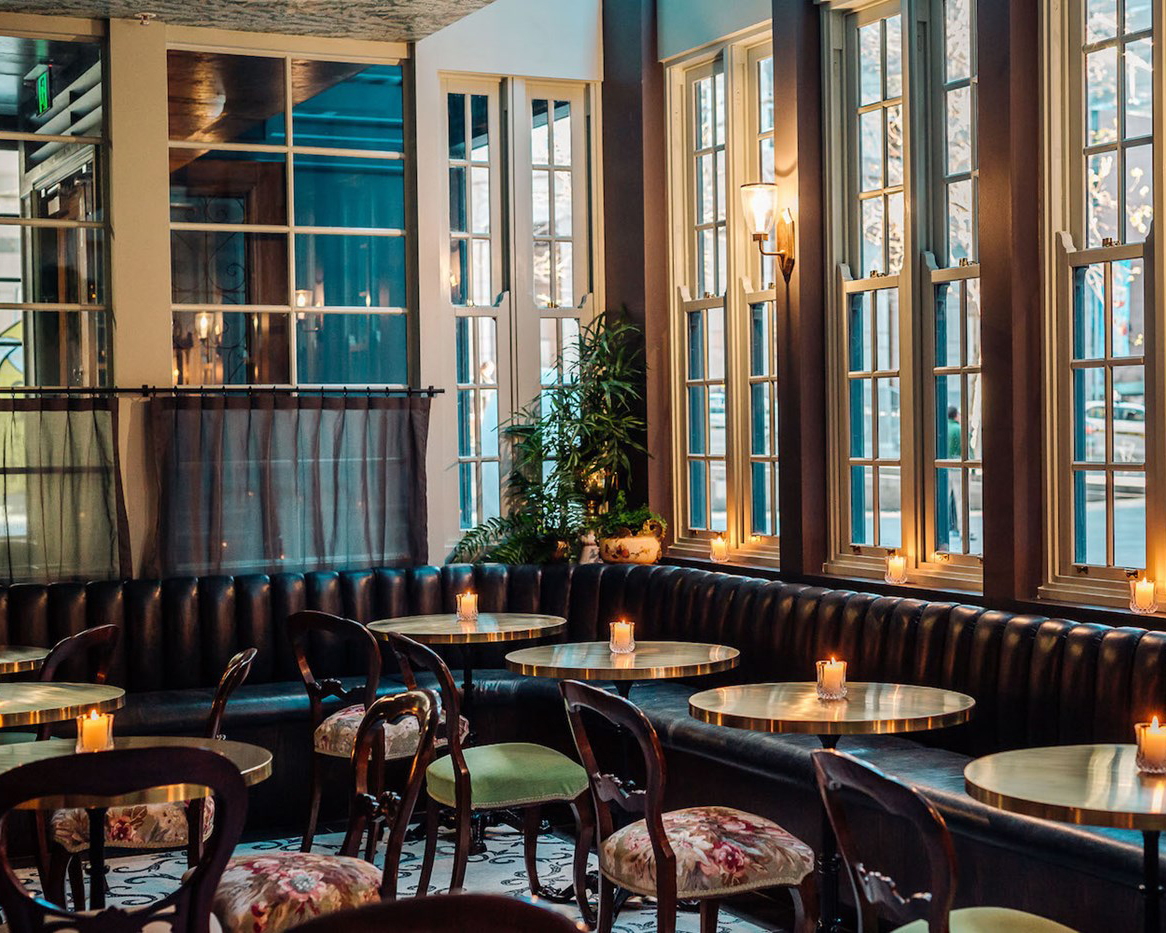 Both a cocktail bar and French restaurant, the old-world style Kittyhawk provides a unique and moody take on your traditional wedding venue. With a designated events team focused on delivering an exceptional guest experience, the venue is well-placed to host both ceremonies and receptions with multiple private and semi-private spaces to choose from, catering from 25-175 guests. For semi-private or smaller cocktail-style events, the team can assign you a section of the bar for fast service, or provide dedicated table staff. Enquire here.
Lindsey Darling Point
This elegant and traditional 1830s-era mansion is a favourite location for photographers, producers and filmmakers due to its harbourside setting, private landscaped gardens and sandstone courtyard. Ceremonies and receptions can be hosted in the garden overlooking Sydney Harbour, utilising its elegant light-field marquee or patio space, or more intimate groups can make use of the mansion's indoor dining and reception rooms. The venue also has an exclusive caterer with a wealth of experience hosting weddings at the location, covering everything from grazing tables, cocktail-style canapes and seated course menus available for customisation. Enquire here.
Ursula's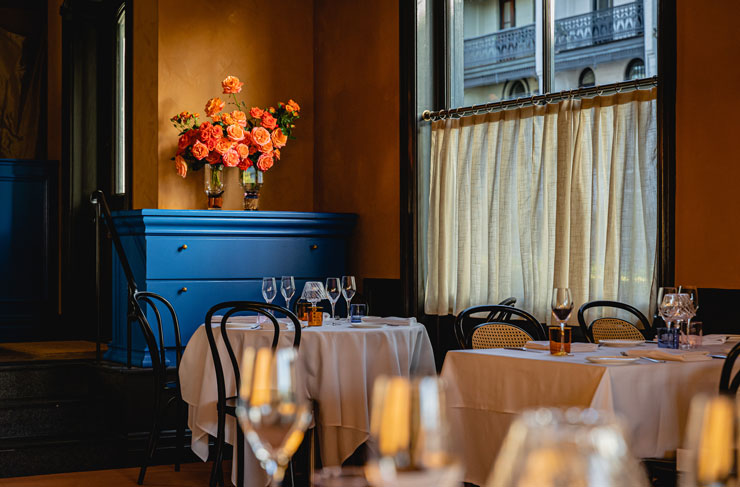 For intimate and small-sized weddings where fine wine and food are high on the agenda, it would be remiss not to consider The Blue Room at Ursula's—one of the best restaurants in Sydney right now. The warm, chic, and refined private dining room can comfortably accommodate up to 12 guests, with the option to custom design a menu specifically for your guests, alongside the expert guidance of former Rockpool and Eleven Bridge chef Phil Wood and Master sommelier Sebastian Crowther. Located on the second floor of the restaurant's charming Paddington terrace, the space offers both privacy, natural light and views over to the city, ensuring an event to remember. Enquire here.
NSW State Library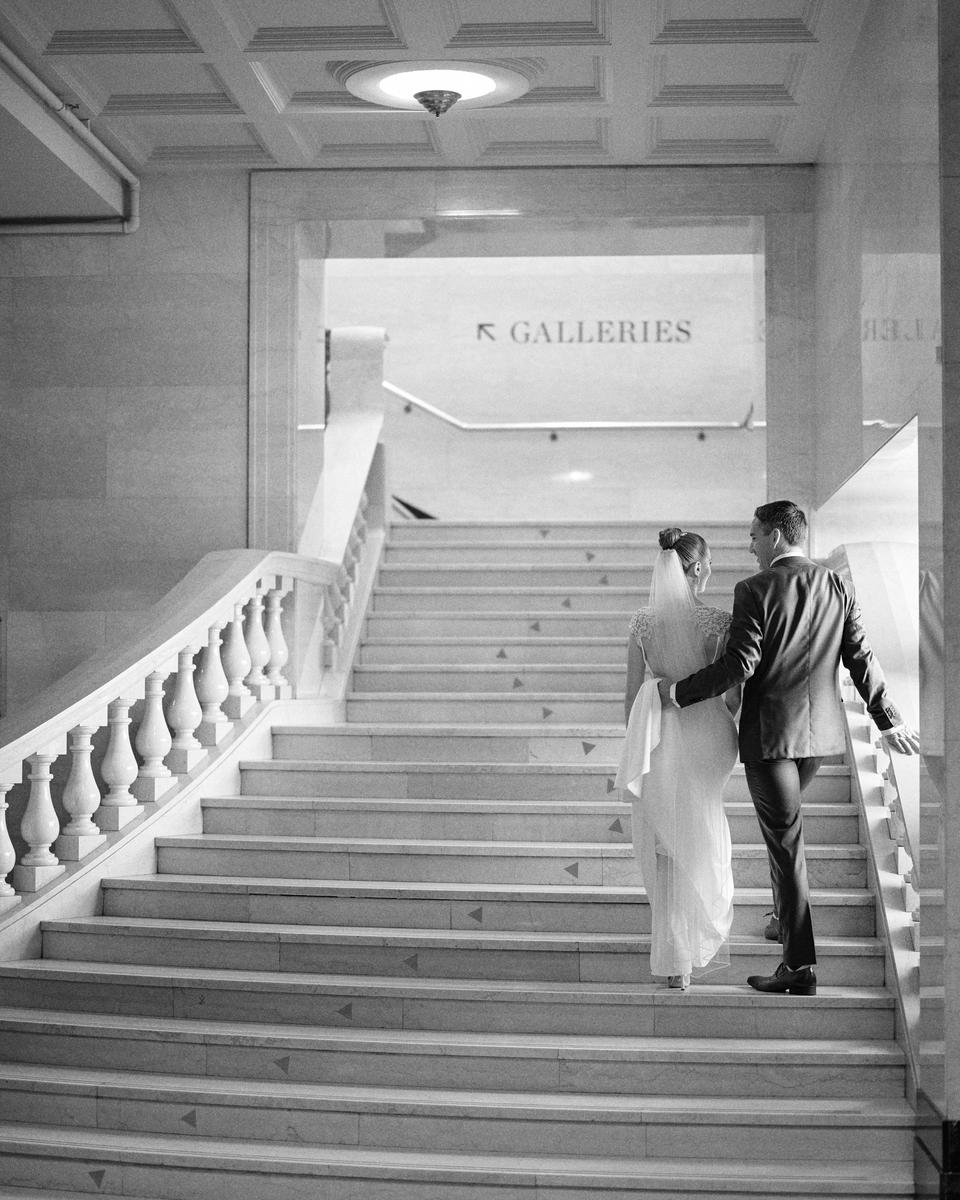 What could be better than getting married amongst the greats? While it may not be the most obvious of wedding venues, the NSW State Library's historic Mitchell Building actually plays home to several spaces perfect for grand and intimate wedding receptions and ceremonies. With rooms capable of hosting guests from 8 up to 200, the options for creating a truly unique and bespoke event are almost endless. In addition, the Library's in-house caterers, Laissez Faire, have over 30 years of experience delivering high-end, large and boutique-scale events, so you can be assured they will help design the menu of your dreams. Enquire here.
Olio Kensington Street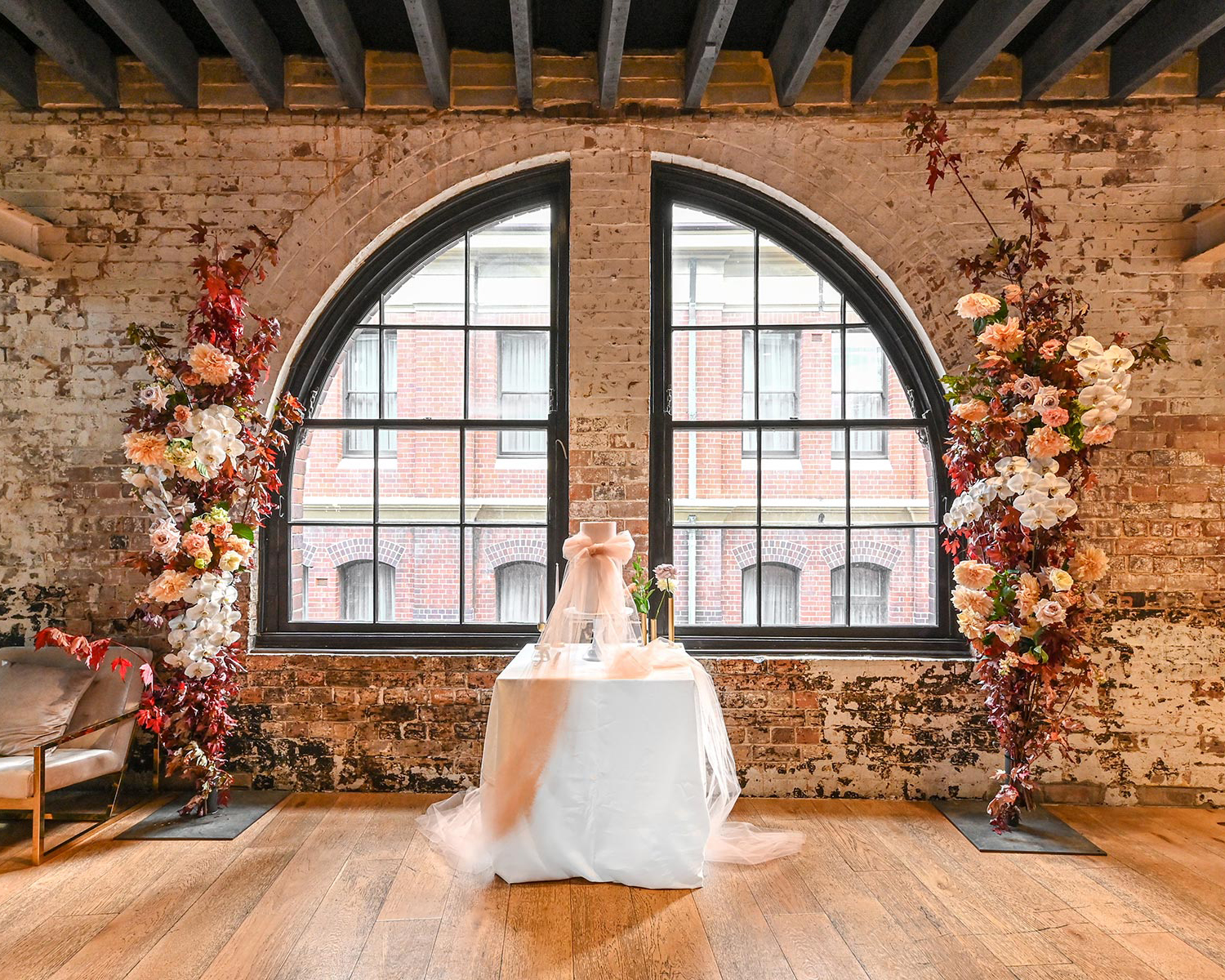 Olio Kensington Street features a beautiful contemporary, light-filled dining room with large historic arch windows and exposed brick walls located on the second floor of The Old Rum Store in the vibrant Kensington Street precinct. With the capacity to cater to 120 guests standing and 75-85 seated, the team, including award-winning executive chef Lino Sauro, are ready to turn on the Italian charm, ensuring an unforgettable dining experience for you and your guests. The venue also features a team of dedicated wedding coordinators to assist you in planning your day, with multiple tailored packages available to suit all types of celebrations. Enquire here.
Royal Botanic Garden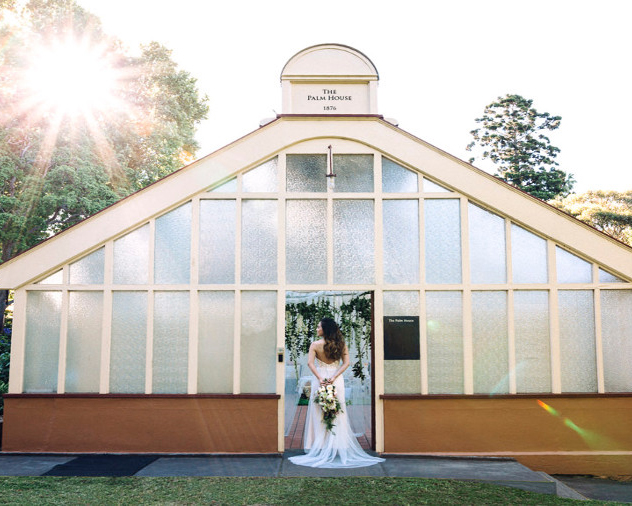 Located in the heart of Sydney city, the Royal Botanic Garden provides an almost endless list of speciality gardens, lawns, heritage buildings and pavilions perfect for hosting wedding ceremonies and receptions, both small and large. Depending on your chosen location, marquees and furniture can be brought in to create a truly unique and custom event, or you can keep things simple and take full advantage of the garden's natural beauty. Venues include The Palm House, the oldest glasshouse in New South Wales, the beautiful sandstone Lion's Gate Lodge, and the much-loved Harbour View and Bennelong Lawn, with spectacular views of the Opera House and Harbour Bridge. Enquire here.
Estate Vaucluse House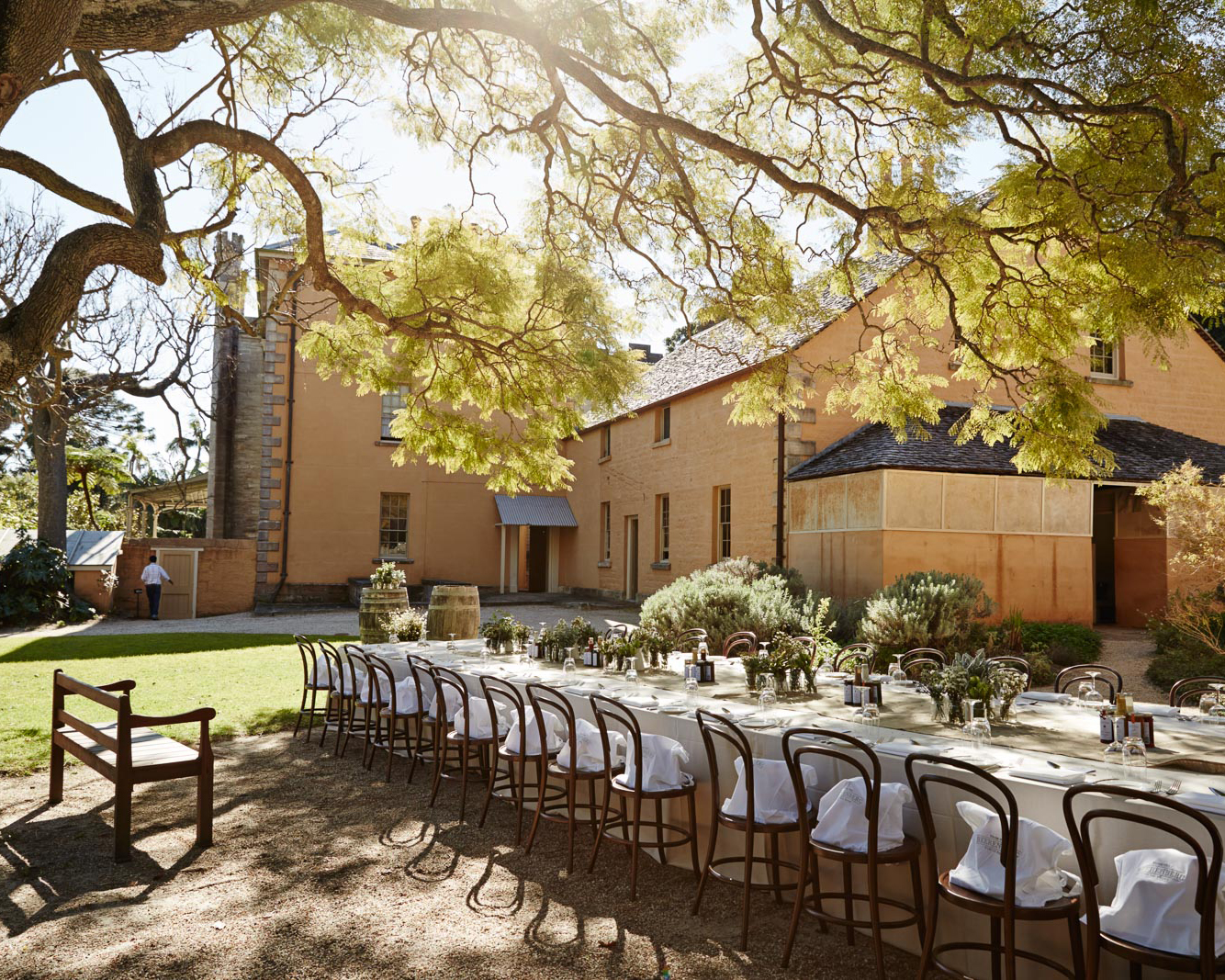 With its 10 hectares of gardens, Estate Vaucluse House, located in Sydney's East on the edge of the harbour, is about as picturesque as wedding venues come. The elegant manor house has a variety of lawns and gardens, perfect for hosting alfresco ceremonies and receptions, with the house's culinary partner Pearl Catering ready and waiting to bring to life everything from custom-styled table banquets to cocktails and canapes and sit-down dinners. As a special touch, menus will be created using the finest produce available in Sydney, including from Estate Vaucluse House's very own market garden. Enquire here.
No 92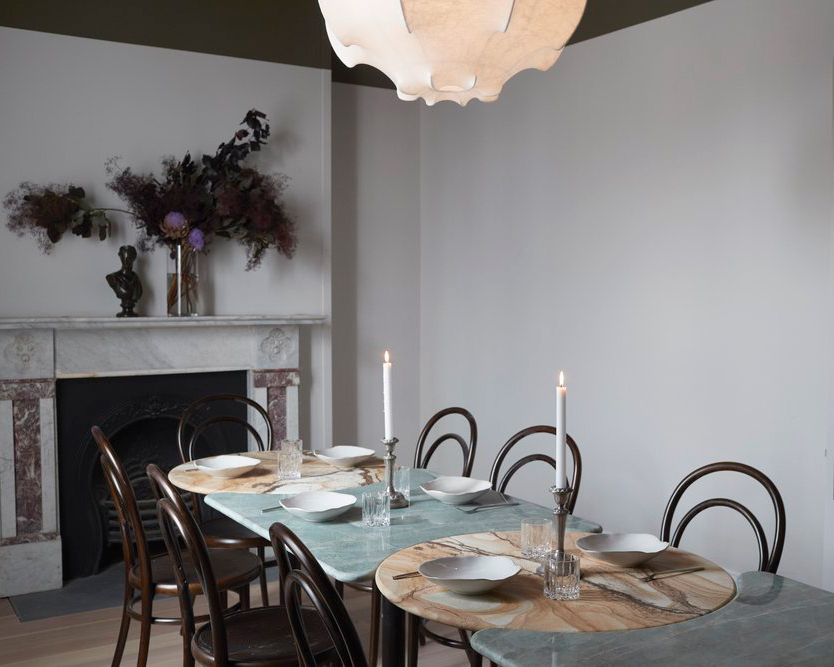 This neighbourhood wine bar and Mexican-inspired restaurant in the heart of Glebe also pulls double duty as a multifunctional events space, perfect for hosting small to medium-sized weddings. The carefully restored and chic two-story terrace comprises a street-facing bar, three private upstairs dining rooms and a dreamy courtyard just waiting for summer celebrations. The largest of the three private dining rooms, The Grand Salon, features French doors opening to the tree-lined street below and can seat groups of up to 20 or more for cocktail and lounge-style events. The remaining smaller rooms can seat 12 and 10, respectively, or larger guest lists can utilise a combination of the spaces to tailor the perfect fit. Enquire here.
Now, check out the best wedding caterers from all around Australia here.
Image credit: The Grounds, Art Gallery of NSW, Swillhouse, The Grounds, Hotel Palisade, The Old Clare, Crystalbrook, Bob Barrett, Alpha, Baba's Place, Bopp & Tone, Chiswick, Kittyhawk, Nikki To, NSW State Library, Olio, Royal Botanic Garden, Vaucluse House, No 92