If there's something Sydney is never short on, it's great date options. Whether it's for your first, second, third, or one-hundredth date, this city provides a plentiful selection of places to spend a few hours getting to know somebody new or appreciating why you got to know a person in the first place.
While it's fair to presume these suggestions are for romantic dates of every kind, consider these for friend dates or the underrated and rejuvenating solo date, too.
These are the best date ideas in Sydney.
Check In To The World's First Challenge Room Hotel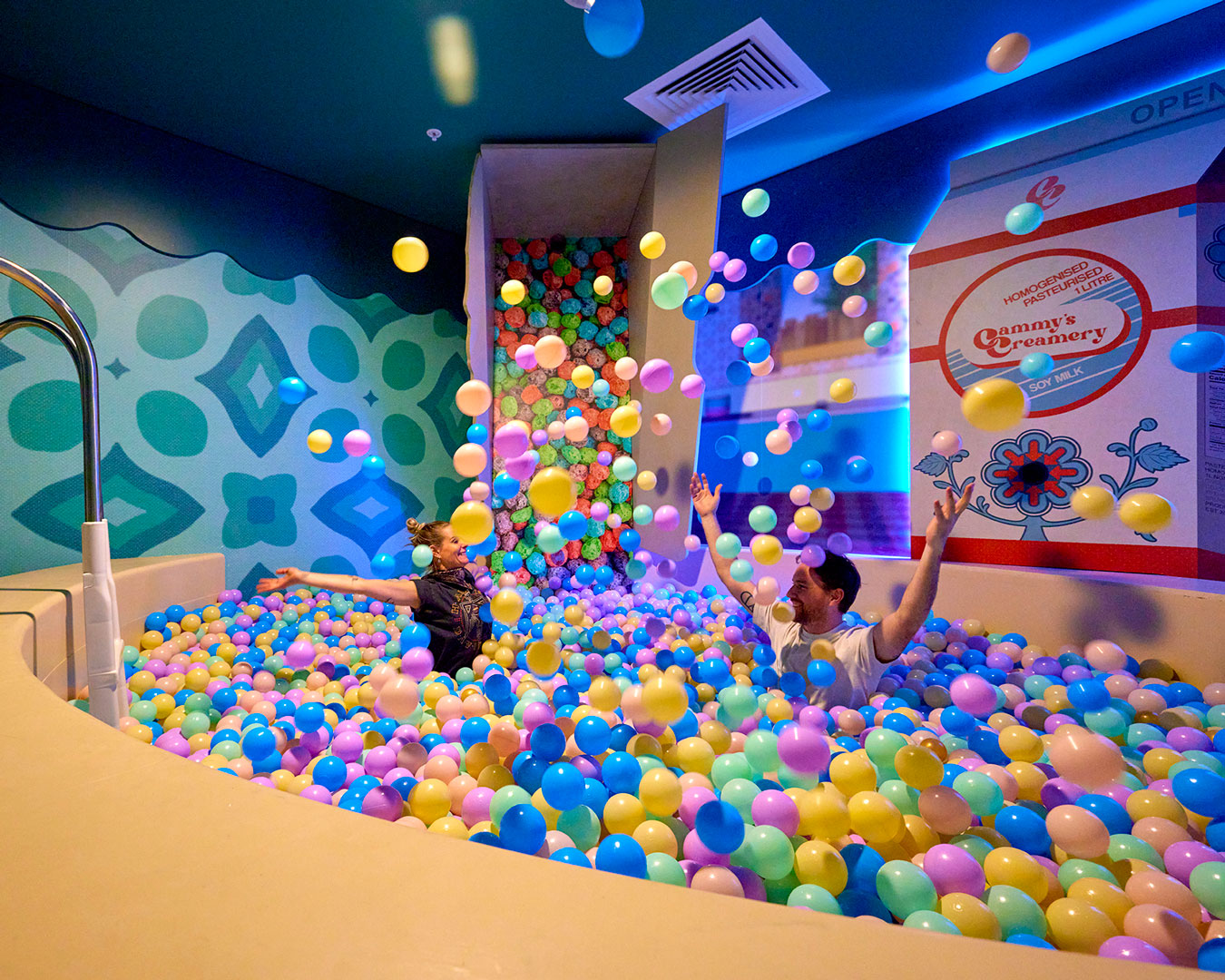 Dating a big kid? Love their childish charms? Then book a session at the world's first challenge room hotel right here in Sydney. Hijinx Hotel comes by way of Funlab—AKA the team behind throwback entertainment meccas Holey Moley, Archie Brothers Cirque Electriq, B. Lucky & Sons, and La Di Darts, which are all great kidult date spots, too.
Hold up, what's a challenge room hotel? Hijinx Hotel looks like a frenzied, fantastical hotel but instead of living it up for a night, you'll be heading to themed rooms to complete different challenges. Think escape room vibes but less stress-inducing and more like the nostalgic games of your childhood. There are a whopping 15 rooms with different games and activities to partake in—from classics like Floor Is Lava, Pinball, Tetris, and Twister to Hijinx Hotel specials like Cereal Ball Room, Candy Ball Pool, and the Titanic Room.
Or Stay At This Lavish Floating Villa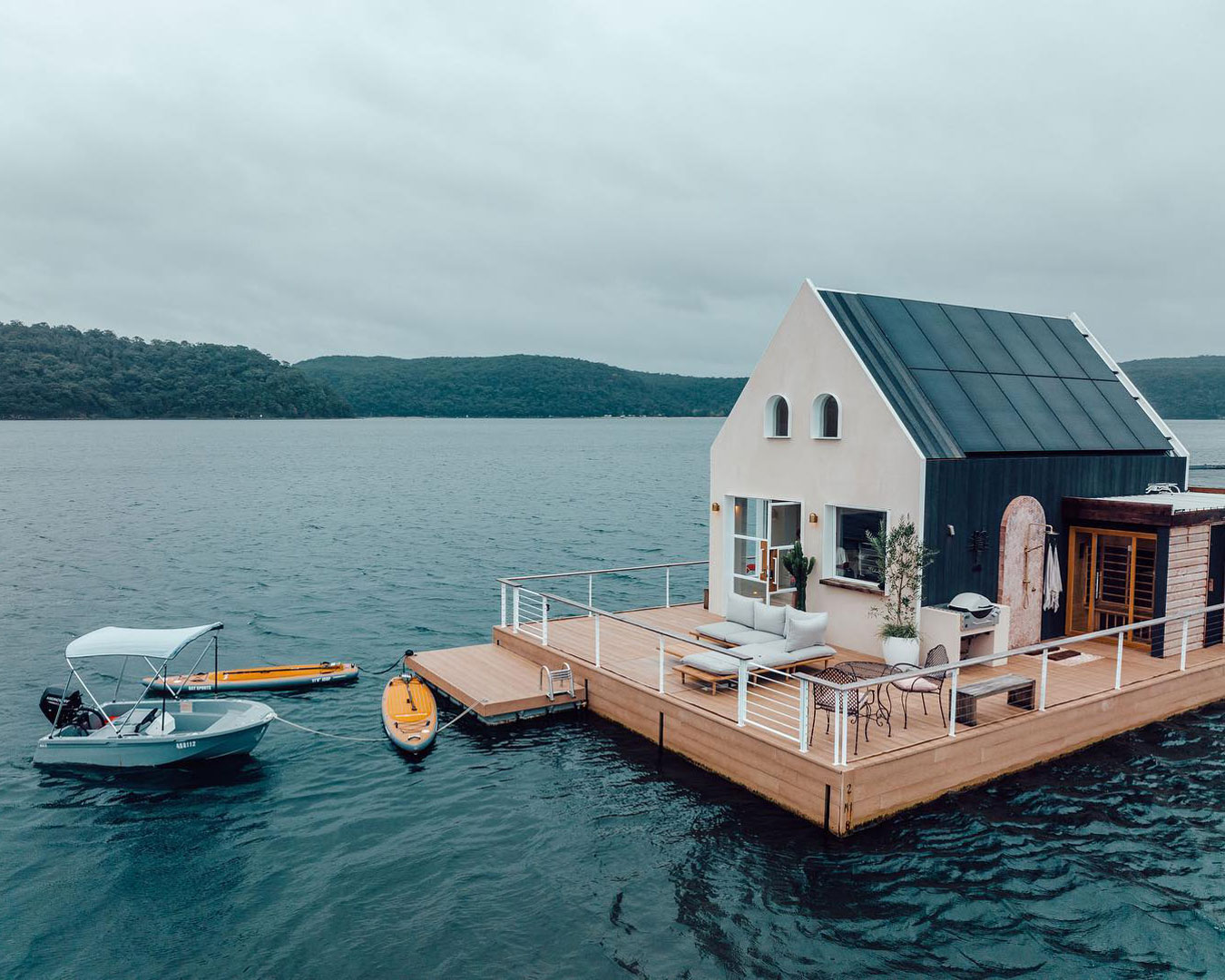 Anchored just off Sydney's stunning Palm Beach, Lilypad is the type of staycation packed with complimentary Veuve Clicquot champagne, Glenmorangie whiskey, breakfast from local heroes at The Boat House and plush sustainable linen—a stay here includes lots of luxury trimmings, alongside the sweet smell of salty ocean and the tranquil sound of gently splashing waves.
As for what's included in your booking, we weren't joking when we said it was lavish. You can expect access to your own private boat to zip about the surrounding beaches, a personalised concierge, transfers to and from Lilypad, chef-prepared meals, a complimentary mini-bar, a solar-powered sauna, and access to paddleboards, fishing rods and a floating day bed.
Hit The Beach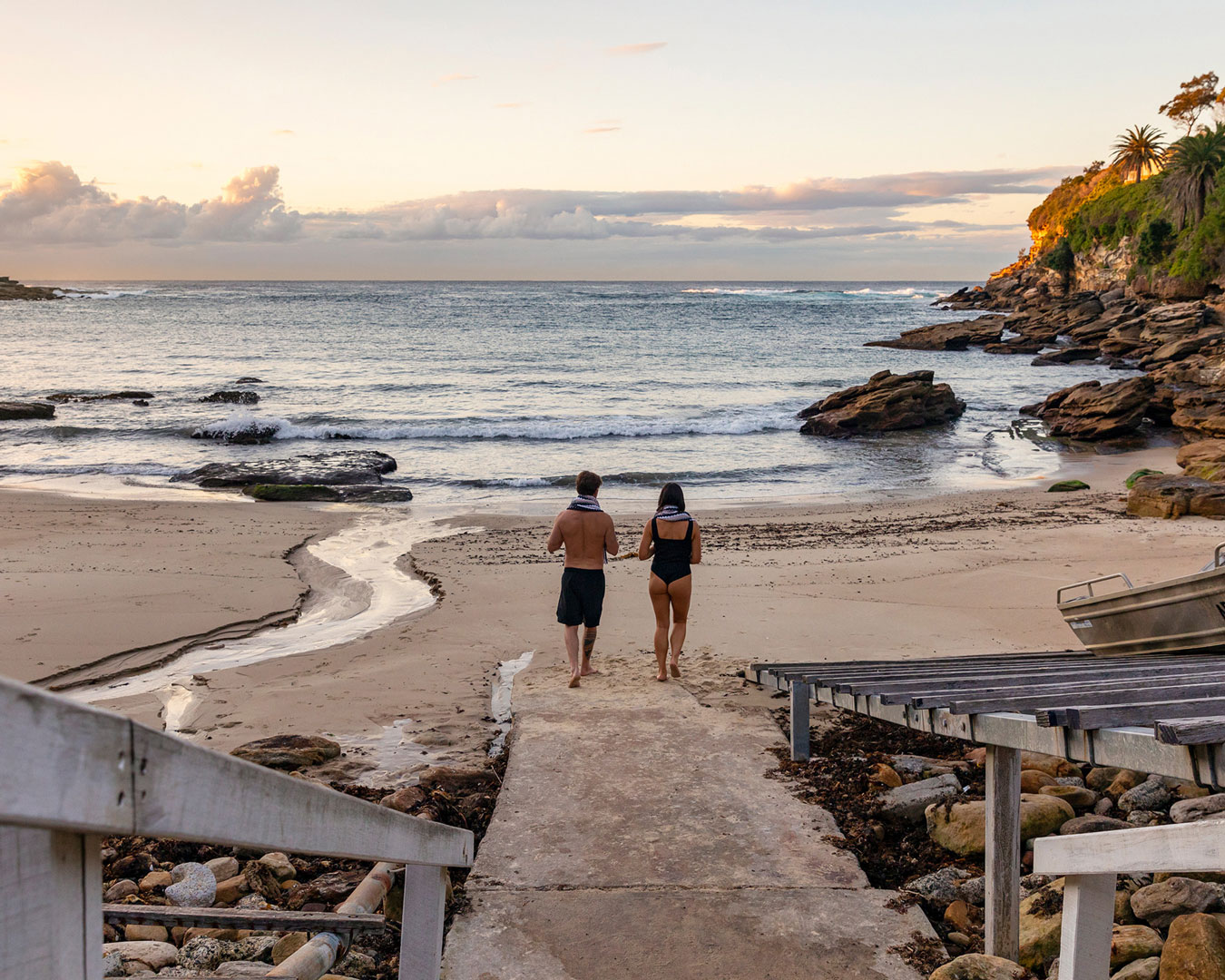 Who said you can only organise dates at night? Head to any of Sydney's magnificent coastline for a prime date spot to perch up for the day and enjoy the final rays of summertime sunshine. In our opinion, one of the best places to relax while getting to know someone is picturesque Gordons Bay in Sydney's East. Just South of Clovelly, navigate through the bay's rocky surroundings until you find a comfortable flat surface to spend the arvo (extra points for a beach date without the constant annoyance of sand).
Although no one has ever looked attractive wearing snorkelling gear, it's worth bringing some to get lost floating around looking at the endless fish variety inhabiting Gordons. When it's time for lunch or a twilight dinner, make the 10-minute walk up to famed takeaway burger shop and locals' favourite, Out of the Blue. We know you'll be wary of taking down a big lunch during a beach date, but the hot chips alone are worth it—trust us, you'll be too happy to care.
Need more romantic seaside inspo? Check out our favourite Sydney beaches here, or opt for a lil privacy at these secluded swimming spots.
View Sydney From Great New Heights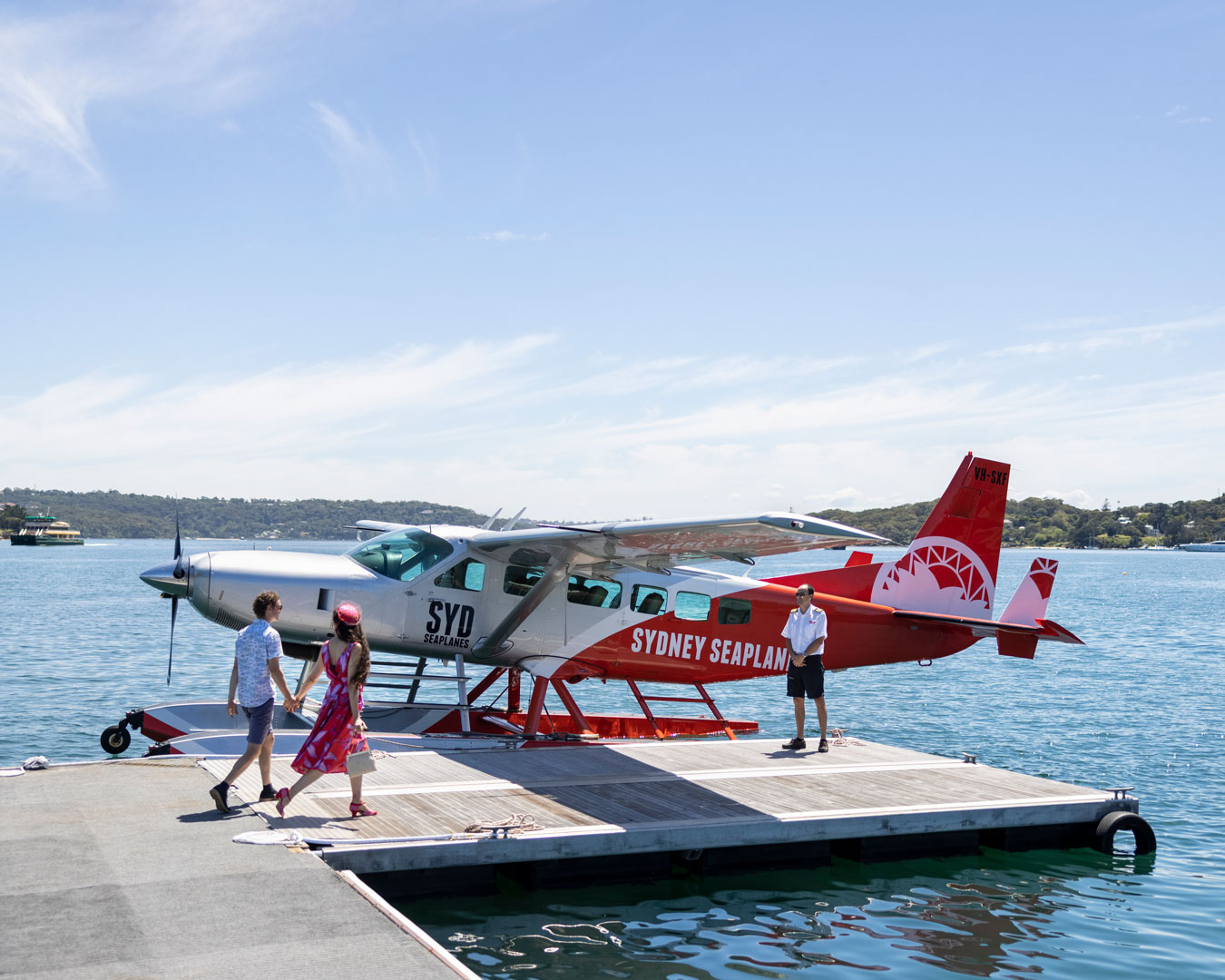 The Sydney Tower Eye Skywalk is a rite of passage in Sydney—that is if your date isn't terrified of heights. This mega tower, which reaches 268m above the ground has the most sought-after vantage point in the city, unmatched anywhere else. You'll get a 60-minute SKYWALK tour with access to the tower's bucket list observation deck—a clear stretch of glass that lets you see the streets below so it feels like you're floating above the city. Or, you could skip the walk and hit up fun-loving, retrofuturistic bar Bar83, located 83 floors up in Sydney Tower.
If that's a bit extreme, perhaps a seaplane trip to a stunning waterfront restaurant is a winning idea. Berowra Waters Inn has long been a swanky spot to celebrate a big, romantic occasion. It's perched right on a riverbank, surrounded by bushland, and serves up a superb set menu while you soak up the sparkling water views. To get there, you can really go all out and take a seaplane and cruise high about Sydney Harbour pre- and post-lunch.
Keep These First-Date Spots Up Your Sleeve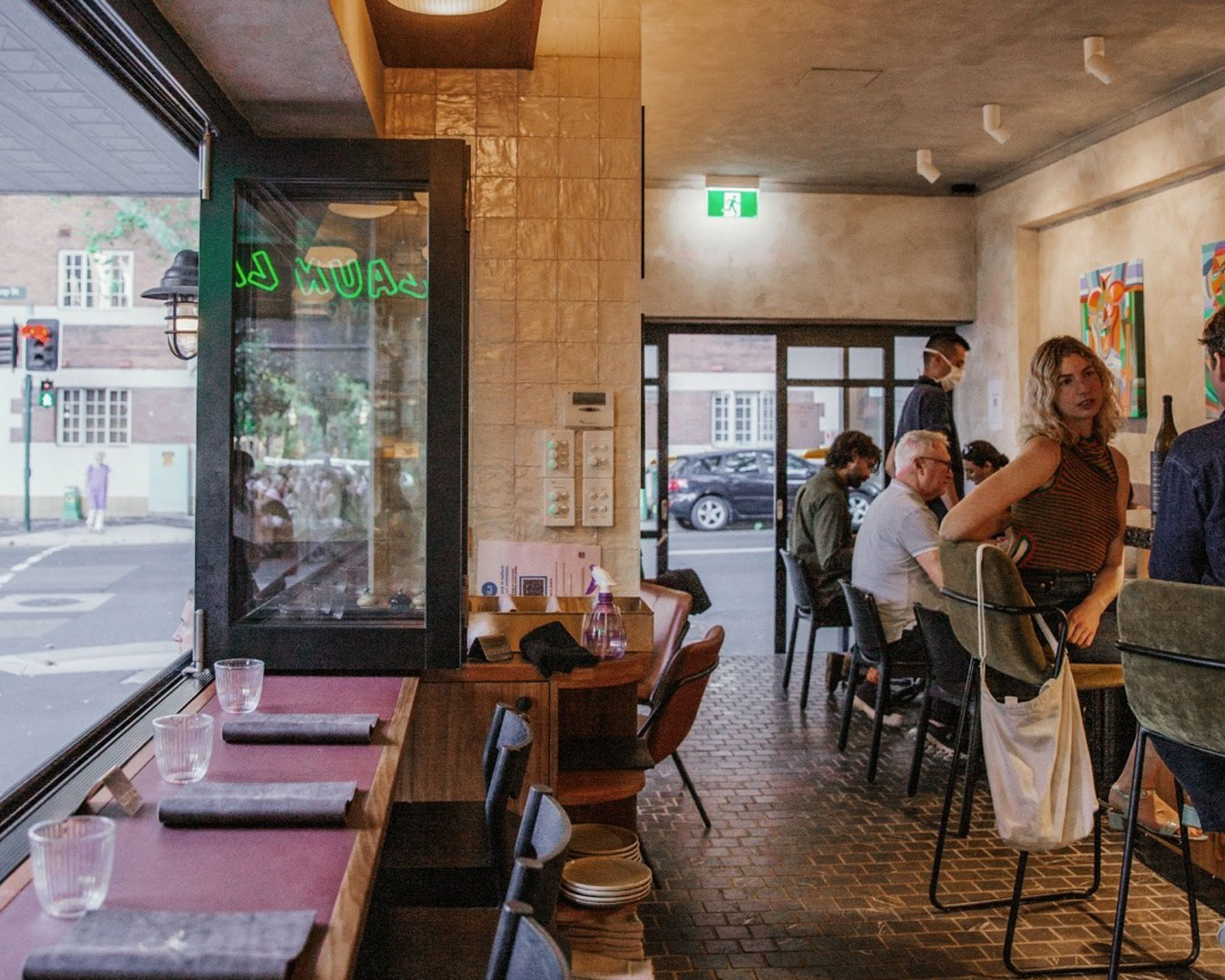 It's fair to say that when organising a first date, you're trying to impress. Besides being an excellent and caring human being, there's no better way to do that than picking the ultimate restaurant and bar combo. To kick things off, head to the causal, pint-sized Piccolo Bar for an aperitivo like a negroni or spritz—and make sure you head in between 4–5pm to score their $13 cocktail happy hour. Then make tracks to dream date spot, Bar Sopra. This intimate restaurant serves up a slate of Spanish-influenced tapas-style share plates perfect for demonstrating you have the capabilities to share food.
Once the sun has long set but the night is still young, walk down the road to Orwell Street and The Roosevelt, a cocktail bar steeped in Kings Cross and Sydney history. It's there, sitting in the candlelit darkness, where you'll sip on a rye whiskey and think about where to go for date number two.
For more splendid spots to drink with someone new, work your way through the cocktail lists at these impressive Sydney bars.
Level Up Your Gin Knowledge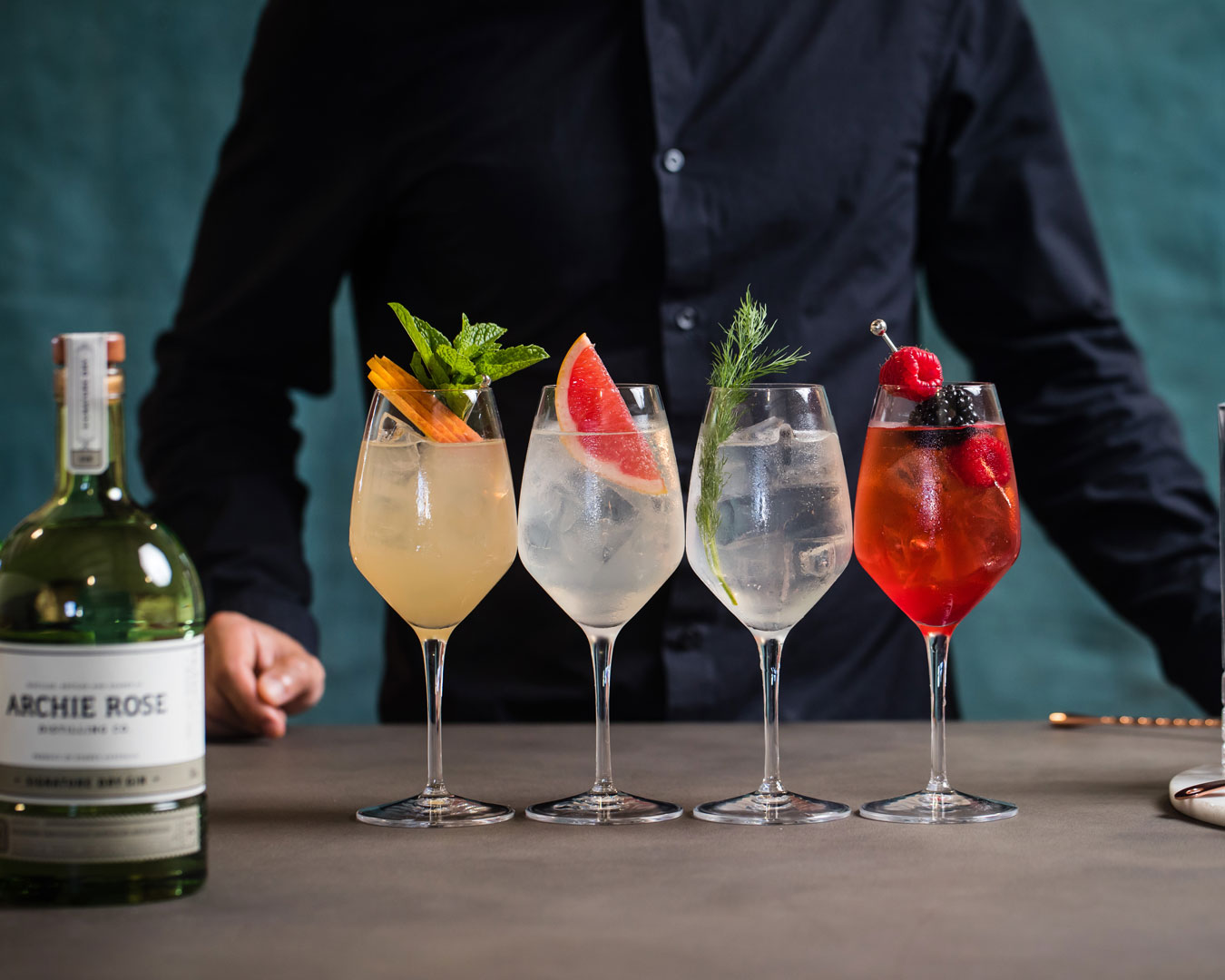 Don't be afraid of the word educational, because this date idea involves learning how to dramatically up your drink-making skills while, you guessed it, drinking. The Archie Rose Distillery in Rosebery not only makes some of Australia's finest spirits, but it's also home to a cosy bar that hosts masterclasses perfect for a night out. Whatever your poison, the award-winning distillers have a booze-filled session ready to help you better understand the depths of making your favourite drinks.
Sign up for a blend-your-own gin ($119pp) or whiskey ($129pp) class for a history of spirit-making at Archie Rose and a guided blending session where you'll make 2 x 200ml bottles of your very own concoction to take home. If you're more inclined toward the shaken or stirred variety of drinks, then book in for the cocktail masterclass ($179pp) where you'll be taught how to make three classic cocktails (that means plenty of tasting as you go) and take home a 200ml Archie Rose tasting set.
Embrace The Great Outdoors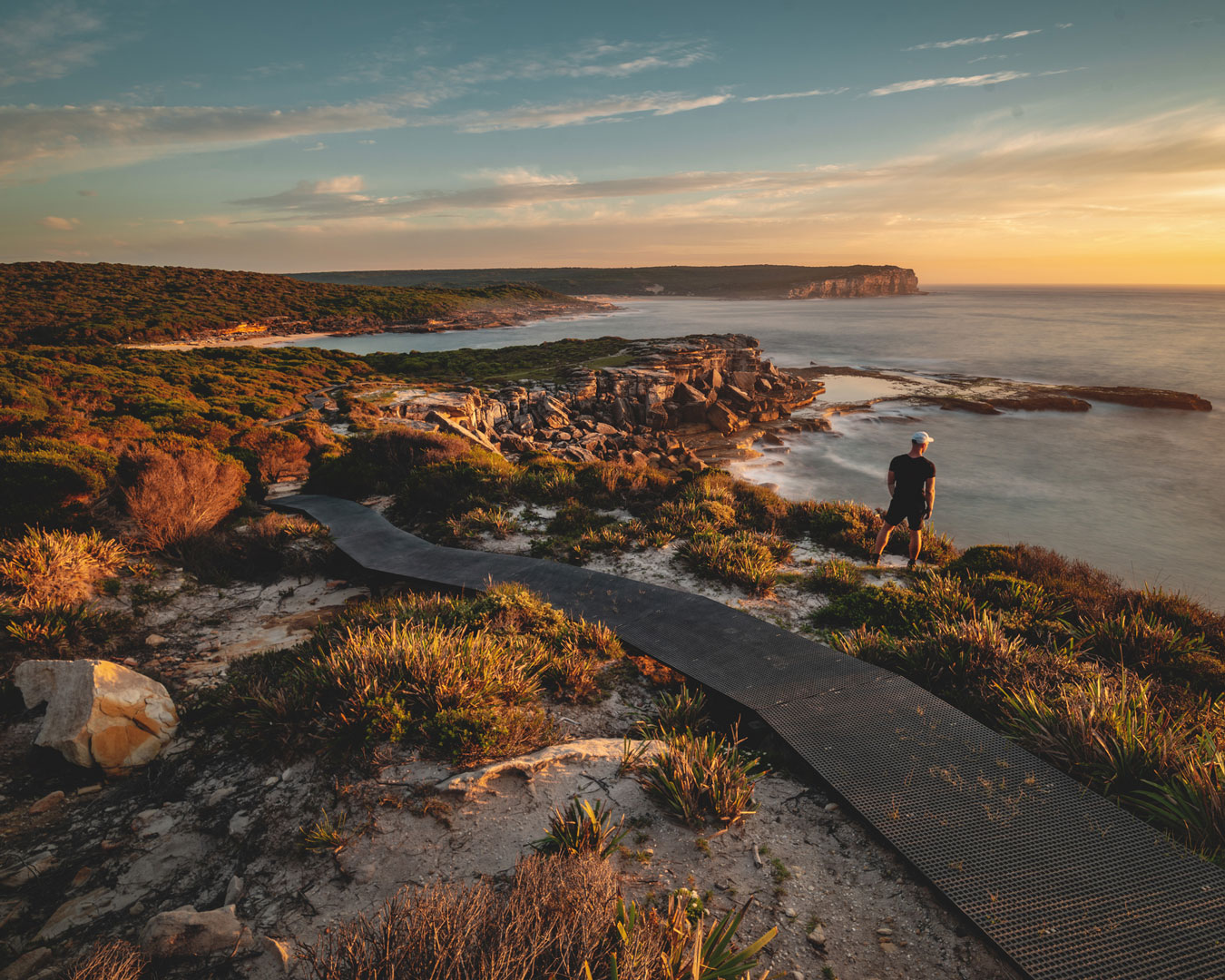 Away from the usual bar and restaurant spots of the typical date, let's escape the city for a more adventurous day out. If you didn't already know, just under an hour's drive south of the CBD lies the magnificent Royal National Park and its beaches, waterways, and hikes.
Find your way to Bundeena, a small township at the water's edge of the national park, where you can take off on an exploratory day of kayaking. Bundeena Kayaks offer single or double kayaks and stand-up paddle board hire (consider comical falls when deciding if this is appropriate for your date or not). Take a few hours to explore secluded beaches and the floristically and biologically diverse national park at your leisure. If you prefer putting on a pair of walking shoes to explore on foot, try the Bundeena Drive to Marley walk. The 8km return hike takes roughly two hours to complete, but plan for longer than that so you can spend some time at a pristine and isolated 140m stretch of sand called Little Marley beach.
If you're after more scenic hikes around Sydney, check out our full list here. For more stunning kayak spots, head over here.
Get Fancy On An Anniversary Date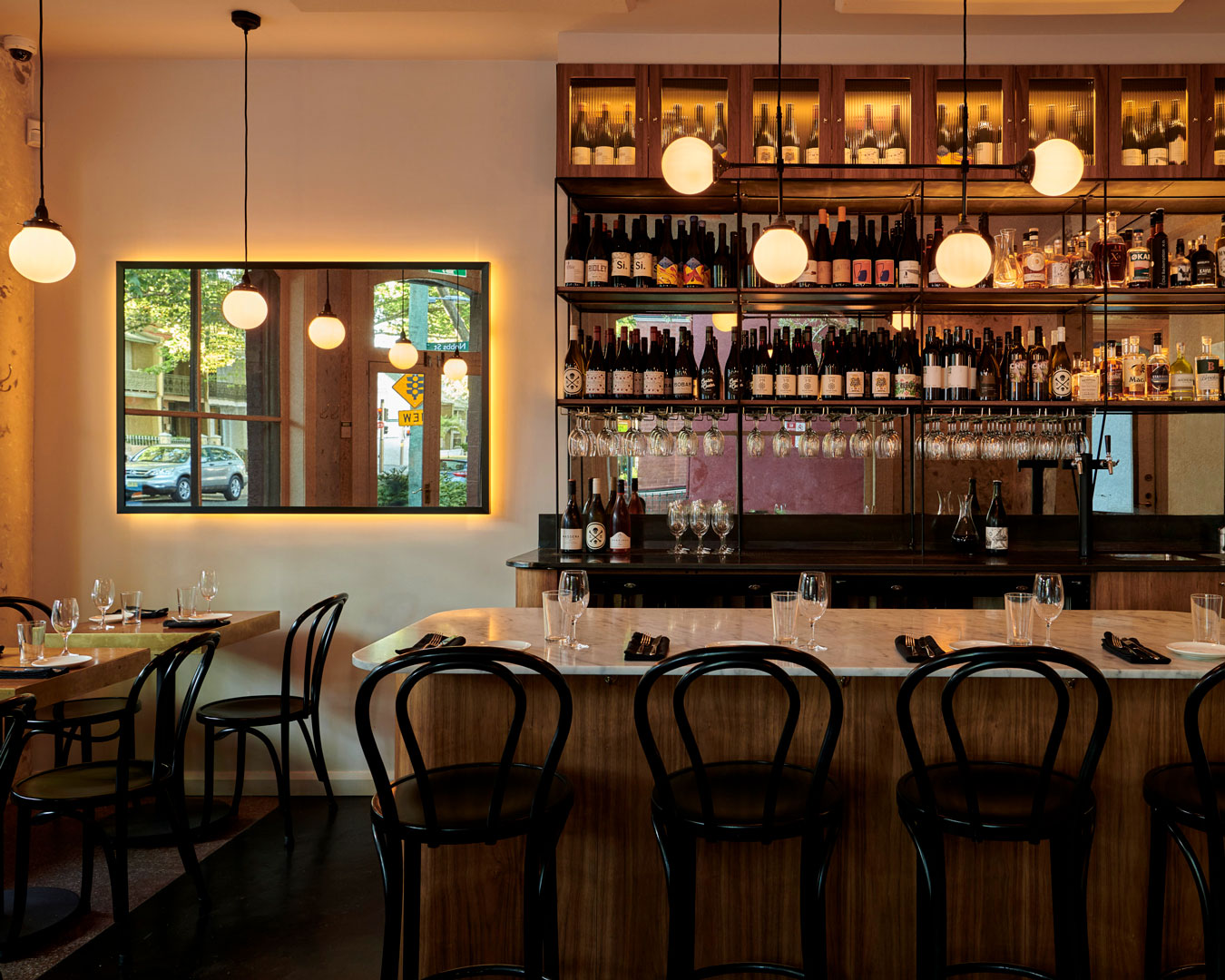 If you're out and celebrating an anniversary, it's time to step it up and go somewhere special. Who better to turn to than one of Sydney's best hospitality power couples, Ross and Sunny Lusted, and their restaurant, Woodcut. Formerly of the award-winning fine-dining institution, The Bridge Room, the Lusteds returned to the Sydney culinary world in December with their new water-front venture within the extremely luxurious Crown Sydney precinct. With four open kitchens, wood ovens, slow-burning charcoal grills, steam kettles, and a vertically mounted garden, Woodcut is all about using unique cooking techniques and giving diners a theatrical experience.
For something a little less flash but still incredibly special, head to Surry Hills' Arthur for a delightful degustation. Arthur is a polished, warmly-lit restaurant tucked into the quiet and leafy end of Bourke Street. Chef Tristan Rosier spent time in the kitchen at Est., Biota and Dead Ringer, and his strictly seasonal menu consists of five courses (currently, it's $160 per person, with additional $85–135 for matching wines). There are two nightly seatings (6pm and 8.30pm) and lunch on Saturdays and Sundays. You'll begin with Arthur's superstar sourdough and cultured butter, before moving on to things like scallop with finger lime and roe, Spangled Emperor fish with chestnut, shiitake and sorrel, or wagyu beef, carrot and bone marrow. Dessert might be a layered chocolate and passion fruit cake. Plates are small but stacked with flavour—you won't be overly full, or go home hungry.
For more special Sydney restaurants, head over here.
Race Them On The Track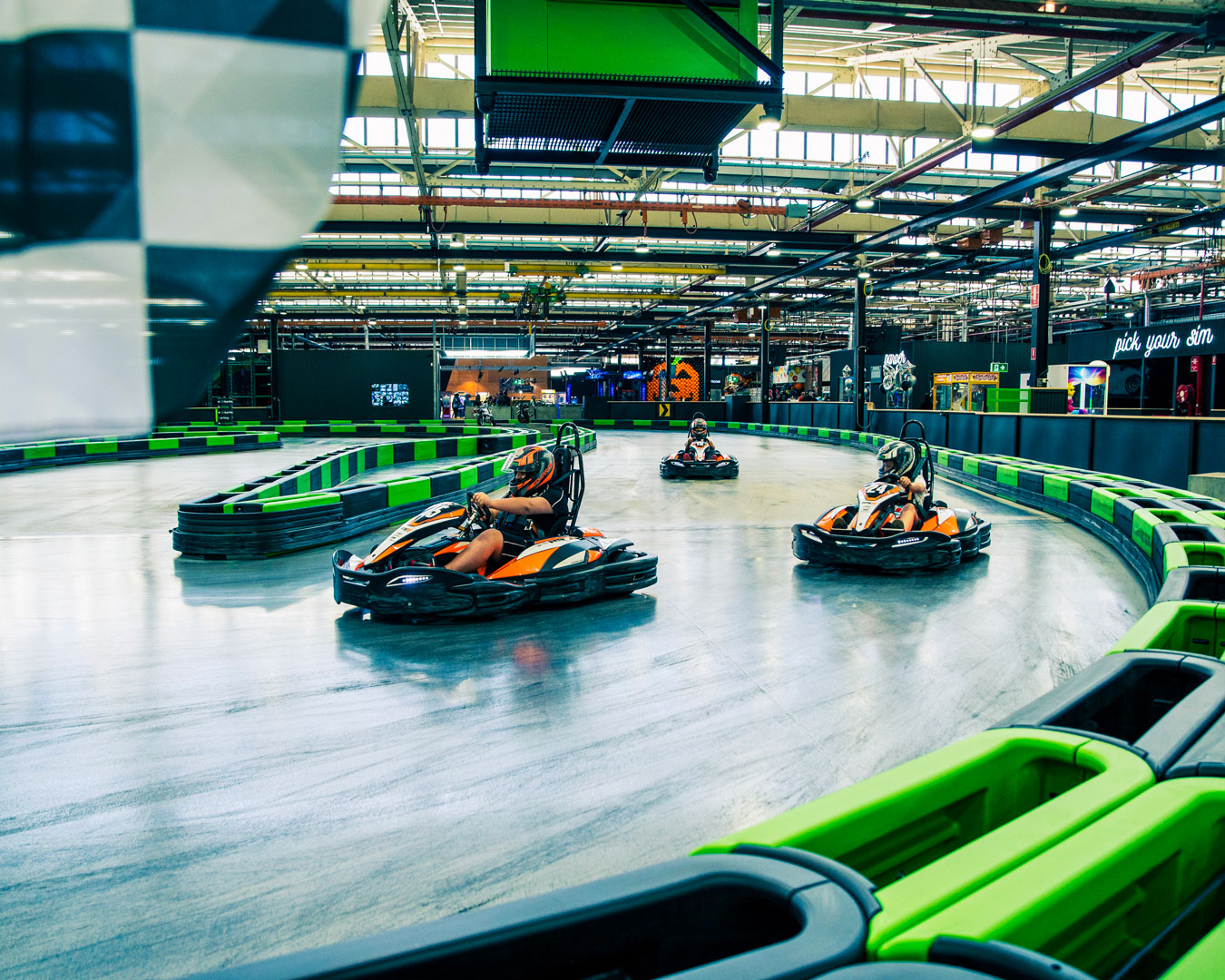 Yes, adults are absolutely allowed to play on a date thanks to Western Sydney's late-night Entertainment Park. Getting to know someone might become a whole lot easier by letting your guard down, having some fun, and even getting competitive. The Entertainment Park is home to Sydney's largest indoor electric go-kart track, a giant bowling alley, a mind-blowing virtual reality arena, and a pretty full-on racing car simulator facility. If it's your cup of tea for a date activity (each to their own), you can even get a trim at the in-house barber. We reckon it's on the E-karting track where the most fun is to be had, especially since the electric cars can reach 85km/h. Be careful, the outcome of the race could make or break the date.
Cruise Around The Harbour On A Picnic Boat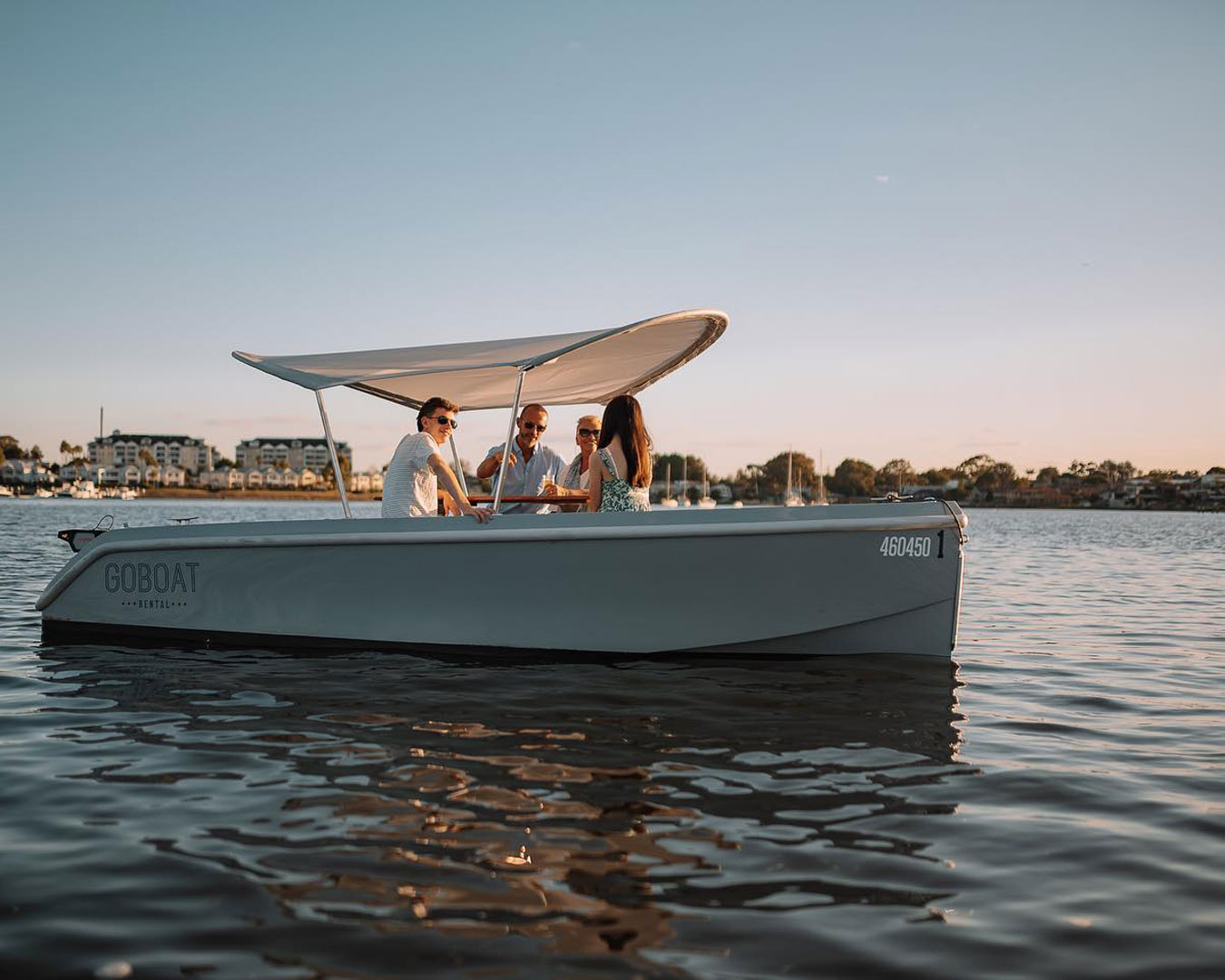 You can now whip around the city's waterways and secret coves in Euro-style picnic boats from GoBoats. And my god, it is stellar date idea material. If you've never heard of GoBoats, let us enlighten you. Originally established in Denmark in 2014 on the Copenhagen Harbour, GoBoat first launched in Australia on Canberra's Lake Burley Griffin and has been a hit ever since.
Each Euro-style boat seats up to eight people and features a communal recycled timber picnic table and sunshade for protection. The eco-friendly boats are constructed from fibreglass using recycled PET bottles and are powered by state-of-the-art electric motors so you can skrrt skrrt around rivers and coves. The best part is—you don't even need a boat license to drive these, so anyone can make like Captain Jack Sparrow.
Need more date ideas? Check out this epic Valentine's Day list.
Image credit: M Dworschak, Hijinx Hotel, Lilypad, Destination NSW, Destination NSW, Bar Sopra, Archie Rose, Getty, Arthur, Entertainment Park, GoBoat
Editor's note: Urban List editors independently select and write about stuff we love and think you'll like too. Urban List has affiliate partnerships, so we get revenue from your purchases.