Hidden in the midst of South Australia's rolling countryside, 14 kilometres south of Mount Gambier, an underwater wonderland awaits.
Kilsby Sinkhole can be found beneath a rural sheep-farming property where the Earth has cracked open to reveal crystal clear waters surrounded by a limestone cavern. It makes for a peculiar, yet stunning, sight that you'll definitely want to check off your South Australia bucket list.
Here's everything you need to know about visiting this great Australian wonder.
Things To Do At
Kilsby Sinkhole
Dive Into The Mystic Blue Below
Without a doubt, the best way to experience the Kilsby Sinkhole and all its crevices is by scuba or freediving, but you will have to hook up with a licenced diving operator prior to your visit. They'll ensure you have adequate accreditations before you jump in the 60-metre deep water. Know that whatever hoops you have to jump through in getting to that moment will be worth it when you get to dive through the shimmering shard of light that streams into the sinkhole from above and swim with the resident turtle, Turtie.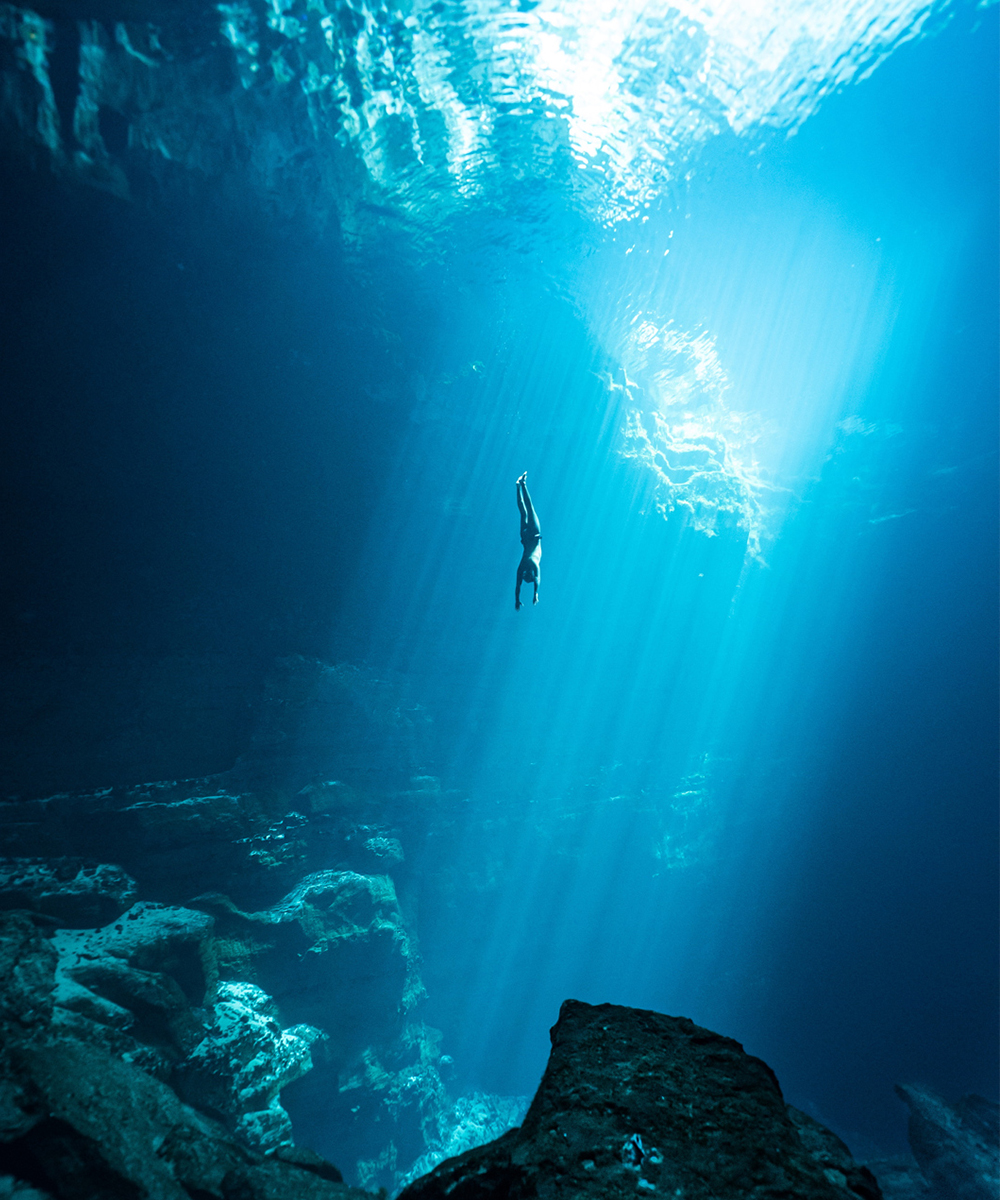 Snorkel Around On Top
If you lack the diving creds or you'd prefer to float on top of the sinkhole, you can take a snorkelling tour instead. Lasting two hours, the tours supply you with all the gear needed to get you into the chilly water (we're talking 15 degrees), as well as a wealth of information about the sinkhole's history. Bookings are essential and the $99 tour can only accommodate eight people at a time.
Go On A Sinkhole Tour
Not too keen on getting wet? You can always opt for a tour of the sinkhole from above. While you won't get to witness the stunning clarity of the water below, or swim with Turtie for that matter, you will still get to take in the tranquillity of the site. For $15 you'll score knowledge on the geology of the area and insight into the Kilsby Sinkhole's secret military past before wandering down to the pontoon below. Tours run for 45 minutes, be sure to book your spot ahead of time.
Buy Some Gin
While the Kilsby crew busily work behind the scenes to launch their upcoming gin tours, visitors can still take home some of their small-batch gin. Made with crystal clear limestone-filtered water and infused with native botanicals like juniper, lemon myrtle and strawberry gum, there's also a limoncello available for purchase.
How To Get To

Kilsby Sinkhole

Kilsby Sinkhole is about five hours by car from both Adelaide and Melbourne, but if you'd prefer less time on the road you can fly direct from both cities to nearby Mount Gambier with Rex Airlines.
Trip Upgrades
While you're in the Mount Gambier neck of the woods it would be rude not to check out some of the other stunning sights. Boasting over 20 national parks, 50 sinkholes and 800 caves, there's plenty to sink your teeth into. Here are just a few trip upgrades to add to your list.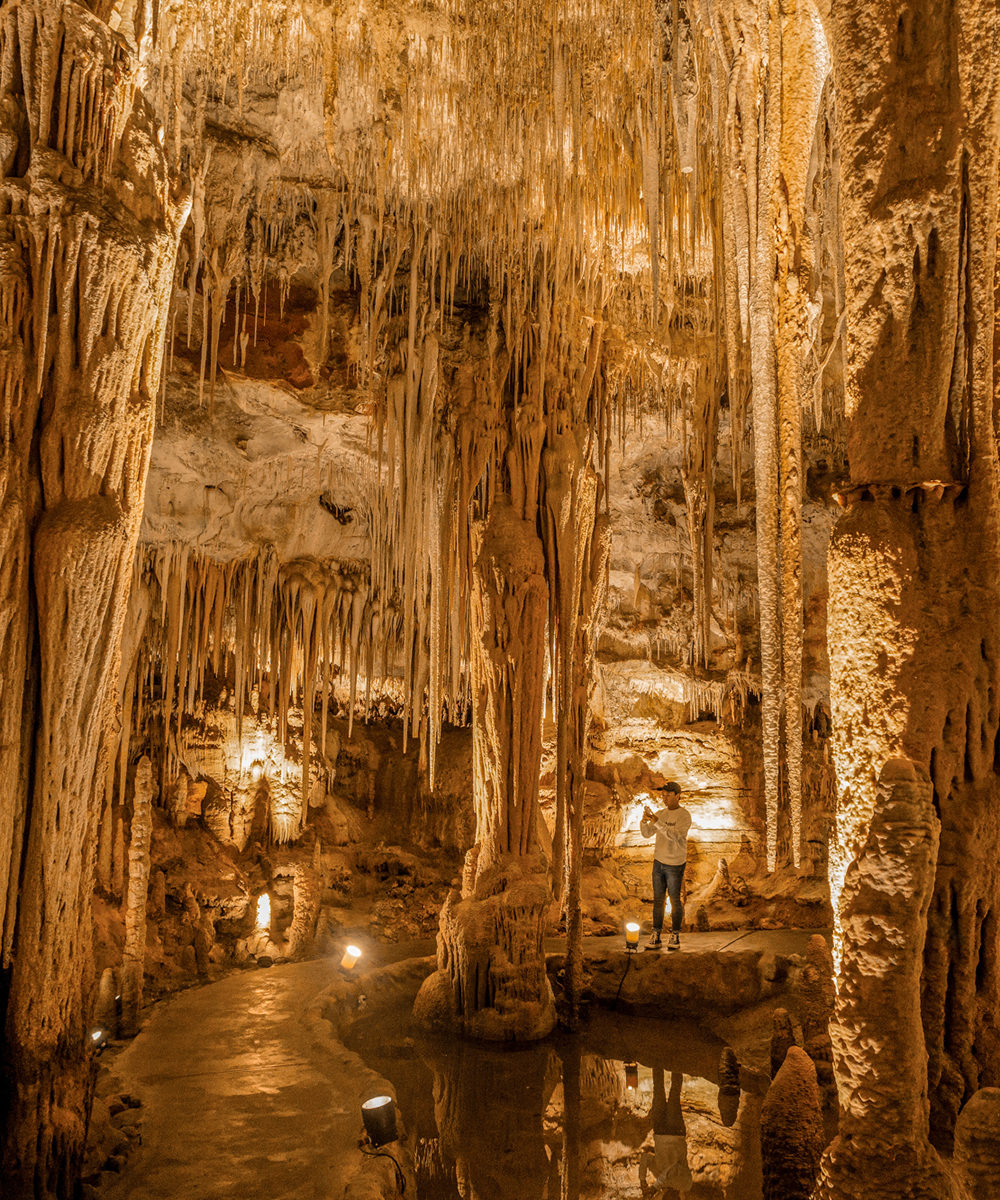 Check Out The Caves
The Engelbrecht, Naracoorte, Tantanoola and Princess Margaret Rose Caves are all nearby, and depending on how much time (or interest in geology) you have, you could check them all off fairly quickly. If you can only choose one, it's got to be Naracoorte.
Sink Into A Sunken Garden
The sunken gardens of the Umpherston Sinkhole are a sight to behold. Originally a cave that then collapsed and somehow created the perfect environment for a plant wonderland, the sinkhole was first beautified in 1886 by James Umpherston. Bring some fresh fruit to feed the possums at dusk… along with your camera of course.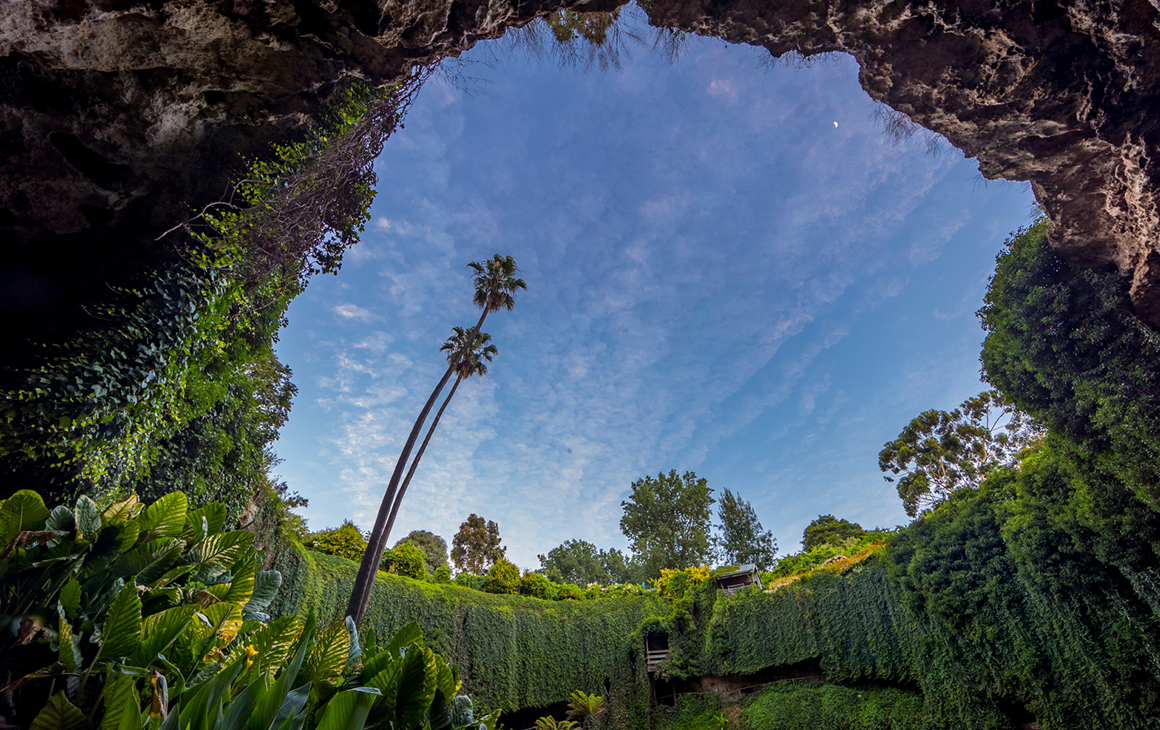 Bliss Out At The Blue Lake
From November to March Mount Gambier's Blue Lake puts on a show of turquoise thanks to a natural chemical reaction involving calcite crystals and warmer temperatures. Set your sights on the lake on an easy 45-minute, 3.6 kilometre rim walk as you battle the urge to jump in (don't do it, otherwise you'll pollute the local water supply).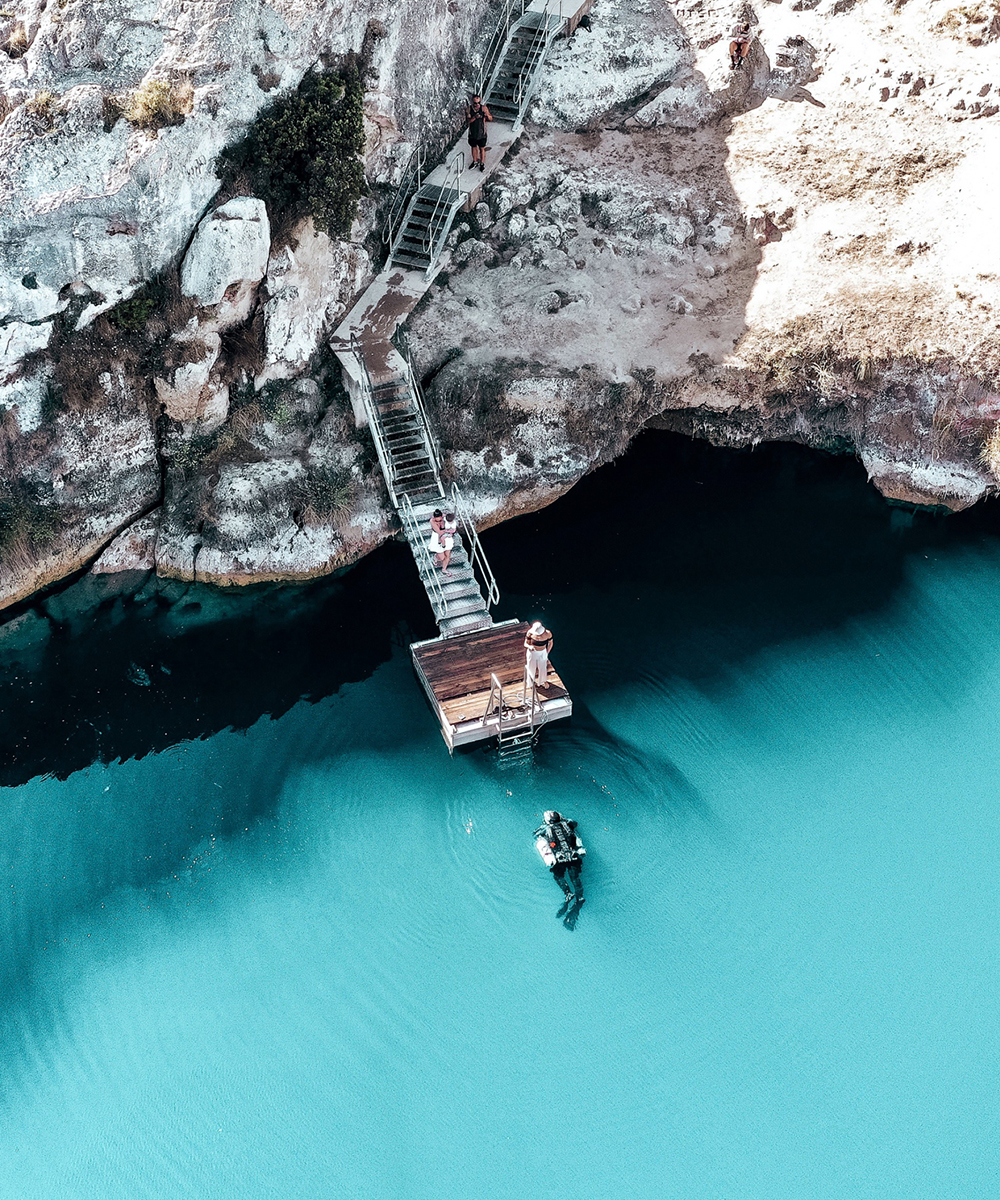 Hunt Out Glowing Mushrooms
Cooler temperatures bring mysterious ghost mushrooms to this part of the world and you can hunt them out at Ghost Mushroom Lane in May and June. Glowing fluorescent green after dark, you'll want to bring a torch and wear warm clothes and sensible shoes on this adventure. And it should be self-explanatory given the shade of green these fungi glow, they're definitely not edible!
Get Your Glamp On
Just because you're getting reacquainted with nature doesn't mean you have to rough it. Bellwether Winery offers up luxury bell tent accommodation that'll take your Limestone Coast experience to the next level. Set amidst centuries-old red gums and around a communal campfire, the experience is one you'll remember, complete with a brekky of fresh farm eggs and home-cooked sourdough. You'll be well fueled for the day of adventuring that awaits.
Ready to head overseas? Check out these 15 bucket list experiences to have in New Zealand.
Image Credit: Tourism South Australia/Adam Stern, Rhisang Alfarid, Michael Ellem, Lucy Adamopoulos, Offroad Images