If you're like us, it's not until the brain fog kicks in, or the afternoon energy slump hits that you realise you've forgotten to restock your vitamins for weeks. And even when you do remember to buy them, figuring out what you should be taking can become overwhelming and negotiating the sea of plastic and packaging filling the pharmacy shelves can be an extra bummer for the environment.
What if we told you that there's a way you can take an easy quiz to figure out which vitamins are right to support your lifestyle, plus go plastic-free at the same time? Well, there is and you can score 40% off while you're at it.
New kids on the vitamin block, Vitable, truly understood the assignment when it comes to convenience and feel-good solutions for both your soul and your body–and the planet.
Knowing that health, performance and energy are hugely personal, Vitable has crafted a quiz to tailor-make your daily dose. If you're keen to understand which vitamins and minerals can best support you, the simple, expert-driven quiz, taken by over 400,000 vitamin-curious individuals to date, delves into some basic information, your individual goals, diet and lifestyle to understand which supplements would most benefit you.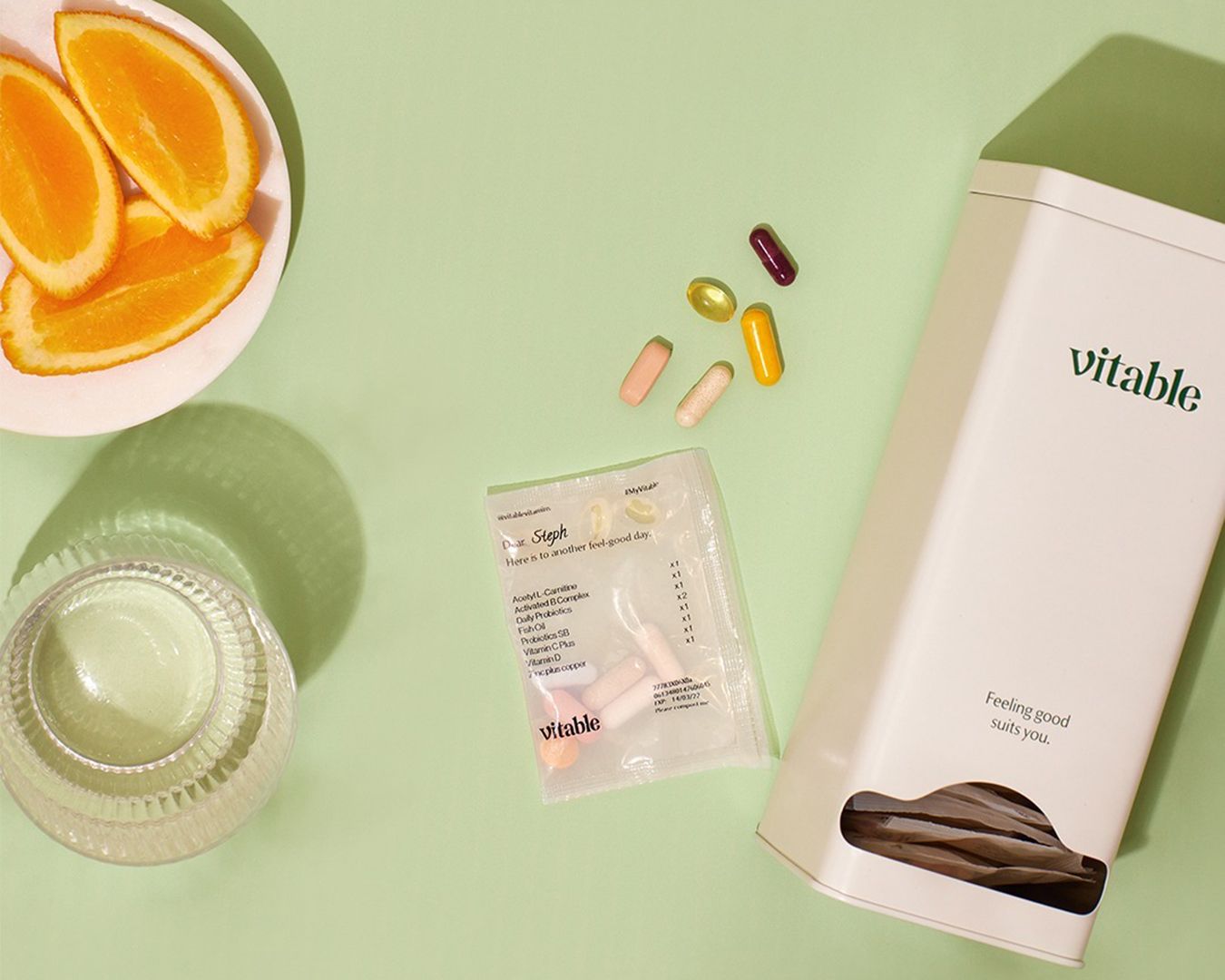 The extensive library of supplements encompasses everything from your classic A to E vitamins, minerals like zinc and iron, herbs such as Ginkgo and Brahmi to bolster memory and learning and Ashwagandha for hormone balance and stress relief, probiotics, and specialty products such as Astaxanthin, for skin and eye health, and vegan omegas for brain function and heart health, a great alternative for traditional fish oils. On top of their supplement offering, you can find protein powders, collagen products and the popular Magnesium Night Powder to support muscle relaxation and quality sleep.
Once your individual supplement combination is created, it's delivered to your door every month in plastic-free, compostable daily sachets, so you never have to worry about running out again. You can also cancel any time, or take the quiz to adjust your order to adapt to changes in your lifestyle.
Plus, each sachet is personalised with your name. It's said that hearing your name releases feel-good hormones such as dopamine and serotonin, so a little personalised hello for your packet isn't a bad way to start the day.
Vitable knows that keeping the planet healthy is all part and parcel of our overall wellness, and maintains a carbon-neutral process, manufacturing and packaging everything at home in Australia. All of the packaging is recyclable and if you have access to a worm farm or compost, you can feed your daily, home compostable sachets to the worms.
Save 40% On Your First Order
To welcome you on your new daily vitamin journey, Vitable is offering Urban List readers 40% off your first order. Simply use the code UL40 at the checkout. This offer is available for first-time customers only.
If you're ready to boost your daily wellness and do future you a favour, head over here to take the quiz today.
Image credit: Supplied
Editor's note: Urban List editors independently select and write about stuff we love and think you'll like too. Urban List has affiliate partnerships, so we get revenue from your purchase