It's not every day two life-long mates cultivate one of the biggest game-changing brands in the country.
Steeped in Australia's enduring surf and skate culture, Afends was born out of a small screen-printing business in the streets of Byron Bay in 2006, from the curious and brand-driven minds of Jono Salfield and Declan Wise. The two have seemingly carved out their very own space in Australia's lagging fashion industry, one not corrupt with the bleeding toxicity of fast fashion's aftermath but rich with a clear sense of environmental purpose, innovation and a whole lot of opportunity (rather than challenges) on the horizon.
Aside from whipping up some of the cruisiest cuts and designs around, Afends has pretty much forged an entirely new blueprint for upcoming and well-established brands to look up to. From the brand's lasting advocacy (Single Use Plastic Awareness, Afends For Equality, The Hemp Revolution) and sustainable core ranges all the way through to its transparent supply chain, and more recently, the purchase of 100 acres-worth of farmland to build its very own hemp processing facility.
With this said, we thought it was about time we sat down with one of Afends' co-founders, Jono Salfield, to delve into the label's 15-year evolution, the hemp revolution and what the brand is gearing up for next.
Did you ever think that Afends would grow as big as it has?
When we first started, it was to emerge ourselves in the culture of Byron Bay and create stuff that we love and being able to put something out there that was an extension of us. As the years go on, it's really about the purpose as well—for us, that means living and breathing the brand and having a purpose that's more rooted in what's good for the environment.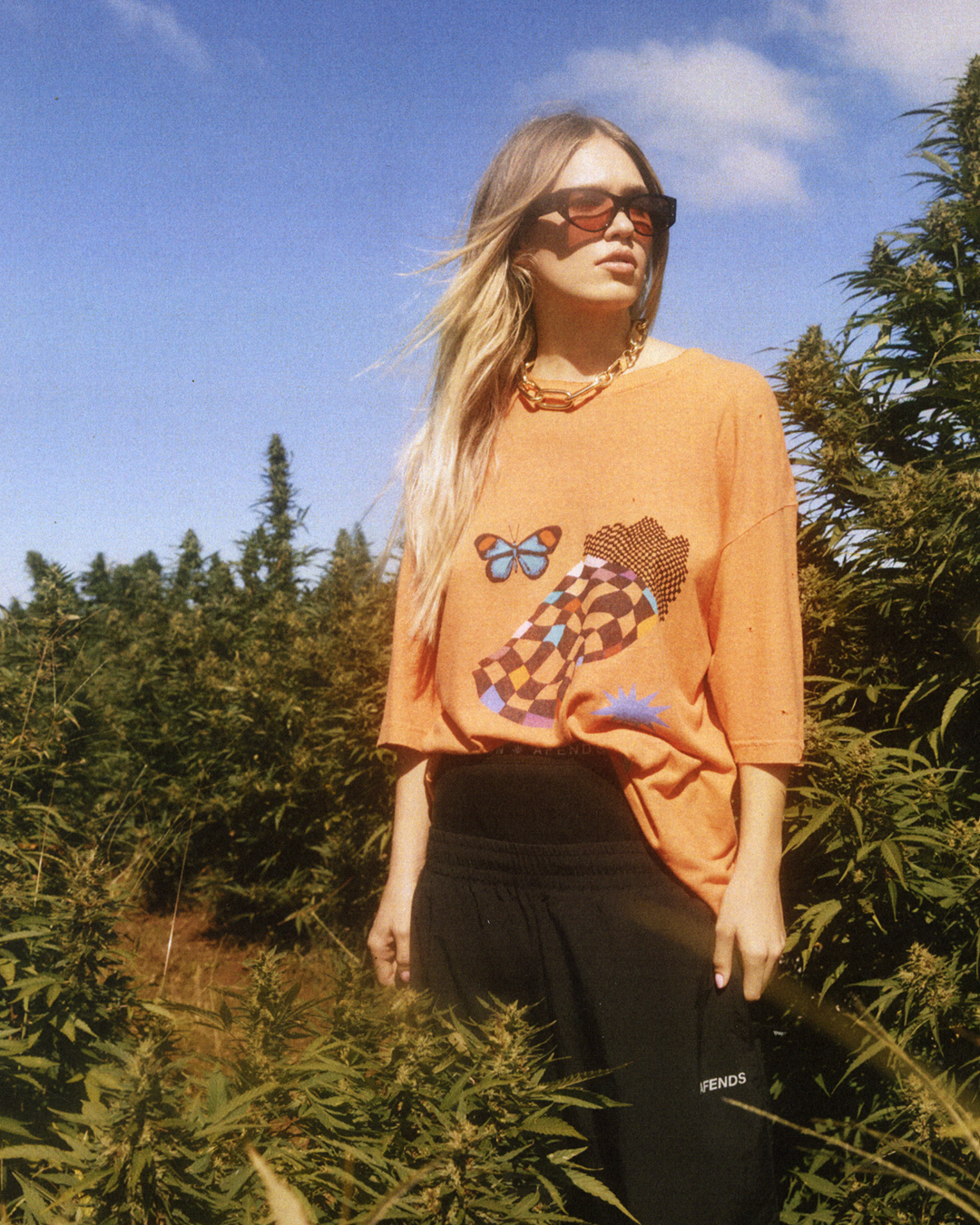 Was there a certain point in the brand's evolution where sustainability was something that you really wanted to focus on?
What kicked it off for us was hemp. It was back in 2014 when we decided to make a pair of hemp boardshorts. This tied into a lot of weed culture at the time and creating an initial pair of shorts out of hemp, we then started to understand the different benefits that hemp could provide. In Byron, there was also a big push around hempcrete and hemp building, so there were many different angles that hemp had. Now, we've done over six-plus years of research, we've looked at all the benefits from water-saving to being able to grow a crop without pesticides and destroy the soil.
Back then, having a fibre that can do that and then looking at the fashion industry as a whole and seeing that it's being used in a minimal sense, for us—that was an exciting point that triggered everything else that we're doing in sustainability from putting solar panels over the whole roof of our warehouse to the way that staff are treated throughout the business and taking out conventional cotton to making organic cotton.
can you Talk us through your three core clothing capsules?
We've broken it down into 'Afends Organics' which is any product made from organic matter. The next tier is 'Afends Recycled' which is about recycling. The main way we recycle is from pre-consumer waste which is from all the offcuts of pattern making in the factories. Instead of that going into landfill, we grab it and repurpose it into a recycled clothing item. Then, we have our hero fibre which is hemp, we call that THC which stands for 'The Hemp Collection', and we break that down into two further categories, the first being essentials which we push as something people want to keep for a long time and the second is fashion when we experiment with different blends like hemp and silk.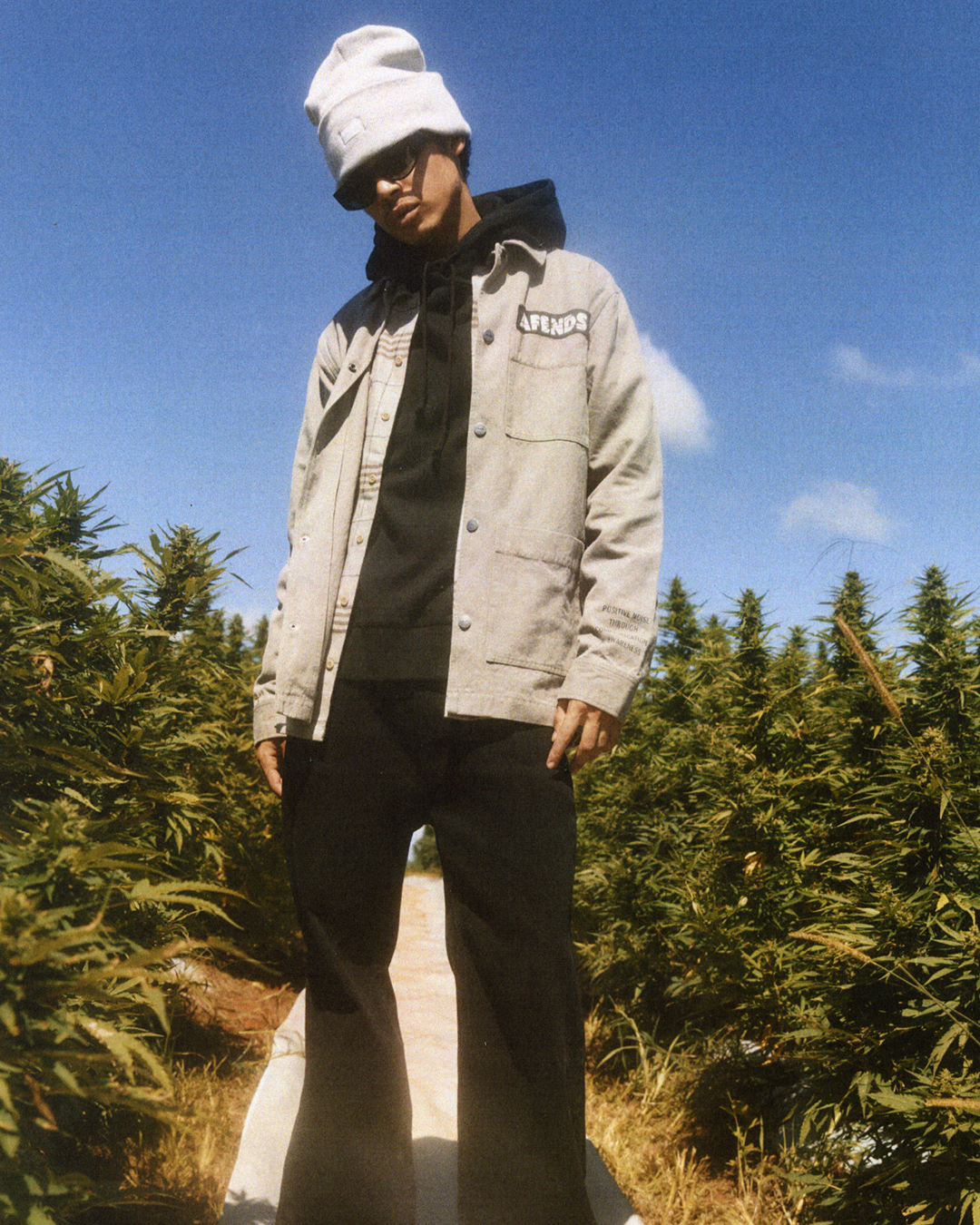 In the fashion industry, what fibre do you think could be the next 'hemp'?
We focus most of our energy on hemp but another fibre is pre-consumer waste. You would think all that pre-consumer waste should be repurposed but most of it goes straight into landfill and that needs to change.
So, what exactly does the hemp revolution mean for Afends?
The Hemp Revolution is years and years of research and learning and understanding. It's been this journey of discovery of different benefits that hemp has from having a look at the sustainable side to also looking at the other industries it can create. To fly the flag and really push hemp down the fashion industry and hopefully spark a bit of a revolution with other companies wanting to jump on it, we hope to see hemp go into the mainstream to be one of the main, natural fibres used in comparison to cotton.
On that, is there anything specific you guys are trying to change about the fashion industry?
For us, and a lot of other sustainably-driven brands, we're trying to change it not just in one way but in every way. The fashion industry needs to change from being a disposable, fast-fashion industry to coming back to being an industry of making quality products that people want to keep for a long period of time.
It's not so much as a change within the design or look but more in the way products are built and how they're built. The fashion industry needs to change from being a very toxic industry to being a leading industry and a sustainable hero industry compared to other ones.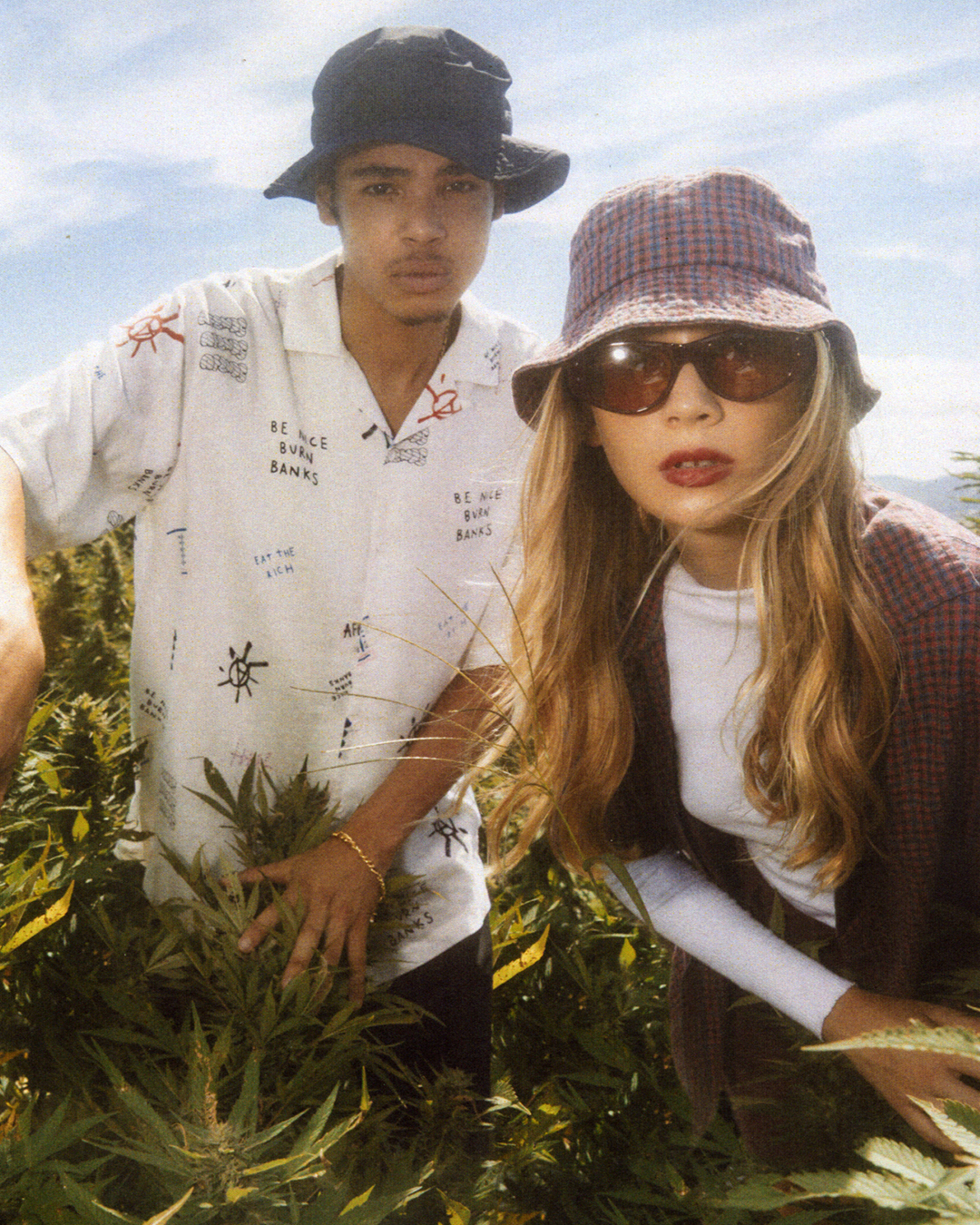 Now, take us through your newly bought farm, what are your plans for it?
This is probably the most exciting thing we've done in a while, it's something we've been thinking about for years. What we're utilising it for is a big research and development centre, we're going to put our first hemp crop in the ground in September and for us to be that brand that can be end to end is a really exciting milestone to get to. We're going to use it for various other things where we can bring the community together with different projects, activities and events and to have it as a creative space as well.
Can you spill the tea on any upcoming collections or projects you've got planned for this year?
When you think of sunglasses generally, you're not really thinking about how they're built and what they've built out of so we want to create a really well-thought-out, sustainability built sunglass collection that we hope to drop close to summertime. We're also creating a beer with another local company that everyone knows.
Now check how these First Nations people are inspiring change across the country.
Design credit: Kate Mason
Editor's note: Urban List editors independently select and write about stuff we love and think you'll like too. Urban List has affiliate partnerships, so we get revenue from your purchases.